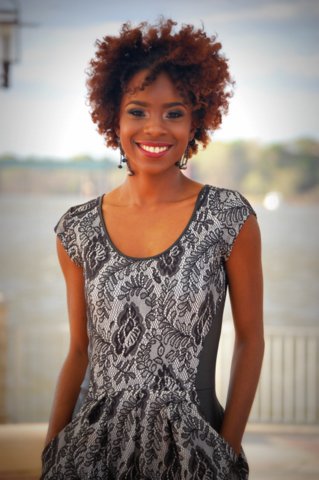 I started getting relaxers at an early age. Prior to my Just For Me days, I would get my hair pressed on a regular basis. As I got older, my hair became harder to maintain so my mother started giving me relaxers. I have thick, coarse hair so it was easier to maintain with the assistance of the so called "creamy crack". I was able to have the long, straight hair I always desired. Throughout the years, I kept getting a relaxer every six to eight weeks. In spite of breakage, shedding, and scalp burns, I kept subjecting my hair and scalp to this type of treatment.
I could not bring myself to stop getting relaxers, because I was determined to have hair that was silky and easy to maintain. I was against going natural, because I did not think my natural hair texture would look good on me, and I was emotionally attached to my relaxed hair. I am in the pageant industry, so it was important to me that I maintained a certain look. I did not know how I would be received if I wore my hair in its natural state.

I did not know how I would be received if I wore my hair in its natural state.

Honestly, I was not comfortable with my own hair, but now my whole thought process has changed. I now know I was ignorant and had the wrong perception about natural hair. After educating myself on natural hair and the dangers of chemicals, I began to really think about going natural. Not only would I be able to experience long healthy hair, I would be doing my health a favor. I previously battled with endometriosis, and the chemicals entering into my blood stream did not aid me in experiencing total health and wholeness. On August 3, 2013, I went to the salon to receive my routine relaxer, and that visit went very wrong. Shortly thereafter I experienced some serious breakage. I knew that was my wake up call to make a change. On August 16, 2013, I made the decision to finally go natural. During the next five months, I prepared myself for the next phase of my natural hair journey. In order to successfully go through a physical transition from relaxed to natural, I first had to go through a mental transition. I had to shift my mindset about my natural hair and accept the hair that God gave me.

My natural hair journey has taught me that my beauty is not defined by my hair texture.

On January 2, 2014, after five months of transitioning, I did the "big chop". I was nervous about the endeavor, but I was excited as well. I was finally able to see all of my natural hair. This was a cleansing process for me as well as an opportunity for me to reinvent myself. Going natural is not just about having healthy, versatile hair; it is about total self-acceptance. Even though my natural hair has an "attitude" at times, it is teaching me patience during this season of my life. My natural hair journey has taught me that my beauty is not defined by my hair texture. I am beautiful because I have the courage to celebrate and embrace my authentic self.
This post is part of HuffPost's My Natural Hair Journey blog series. Embracing one's natural hair -- especially after years of heavily styling it -- can be a truly liberating and exciting experience. It's more than just a "trend." It's a way of life. If you have a story you'd like to share, please email us at MyNaturalHairJourney@huffingtonpost.com.
Calling all HuffPost superfans!
Sign up for membership to become a founding member and help shape HuffPost's next chapter