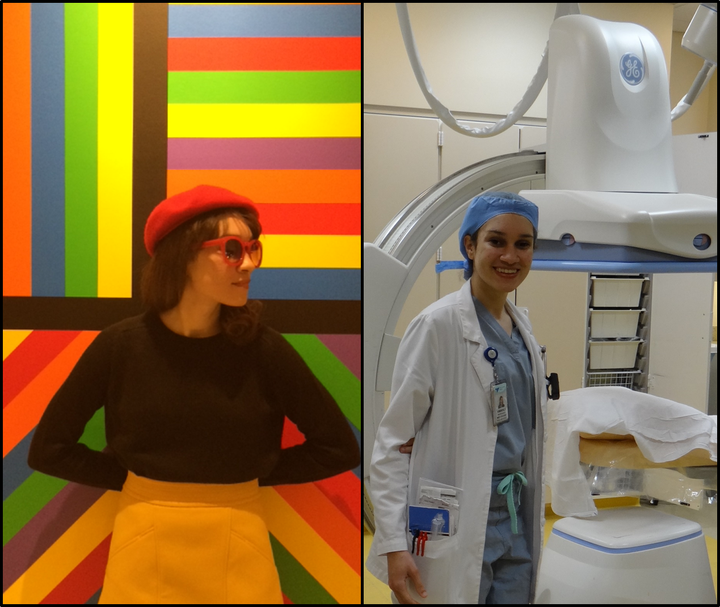 Becoming a doctor is a popular career goal among high-achieving college students. According to the Harvard Crimson, over 50% of Harvard students, for example, enter their freshman year declaring they want to be a physician – although only 17% end up actually applying to medical school. Today, we will talk about building a successful career as a doctor. I interviewed Kimberly MM Isakov, a Harvard and Yale trained doctor, who is about to start her residency in radiology in New York City.
Unlike these 70% of determined freshmen, however, Kim did not start out knowing she wanted to pursue medicine. Not a single person in her family is a medical doctor, which means she did not have the pressure from parents, familiar to many. Her own interests were in the realms of chemistry, engineering and German cinema, of all things. She explored all of these interests in college. It was not until she enrolled in her engineering master's program at the Harvard Graduate School of Arts and Sciences that Kim decided to become a doctor. Just a few weeks ago, she proudly graduated from the Yale School of Medicine.
A liberal arts education allows students to explore their diverse interests in college. I am particularly interested in people like Kim who took time to pursue their other hobbies before medical school. I found that this enriched their personal worlds and their practice as physicians.
Simon Sinek, a popular management author and a TED speaker, advises leaders to "Start with Why" as a way to clarify a mission to any project in order to make it successful. Kim took a similar approach to her career development. "By the end of college, I felt compelled to define my raison d'être, my purpose. I had a growing interest in how the medical field alleviates human suffering. My liberal arts education taught me that to tackle a problem, you must do it with broad expertise from multiple angles. So I knew I had to be adept in multiple facets of medicine to help patients.
In college, I volunteered at a free medical clinic. I studied the humanities, which allowed me to converse with anxious patients about their various interests, and put them ease. And as a chemistry major, I developed a strong foundation in the different medications and lab tests that we used. But I knew little about the various medical devices that were ubiquitous in our clinic." To address this gap in knowledge, she entered an engineering graduate program. For one of her classes, she took on the challenge of inventing a surgical device called a laparoscopic morcellator, which would help surgeons remove pieces of tissue from the body through small incisions.
"Before working on the project, designing a medical device seemed difficult and daunting, and I hadn't done anything like that before," said Kim. She also met with reluctance from some of her mentors who did not think she could invent a medical device without being a doctor herself. However, Kim assembled a great team; they thoroughly studied the existing morcellators, and performed tests of the prototype on a pig model. Eventually, the team demonstrated that their device was an improvement of existing models, and spun off the technology into a funded startup.
Kim's project as an engineer helped her develop a deep interest in becoming a doctor.
2. Stay curious in college and medical school
When she started medical school, Kim approached all of the medical specialties with an open mind, and studied each one in depth. After spending time in the radiology department at Yale, she was impressed by the radiologists' vast knowledge of medicine. They were curious about all areas of the human body, and used their broad knowledge base to diagnose diseases from head to toe. "The radiologists also shared my love for engineering, and were excited to create new medical devices to improve patient care," Kim said. She was also fascinated by the aesthetic nature of the field. The diagnostic imaging videos and x-rays reminded her of her favorite black and white movies and photographs. "I recommend that students explore broadly before narrowing their focus on one college major or career path. Embrace not having a definitive plan, even when so many of your classmates seem to have everything figured out. By keeping an open mind, you are bound to find new areas that can excite you and lead to a new hobby or career."
"Embrace not having a definitive plan, even when so many of your classmates seem to have everything figured out."
3. Explore interests outside of medicine
Despite her packed schedule as a medical student, Kim found the time to pursue her interests outside of medicine. She spent her vacations admiring photographs in the Museum of Modern Art (MoMA) in New York City, and taking thousands of photographs of her own. This paid off professionally. Studying photographs improved her eye for detail - she was able to spot abnormalities on x-rays faster than before. And at an interview for radiology residency positions, Kim connected with her potential supervisor over her love of German art and European fashion; the interviewer actually had to covertly double check her resume, making sure that her college degree was indeed in chemistry, and not in art history. Interests outside of medicine make doctors human – and ultimately help Kim connect with her medical colleagues and patients on a deeper level. "Finding a common humanity between you and your patients goes a long way in the healing process. I've found that sitting by the patient's bedside and asking them about their hobbies is a fun way to do this." Kim was able to comfort many of her patients by talking about common interests - whether it was 1970s rock music, or the latest fashions in Paris.
In summer 2017, Kim will be starting residency in New York. Her hope is to combine all the various passions of her short but already impressive career – chemistry, engineering, radiology, photography, European cinema – to treat patients and develop innovative procedures and devices.
Her advice to those that want to be like her when they grow up? "Be curious! Learn as much as you can about the topics that interest you. In college, pre-med students often feel pressured to focus only on science and math-related courses and extracurricular activities. While these are certainly important, you'll gain valuable perspective by pursuing your other interests in earnest - even if you're the only one of your friends who likes a particular niche topic. It's crucial to draw connections between your interests. By gaining broad exposure to a variety of areas, you'll have a rich, unique framework for approaching your chosen career. Remember, ideas for innovation emerge by interweaving fields new and imaginative ways.
"Be curious! Learn as much as you can about the topics that interest you."
As doctors, we spend countless hours improving and extending the lives of our patients. Taking time to explore the arts, a form of self-care, opens our eyes to the beauty that gives life its spark - and helps us appreciate the hobbies that our patients hold dear. This perspective can foster empathy, for example, when we diagnose and treat arthritis in a painter who has difficulty using their hands. This diverse view also keeps us going during long days and nights on-call. Above all, never forget - doctors are human."
Related
Popular in the Community