When a San Francisco author I know asked his Facebook friends for recommendations on where to stay during an upcoming trip, several told him to go to Airbnb.com. At my surprise, the author mentioned that he was not aware of the Bay area company that started back in 2008 by roommates Brian Chesky and Joe Gebbia.
The story of Airbnb.com goes that Chesky and Gebbia were looking for a way to earn extra money and made their living room into a "bed and breakfast" accommodating guests on air mattresses and providing homemade breakfast. I had read about the company back in 2011 getting a valuation of $2 billion and had created a free Airbnb account at the time.
Jeremiah Owyang, founder of Crowd Companies and former analyst with Forrester Research and Altimeter Group gave a presentation during LeWeb London 2013 about the Collaborative Economy and he made me realize that until I use different services like Airbnb instead of a hotel, I will not see firsthand the disruptions and opportunities of the Collaborative Economy. And like my author friend, I have no experience using Airbnb for places to stay when I travel.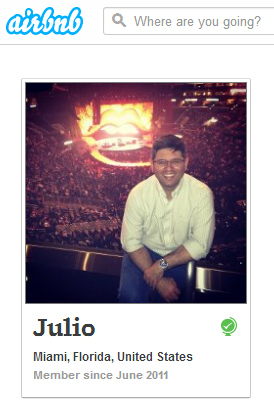 Well, I decided for my upcoming business trip to New York City, I am going to embrace the revolution. Instead of using a taxi from the airport, I will use another company that embraces such called Uber. With the Uber app which I downloaded on both my iPhone and Android phones, I will request and pay a flat fee for transportation from the JFK airport to the Lower East Side with a service where I can leave a review. Instead of using my lifetime hotel loyalty card and requesting the concierge floor, I will pay a complete stranger 85 percent less of what I would have paid at the hotel, plus taxes.
Highlights from the study include:
Airbnb visitors stay on average 6.4 nights (compared to 3.9 for hotel guests) and spend $880 at NYC businesses (compared to $690 for average New York visitors).
Airbnb brings visitors to neighborhoods that traditionally have not benefited from tourism. 82% of Airbnb listings in New York are outside of the main tourist hotel area of midtown Manhattan and the average Airbnb guest spends $740 in the neighborhood where she stays.
My family is concerned about the safety and the cleanliness of my chosen room. But the same way we are comfortable reading reviews about sellers on eBay and products on Amazon, we need to learn to use the features of these new marketplaces and make informed decisions.
When searching for a place to stay on Airbnb, one of the useful function is the "social connections" filter to see if the host has a Facebook connection with someone I know. Airbnb also tells me if the host went to the same school I did. When searching for my place to stay, finding a host that went to the same college as I did, made for an easy way to start the conversation and ask questions about their room/place.
Some rooms have an "instant book" button where you can just select the room and it is yours for the trip. For other rooms, you need to reach out to the host via the Airbnb site and they can either decline your request or approve you after looking at your profile.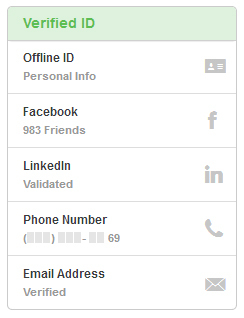 My profile includes a short background of places I have visited and those on my bucket list, a photo and information that Airbnb was able to validate like my phone, email and social accounts including Facebook, LinkedIn and Google+. It is easy to create a social account with a fake profile, but if the host knows a person that I also know by using the Airbnb filter or if we went to the same school, it puts a new level of trust in the potential agreement.
Reviews are also an important part for both participants in the transaction. Is it a new listing with no reviews or a place with over 30 reviews? Are the negatives issues deal-breakers for you, like "you will share my home with my five cats and two dogs," or something that you are ok with, like no elevator for the 4th floor apartment.
Since I am new to the Airbnb, I do not have feedback and my host does not know if I will be a good guest that will respect the property. Airbnb has a solution for that too. They partnered with Lloyd's of London to provide protection for up to $1,000,000 in damages to property in case of guest damages. Items like jewelry and art work are not covered but a great step in the right direction to facilitate transactions.
A Collaborative Addiction?
I remember my eBay addiction I once had, spending countless hours looking for interesting items to buy. I'm afraid I will get addicted to Airbnb as I am already looking for reason to travel and find unique places to stay. How about one bedroom along the Rose Bowl parade route for $125 a night. The photos from the previous parade were amazing!
Why should I go back to a bland hotel room when I have the opportunity to stay in a "solar-powered 2013 Airstream Bambi, parked in the vegetable garden of a goat micro dairy" for $150 a night with optional "goat-milking lesson each morning, and a simple farm breakfast of fresh bread, butter and jam, coffee and goat's milk delivered to the Bambi." This Airstream is 15 minutes from Pasadena. Should I rent the parade route or the micro dairy for the Rose Bowl?
Follow my tweets @SocialJulio for the latest on my Uber and Airbnb experiences in New York this week. Do you have other sharing economy ideas you feel I should try during my business and personal travel? Add your comments below.
Calling all HuffPost superfans!
Sign up for membership to become a founding member and help shape HuffPost's next chapter