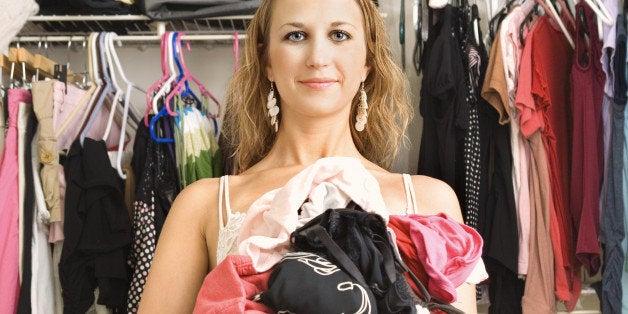 I have clothes. I have a lot of clothes. And shoes, for that matter. Items that I have spent a lot of time and money procuring. For years, I wore many of these items, almost all of them in fact. But, that was before. A time long ago, when times were different. When life was different. That was when life existed without kids. There was a time when my designer jeans weren't shoved to the darkest corners of my closet. There was a time when my fancy 4" heels would click-clack across the floor of the hottest bars rather than serve as accessory for a 3-½ year old's Dress Up Princess Tea Party. There was a time that I didn't think elastic waist bands were God's greatest creation. There was a time when I wore push up bras to be sexy, not because breastfeeding turned my boobs into a saggy mess that need all the help they can get to defy gravity. There was a time when if I spilled something on my clothes, my default reaction wasn't to rub it in. There was a time when looking totally put together was a daily occurrence, not just a look reserved for major family gatherings. There was a time when my hair got brushed and curled and straightened. There was a time when I didn't laugh if I looked at a tag that said "Dry Clean Only."
But those were different times and, as any mature mom knows, to survive, you need to change with the times. Don't waste your time yearning for the past; it will never come back. You can try to fight it but, once you have kids, fashion can slip further and further down your list of priorities until it becomes something you can barely remember -- like how it feels to have a good night's sleep or a warm meal. But don't fret, just embrace the now. Embrace that fact that now using the sniff method just seems like a practical and efficient way to determine if a shirt is wearable. Now slim fit/bootcut/wide leg means nothing and "Yoga Pant Fit" is the only fit that matters. Now white clothes are no longer even an option. Now you spend time wondering if it's totally unreasonable to Scotch Guard your whole wardrobe. Now when shopping, it actually crosses your mind whether the top you are trying on will absorb/hide snot. Now you wonder if the barista at your coffee shop will ever figure out that although every morning you look like you're dressed to go to the gym, you never actually do. Now you love winter because it means that rather than getting dressed to drop your kids off at school, you can just throw on a coat over your pajamas.
Sometimes, when I steal a few minutes for myself and flip through the pages of a fashion magazine, part of me wishes I could be one of those totally stylish and fashionable women on the pages. And then the other part of me, the wiser part of me, realizes that after a long day of being a mom... I deserve those damn yoga pants.