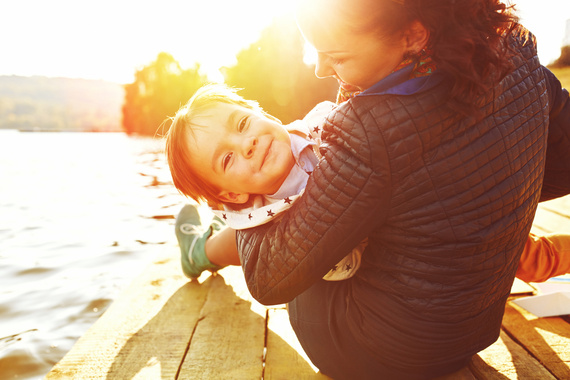 Growing up, I never imagined that I would have three sons. I always pictured that in amongst a son or two, there would be a little girl. She would have long black hair and be my real life doll in pretty dresses, patent leather shoes and flowers in her hair.

But life doesn't always go to plan and mine has turned out better than I could have imagined. I love the chaos that my boys bring. I love the rough and tumble, the energy and the fascination with super heroes and monster trucks.

Having three sons though, I am very aware that I am the primary female influence in their life. We are a house full of testosterone, bar one. Their perception of me will play a huge role in dictating their perception of women in general.

And so the pressure to raise young men who are advocates and supporters of women sets in.

If I'm going to be honest, I have to confess that The Mothers Den has been on my mind in some way, shape or form for a few years. But motherhood always trumped and there was never space for me to pursue my vision. To a degree I wore that sacrifice like a badge of honour until it started wearing me down.

I know I am not the only mother who has lost herself in the process of caring for her young cubs. In doing so, however, we are teaching our children that not only is it ok for Mum to put herself last, it's actually the norm.

But as mums, when did we stop giving ourselves permission to chase every dream we ever had for ourselves?

I don't want to be the hypocrite that tells my children to chase their dreams when I never chased mine. I don't want to raise my boys to think that it's ok for a woman to suppress her own ambition in the service of others. I want my boys to be brave and to live each day with purpose while supporting the women in their lives to be the same.

I have since come to believe that as a mum, you can have both. You can be the nurturing and protective mother who lays it all down for her children and you can also be the empowered individual who actively seeks out her fullest potential. The contrast between the emotional self and the intellectual self is one of the most beautiful parts of being a woman.

In the words of Alex Elle, "Women, I hope you know how essential you really are. Keep that crown on".

What are your thoughts? Do you fall into the all too common trap of prioritising everyone else's needs over your own or have you mastered the balance between mother and self? Send me an email or join the conversation on Facebook, I would love to hear from you. Until next time,
Follow Uldouz Van Eenoo on Twitter: www.twitter.com/UldouzVanEenoo
REAL LIFE. REAL NEWS. REAL VOICES.
Help us tell more of the stories that matter from voices that too often remain unheard.