With Pride month upon us LGBT folks from throughout the country will spend the month partying and taking Pride in our community. Flags will fly and parades will be had. In many ways mainstream America will witness the media perpetuated stereotype of LGBT community.
Of course all folks in the LGBT community act the way the media portrays them, right? Gay men will wear bright colors, feather boas and dance around in their underwear; while lesbians will wear leather jackets and ride Harley Davidsons through the streets.
For years as a closeted man, I feared being placed in this category. I was a man, I was masculine, I could never dress in drag or wear eccentric types of clothing. Everyone would know I was gay and my life would be over. For a long time I believed in the stereotype and in many ways it drastically delayed my coming out process.
However, over the course of the last two years something interesting has occurred. I began to embrace some of the practices that I was previously petrified about. I've marched in gay pride parades. My style of dress has shifted and my clothes are a little tighter. I enjoy a good drag show and spending the weekend on Fire Island, arguably the "gayest place on Earth".
My attraction to specific men has also shifted. For a long time, I looked for men who fit the masculine profile. A deep voice, sports loving, beer drinking man is what I looked for. After becoming more active in the community, my mindset changed. I love hanging out with those who are different then me. I love talking about clothing and asking my boys which outfit looks best on a Friday night.
Sitting on a deck in the Pines this weekend with a gentleman from Australia and a few other friends, we discussed gay stereotypes and how closeted men generally stay clear of such visuals. The conversation made me think about how pride festivities can really be stressful to some people who have yet to share their orientation. In many ways they fear rejection from their own community.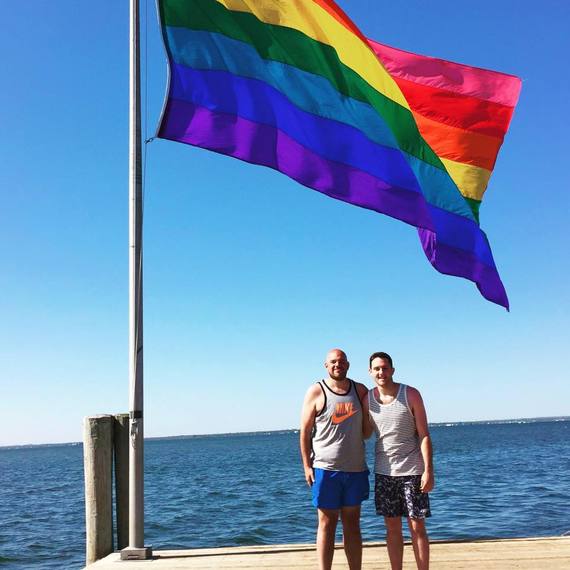 I now feel a part of a community. I feel the pride of being a gay man. I love having such a great group of friends to spend time with. My advice is to find your comfort zone, now. Do not let society dictate your ability or desire to be happy. If you like to rock out to Whitney on a Friday night with no one around, then you should feel comfortable doing the same on Sunday with those who are willing and accepting. It will be amazing and you will become a much happier person.
Calling all HuffPost superfans!
Sign up for membership to become a founding member and help shape HuffPost's next chapter