For Regina Spektor fans, here's a different kind of exclusive. We've got two stills from her upcoming video "All The Rowboats" that will be premiering worldwide through YouTube on March 29, 2012. It was directed by Adria Petty (yes, Tom Petty's daughter) and Peter Sluszka.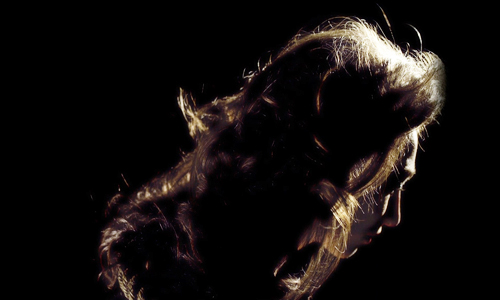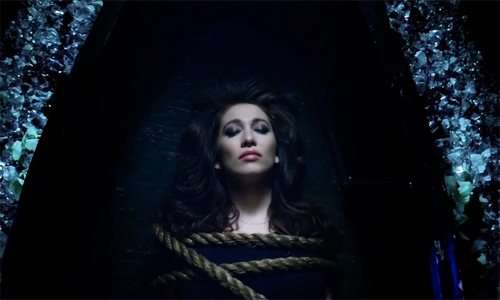 Also, here are streamers of the aforementioned "All The Rowboats" and yet another Regina Spektor single, "Don't Leave Me (Ne Me Quitte Pas)," from her album What We Saw from the Cheap Seats, coming May 29, 2012.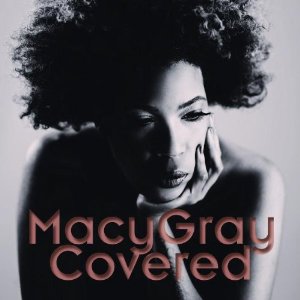 A Conversation With Macy Gray
Mike Ragogna: Hello to Macy Gray.
MR: Macy, first of all, how have you been, everything's great?
MG: Yeah, everything is really good.
MR: Great. This time out, you decided to do an album of covers called, well, Covered. What were you thinking with this one?
MG: I've always wanted to do a covers album, we finally did one, and it was a big deal about what kind of songs to do. I thought there were a couple things that would be obvious like if I did old soul records or R&B covers, so we did rock records because I'm a big rock 'n' roll (fan), and then it was a matter of what rock records to do. We mostly did modern stuff that just came out last year and goes all the way back to the Eurythmics, a 1985 song. We did "Nothing Else Matters" by Metallica, so it's like the past, say, 25 years of really good rock 'n' roll songs that we covered.
MR: Yeah, you covered Metallica, you did "Teenagers" by My Chemical Romance, and also you did "Creep" by Radiohead.
MG: We've been doing "Creep" live for a long time, so it made sense to do that one.
MR: Yeah, there's also a very cute "song" on here, "Lalala," by Teaching the Kids. What's that track's approach about?
MG: We actually have these really hilarious skits on the album. The kids on one of them are friends of my daughter, friends from high school. We have Nicole Scherzinger on a skit, she's doing these crazy imitations, the funniest things you'll ever hear. Then we have MC Lyte and Jay-Z upping the enthusiasm. It's a very entertaining album, but the music is awesome. We did everything live, everybody plugged in and recorded at the same time. It's live like we did it back in the old days, produced by Hal Willner and Sue, and it's just a great album. I love listening to it.
MR: You also covered "Wake Up" by Arcade Fire, the Eurythmics, "Here Comes the Rain Again," and a cover of Sublime's "Smoke Two Joints." How are you relating to these covers? Are there memories associated?
MG: Yeah, definitely, there are always memories attached to the songs. When you hear a song, I always remember a moment that you have with it. A lot of it mostly was lyrics that were very important to me, and a lot of it was songs that secretly I would like to pull off. There are a lot of great songs out there, but some of them should just be left alone, and some of them, I didn't sound very good on at all. So, those were the ones that came out the best and that I felt I could interpret and make my own.
MR: Macy, you have a history of being self-deprecating about your voice, when everybody loves it.
MG: It's hilarious, I know.
MR: (laughs) Let's get a little history lesson as far as Macy Gray. What got you into music?
MG: I studied piano lessons when I was 7, I did that until I was 14, but I hated it so much. When I got to college, I met a boy, he was a guitar player. He had a studio in his room, and I used to do music all day just so I could be around him. I got really obsessed with music all of a sudden - I started writing, I sang in his band, and one thing led to another, and I started my own band a couple years later. We were playing at The Roxy in Los Angeles and an A&R guy from Atlantic signed me there. That record didn't come out, but I did a record on Sony two years later called How Life Is and that did really well.
MR: Right, and you of course wrote the Black Eyed Peas song "Love Won't Wait."
MR: Then there was "I Try." Were you surprised it was such big hit?
MG: I was really shocked. We were out on the road and we had gone to Europe. I was in Europe for the first time, I had three kids with me. All my buddies were in my van, and the label bought me a new car, so I was in heaven. I didn't really need anything else. My manager calls me and says that the song was #1. I was really excited but I felt busy on the road, it was my first #1, but I really didn't know what it meant. I didn't really go crazy until I got home and got mauled in New York, and that's when I really realized that people knew who I was. But I wasn't really shocked when it hit, though.
MR: And you also must have been in heaven when you get your Grammy nomination.
MG: Yeah, all that, it was like one shock after another. I think the cool thing was that I wasn't expecting anything. My first week of sales, I sold 9,000 copies and I was ecstatic because I had never sold a record before. Everything that happened after was just juice. I wasn't really expecting any of it.
MR: The other part of this history lesson is that you've been in a few films, and one of them was Spider-Man where you played yourself.
MG: That was difficult, I wasn't really prepared for that role.
MR: (laughs) And you were also in Training Day.
MG: Yes, Training Day. We did Idlewild, I did Domino with Tony Scott and Keira Knightley. I've done some really good movies - Lackawanna Blues... I've been lucky.
MR: Yeah, you've been blessed. Getting back to Covered, I'm imaging over the years, you were learning a lot of the songs at the time that they were hits, right?
MR: So when you sat back and listened to Covered top to bottom, was it kind of like looking at a photo album?
MG: Yeah, I hadn't thought of it that way before, but I definitely have a lot of visuals that come to mind when I hear "Hear Comes the Rain," or definitely the first time I listened to "Nothing Else Matters." I remember that. All of them. "Bubbly" is on there by Colbie Caillat and I really love that song. I think that's a personal thing with everybody. When you have a song, it brings something to mind.
MR: How do you approach your arrangements, are you the main person coming in there with ideas?
MG: No, I have a really intense band and they do most of the arrangements, even though I direct a little bit. I say "I like this, I don't like this," but they really come up with the best ideas, way better than mine.
MR: Are you entrenched in each song to the point where you are the character of the song, maybe losing yourself in it?
MG: Oh yeah, always. I always seem to take them to heart. The cool thing about those songs is that I had a personal connection to them, so it wasn't hard. I do think it's important that when you sing a song that it means everything to you, because if it doesn't, it's definitely going to affect the way you sing.
MR: What's your favorite song on Covered?
MG: I really like "Love Lockdown," the mash-up. I love that song.
MR: Yeah, the Nina Simone song. Is she one of your favorite artists?
MG: Yeah, absolutely, I learned a lot from her. She has this cover of Frank Sinatra's "My Way"; it's big-band jazz, it's crazy. Actually, when I heard that, that gave me the confidence to do my record because she made it completely her own and I think a lot of people do covers and think that they have to be loyal to the song and do things over. But after I saw that, I thought, "I'm going to go off and to do my own thing." That's really what made the record happen.
MR: So that was an inspiration on how you would approach covers. Let's take the other side of that question, about your own original material. What is your creative process?
MG: I just lock-up myself in the studio and just start writing. You just pull your heart out, really, if you're in a tangle. That's the best thing you can do.
MR: Do you find yourself working on piano, or is it in your head and you have to get to an instrument to write it down?
MG: Yeah, a lot of songs pop into my head all the time. If I don't remember them, I figure that maybe they weren't that great. The ones I remember, those are the ones I usually record. I play a little bit of guitar, I know about six chords on the guitar, so anytime I write a song with music, I use the guitar because it's portable. But I wrote "I Try" on the guitar. At the time, those were the only three chords I knew, A and E.
MR: Macy, do you have other favorites of your originals?
MG: My favorite songs that I've ever done are probably "Caligula" and "I've Committed Murder," both from the first album. I have a song on my last album called "Sellout," and a song called "Let You In," I love that.
MR: What advice might you have for new artists?
MG: I'm not a good advice-giver, actually. But I would just tell anybody if you really want to do it, you just have to pull your heart out at all times and be completely open. Scream when you want to, and write when you want to, and you should be alright.
MR: Is that what you would tell the young Macy Gray?
MG: Yes. I would say, "Do and say the things that you truly feel."
MR: That's basically what you've been doing your whole career, right?
MG: Yeah there's no other way, really, for me anyway.
MR: OK, so also as far as a new project beyond Covered, have you been collecting your original material for a new album?
MG: Yeah, that's ready to go already because I write all the time so I have tons of songs ready to go. I actually wrote a song last night, which I wish I could put on the radio right now.
MR: Yeah, we wouldn't want you to hum a little of it or anything. (laughs)
MG: I can't hum. (laughs) But it's a great song, I can't wait for it to come out.
MR: This is beautiful. Macy Gray, do you have any words of wisdom for us?
MR: What about anything in the news, is anything catching your eye?
MG: I haven't watched the news in the last few days, but you know what happened is that there was a situation that happened in the news a little while ago. So much information was wrong that I really got frustrated with the news and haven't watched since.
MG: It was the whole Whitney Houston thing. I just saw a lot of the information that was going around, and so much of it was wrong, from sources that we consider really on target. After I saw that, I've just been turned off. I'm a big news-watcher. I love the news and politics, but after that, I've just been disenchanted with that whole thing and haven't watched it for a while.
MR: Yeah, I guess it's exaggeration in order to get you excited so you stay tuned to the news.
MG: Yeah, it's crazy. I read quite a bit, but I just haven't watched the news in a while.
MR: Macy, thank you for all your time, I'd love to do this again in the future, maybe with your next new album.
Tracks:
1. Here Comes The Rain Again
2. Creep
3. You Want Them Nervous
4. Smoke 2 Joints
5. La La La (Teaching The Kids)
6. Teenagers
7. Power Of Love
8. Nothing Else Matters
9. Sail
10. I Try Is Cool And All, But
11. Maps
12. Love Lockdown / Buck
13. Mel Rap
14. Bubbly
15. Wake Up
16. Really
Transcribed by Narayana Windenberger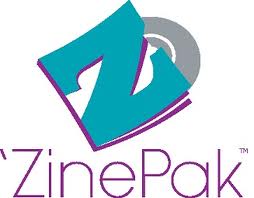 A Conversation with 'ZinePak Founders Kim Kaupe and Brittany Hodak

Mike Ragogna: How did 'ZinePak come about, the idea, how did it start, what inspired you?
Brittany Hodak: I started my career in the music industry, and Kim started hers in publishing. We were both incredibly passionate about the idea of combining print and music to create an engaging, multi-sensory experience that digital downloads and tradition CDs can't deliver. 'ZinePak is a little counter to the "digital" only online blog magazine trend.
MR: What made you decide to do something more traditional with music and a magazine?
Kim Kaupe: Fans still crave an experience with their favorite artist - something they can see, touch, and engage with. Creating a piece that includes limited-edition merch items as well as photos, edit and music was an answer to the incessant demand from fans to experience more. We also feel that these pieces can be put on your coffee table, shown to friends and passed around unlike a release on a Kindle or an iPad.
MR: What was the first 'ZinePak and was it a challenge to put it together?
BH: Our first 'ZinePak was for the release of Kidz Bop 19 in January of 2011. We've done two more projects with the Kidz Bop brand since.

MR: How did the next 'ZinePak come about?
KK: Our second project, the 2011 ACM Awards 'ZinePak, was brought to us by our partners at Walmart. They really championed our idea of connecting consumers with an Awards property, and they introduced us to the great team at the Academy.
MR: Have the artists been easy to work with?
KK: All of the artists that we have worked with have been really excited which has been a fantastic experience. Fans can tell when a manager or record label releases a statement - they are much smarter than anyone gives them credit for. When artists realize that this is an opportunity to communicate with their fans in a long-format multi-sensory way, the ideas for content and items start pouring out of them.
MR: Is it easier to do a 'ZinePak based on one artist or is there something fun for you about putting together a compilation 'ZinePak?
BH: It depends. The great thing about 'ZinePaks is that every one is totally different, and the content inside is tailored to the release and to the fans. They're all a blast to put together, and each project presents its own challenges and opportunities.
MR: Where can you buy 'ZinePak?
BH: The ACM 'ZinePak is available exclusively at Walmart.
BH: Walmart is a great partner because they're the number one seller of physical music product in America, and they have a huge market share for country releases. We've also done 'ZinePaks for artists' tours and non-traditional retail partners.
MR: What's next for the brand?
KK: On April 3rd, a 'ZinePak version of Rascal Flatt's new album Changed will be released. We also just confirmed this morning - and can announce exclusively here - that we will be creating a 'ZinePak for The Beach Boys. They are a personal favorite, so I am over the moon! That will be in stores May 1, just in time to help commemorate the band's 50th Anniversary.
MR: What is your dream 'ZinePak to do, like is there an artist or maybe an award show you would like to do?
BH: Hands down...Garth Brooks. I have so much respect for him as an artist and a performer, and working with him is my dream.
KK: The Super Bowl. Or maybe an NCAA championship game.
MR: What are you brand goals?
KK: It's a simple sentence and a big goal: Redefine the way fans experience and engage with recorded entertainment.
MR: Is there a digital 'ZinePak headed our way soon or no?
BH: 'ZinePaks are all about creating an engaging experience for fans. We've discussed digital releases and may put something out in the future, but for now we love providing the experience of taking the shrink-wrap off of a product, opening it and finding fun physical elements inside - like magnets, trading cards, stickers, etc.
MR: By the way, was the ACM 'ZinePak a challenge to make in any way?
BH: The challenge we faced with the ACM 'ZinePak was getting it to market quickly. We went to print about 10 days after the nominees were announced, so that didn't leave much time to do interviews and gather content. We were lucky to have amazing partners at the Academy and record labels who helped us get everything together quickly.
MR: Well, Award shows seem more conducive to compilations.
KK: I think award shows are great for compilations because fans already know that their favorite artists are going to be performing in one place. Instead of taping ten different TV specials to see their favorite artists up close, they only have to tune into one spot. Putting together a 'ZinePak is the same idea - instead of reading tons of sources to learn about all your favorite artists, you can pick up a 'ZinePak and they will all be featured inside.
MR: How is this 'ZinePak different than other ones?
BH: This is the longest 'ZinePak we've ever done. It's 120 pages of original content. Also, the CD is amazing. It has 20 tracks, and more than half of them have been Top 5 singles at country radio. It's 75 minutes of hit songs.
MR: Do you feel Country music fans tend to buy more traditional/physical product?
BH: Yes. Compared to other genres, physical CDs account for a larger percentage of total sales. That's in part, I think, because country fans like to feel connected to the artists they listen to, which is why 'ZinePak is a perfect fit for the audience.
MR: Last question, what else would you like people to know about 'ZinePak and perhaps this release?
KK: We are a company built on the principle that you have to do what you love. We love making 'ZinePaks, and we love creating meaningful experiences for artists to share with their fans. We hope fans can see all the love and care that we (and the artists!) put into this release for them.
MR: What advice do you have for new artists?
KK: Grow a very thick skin and get ready for anything that comes your way. Sometimes it is not the "best" artists musically that hit it big, but the ones who stick it out the longest and know how to keep getting up after being knocked down.

Tracks:
1. TAYLOR SWIFT "Mean"
2. JASON ALDEAN "My Kinda Party"
3. KENNY CHESNEY "Somewhere With You"
4. BRAD PAISLEY "This Is Country Music"
5. BLAKE SHELTON "Drink On It"
6. REBA McENTIRE "All The Women I Am"
7. BRANTLEY GILBERT "Country Must Be Country Wide"
8. HUNTER HAYES "Wanted"
9. SCOTTY McCREERY "You Make That Look Good"
10. JT HODGES "Goodbyes Made You Mine"
11. JUSTIN MOORE "Bait A Hook"
12. DAVID NAIL "Let It Rain"
13. JERROD NIEMANN "What Do You Want"
14. THOMPSON SQUARE "Who Loves Who More"
15. KATIE ARMIGER "Cry Cry Cry"
16. CRAIG CAMPBELL "When I Get It"
17. THE FARM "Home Sweet Home"
18. DUSTIN LYNCH "Hurricane"
19. KIP MOORE "Faith When I Fall"
20. D. VINCENT WILLLIAMS "Down By The River"
THE CONTINUING ADVENTURES OF THE BOX STORY...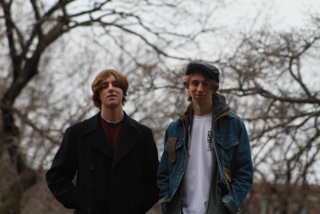 It really is a blast to watch the Chenfeld lads (Noah & Dylan) grow up and grow as artists in their series of videos, this latest being their best release yet. Here ya go, The Box Story's "Under The Smoke"...
Popular in the Community