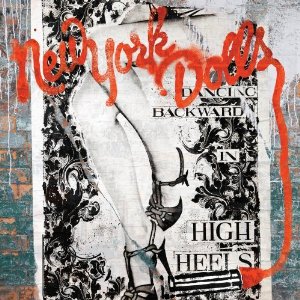 A Conversation with New York Dolls' David Johansen
Mike Ragogna: David, what went into the recording of your newest New York Dolls album, Dancing Backward In High Heels?
David Johansen: Well, we made this record in New Castle, England, we were there for about three weeks. The first week we were there, we did a few shows just to soften the crowd up a bit since we were going to be hanging around, then we went into the studio and just started recording and kind of made it up as we went along.
MR: You were working with producer Jason Hill.
DJ: That's right, he also played bass for us.
MR: The New York Dolls' music is considered essential, and though it's been categorized as "Glam Rock," it's essentially rock rock. Most enthusiasts know your classic recordings stood the test of time.
DJ: Well, that's good then! (laughs) That's why we are able to perform and be greeted with bouquets rather than hand grenades.
MR: Robert Christgau said that One Day It Will Please Us To Remember Even This was 2006's best album, so your later work also gets critics raving. What do you see New York Dolls' place in musical history?
DJ: You know, I don't know. I never really thought about us in terms of musical history--we just really enjoy playing together. Myself, Sylvain, and our drummer Brian Delaney have a pretty good thing going on, and we just like to get together under a lot of duress to make a new record, write a bunch of songs, and add them to our repertoire. We play live all year long, so we like to have a lot of new songs. That is really all we think about as far as our place in the history of music or whatever. I think Sylvain probably gives that a little more thought than I do. (laughs)
MR: Everyone has their favorite early New York Dolls song, but I enjoy some of the more recent albums' tracks, well, a little more.
DJ: They're what we like to call "listen-able". (laughs)
MR: Would you say they're less Warhol and have more of a pop sensitivity?
DJ: Yeah, I would say there's more of a postmodern sensibility as far as elements that one can faintly detect in the songs. They're good for daydreaming.
MR: I think one of the more fun tracks on your new album is "I'm So Fabulous," and it starts out with a snippet titled "The Fabulous Rant."
DJ: Well, just before I recorded the vocals for the song, Sylvain asked what the song was about, and I was in a fairly excited state and started to describe what I thought the song was about. I didn't realize that I was being taped at the time. Afterwards, they played back the tape and everyone said, "We've gotta put this on the record," and I didn't want to. (laughs) But obviously, they prevailed.
MR: It's obvious you guys had fun making this record. Are there any stories of goofiness that go along with these songs?
DJ: Well, when you're making a record like this, every other thing that happens on the record is goofy. You kind of have to deal with the constraints of time, and you want to get things done while trying to keep the album as lithe and enjoyable as possible. So, it's continually pretty goofy.
MR: The album includes a cover of "Funky But Chic," do you like this one more than the original?
DJ: Well, I haven't hearhttps://blogger.huffingtonpost.com/mt.cgi?__mode=view&_type=entry&blog_id=3#d the original lately, but it was a song that Sylvain and I wrote years ago--it was composed to be on a New York Dolls record, but never got to be.
MR: But it did end up being a David Johansen trademark song.
DJ: Yeah, it did. We played it one day, but realized that it wasn't quite finished.
MR: Over the years, you've recorded with the New York Dolls, had a solo career, and even recorded as Buster Poindexter, The Harry Smiths--you're just bored aren't you.
DJ: I just really love singing, you know? If I'm not singing, I'm sort of like a golden retriever without a frisbee.
MR: (laughs) I would also like to talk about your biggest hit, "Hot, Hot, Hot," your soca single from a few years back. Were you surprised by how hot that record ended up being?
DJ: Yeah, actually. I had no idea that it was going to be quite that popular. I was a part of the band Buster Poindexter at the time, and we were playing mostly jump blues and things of that nature. Then, I went to the Caribbean and heard that record and brought it back and we started playing it because we had that horn section. It was always a popular dance song, but when it was released as a record, it kind of took off.
MR: Okay, what's your favorite song?
DJ: "O Mio Babino, Caro" a Puccini song sung by Maria Callas from Madame Butterfly.
DJ: Wow, um...Shakes the Clown.
MR: (laughs) Wow. What about your favorite recording artist?
DJ: Boubacar Traoré. He's a blue singer from Mali, and he's my current favorite. But Armando Garzon comes in a close second. He is from Cuba and has the voice of an angel.
MR: Yeah, I'm familiar with Kar Kar and Armando, very nice. You seem to have a very global perspective on music. What's your personal musical background or influences?
DJ: I don't know, I just love to listen to lots of music and there's so much music that I love that it all kind of washes over me and refreshes my spirit, you know? It gives me the where-with-all to, despite all I know, face another day. (laughs)
MR: Now, when you aren't writing and recording, you also could be found acting, right? Like, you were in Scrooged as the wise-ass ghost.
DJ: (laughs) That's right. I was doing The Mr. Poindexter Show at a nightclub in New York on a regular basis, and Bill Murray used to come down and see the show. Then one day, he asked me if I wanted to be in a movie and I said, "With you? Sure!" and we had such a great time making that film.
MR: Are there any great stories from the set?
DJ: Not that I dare repeat! I have taken the omerta. (laughs) We just had a lot of fun. He was a really great guy and it was a really enjoyable experience. As far as movies are concerned, I don't go out and audition for roles, but occasionally, someone approaches me with an offer to do a movie because they think that I'd be good for a part. If that's the case, and I don't have many other things going on, I usually like to do it because it's a lot of fun--but it's not something that I really pursue.
MR: But you seem to have quite a history in film--you were in Looney with Richard Dreyfus, Car 54, Where Are You? and you were in one of my favorite TV shows ever--The Adventures of Pete and Pete.
DJ: (laughs) Yeah, I was.
MR: I am such a huge fan of that show, can you share your experience with that show?
DJ: Well, the creators of the show would just get a lot of rock 'n' roll people in the New York area to come and do cameos on the show. They really dug the music that was going on, and they would ask people to do it and almost everyone they asked agreed to (appear). It was very pleasant working with everyone there.
MR: Let's discuss the history of the New York Dolls a little. You guys came together as a group in 1971.
DJ: Yeah, 1971 or '72. I don't remember.
MR: The band was credited with being underground influential. For instance, "Personality Crisis," "Trash," and your cover of The Cadets' "Stranded In The Jungle" are played to this day on college and Internet radio. When you play live these days, you're obviously going out and promoting your new record, but do you tend to play a lot of the older material as well?
DJ: Yeah, it's very much a mix of the old and new.
MR: And do you break out some David Johansen material as well?
MR: Do you do solo tours while touring with the Dolls?
DJ: Well, when we're not touring with the Dolls, Sylvain goes out with a band called The Batusis, and I go around and play in different places with my accompanist. But when we get together with the Dolls, it tends to be strictly Dolls because that's really all there is time for. Like right now, we are about to hit the road and it will be strictly Dolls because the album will be released on March 15th.
MR: Where are you headed first?
DJ: We're going to play New York first, then England, Japan, and all around Europe. Then, we will come back and tour the US this summer.
MR: If you had any advice for new artists, what would that be?
DJ: Gee. Personally, I tend to live by my own advice--which is "If it's not fun, it's over." So, just as long as we keep having fun, I enjoy doing it.
MR: Where do you see the New York Dolls in five years?
DJ: Five years? Oh, we'll probably have two more records by then. We'll have an even larger repertoire.
MR: Do you have any words of wisdom for our readers?
DJ: Yes, stay off "the stuff" and you'll go far. (laughs)
Tracks:
1. Fool For You Baby
2. Streetcake
3. Fabulous Rant
4. I'm So Fabulous
5. Talk To Me Baby
6. Kids Like You
7. Round and Round She Goes
8. You Don't Have To Cry
9. I Sold My Heart To The Junkman
10. Baby, Tell Me What I'm On
11. Funky But Chic
12. End Of The Summer
(transcribed by Evan Martin)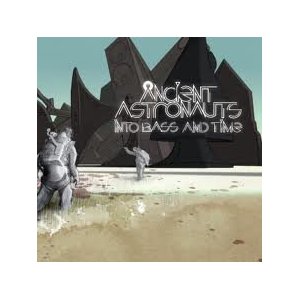 A Conversation with Ancient Astronauts
Mike Ragogna: Before we get into Ancient Astronauts' new album Into Bass And Time, let's get into some of your history. Kabanjak, you've been influenced by the blues. So who were your favorite artists and songs that formed your musical taste?
Kabanjak: When I was about thirteen years old, I started digging the blues. Blind Lemon Jefferson, Bukka White, and the old Delta Blues recordings by Muddy Waters and Leadbelly were a great source of inspiration. The song "God Don't Never Change" by Blind Willie Johnson still blows my mind. It shows you just need a guitar and a voice to make great music. I think the blues is the foundation for all kind of different musical genres.
MR: Dogu, you have a taste for '90s hip-hop. Who were some of your favorite artists and songs?
Dogu: Hmm, there are so many. But here´s a little list:
Pete Rock & CL Smooth "They Reminisce Over You"
The Pharcyde "Oh S**t"
The Roots "Silent Treatment"
Eric B & Rakim "Don´t Sweat The Technique"
Public Enemy "Don´t Believe The Hype"
Hard 2 Obtain "LI Groove"
Silver Bullet "20 Seconds To Comply"
Souls Of Mischief "´93 Till Infinity"
Wu-Tang Clan "C.R.E.A.M."
MC Lyte "When In Love"
Tha Alkaholiks "Daaam"
Master Ace "Music Man"
N.W.A "Express Yourself"
EPMD "Strictly Business"
Biz Markie "Just A Friend"
A Tribe Called Quest "Jazz (We´ve Got)"
Poor Righteous Teachers "Shakiyla"
The Fugees "Boof Baf"
Kool G Rap & DJ Polo "Streets Of New York"
KRS-1 "Sound Of Da Police"
MR: What's the origin of Ancient Astronauts?
D: We know each other for more than 20 years because we come from the same hometown--Moers, Germany. We played tennis in the same club back in the day, and even our parents knew each other. But in those days, we where not really the closest friends, but we respected each other. When we got older, we started doing parties together in our hometown because we noticed that we both shared a big love for funk, jazz and African music, and modern electronics such as early big beat, drum & bass and trip-hop. We thought there was so much crap music played in all the clubs that we had to do something against it.. And then we exchanged our specific skills in hip-hop, reggae, and blues, and tried to form our own sound that is influenced by all these genres and just started producing. In 2001, Dogu started Switchstance Recordings to give our music and the music of our friend and collegue Protassov a platform.

MR: Do you believe in ancient astronauts?

K: We believe in possibilities. Who knows what is out there. But the whole ancient astronauts theory is very interesting and inspiring to us. We just love our band name and the myths behind it.
MR: How do you think they'd view our culture if they ever returned?
K: They´d probably think, "Nothing really changed."
MR: (laughs) You've worked on other artists' projects, which are among your favorites?
D: We had a lot of fun remixing our label mates Ocote Soul Sounds because their music is so rich and original. Very organic. It makes the most fun when you get a full band with great musicians that you can remix than only computer-generated music. Also, to remix, Vieux Farke Toure--the son of Ali Farka Toure from Mali--was such a great experience. His music is so far beyond modern electronic music, so we tried to give it our own kind of Hip Hop twist, but in respect to the original recording. We thought if there are B-Boys out in the desert, then they will feel this.
MR: How did your blend of hip-hop and electronica coalesce?
K: In the mid and late nineties, over here in Europe, we were heavily influenced by the UK scene when it came to club music, when hip-hop started becoming more gangsta or more commercial labels like Ninja Tune, Mo´Wax, Catskills or Wall Of Sound blew us away with their sound aesthetics. They gave a very musical approach to hip-hop and breakbeats. Also, the mid-'90 house music from France like Etienne de Crecy, La Funk Mob or Daft Punk brought us into serious electronics and DJ mixing. Both of us like more than one style of music, so we always combine different genres in our sets and productions. Hip-hop gave us the freedom to fuse different music from everywhere in the world through a fat, dope beat and electronica helps to make everything more tight and on point. Hip-hop is our inner soul when it comes to the production and the aesthetics of beats and rhythms, and modern electronica gives you a lot of tricks and flics to play around and give it your own touch.
MR: You have some cool pop culture samples. How did you choose them?
D: It´s got to be dope and fit into the mood of our song. Most of the time, we go through a stack of records, searching for those rare unheard sounds and pick what we like. But in the end, we try to make the sample our own by pitching, slicing, tweaking and editing it.
MR: How do you come up with the topics for your lyrics?
K: Actually this is not really coming from us. We concentrate on the music and the feel that we want to give our tracks. When we work with vocalists, then our tunes just get working titles but our lyricists always have the freedom to change the title. Sometimes, the title points into a direction that we think the lyrics could go, but in the end, the lyricist is the one who feels our music and writes his own lyrics. For example, on the new album, we have a song called "The Shining" with Azeem on vocals. We had that beat flying around in our studio for about a year and always wanted a serious MC to rhyme over it. We thought "The Shining" is a good title for the mood of the rhythm and harmonies, and we knew that Azeem understood what we meant with it. So, he totally adapted that topic and took it forward. But again, if he gave us lyrics with a totally different topic but killing it over that beat, then we would have been convinced because we really want our songs to be collaborations with the lyricists that we work with. We give the music a little inspiration, the lyricists give the message.
MR: Can you pinpoint what's unique about Ancient Astronauts' recordings over everyone else's?
D: We would say what is really unique about our music is our sound aesthetic. The way we want our music to sound, that little dopeness that lives in our productions. We do not steal samples one-to-one, we make our own sounds by remodeling them and form our own new melodies out of these sound samples. Then, we combine them with our own composition, our own songwriting and arrangement. Kabanjak plays a lot of live instruments, but in Ancient Astronauts, we love to sample them and make them sound like samples from vinyl records. Our sound is very organic, warm and relaxed, but still has a lot of pressure and depth. Also, the influence from the whole field of electronica gives a certain shape to our music.
For the type of music that we do--let´s call it an electronic world music inspired by the hip-hop sound--we have our own German and European viewpoint. Our vision of the world and music is a very cultural one, that´s why we call ourselves Ancient Astronauts, in order to respect the old and create the new.
MR: Do you have any advice for new artists?
D: Be open for music from different cultures or places in the whole world. It is always good to listen to old recordings from different music genres to catch a feeling for the mix of instruments. If you love what you do, then go on with it but always stay realistic. Success needs time in this world, so don't run after the money because then it will never come. As so often in this world, good contacts are very important, and a certain level of being able to manage your own career is essential. You have to invest a lot of time and energy in what you do and what you believe in. Don't follow hypes, follow your heart.
Tracks:
1. Bass And Time
2. Still A Soldier
3. The Shining - with Azeem
4. Impossible
5. Anti Pop Song
6. Don't Stop - with Raashan Ahmad
7. Worldwide
8. Eternal Searching - with W. Ellington Felton
9. Peace In The East - with Entropik
10. Calvert Street Rock
11. Give It To You - with Monsoon
12. Rocket Science 3:48$0.99
13. Last Night - with Akua Naru
14. Bitter Hypnotic - with Phat Old Mamas
15. Nocturne
TOUR DATES:
March 10- DC- W Hotel- ESL SXSW KICK OFF- 10pm:
http://www.brightestyoungthings.com/event/brightest-young-things/w-washington-byt-present-esl-sxsw-kick-off-w-washington-dc.htm
March 14- Austin- Mohawk- 10pm
March 15-Austin- Copa -Time TBD
March 16- Austin- Waxpoetics party @ Scoot Inn- Time TBD
March 17- Austin- Ableton Live Sessions @ Gear Alley Garage- 1pm
http://sxsw.com/music/gear/dj_invasion
March 17-Austin- Roial- Soul of the boot/ Strange Tribe presents: An ESL, Tru Thoughts, Fort Knox Five Showcase Time TBD
March 18- Austin- Kenichi- Giant Step and ESL Music presents: Dubspot and Friends- 9pm
http://www.giantstep.net/events/1344
March 18- Austin Official SXSW- Malaia Upstairs- 12am-1am
http://schedule.sxsw.com/events/event_MS14064/
March 19- Austin- Dubspot Online @ Gear Alley Garage- 1pm
http://sxsw.com/music/gear/dj_invasion
March 19- Austin- Silent Disco party in Enchanted Forest-1412 W. Oltorf 1:30am
March 20- Austin- Dubspot Friends / Family BBQ- 12pm-7pm
March 25- DC- A Night at the Newseum: Way Out of Line @ Newseum 8pm
http://www.brightestyoungthings.com/event/brightest-young-things/a-night-at-the-newseum-ii-way-out-of-line.htm
March 30- Oakland @ The New Parish- ESL Bay Area Takeover
April 1- San Francisco @ Public Works- ESL Bay Area Takeover
April 1- SF- Pre-show happy hour @ Standford CT -Renaissance Hotel
April 7- LA- Afrofunke @ Zanzibar
Popular in the Community