In 1991 Barbara Rachko received two brightly painted wooden figures from Oaxaca, Mexico as a Christmas present from her then future sister-in-law. Almost immediately, she developed a passion for Mexican folk objects and her art career took on a bold new direction. Her Domestic Threats series of pastel-on-sandpaper paintings sets the objects center stage, blurring the lines between reality and fantasy.
At the time, Barbara lived in Alexandria, VA and was finally working as a full-time artist, having recently resigned after seven years on active duty as a Naval officer and working at the Pentagon. Realizing her artistic future did not lie in portraiture, she was in search of a new style and subject matter. The Oxacan dolls arrived just in time!
Barbara began reading everything she could find about Mexico; Oaxaca in particular. A year later, she would travel there with her husband and begin collecting Mexican folk art. To date she has acquired over 200 pieces. As a fan of the unique series, I was eager to ask Barbara a few questions about Domestic Threats.
JG: Can you elaborate on the title of the series?
BR: This is prosaic, but all of the paintings in this series are set in my personal domestic environment, in places where I reside or have resided. Each painting typically contains a conflict of some sort, at least one figure being menaced or threatened by a group. Depending on what is going on in the country at a particular moment in time, people have prescribed political associations to my work. Since my husband was killed on 9/11, many people thought the title was prescient. They have ascribed all kinds of domestic terrorism associations to it, but that is not what I had in mind.
JG: You liken your pieces to scenes in a movie. Is there an audition process? What qualities must an object possess to be cast in one of your paintings?
BR: There's no audition process, but I do feel like they call out to me somehow when I'm searching the markets and bazaars. Color is very important ! The brighter and the more eye-catching patterns the better. They must be unique and have lots of personality. I try not to buy anything mass-produced.
The objects must have been used or otherwise look as if they've had a life (i.e., been part of religious festivities) to draw my attention. How and where an object comes into my possession is an important part of my artistic process.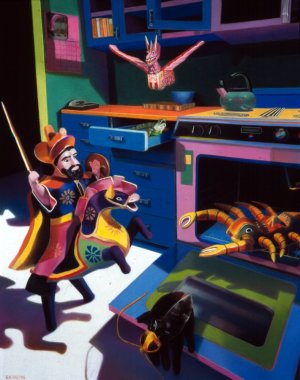 The Magical Other
soft pastel on sandpaper
47"x38"
JG: There is a voyeuristic quality to your paintings. Perhaps it is because we are seeing objects most would consider inanimate acting out these complex scenes you've created for them. Where do the stories come from?
BR: During the set-up process, I routinely made up stories about what was happening in each scene. Being an artist has many negatives, but one of the fun parts is that sometimes we get to act like big kids! Some of the stories came from movies, mythology or folk tales. I read a lot and I love stories of all kinds. I try to be open to all sorts of influences. You never know what will work its way in to enrich your art.
JG: Do the dolls go on to play different roles in different series or are their characters recurring?
BR: The dolls and objects play different roles in different paintings and I paint them differently to reflect this. If you take one doll and follow it through the series, you'll notice that it evolves so that it never looks the same in any two paintings. I continue to think of each object as an actor in a repertory company.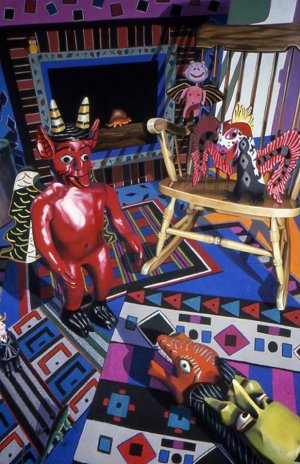 He Didn't Take Seriously the Threat From Below
soft pastel on sandpaper
58"x38"
JG: Joyful and vibrant color is abundant in your work, but shadows are also ever-present. I would almost go as far as calling them the supporting players of your compositions. Can you elaborate on their importance and significance?
BR: I spent a lot of time lighting each scene in search of interesting shadows. Eventually, the shadows became so important that I thought of them as physical objects in their own right. I made them very prominent and gave them added emphasis. When I go to art galleries and museums, I always look at the shadows surrounding three dimensional objects. I find shadows constantly intriguing.

JG: If your objects could talk, what might they say about you as a director?
BR: I hope they would say that I am very focused, that I know exactly what I am after, and that I use all the skills and knowledge I have acquired in 23 years as a painter (8 as a photographer) to make art that is worthwhile and meaningful.
Barbara Rachko divides her time between residences in New York and Alexandria, Virginia. She enjoys a busy career as a professional artist. She is represented by six galleries throughout the United States, exhibits nationally and internationally

Popular in the Community