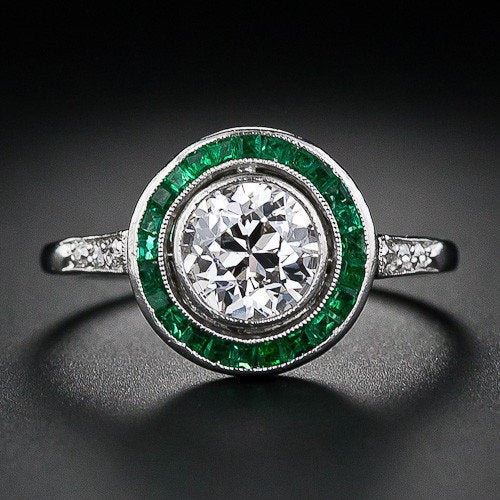 Even in the dead of winter, emeralds can make you feel like spring is just around the corner. This verdant, earthy gemstone has become the red carpet's favorite bauble of late, sparking color authority Pantone to declare Emerald Green the official color of 2013. Emeralds are associated with balance, harmony, growth, and prosperity -- all attributes the world could use in abundance this new year. And for many cultures, emeralds symbolize beauty and healing. The color green is the most abundant hue in nature; humans see more green than any other color in the spectrum, according to Pantone's Leatrice Eiseman. It is also May's birthstone and the patriotic color of Irish pride for the "Emerald Isle."
While it's true that we've been seeing more and more emerald jewelry at fancy celeb photo ops, what I want to focus on here is the addition of emeralds to bridal jewelry. This is a striking new trend that I believe is a fantastic development. We'll look at two facets of the trend: engagement rings with emeralds for center stones and engagement rings with diamond center stones and emerald side stones.
Emerald Center Stone Rings
First, let's take a look at engagement rings with emerald center stones a la Halle Berry. Olivier Martinez proposed to the actress last year with a stunning four-carat Colombian emerald engagement ring in a textured, hand-forged, yellow-gold setting. Flanked by two smaller diamonds, this emerald is an exquisite specimen of vibrant color.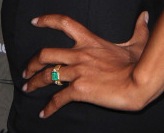 What I love most about this ring is that it's not a diamond! It's refreshing to see celebrities pop the question with something unique and different because it makes it okay for the rest of us too. There is no law that stipulates that all men must buy diamond engagement rings for their fiancees; rather, the diamond industry has led us to believe it's like committing a crime if they don't. I applaud all men who buy gemstone engagement rings -- and all girlfriends who will be excited to wear them. If it was good enough for Prince William to propose to Kate with his mother's blue sapphire ring, then it's probably good enough for you too.
What do you need to know when purchasing an emerald center stone? Color, color, color. With emeralds, and many other gemstones, the color of the stone is of paramount importance since it is the gem's hue, tone, and saturation that grab your eye and captivate you. While the hue (where the shade of green falls in the spectrum of colors) and tone (measure of dark and light) are necessary to consider, it's absolutely crucial to investigate the emerald's saturation, or intensity of color. Be sure to select a lively, vivid, intensely colored emerald rather than a dull, flat, limp one. This is the key to buying an eye-popping emerald center stone for an engagement ring.
While emeralds are far from "cheap" in an absolute sense, they cost considerably less than diamonds. Use the money you save forgoing a diamond to get a larger stone. Or just save it for any of the many other wedding-related expenses.
Next let's take a look at diamond engagement rings with emerald accent stones. This style is great for the couple who still wants a conventional diamond center stone, but wants to add a splash of green to the colorless look of the diamond with smaller emeralds in the setting. The most common shapes for emerald side stones are emerald, round, pear and trillion, usually with one emerald on each side of the diamond. But you are only limited by your imagination and your budget.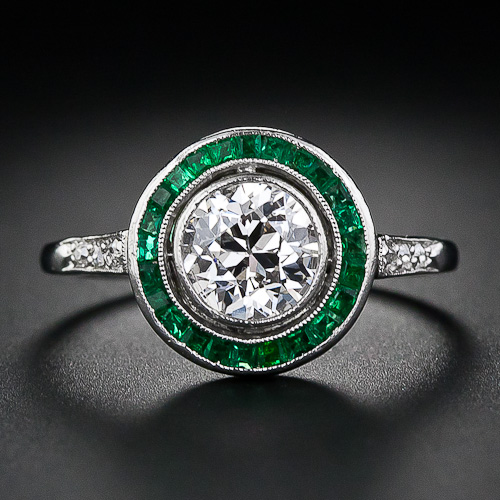 As you may already be aware, the decadent Art Deco style of the 20s and 30s is the new retro look, and one we expect to see more of in 2013. This old school ring from about 1930 features an approximately one carat round diamond surrounded by a halo of emerald cut emeralds, and diamonds on the band of the ring. This is truly a fantastic option for those of you looking to design a custom engagement ring. Classy, unique, and spectacular all at the same time.
Green Ice, New Trend or Revisiting another Era?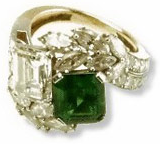 What may seem like a new trend today in 2013 is most likely a throwback to a time when emeralds enjoyed more popularity. Who better to teach us this lesson than first lady and fashion icon Jacqueline Bouvier Kennedy? When she accepted John F. Kennedy's proposal with this memorable Van Cleef & Arpels 2.88 carat diamond and 2.84 carat emerald engagement ring in 1953, it became the standard of elegance.
And though the days of Jack and Jackie seem a world away, the first lady's style remains a classic example of the dazzling combination of the icy white diamond and the vivid green emerald.
Ira Weissman is a diamond industry veteran with a decade of experience at one of the world's largest diamond polishers. He has traveled the world buying and selling diamonds and now dedicates his time to helping consumers make the most of their diamond buying decisions. He has been featured on Anderson Cooper, CNBC, and has been quoted by MarketWatch, The Village Voice, and BankRate. Visit Truth About Diamonds to educate yourself about diamonds.