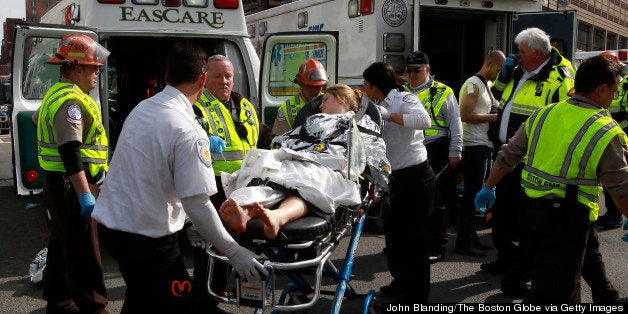 Boston's hospitals couldn't have known Monday morning that dozens of people would pass through their doors that afternoon in need of immediate medical care for injuries sustained in a bombing at the finish line of the Boston Marathon.
But for hospitals in Boston and elsewhere in the U.S., especially in big cities, years of thinking ahead triggered response plans that directed the most injured patients to the facilities best suited to care for them, cleared beds and operating rooms to speed treatment for the worst cases and pulled in medical personnel from across the region to help those suddenly in need of emergency medical care.
Readiness is the watchword, and improvements over the last decade in the ability of the health care system to react swiftly and effectively were evident in the aftermath of the catastrophe, said Christopher Colwell, the director of the Department of Emergency Medicine at the Denver Health Medical Center, who spoke to emergency medical personnel in Boston on Monday.
"The response has been a very good one. I think it's reflective of where the medical community in this country is going now, where we're going to be more prepared for things like this and ready in a way that we weren't 5 or 10 years ago," Colwell said. "Everything that I have seen would indicate that it has been very well managed."
"There will be lots of lessons learned here and there will be opportunities for not only that medical community but all of us throughout this country and, I would argue, the world to learn from their experience and be better for it," he added.
Colwell was on the scene after the shootings at Columbine High School in 1999 and oversaw the treatment of 11 victims of last year's mass shooting at a movie theater in nearby Aurora, Colo. He said the Columbine shootings and the terrorist attacks on Sept. 11, 2001, changed the way hospitals and others responsible for responding to mass casualties think about preparedness.
From those tragedies emerged a new way of thinking that forced the health care system to acknowledge that large-scale events are a fact of life, Colwell said. "It's going to happen to us. We don't know when and we don't know exactly what, but it's going to happen," he said.
"Columbine was one of the first events that really, I think, woke everybody up to say, 'This can happen to me,'" he added.
Colwell said hospitals need to treat their real-life experiences as opportunities to better understand their capabilities and limitations. Evaluating responses to smaller events, such as car crashes with multiple victims, can inform how a hospital deals with a larger-scale disaster, he said.
"If we're challenging ourselves with the things that we're seeing every day, we're going to be better prepared for the things we're most likely to see when a disaster happens," he said.
Hospitals write detailed action plans, stage mass-casualty drills and maintain constant communication with emergency responders and other medical facilities to prepare for major events, said Georges Benjamin, the executive director of the American Public Health Association in Washington, D.C.
"This is bread-and-butter hospital emergency preparedness. Hospitals prepare for this," said Benjamin, a former emergency room physician who previously ran the health departments in Maryland and the District of Columbia. "I was comfortable that Boston could handle many more cases," he said.
A key development over the last decade or so has been better coordination among hospitals and others involved in emergency planning and response, like ambulance services, Benjamin said. Hospitals now share information about what resources they have available, enabling ambulances and police to deliver patients to the most appropriate location, he said. The U.S. also has poured billions of taxpayer dollars into disaster readiness since the Sept. 11 attacks, though those investments are waning.
"We have moved from a system where each hospital in many ways operated as a solo entity to systems of care," Benjamin said. "Hospitals are becoming codependent on each other."
Large cities like Boston are especially well-positioned to react to mass-casualty events because there are more hospitals and more surgeons, with greater experience dealing with violent trauma, Benjamin said. He noted that rural areas and even some urban areas remain underserved by the trauma and emergency medical systems, and pediatric trauma care isn't available widely enough.
Broader pressures on the health care system also weaken the nation's emergency preparedness and response, Benjamin said. Hospitals seeking to cut costs may contract for "just in time" delivery of medicines and vital supplies, and nurses may work for more than one facility, for example. In those cases, there wouldn't be enough resources to go around, Benjamin said.
"As a nation, we have a decent trauma system," he said, "but it isn't universal."
Calling all HuffPost superfans!
Sign up for membership to become a founding member and help shape HuffPost's next chapter
BEFORE YOU GO
PHOTO GALLERY
Boston Marathon Bombings