WHO: Hawaiian born painter Megan Van Groll. Has been part of exhibitions in Italy and throughout the state of Texas. Of her repertoire and style, Van Groll says she's "fascinated by the obsessive, erotic, and somewhat dark role of food in the female consciousness." Her latest series, Bakery Brawl, utilizes "a grainy found image of two prostitutes at the beginning of an altercation," and places them in front of a complex, brightly lit, bold bakery scene. Food, sensuality, and obsessive behavior are all familiar in her work.
Despite being such an everyday and seemingly passive part of our lives, food -- particularly comfort or 'guilty pleasure' food -- is a loaded cultural symbol, embodying both physical and emotional nourishment as well as guilt and shame. This love/hate, crave/fear, indulgence/abstinence dichotomy parallels and flirts with the role of sexuality, highlighting the disconnect between the raw, corporeal aspects of our humanity and Western culture's expectations of gender roles and performance.
WHERE TO BUY PRINTS: Van Groll has recently implemented an opportunity to purchase her prints via her website.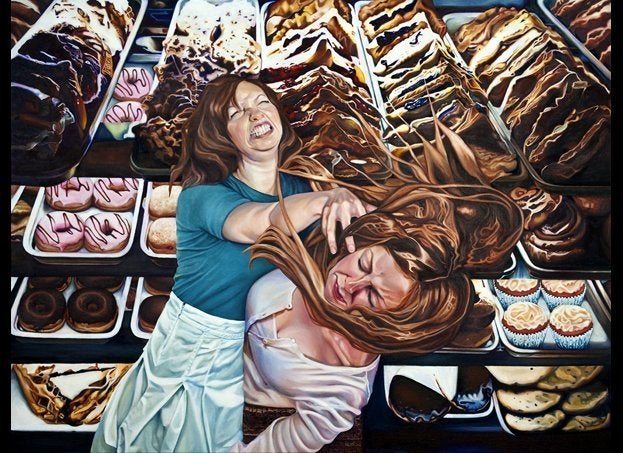 Megan Van Groll Showcase
Popular in the Community