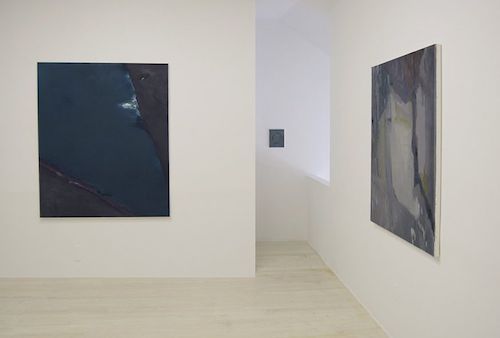 An Hoang arrived in New York City in 2001 at the age of 23. Her first job was at an interior design firm on the Upper East Side, but the style desired by the clients didn't jibe with her sense of off-hand, wabi sabi elegance. She landed a job at Bill Maynes Gallery in Chelsea, where she was quickly promoted to Director. I got to know Hoang first in her role as an upbeat, calm, and organized arts administrator and eventually as a fellow painter.
At that time, my TriBeCa studio was large enough for Hoang to drop by and set up across the room. It was enjoyable for me to give her a few rudimentary tips and then watch her creativity take over. Hoang instinctively chose a limited palette that included a blue black. She constructed small paintings of windowsills and the view of the Hudson River in the background, compressing great distances. I could give her technique tips, but she already knew what she was doing in terms of composition and subject matter. She had a natural sense of restraint. I would sit at my far easel, too often in an aggravated state, and occasionally glancing up to soak in a bit of Hoang's seeming serenity.
Soon enough she got her own studio, and regularly had established artists she met in Chelsea stop by to give her criticism. By her late 20s she had developed into an accomplished painter.
Over the past decade I've been intrigued by what stays consistent and what changes in Hoang's work. Her direction has moved incrementally away from representation into pure abstraction. Her brushwork has loosened up and become more varied and her palette has expanded, but newer bright colors surface as zaps and bursts and then submerge back into her twilight sensibility. As her paintings have become more abstract, she's also jacked up their emotive quality.
Hoang's current show AS THE CROW FLIES at Halsey McKay Gallery (through April 30th) includes eight paintings that continue her exploration of chromatic greys that flicker between object and illusion. Think Clyfford Still interpreted by a very young Brice Marden or Luc Tuymans.
In Hoang's painting "Phantom" (2014), what feels like a hot pink Africa is smoldering beneath blue black smoke. In "On a Dark Night" (2013), there is a feeling of safety in the center of the color field - but it remains frustratingly out of your reach. In "Shadow" (2013), a Gustonesque large pale shape is being dragged into shadow against its will, even as a dark bar of paint assaults the shape at the top of the picture plane. These are just my personal responses to these paintings, which Hoang would likely accept with a gentle laugh. She's a kind person who tends to see the best in people, including their interpretations of her work.
No matter what I see or don't see, Hoang is chasing something only she can sense, and these paintings are by-products of that exploration. I look forward to seeing where her future exploration leads. In the meantime, don't take my words for it. Below, some words from the artist herself on her process, inspiration, and aspirations among other interesting things.
What's the most indispensable item in your studio?
The most indispensable item in the studio is my window. My studio is located in an old telephone warehouse building in Greenpoint, Brooklyn. Though many of the windows in the building have been replaced, the window in my studio is original to the building. It only opens a few inches, is full of cracks, holes and grime, but the mottled chicken wire glass diffuses the light in just the right way. You can't actually see out of it, but you can make out the color and forms of the buildings beyond the frame; an experience that is integral to my work.
What do you do when you're blocked?
When I feel stuck in the studio, I will either switch to a different scale of canvas or change to making drawings or works on paper. It changes the pace and helps to keep things moving.
I've also found that it can be helpful to travel and get out of my everyday environment and place myself in unfamiliar surroundings. This allows me to discover the familiar within these places, to see things in a new way.
How has travel influenced your work?
Two recent places that I have traveled to that have had an important impact on my work were Brazil and Alaska.
I was taken by the juxtaposition of the dense cities and favelas nestled within the rugged landscape of Brazil; the layers and colorful textures of the urban environment contrasted with the luscious tropical vegetation of the mountainous landscape. One of my favorite places to visit was Roberto Burle Marx's estate on the outskirts of Rio. Here, Burle Marx had over 100 acres of land where he planted various species he had discovered in the rainforest and would experiment to see what plants could thrive next to one another. As a visitor, you can now wander through the grounds of his personal landscape he created. In addition to being an ecologist, he was an accomplished landscape architect, painter and sculptor.
Alaska had an important impact on my work because the landscape is a striking contrast to my daily experience in the city. I had the opportunity to look out at the open sea, to hike on glaciers and quietly float along a fjord. To experience the landscape from those various perspectives was very valuable to my work; to be able to see the way the light reflects off the glacier; to hike into a glacial ice cave filled with electric blue light; to walk along the rocky terrain and to be able to see the way the recession of the glacier reveals the record of time on the surface of the land underneath.
What international art destination do you most want to visit?
I've never been to Spain and would love to go to the Reina Sofia Museum.
What work of art would you most like to own?
Bonnard's Dining Room on the Garden (Grande salle à manger sur le jardin), 1934-35.
Where are you finding ideas for your work these days?
I've always been interested in spatial conditions. While my work has evolved over the years, the early work engaged the familiarity of interior spaces- layering multiple perspectives within the same canvas so that there was a perspectival shifting of space. In more recent work, this interest in spatial relationships continued as I moved the viewer out of the interior and into the city. In that series of paintings the intimacy of an interior is fractured and juxtaposed with the anonymity of the city.
The work in my current show at Halsey McKay Gallery has developed in scale and continues to investigate spatial relationships with a perceptual shift that occurs as the viewer places themselves within the work. My exploration lies in representing contrasting experiences of nature and the urban environment to evoke the spirit and atmosphere of place. Working from memory, these experiences inform the paintings which become abstracted through the process of making.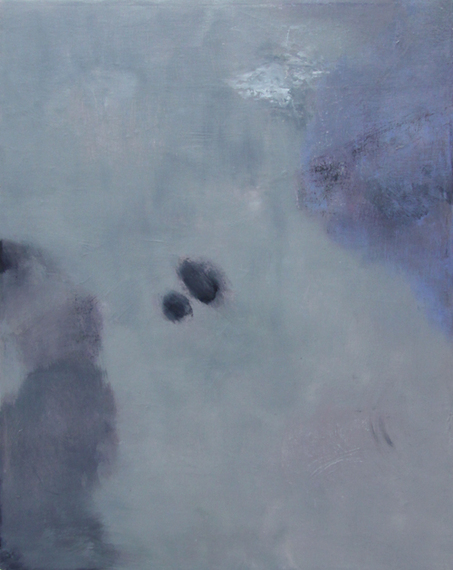 Untitled (Memory III)
Visit www.anhoang.com to learn more about her work. Visit www.halseymckay.com to find information about the gallery and how to visit. All images courtesy An Hoang and Halsey McKay Gallery.
Popular in the Community