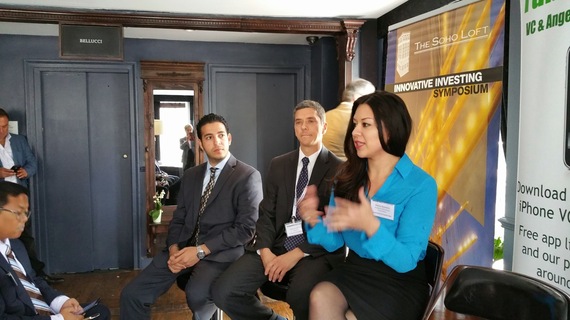 From left: Allen Shayanfekr, CEO of Sharestates; Scott Andersen, Principal of ConsultDA and finLawyer; and Alysse Romero, Associate at American Homeowner Preservation as panel speakers in The Soho Loft Conferences held May 21.
Photo credit: VictoriaGlobal.co
The U.S real estate crowdfunding industry has experienced phenomenal growth since the Jumpstart Our Business Startups Act, or JOBS Act, became legal in 2012. With the absence of any strong barrier to entry, new firms continue to flood the industry as news surfaces monthly of yet another startup being launched.
At Times Realty News we have tracked 135 unique firms in the U.S real estate crowdfunding industry so far and the number keeps increasing. This explosion in the number of firms is indeed unprecedented for an industry still in its early stages of development. Nevertheless, the industry structure has important implications for the performance of firms as the market, once dominated by the top players, is constantly being challenged by new leaders emerging on the scene.
According to Sharestates, a real estate crowdfunding platform in New York launched less than 2 years ago, the platform has clocked $15 million in August and another $15 million in September bringing the total amount raised to $56.3 million from investors for this year as of this writing. If this growth rate is sustained, the firm is set to become one of the top 5 players in the industry by December 2015.
Allen Shayanfekr, CEO, Principal and Co-Founder of Sharestates, says, "The real estate crowdfunding industry is still in its infancy. As leading companies continue to educate the investment community, I anticipate growth to accelerate exponentially. Offering quality investment opportunities that are transparent and secure are key to making sure we see continued traction. Along with our peers, Sharestates is committed to helping grow the industry, and we look forward to what lies ahead."
Firms in the burgeoning RECF industry face significant challenges as they continue to disrupt the old institutional practices in real estate. A major challenge they face is finding the right deals to underwrite and having the right amount of capital to deploy towards the deal. Platforms must also be able to ensure that funds are deployed when due so as not to miss out on the best deals. This explains the growing prominence of pre-funded deals among platforms in the industry. Although this is an effective strategy, it still does not substitute for having a deep understanding of the industry and an established network of relationships with developers.
A major competitive advantage of the platform in the industry has therefore been the founders' very deep understanding of the industry coupled with an already established network of relationships that allows them to source deals and convince developers and investors to use their platforms to finance projects.
Currently, Patch of Land is also recording a very strong performance with over $50 million raised since its launching. However, Sharestates may surpass them by December, not in terms of the total funds raised, but in terms of the deals funded per month, if the present rate of growth is sustained. With a very strong credit line and a robust history of deal making in the North East (where their focus has been) the firm has a very real chance of making it to the top.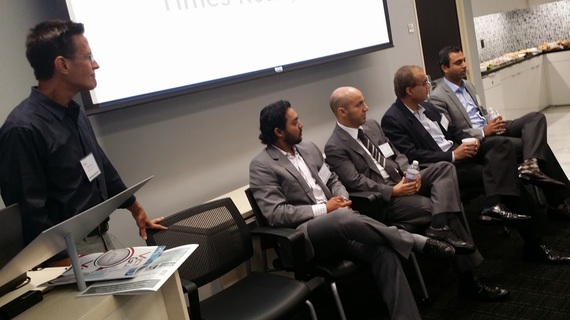 From left: Carlos Tabibi, Chairman and Co-Founder of Patch of Land, is the second in this The Soho Loft Conferences panel on real estate crowdfunding.
Photo credit: VictoriaGlobal.co
It is also quite significant that the firm has recorded this level of performance with lean operating costs and requirements. It is highly commendable that with only about 7 employees, the firm has experienced higher growth rates than other platforms with a bigger staff. For instance, the firm is financing more deals on a monthly basis than Realty Mogul which has about 80 employees. This therefore raises the issue as to how large real estate crowdfunding platforms need to become in order to improve their performance. While operating on a large scale is an added advantage for firms, Sharestates has shown that with advanced technology and a team able to operate efficiently, platforms can witness substantial improvements in their performance without having to run on a large budget.
It is quite interesting to watch how the real estate crowdfunding industry is evolving from the vantage point of an industry expert, advocate and investor. The days to come surely have much in store for all industry stakeholders as we will see the industry exploding in 2016 in terms of the number of firms coming in and the amount of funds raised by these platforms. New leaders will also be seen emerging to join the ranks of top players in the industry as firms continue to vie for market share dominance.
You can monitor the latest trends in the industry and gain insight into the changing industry's competitive landscape with the soon-to-be released 2015 Times Realty News (TRN) Real Estate Crowdfunding Report produced to demonstrate the nuances among the emerging leaders in real estate crowdfunding platforms in the U.S.
Calling all HuffPost superfans!
Sign up for membership to become a founding member and help shape HuffPost's next chapter