New England political leaders, utility companies, and multinational energy companies have been telling the same story for years: natural gas is the answer to New England's energy needs. Recently, this tale has been used to justify multiple new natural gas pipeline project proposals. Spectra Energy has proposed three different expansions (Algonquin Incremental Market, Atlantic Bridge, and Access Northeast) to the Algonquin Pipeline, which runs from the New Jersey/New York border through Connecticut and Rhode Island to Massachusetts. These expansions include the construction of new pipeline laterals and compressor stations. Meanwhile, Kinder Morgan has proposed the construction of the Northeast Direct pipeline through New York and Massachusetts -- a project that has received so much backlash that Kinder Morgan decided to partially reroute it through New Hampshire.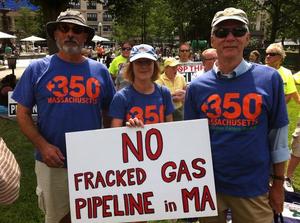 Kinder Morgan and Spectra swear up and down that their pipelines are desperately needed to meet local demand. But their claims simply don't match reality. The three expansions to Spectra's Algonquin Pipeline would provide a total of 1.45 billion cubic feet per day of gas, and Kinder Morgan's NED would add an additional 2.2 billion cubic feet per day. There's just no evidence that New England requires that much gas. Even ISO New England, the region's grid operator (which has often been seen to cater to the needs and desires of fossil fuel companies and their allies), has found that New England only needs an additional 1.1 to 1.6 billion cubic feet per day of natural gas pipeline capacity to meet peak demand. And if we update the grid, fix pipeline leaks, and invest in renewable energy and energy efficiency (or even just more gas storage), we could manage without any new gas pipeline capacity.
This begs the question: if Spectra and Kinder Morgan's gas isn't going to meet New England demand, where is it going?
The fracking boom in the United States has led to an exponential increase in the availability of natural gas, driving down prices dramatically -- and eating into the profits of American gas companies. Gas drillers are desperate to get their product to European and Asian markets, where the price is significantly higher. This desire to export is evidenced by the 12 approved and 24 proposed liquid natural gas export terminals in the United States and Canada.
Spectra in particular has not been very good at hiding their intentions: they blatantly named one of their projects "Atlantic Bridge" (i.e. building a metaphorical bridge over the Atlantic to connect American supply with European demand).
Over the last few weeks, we've gotten new evidence that the ultimate goal of these pipelines is export. Spectra and Kinder Morgan keep canceling the parts of their projects that would actually go to homes. Spectra has reduced the amount of new lateral pipeline in the Atlantic Bridge project by 80%, and Kinder Morgan eliminated a 14.5 mile lateral in the NED project. Pipeline laterals are offshoots from a mainline that make local distribution easier. Both cancellations were officially due to lack of local demand and unsigned utility contracts. Kinder Morgan and Spectra want us to believe that their pipelines are desperately needed to meet local demand, and yet they're struggling to find New England customers for their gas.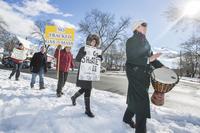 These cancellations are victories. Community groups like Stop the West Roxbury Lateral, Burrillville Against Spectra Expansion, and No Fracked Gas in Mass are right to celebrate whenever they are able to keep dangerous fossil fuels away from their homes and families. But these victories also show what we're really up against. Spectra and Kinder Morgan really don't have the 'average New Englander, just trying to make ends meet' in mind when proposing to bring more of a harmful energy source into our region. They're looking to make a quick buck by exporting natural gas -- which will raise electricity prices even more, while making our children pay for the destruction that climate change will bring to New England.
The people represented by those community groups are your true average New Englanders, worried about their energy bills and the future of our planet. They've seen through Spectra and Kinder Morgan's claims, and they know that we can meet both the needs of today and tomorrow without new natural gas pipelines traversing our region.
Support HuffPost
The Stakes Have Never Been Higher
Related
Popular in the Community