Standing squarely in front of an archery target, when you draw an arrow back to take aim, creating a triangle of tension on the bow, there is a massive amount of potential energy building up to make the arrow fly. Similarly, right now in the international climate community, there is a growing sense of the tremendous potential at our fingertips.
For a long time, we've had our eye on the target--keeping global temperatures from, at worst, surpassing 2 degrees Celsius. But right now, climate policy and technology are aligning, accelerating progress. In just the past few years, we've seen the adoption and recent signing of The Paris Agreement, significant investments in research and development, and crucial advancements in the clean energy sector.
The potential is growing, and our bow string is getting tighter. The exciting potential of this mounting progress is how it is creating a new space ripe for energy innovation. Right now, emerging technologies in the energy sector could truly transform our future.
Out of laboratories, think tanks, scientific partnerships and--in some cases--out of the bottom of the sea, ideas for green energy are taking off, some with the power to act as disruptive innovations, changing the accessibility of and markets for the energy sector.
Across the world, scientists are looking to technology to stir breakthroughs in energy consumption. The Nature Conservancy's NatureNet Science Fellows Program partners with leading universities to drive scientific advancements in conservation. Many of this year's fellows are at the forefront of climate science and technology, accelerating innovations to push the boundaries of scalable climate solutions beyond what is currently possible.
At the University of Pennsylvania, new research by a NatureNet Science Fellow is focused on converting waste heat to electricity. Right now, half of all energy generated is lost through inefficiencies such as wasted heat or steam. This research into more flexible thermoelectric fibers creates opportunities to insulate heat waste hot spots--such as building pipes or manufacturing sites--and convert the lost heat into electricity, much like a solar panel converts sunlight. Waste heat recovery is a very big, very exciting opportunity with scalable potential that could significantly reduce energy consumption and greenhouse gas emissions.
Other breakthroughs include further improvements in the biofuel field. For a long time, algae production has been studied for its potential to provide sustainable renewable energy, but current production inefficiencies--primarily the energy it takes to keep the algae moving and exposed to sunlight--have prevented its use. To address this issue, a fellow working at the University of Pennsylvania and the NASA Ames Research Center in California is looking at giant clams' unique system for harvesting energy from algae. Living in nutrient-poor waters, the clams contain outer cells with crystals that not only give them beautiful coloring, but make extremely efficient use of the available sunlight to feed the algae in their tissues. It's a process that scientists are working to mimic with technology, which has tremendous potential to revolutionize the use of renewable energy from algal biofuels.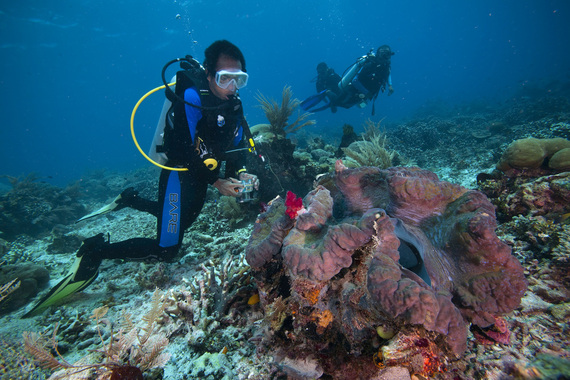 Research diver from The Nature Conservancy, Mohair McLauda, inspects a huge Giant Clam (Tridacna gigas), on the ocean floor at Kofiau. Photo © Jeff Yonover.
As alternative energy productions develop, new improvements in energy storage are also emerging. Technology and electric car companies, acutely aware of the limitations of today's batteries, are looking to new materials and methods for storage and performance. One promising solution is emerging from a NatureNet Science Fellow working at the Transformative Materials and Devices Laboratory at Yale University. Lithium-air (also called lithium-oxygen) batteries can store more energy per weight than current lithium-ion batteries, but until recently have performed with far inferior life-cycles. Scientists have developed a new and improved architecture for lithium-air batteries that could potentially open up a new era for electric vehicles by giving them the same mileage ranges as cars powered by gasoline. Advancements in batteries also promise crucial advantages for renewable energies.
Technological advancements like these, though still in the early stages, could be transformative for global efforts aimed at achieving climate stabilization goals. Better yet, the political and economic space for these developments is further cultivating their potential. Already, we're seeing major investments in research and development from both the public and private sectors.
At the UN Climate Conference in Paris, Bill Gates unveiled the Breakthrough Energy Coalition, a group of more than two dozen wealthy sponsors that plan to invest in clean energy technology companies. On that same day, President Barack Obama announced Mission Innovation, an agreement among 20 countries--including the world's top three emitters, China, the United States and India--to double public funding for clean energy development by 2020.
Technological progress is essential to climate stabilization goals. The Paris Agreement alone is currently not enough to keep global temperatures from rising to dangerous levels. Even if all the pledges are fulfilled, global temperatures will likely warm by around 2.7- 3.5 degrees Celsius, a range considered catastrophic by many climate scientists. The world needs to reduce its carbon emissions by 80 percent in the coming decades--a feat that is out of reach without technological and political advancements.
As budding innovations evolve, the good news is we're seeing that a green energy revolution has already started. What economists and scientists are calling the "Fourth Industrial Revolution" is upon us, and green energy is helping power it.
In 2015, the majority of new power added to the electrical grid came from renewable sources, primarily wind and solar. And for the past two years, renewable energy sources have surpassed fossil fuels in growth. This is indicative of a larger shift in the energy sector. While the U.S. economy has been growing over the past decade, we're seeing a decline in overall energy use--a decoupling that could widen with emerging developments.
The future of our world is closely tied to the future of our energy use. Right now, we are getting exciting glimpses of what that future could look like. As climate policy and technology continue to align and accelerate progress, they create increasing potential for transformative technology to help the world reach our sustainability bull's-eye.
Calling all HuffPost superfans!
Sign up for membership to become a founding member and help shape HuffPost's next chapter