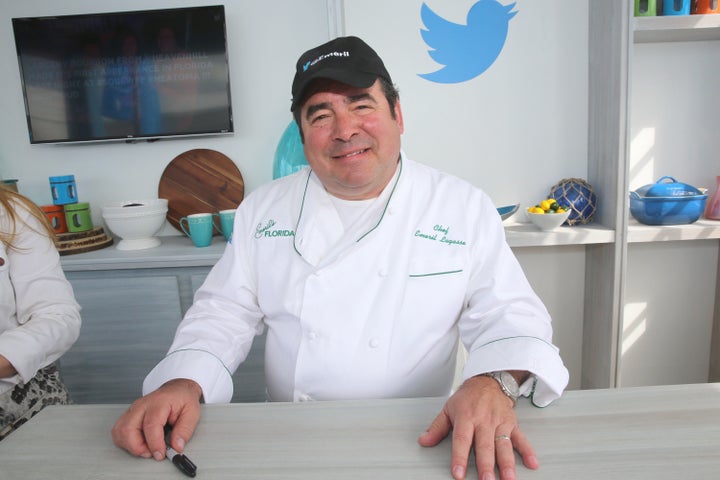 Be honest. How many times have you set out to cook tonight's dinner and realized you didn't notice the part that says it needs to marinate overnight and then cook for 6 hours over low heat? It happens to the best of us.
If you want to be anywhere near Emeril Lagasse's skill level at making a home-cooked meal, there's just one thing you need to understand.
Read the recipe. The whole thing (maybe even a few times) before you ever sit down to write your grocery list.
You might think it's a no-brainer, but Lagasse (who, with Gordon Ramsay, Nobu Matsuhisha and other celebrity chefs, will appear at Bon Appetit's Vegas Uncork'd event next month in Las Vegas), told HuffPost it's an all-too-common occurrence to stop after you read the ingredients, neglecting to understand the cooking techniques involved.
"There are so many people who want to cook, and they see a recipe and go -- 'Oh, wait a minute. A beet salad with goat cheese. That sounds really interesting. That sounds cool,' but they stop there," Lagasse said. "They stop at the title; they don't read the recipe."
The problem with skimming the recipe is that you won't fully understand the technique involved or the full process of making the dish.
"It's one thing to have a recipe, but it's another thing to understand technique. And if you can understand a technique, then you feel a lot more comfortable when you're trying to cook."
He recommends just taking a pic of the recipe (preferably one from his newest book, "Essential Emeril," out now) on your phone and reading it a few times -- even if you're at the store -- to understand it. "Snap a picture of the recipe, go to the store and you've got it right there. You've got your shopping list, but you've got to understand the recipe."
Do you want to be more mindful about eating healthy foods that'll keep your mind and body at their best? Sign up for our newsletter and join our Eat Well, Feel Great challenge to learn how to fuel your body in the healthiest way possible. We'll deliver tips, challenges and advice to your inbox every day.