Emeril Lagasse is a rare combination in today's culinary industry, a humble, hard-working chef who is truly respected by his peers, and a wildly successful TV personality whose jovial face is recognized across America. Emeril is truly an original, so it's no surprise that when a Los Angeles production company thought up the idea for a new TV Show, The Originals, they approached Emeril to be the host.
I had the privilege to interview Emeril recently, and the man I spoke with was so down-to-earth that when the interview was finished, I could hardly believe that I'd just talked to someone known for his meteoric rise to stardom.
As Emeril would tell anyone, he didn't start at the top, he worked incredibly hard to get there, and he still pulls long hours. "Today I'm still working fourteen hour days," said Emeril. "I'm working more now than I did twenty-five years ago."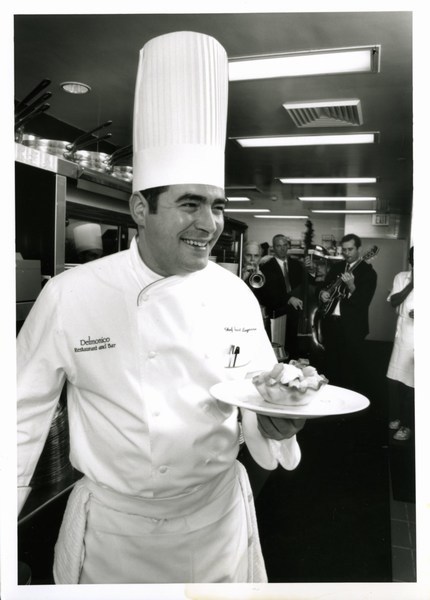 Emeril at the opening of Delmonico (Photo by Kerri McCaffety, Courtesy of Emeril Lagasse)
Emeril's career has been a long one. He told me he started at about 10 or 11 years old, "Working in a bakery after school. And then I went to a culinary high school."
A Very Young Emeril at Work (Photo Courtesy of Emeril Lagasse)
But food wasn't Emeril's only passion, he was also a very gifted musician who was the head of percussions for a Portuguese-American band when he was just 14 years old. He turned down a full scholarship to The New England Conservatory of Music to "pay to go to culinary school." When I asked him why he chose cooking over music, it brought him back to his family roots.
"My inspiration was my mom. She's a great cook, and she still cooks, and we still banter back and forth about cooking. Growing up in a mostly Portuguese community, food was important and the family table was extremely important. At a very young age I understood that."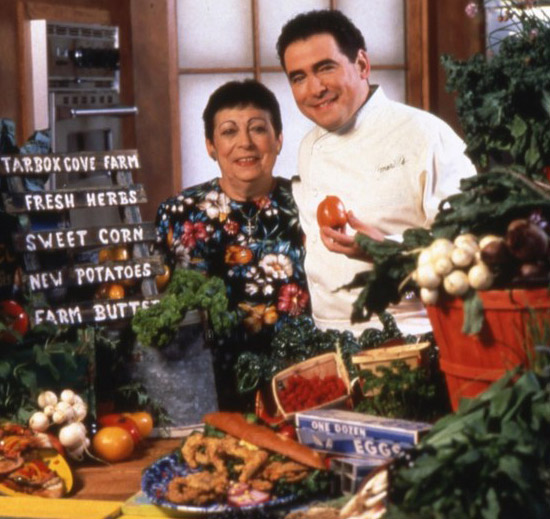 Emeril with his mom, "Miss Hilda" (Photo Courtesy of Emeril Lagasse)
Emeril's love and respect for the family table comes both from his upbringing and from his time spent in Italy, Spain, and France -- where he worked and studied after graduating from Johnson & Wales. "These countries have a deep culinary history -- and life revolves around the family table. Spain and Italy are really food and family oriented."
Having just returned from a family vacation to Spain when we spoke, Emeril said, "The whole time we were there I never saw a child -- including my own -- playing a video game. You go to a restaurant in the States and kids have these game boards at the table. You don't see that in Italy or Spain. It's not because they can't afford to buy them, it's because that's not what eating together as a family is about."
Admitting that his kids do have video games, he said they just don't play them when the family gets together around a table -- "at home, a friend's or a restaurant. I want to raise my kids in the tradition in which I was raised, a tradition which is still alive and well in Italy."
In Emeril's house the family decides together what they want to eat for dinner. When we spoke he told me, "Over breakfast this morning we chose to have fish for dinner, so we'll be going to the fish market and a farmer's market this afternoon to get what we need to make and eat dinner as a family. I'm trying to expose my kids to going to a farmers market or the fish market and learning what that's all about."
Back in 2002, Emeril, a man who has always been involved in charities that benefit kids, started his own foundation, The Emeril Lagasse Foundation. When I asked him why he did this, he replied, "I think that in order for life and the world to evolve, you have to give, you can't just take."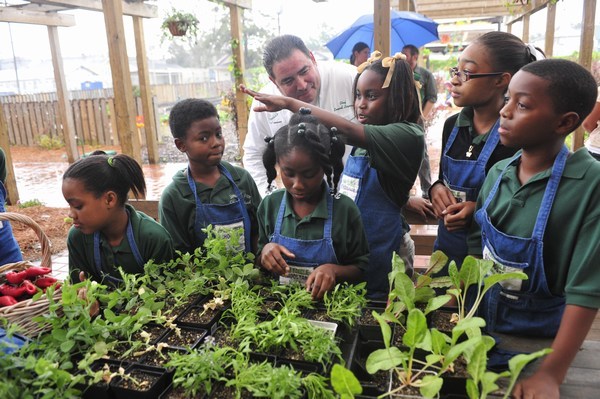 Emeril working with children through The Edible Schoolyard project (Photo Courtesy of The Emeril Lagasse Foundation)
The Emeril Lagasse Foundation has built a culinary center at the New Orleans Center for Creative Arts, creating a high school culinary program, and hosted nearly 100 summer camps "for kids who would otherwise be out on the streets."
The Foundation's Dish That Makes A Difference campaign gave three youths from the New Orleans Center for Creative Arts the opportunity to create recipes that were then served in all of his restaurants, and they also took the stage at his annual event, Carnivale du Vin. The Foundation has funded programs that have brought salad bars to school cafeterias, scholarships to students, and free healthy meals to summer camps. It has supported Edible Schoolyard, Liberty's Kitchen, and the New Orleans College Prep school.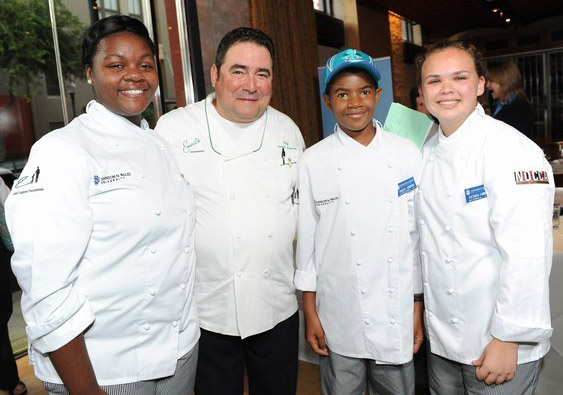 At Carnivale du Vin with students from the New Orleans Center for Creative Arts (Photo Courtesy of The Emeril Lagasse Foundation)
When I asked Emeril about his new Cooking Channel show The Originals with Emeril, he jumped in with "I'm so excited about The Originals! I'm excited to be doing something old instead of doing something new! The Originals are just that... originals."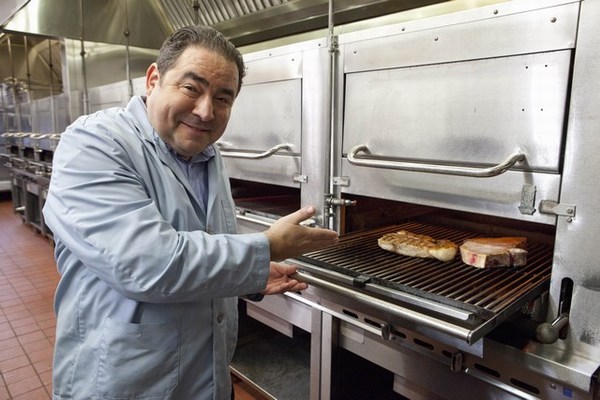 In the kitchen of Peter Luger for The Originals with Emeril (Photo Courtesy of Cooking Channel)
The Originals takes Emeril across America, unveiling the origins of dishes like the French Dip Sandwich and Boston Cream Pie, and bringing viewers into some of the oldest, most beloved establishments around--places that are second homes to their patrons, as full of memories for the owners as they are for the diners.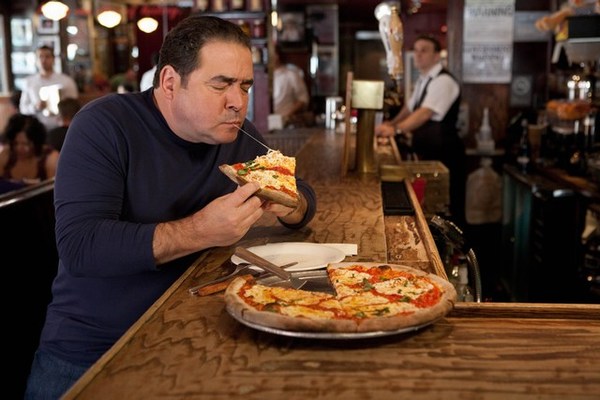 At Lombardi's for The Originals with Emeril (Photo Courtesy of Cooking Channel)
"These places are establishments that have been around for 50, 60, even 100 plus years, that are still doing it right. Some of them are into the 3rd and 4th generation and they still have the passion of when the establishment first started, the simple traditions of what they were, and who they still are today. I wanted to share that with America. Hopefully it will inspire people."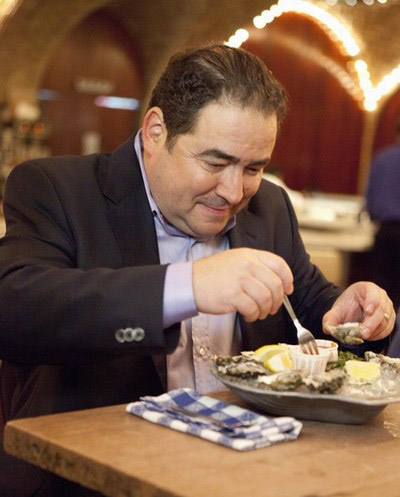 At Grand Central Oyster Bar for The Originals with Emeril (Photo Courtesy of Cooking Channel)
With the busy schedule that comes with a veritable culinary empire, I asked Emeril when was the last time he was actually in the kitchen at one of his restaurants. He replied, "Last night. And I can't wait for the next time I get in the kitchen. If the kitchen mechanics aren't right, nothing else will be right. Whether it's books or TV, or whatever the case may be, the backbone of what I do is my restaurants."

REAL LIFE. REAL NEWS. REAL VOICES.
Help us tell more of the stories that matter from voices that too often remain unheard.