I'm a night owl -- I work late and sleep late -- but when Emeril Lagasse invited me to a taping of his new show Emeril's Table, it was well worth getting up at the crack of dawn to head down to the Martha Stewart studio in Chelsea and grab a ring-side seat. Even through puffy, sleepless eyes, it was clear to see, Emeril Lagasse truly is the master of food television.
Before the cameras rolled, Emeril checked everything, then checked it again. He conferred with his Executive Producer, Fran Brescia, greeted (and joked with) the entire crew, and introduced himself to the guests for that episode, "The Feast of The Seven Fishes," the traditional Italian Christmas Eve dinner.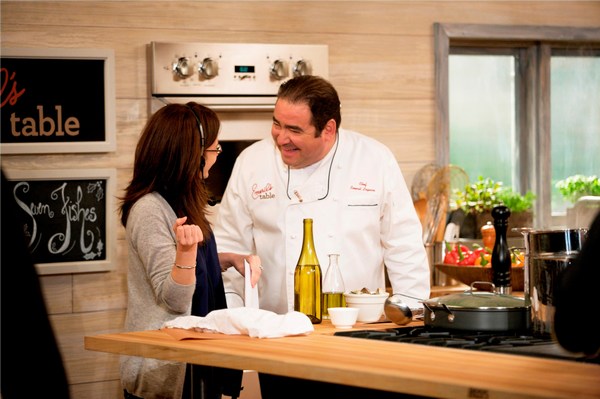 Tête-à-tête on the set with executive producer Fran Brescia (Anders Krusberg/Martha Stewart Living Omnimedia)
Then it was lights, camera... but before action, Emeril bellowed out "Let's rock 'n roll!" In the only blooper of the day, Emeril said during the introduction roll-through, "Today we're doing the Feast of the Seven Finches!" Then, realizing his mistake, he laughed and quipped, "Finches? I haven't had enough wine!"
Emeril's Table welcomes a group of people to come into the studio kitchen, sit at a counter-top bar, and interact with Emeril while he does what he does best, cook and entertain. "It's much more intimate and personal on this show, and it's real cooking," said Emeril.
That's no lie, Emeril wasn't pulling out pre-made food and swapping it out when the cameras stopped rolling. The only times the cameras would stop rolling was for things like allowing water to come to a boil. "That," Emeril told me after the show, "is good for the guests because they can be confident that I'm not serving them a bunch of stuff that was cooked god-knows-when and I'm expecting them to eat it and just pretend it's warm and really good!"
Every one of the fish courses was hot and delicious. And I felt like queen for the day when Emeril himself ran plates to me in between shots so I could taste everything. Starting at 9:00 in the morning, despite my tummy being not quite ready for it, I nevertheless devoured every last bit of shellfish, calamari, sardines, smoked eel, salt cod, and linguine with clams that came my way. What a breakfast!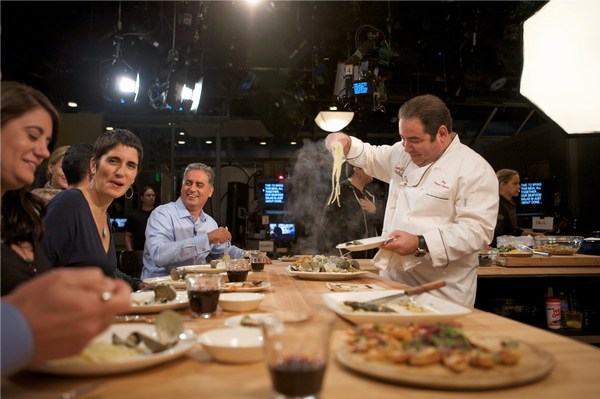 Serving hot Linguini with Clams to Guests Vinny, Jon, Sarah, and Matt Coniglio, and Christine Gillespie (Anders Krusberg/Martha Stewart Living Omnimedia)
Emeril's Table was conceived by executive producer Fran Brescia along with Emeril himself. He wanted to do something entirely new, a complete break from his past cooking shows. He explained, "I didn't want to do the big studio audience anymore, or the band thing, I did that for ten years. It was great, but it was time for a change."
Emeril also didn't want any drama, saying, "So many food and cooking shows now days have so much drama, and that's where the focus ends up. So Fran and I made a pact, we were going to do a great food show with real cooking and without any drama!"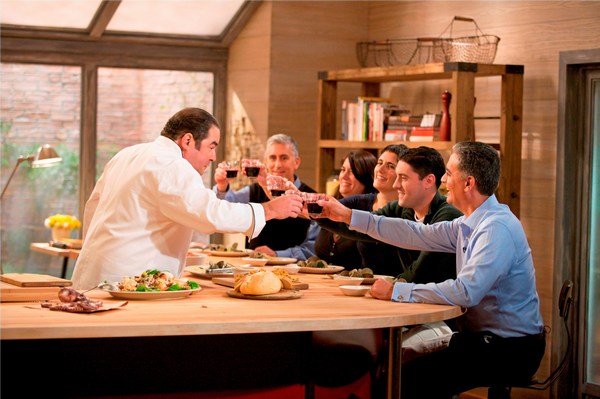 Emeril finally gets his wine (Anders Krusberg/Martha Stewart Living Omnimedia)
He had his hands in every step of the creative process too. From choosing the appliances, building the set, designing the kitchen and picking the furniture, Emeril's touch is in every aspect of the show... even the patio beyond the kitchen. "I really wanted to build a patio but I didn't want a bunch of fake plants out there. So everything is alive and growing, and I use it in my cooking."
Another thing Emeril insisted upon was leaving out product placement, specifically, his own products. "I didn't want to hawk my products but I wanted to use them. I'm proud of my stuff, but I just didn't want to say 'Hey look everybody, here's the Emeril fryer!'"
Now a part of Martha Stewart Living Omnimedia, Emeril did something no other member of the Omnimedia family has ever done before, he filmed his show in Martha's own studio, 52 episodes in just 5 1/2 weeks. With Martha on hiatus during the time he planned to film, it just didn't make sense to Emeril to rent a different studio when the best studio kitchens were right here in Chelsea. "Martha told me that if I was so passionate about it then I could go ahead and do it. She's never let anyone in her studio before, so I promised her I wouldn't ruin any of her stuff!"
It would be hard to imagine Emeril ruining anything on that set. Despite being so animated and boisterous both on and off camera, whistling his way through the day, he's one meticulous and organized pro. In the entire time I was there, Emeril didn't need any direction, didn't have more than one take, and -- with the one exception of the "Finches" -- he glided through his lines like a hot knife through butter.
What's become a running joke with the crew is Emeril's constant use of the props, the food they buy to set out on display. In quick, one take Webisodes filmed after the show is a wrap, Emeril grabs props and whips up an à la minute recipe and cooking lesson for his website. The day I was there, he grabbed the beautiful artichokes that were on display and made stuffed artichokes. "I don't like to waste food," Emeril told me, "So I do as many Webisodes as I can, even though the crew gives me a hard time about it."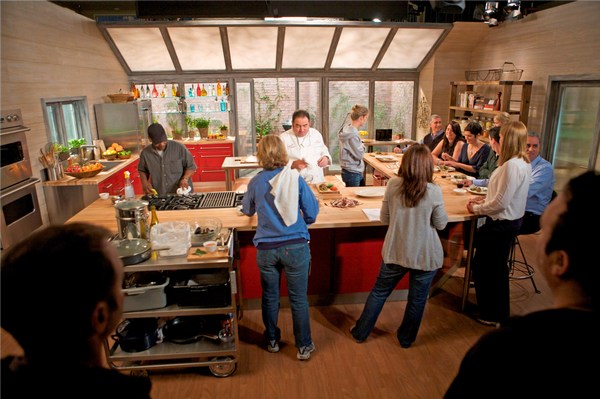 The crew and set of Emeril's Table (Anders Krusberg/Martha Stewart Living Omnimedia)
Working with Emeril seems to be a pure pleasure though, despite the disappearing props. The camera and sound people, photographers, make-up, recipe testers, everyone on the set is relaxed and loving every minute of their work. So much so, it doesn't seem like work. Emeril looks to his crew for more than just technical support. "I gauge how successful a show is by if I get the crew cooking. That's how I can tell if I'm getting everyone's attention. With Emeril's Table, the crew is cooking, and they tell me they're learning something new with every episode!"
Sitting at the counter ourselves after the taping, we talked about a lot of things, but one exchange in particular sticks in my mind as being essential Emeril. When he smiled and said, "Emeril's Table is perfect for me, it's like being in my own living room." I replied, "Or your own kitchen." He laughed. "Yeah, my kitchen... which is my living room!"

A very sleepy, but happy, me with Emeril (Anders Krusberg/Martha Stewart Living Omnimedia)
Emeril's Table airs Monday through Friday at 11:00am EST on Hallmark Channel, and you can have your chance to be a guest by going to the Emeril's Table website and sending them an email! The Feast of The Seven Fishes will air on December 14.
REAL LIFE. REAL NEWS. REAL VOICES.
Help us tell more of the stories that matter from voices that too often remain unheard.