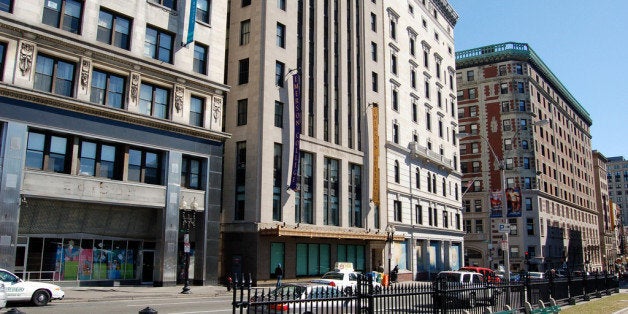 Emerson College's handling of a student's sexual assault case caused so much stress that she landed in the hospital and eventually dropped out of school, a new lawsuit contends.
In a lawsuit filed Friday in U.S. District Court in Springfield, Massachusetts, Emerson is accused of running an investigation that failed to interview all possible witnesses and violated its policies on how to handle sexual assault cases, resulting in a male student being found not responsible for rape.
The suit was filed by Jillian Doherty, who previously submitted two complaints against Emerson in October 2013, first reported by The Huffington Post, that sparked an ongoing federal Title IX investigation of the school. Emerson received a summons of the suit on Monday.
Doherty's attorney, David Angueira, said the suit seeks an unspecified amount of damages to cover tuition as well as compensation for injuries, which led to Doherty's hospitalization, from "revictimization" during Emerson's adjudication process.
"It's got to be a horrible, horrible experience [to be sexually assaulted in college]," Angueira told The Huffington Post. "Then when you go to help the only people you can ask for help -- and you're stuck in that environment because you're going to school there, you're living there -- and they turn their backs on you."
Emerson spokesman Andy Tiedemann said the suit was a "lengthy document that the College has not yet reviewed with the thoroughness it requires."
"The College will respond if and when it is appropriate to do so," Tiedemann said in an email to HuffPost. "The College has and will continue to take the issue of sexual assault very seriously and has dedicated substantial resources toward the prevention of and response to sexual assault."
During an April 2012 incident, Doherty initially had consensual sex with a male undergraduate, but she declined when the student requested anal sex, according to the suit. It was then that he choked her and forcibly penetrated her, court documents say.
Doherty reported the sexual assault in March 2013. An investigation, which Doherty said failed to interview all possible witnesses, concluded with a hearing after final exams that May. At the hearing, the accused "was allowed to present new evidence, a letter of character, from a fellow Emerson student, who had no involvement with the hearing, assault, or the investigation," the suit claims. Doherty was not given an opportunity to address the contents of the letter, she said.
The accused was found not responsible because both he and Doherty admitted to being intoxicated during the encounter and because her statement was "inconsistent with an account of the same event she provided to a witness, her roommate, on the day immediately following the alleged incident." However, the suit contends, that disregards that the alleged assailant's testimony at the hearing differed from his written account.
Doherty declined an interview at this time. However, regarding the result of the first hearing, she told HuffPost last year, "It was just the worst feeling in the world knowing you're telling the truth and no one believes you."
Doherty was granted an appeal last summer, and a new hearing took place in October.
The staff member charged with handling Doherty's case admitted during the appeal that he did not have adequate training regarding Title IX investigations when he first looked into the case. "He also admitted that after Doherty's hearing he was provided with additional training and he could now see the 'scales being tipped in Jillian's favor,'" the lawsuit states.
Doherty's accused assailant was found responsible and expelled after the second hearing, but the suit says the damage was done by then.
Doherty's grades had slipped dramatically. She had chronic depression and post-traumatic stress. She began an outpatient treatment program at Arbour Hospital to address the emotional distress from reporting her assault.
According to the lawsuit, she was denied requests for academic accommodations to do classwork from home during that time, and in spring 2014 she left Emerson, which had been her dream school.
Angueira charged there is too much of an "old school" thought that rape victims who were drinking "got what they deserved."
"That's a totally ignorant way of looking at these situations," Angueira said.
The suit also claims Emerson violated the campus safety law, the Clery Act, by underreporting its sexual assaults as fewer than two per year.
Students filed a Clery complaint against Emerson last fall, but college officials told HuffPost they have not received word on whether the Education Department will investigate the school for violations.
Calling all HuffPost superfans!
Sign up for membership to become a founding member and help shape HuffPost's next chapter
BEFORE YOU GO