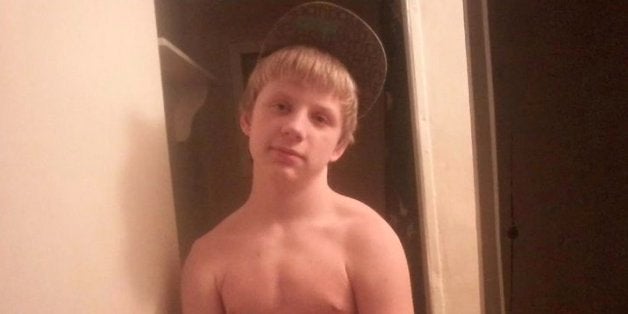 Sometimes, it's better not to man up.
A South Carolina boy was rescued after falling 140 feet into a well, breaking his arm and suffering hypothermia in the process. The Greenville Police Department is now saying that because he was a child, he had the energy to keep fighting through the 2-hour ordeal that may have otherwise killed an adult.
Emery Howard, 11, of Greenville, was on the back porch of a vacant home Tuesday afternoon when he jumped on some boards covering the well, Fox Carolina reports. He crashed down into the water, screaming in pain as he broke his arm.
His friend, 12-year-old Larry Lindsey, said he and Howard were exploring the area when it happened.
"I was scared, I didn't know what to do," Lindsey said. "I thought it was a dream."
Lindsey attempted to toss a rope to his friend, but said Howard was in too much pain to climb up on his own.
When deputies and the fire department arrived, they initially thought the well was only 70 feet deep, only to soon discover it was closer to 150 feet deep, according to WLOS.
Despite wading in frigid water up to his shoulders, Howard was able to communicate with first responders throughout the incident.
"If it had been an adult, it'd probably kill him," Ridgeway told WBTV. "But a child his age has bigger energy to fight a little bit more, because he was talking the whole time to us. He told us about his injuries and everything. So he was a strong young man."
After being trapped for 2 hours, crews were able to lift the boy out of the well. Howard was airlifted to a hospital, where he was treated for his injuries.
His brother, Chris Howard, posted an update on Facebook about the event, and said Emery suffered a bruised lung and possible broken heel along with his broken arm and hypothermia. He said his brother is doing "perfectly fine and healing rapidly."
"Next time don't jump on boards i tell u not to step on lol."
Deputies said the owner of the house will not face charges because the home was enclosed, but the homeowner could decide to press charges against the boys for trespassing.