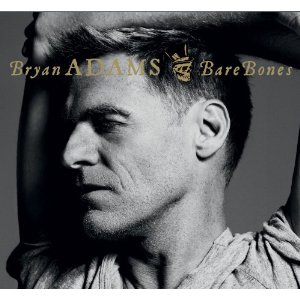 A Conversation with Bryan Adams
Mike Ragogna: Hello, Bryan. You have a new album out, Bare Bones, which features live, stripped down versions of many of your biggest hits. Why did you take this approach?
Bryan Adams: It's something I've been wanting to do for a while--not necessarily the CD, but just the acoustic tour. A couple of years ago, I started a forty-five minute set, in some cases, twenty minutes because I was promoting another album, and forty-five minutes became an hour and an hour became an hour and a half. I guess it's just something I've wanted to do for a while. The CD, which is coming out in November, was something I thought I'd do for people that were coming to the shows, seeing the show, and asking where they get the copies of the songs that way. I didn't have anything like that, so I created the CD for that purpose. Shortly after finishing the album, my record company over here in England caught wind of it and they said, "Hang on a minute. We'd like to hear this and possibly put it out." So now, it's coming out in thirty countries, including the U.S. and I'm pretty pleased about that.
MR: Did your Unplugged album come to mind when you considered this project?
BA: Well, that was fifteen years ago. (laughs) I guess you could call me a little bit of a slow burner. That was a great introduction into the acoustic world, but at the same time, that was a twenty-six piece orchestra and a ten piece band, and if that was unplugged, well, then this is just "un."
MR: (laughs) Nice. For me, what's best about these acoustic versions is that the songwriting pops out and your personality is front and center. Everything breathes.
BA: Thanks. A lot of these songs--in fact, all of them--were written with the idea of some sort of musical accompaniment. There wasn't really any song, other than maybe "Walk On By," which was done acoustically from the start. But even then, I thought maybe that would be an up tempo song and it turned out the way it did. So, it's interesting, and it's interesting to go through the songs every night and see which ones work and which ones don't. What's always surprising is when a new song that nobody knows goes over really well. You know that the songs that everybody knows are going to have some reaction, but when you play a new song and get an incredible response, it's always a nice surprise.
MR: You've written so many classics that are not only huge hits in the U.S. and Canada, but are entrenched in culture internationally. At this point in your career, how does it feel to have had, well, an amazing career?
BA: As a singer-songwriter?
MR: As a songwriter, as an admired performer, and as somebody who's sold millions of records and won many awards. When you reach this point in your career, you can do a little look back--as you did when you were recording these songs, obviously. How do you feel at this point about having had such a career?
BA: You know something? I really don't think things like that. I just sort of wake up in the morning and think, "What am I going to do today?" People always ask me about the awards and how it feels to have all that stuff--none of it means much more than what happens on the day. I never look back because I'm always looking forward, and it's what's happening next that's exciting, not so much what's happened before. Of course, everything that happened before props up what you do today; but again, it's about always one foot forward. So, in terms of how it feels, it feels great. One of the nice things about what I do now is that it's always nice to look down at the set list and have songs that are pretty popular to play because you know you're going to get a good reaction, who knows how good? At least you know that you have a fallback.
MR: Speaking of what's happening next--do you see yourself recording a studio project that's as stripped down as Bare Bones?
BA: I don't know, I just don't think it matters anymore to make albums. I think what matters is making great songsand linking them up to what you've done. I think the old way of making CDs and putting ten songs together...it's going to work with some success for some people, but it's not going to work with everybody. I just think that it's time to rethink that idea, and maybe the thing to do is to do EPs or maybe it's going back to making singles or just putting out a song whenever you write it. Let's face it, it doesn't matter when you put it out, as long as you put it out and your (fans) dig it. Why wait four years when you can put it out now?
MR: That's a good point. On the other hand, artists look at projects of ten songs, twelve songs, or whatever as their "painting," their work of art, you know what I mean?
BA: Well, you can look at one song like that too, or five songs like that. Does it have to be ten? Fifteen? The number is only there because that's what we're used to. But I think the times are changing, and I really think CDs are going to go. It's already happening--people are just downloading songs they like because they don't want to hear the whole album.
MR: Right, that's very true, we're there already.
BA: There are certain artists, of course, that will always have a great following and it won't matter--they'll want to hear the ten songs--but there are other artists that won't be able to do that, and are going to have to work on the one song.
MR: Are there any songs that, when you sing them now, you go, "Man, I love singing that!"
BA: That's all of them. I wouldn't sing any of them if I didn't love it, you know what I mean? Obviously, the bigger the hit and the more recognizable it is, the more reaction you're going to get. Like I was saying to you earlier, what's nice and what's surprising is when you play a song that's not familiar to everybody and it goes over as well as anything else in the set. That's partially a combination of the moment, the song, the audience, the placement of the song in the set, and all that kind of stuff. It's really interesting to build a show like that.
MR: Right. And a song like "Summer Of '69" seems to have risen to the top of your fan favorites. You're still sticking to the story that that's not the year '69, right?
MR: (laughs) I know, but most people, initially, I think, took it innocently, instead of...

BA: It's a metaphor--it's a song about making love and it doesn't really have to be about the time. What's funny about that title is people think it's about 1969, but it's just a play on words. You know, making love--69.
MR: Exactly. Many of the songs on Bare Bones have a very youthful feel to them. They're like your "party" songs versus your ballads or love songs. Now, since you're a maturing artist, is it getting a little harder to write the party songs?
BA: No, not at all. I just wrote "You've Been A Friend To Me," which is the opening track of this record. That songs was actually written, originally, for the John Travolta film Old Dogs, and it's a great party song. One of the closing songs on this record is a new song called "I Still Miss you...A Little Bit," and it's just a fun party song. It's a silly song, really. It's a silly country song.
MR: It's interesting because fans sometimes do have certain expectations or different demands of their artists. But you're apparently the kind of songwriter that's not creating in terms of, "Let's write another song about me, my state of mind, and my life right at this second."
BA: For me, it's supposed to be fun, first and foremost. If you can write about yourself and be self-deprecating, great. But I don't think I want to be the artist that's going to write about myself and give you my innermost thoughts because I'm writing about every day stuff and I want it to be fun. In the cases of the two songs I've just given you examples of, one is completely tongue-in-cheek, and the other one is really a testament to friendship. So, that could be taken as deep, but it's lighthearted.
MR: Hey, I always wondered why on your first album, it seemed like you had a pretty different sound and image for Bryan Adams. But by You Want It, You Got It, that's the Bryan Adams we know.
BA: I was nineteen when I made that album. I collected ten songs, and somehow BS'd my way into making a record with a record company, and I'm still getting away with it.
MR: Bare Bones is on Decca as opposed to A&M, right?
MR: That's still in the Universal family, so was that merely a shifting of artists to different labels within the Universal group?
BA: Yes, there's a guy called Max Hole, who had become a real champion of mine, and he brought me over to Decca, in the States, which is the same label that's putting out the Elton John record with Leon Russell and a number of other artists in a similar category. It's become sort of a stable for artists of that nature.
MR: Considering you are an artist of that nature with years of experience and success, what would be your advice to today's new artists?
BA: Just focus on songs and don't focus on your website. Just focus on making your music as good as it can be because at the end of the day, the most important thing that people will remember you by is your music. So, the songs have to be great. However you get there, travel the road of making your songs as good as possible.
MR: Nice. Thank you again, for the HuffPost interview and for joining us here at solar-powered KRUU-FM, Bryan.
BA: I love that solar power. How is it solar-powered?
MR: Well, we're solar-powered in that the sun is the energy source for the broadcast tower, the control room...
BA: ...one hundred percent?
MR: It's one hundred percent of the broadcast tower and control room.
BA: Well, whoever figured that out, congratulations to them.
MR: Thank you so much. What's also interesting is that we're the only one in the Midwest.
BA: That's amazing. That's killer. I really admire that.
Tracks:
1. You've Been A Friend To Me
2. Here I Am
3. I'm Ready
4. Let's Make A Night To Remember
5. It Ain't A Party (If You Can't Come 'Round)
6. (Everything I Do) I Do It For You
7. Cuts Like A Knife
8. Please Forgive Me
9. Summer Of '69
10. Walk On By
11. Cloud Number Nine
12. It's Only Love
13. Heaven
14. The Right Place
15. The Way You Make Me Feel
16. The Only Thing That Looks Good On Me Is You
17. You're Still Beautiful To Me
18. Straight From The Heart
19. I Still Miss You... A Little Bit
20. All For Love

(transcribed by Ryan Gaffney)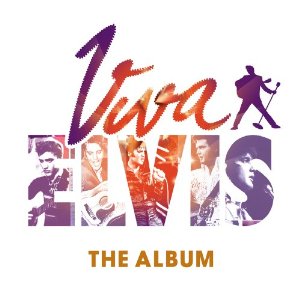 A Conversation with Erich Van Tourneau

Mike Ragogna: Erich, are you ready to talk about all things Viva Elvis?

Erich Van Tourneau: It would be my pleasure.

MR: So, these are basically revisits or remixes, with all sorts of fun stuff thrown in like new musicians and instruments in order to look at Elvis in a different way. It's kind of like The Beatles' LOVE album, but it's also celebrating his seventy-fifth birthday year as well as a reinterpretation of his music with a new Cirque Du Soleil show. Okay, your turn.

EVT: Frankly Mike, I think this is way different than LOVE because my mandate was to first, really contemporize the Elvis catalog and bring him into '10. The idea was to recreate the music as if Elvis were recording the song in '10, so I've created new beats, new chord changes, or new instrumental changes for each and every song. So, it was kind of like using the Technicolor technique that was used to contemporize old black and white movies--I painted some new colors around Elvis' voice, which was really the heart of the project, and a lot of the vocals are dating back from sixty years ago, so it was a major thing to really paint new colors around him.

MR: Now, you play on this record, and you mixed five of the tracks on here with Robert Meunier.
EVT: Exactly.

MR: Tell me a little bit about your music history.

EVT: I'm a composer, I have produced several records in Montreal for different labels, and I produce different styles. I'm a big fan of music, so it's almost like "from ABBA to Zappa." I produce a lot of music in Montreal, and I was in the Cirque Du Soleil bank of creators. So, they called me and explained the project that they had in mind, and they asked me to do a pitch and work on two songs, so I did that. I worked on "Hound Dog" and "One Night With You," and they flipped out, so it was a really cool beginning. After that, I had to work on the rest of the catalog.

MR: So, there are more tracks that have been revisited that are not on the CD?

EVT: Yeah.

MR: And this is just the first sampling with more coming?

EVT: Yeah, that's a good way to look at this. For me, it's really like a Volume One because, in the show that takes place in Las Vegas, there are about thirty songs that I have rearranged. The deadlines were really tight--I had like three months to produce the album. So, the way I approached the project was to do twelve songs, and to a good job on them, instead of trying to do all thirty-five at the same time.

MR: As you pointed out earlier, this is a different kind of project from the LOVE album because the LOVE album used samples from the other Beatles albums whereas Viva Elvis contains newly recorded music.

EVT: Exactly, exactly. It's a mix of the two schools, you know? I listened to everything Elvis did, and trust me, it was a gigantic task. I listened to over nine-hundred albums--stuff from the movies, unreleased home recordings, and live recordings. I was just trying to catch little bits and pieces of magic, you know? So, I was mixing that with new chord progressions and new music.

MR: Nice. Now, you oversaw the whole project, but you had other mixer/producers involved. What's your favorite result?

EVT: One of my personal favorites is "Blue Suede Shoes."

MR: What is it that was special about this record to you?

EVT: The record, for me, embodied a rock attitude. After all, Elvis was The King of Rock 'n' Roll, so I really wanted to focus more on an attitude than a style. Elvis was so eclectic in his taste of music, but one thing was for sure--he was the The King of Rock 'n' Roll, and the album really embodied that rock attitude.

MR: Right. Most of these songs are sort of an energized Elvis.

EVT: Yeah, absolutely. Like I said, he was really eclectic. So, you have great songs like "King Creole" or "Bossa Nova, Baby," but Elvis is always dangerous in his songs. His vocals were totally amazing, he was rocking, and it's really rock, attitude-wise.

MR: When did you discover Elvis?

EVT: My parents were really hardcore fans of Elvis, so Elvis music was always playing around the house. I clearly remember that the '68 Comeback was playing in loop--I remember Elvis in his black leather suit. So, my parents are really behind that.
MR: Elvis is one of these characters who, once you get what he's doing, it doesn't matter what generation you are from because you do get hooked.

EVT: I think so. He was so charming on the '68 Comeback in the acoustic session--he had a great sense of humor. I think when you take the time to know him, you will absolutely like him because he was really charming and cool.

MR: Do you think that the appeal of Elvis is something that is unexplainable? Like I said, generation after generation is in love with this guy, which is not true of most artists. Was it just the charm? Was it his music? What do you think were Elvis' most seductive qualities?

EVT: It's a mixture of different things. But firstly, he was a musician. He was an amazing singer, and also a producer because he was behind all the songs in the studio calling the shots. He was absolutely living and breathing each word of each song he was singing--he could sell a song to anybody. I think that is a big part of it. But besides that, he was absolutely charming, of course, good looking, and he had a good vibe. So, it's a mixture of all that, but the music is first for sure.

MR: There you go.

EVT: Also, we have to remember that back in the day, Elvis was always working with the best songwriters of his time. When you have good songs, the rest takes care of itself. He was working with Leiber and Stoller, who wrote like the bible of rock, you know? He worked with Leiber and Stoller, Thomas Schumann, and Otis Blackwell, so he was intelligent enough to work with the best.

MR: What can you tell us about the Cirque Du Soleil interpretation?

EVT: I think what is really cool is the fact that the album is the soundtrack for the show. What's cool is that it's a Cirque Du Soleil show that really rocks. Instead of having an impersonator there singing the Elvis songs, you have the real Elvis voice singing. So, that is really something, you know, to have The King?

MR: Right. Do you think this is going to be one of the biggest Cirque Du Soleil shows? Do you think that this one is going to maybe surpass the popularity of even The Beatles' LOVE?

EVT: I don't know because the market is changing. I think the market is like forty percent down since the LOVE album came out, so we can't really compare, but I'm sure it will do well because at least my parents will buy the record. (laughs)

MR: (laughs) Erich, do you have any last thoughts on Viva Elvis?

EVT: Frankly, I feel so privileged, and it was an honor to work on that project every day with The King. It was an incredible experience, and it was almost like touching The Holy Grail of Rock 'n' roll, you know? I'm really happy, and I think that people will really be touched and surprised by this new Elvis. For me, it's like the Elvis from '54 that is coming back. So, I'm sure people will be touched and surprised.

MR: Do you have any advice for new artists?

EVT: I think that if you are an artist, you have to have your own thoughts and go for it, you know? Don't listen to other people around you. I come from Quebec, and a lot of people said to me that I should move to The United States, but inside me I didn't care. I did my things, and you can look at what happened with Cirque Du Soleil. So, I think you have to go with your own gut, you know?
Tracks:
1. Opening
2. Blue Suede Shoes
3. That's All Right
4. Heartbreak Hotel
5. Love Me Tender
6. King Creole
7. Bossa Nova Baby
8. Burning Love
9. Memories
10. Can't Help Falling In Love
11. You'll Never Walk Alone - Piano Interlude
12. Suspicious Minds
(transcribed by Ryan Gaffney)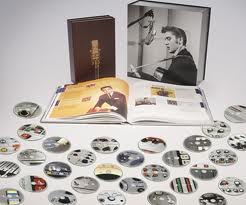 A Conversation with Ernst Jorgensen
Mike Ragogna: Hello Ernst, are you ready for an inquisition on the Elvis Presley Complete Studio Masters box set?
Ernst Jorgensen: Absolutely. I'm looking forward to it.
MR: (laughs) Ernst, how long have you been working on assembling Elvis Presley collections and with his masters?
EJ: Well, I started with Elvis' record company back in '88 as the managing director for the Danish Company--I'm Danish, and I live in Denmark. From that day on, almost, I've been doing Elvis packages, and I've been doing them full time since '92.
MR: With somebody who's been compiled as often as Elvis, it's always surprising that there continue to be new themes to explore. For instance, earlier this year, there were a couple of releases including Elvis 75 in January, right?
EJ: It would have been his seventy-fifth birthday, and we took the opportunity to go in, look at his catalog, and see what could be relevant for people to listen to. We did a four CD box set back in January which was like an introduction to people who may not know Elvis that well, may only know him from his hits. Then, we have a consistent program where we take some of his classic albums--classic by the artistic merit of these albums--and launch them in deluxe packages. So, there's always something to do, but obviously, this box set that you mentioned is on a different level.
MR: Let's talk about it now. No wait, this year, you also worked on the Elvis Presley On Stage Legacy Edition, right?
EJ: Yes, and last year we did From Elvis In Memphis, and we are working on getting another bunch of Elvis' artistically best albums available in deluxe versions for the future. It's like everything you hope would one day happen when you do what I do--when you compile records and you write books--to be able to put all your favorite artist's master recordings in one box set, and be given the privilege to do a two-hundred forty page book with text and illustrations describing the entire career. It doesn't get better than that.
MR: Can fans find details about the box online?
EJ: That's what the website completeelvis.com is all about.
MR: How is the project organized?
EJ: The idea was, in one package, collect all the recordings recorded during Elvis' lifetime that were meant for release, and then spice it up with about one-hundred rarities--not so much because they were rare, but because they gave an insight into how Elvis made his records, what he sounded like on the radio, and what he sounded like when he was just singing at his home. Basically, we had an idea to give whoever wanted to know all about Elvis' career a box set that contains it all. I've written all the text with an Elvis Biographer, Peter Guralnick, and we had a blast doing it. For me to be able to have everything in one package is everything I've ever dreamed of. I've actually proposed this box set for about twelve years now, and it wasn't until Elvis Presley landed at Sony's Legacy label that there were actually people who had enough vision and courage to put the thing together, and give me the okay to start doing the whole thing. To me, this is the most wonderful thing that has ever happened in my professional life.
MR: Beautiful, congratulations, Ernst. So, this is thirty discs, this is a real investment.
EJ: It's a real investment in that it's a limited edition, and it's a first run of only one-thousand box sets. It is everything that Elvis officially released during his lifetime, and then whatever else made sense has been added to it. The book is two-hundred forty pages and it's full of pictures, but not pictures intended to make Elvis look pretty. The pictures connect exactly to what we were writing about, and the writing that Peter and I did was without any restrictions from the label. It's definitely a critical review of Elvis' career--the highs and the lows. It's not like it glosses over things, like sometimes we as record companies do when we want to brag about things. Peter and I felt that the true story was the only story worth telling, and that Elvis' achievements were on such a level that we could certainly afford to talk about when things weren't as good as they could have been.
MR: In this box set, you said there are about one-hundred tracks that are rarities, right?
MR: Okay. Is the discovery process an ongoing thing, or has pretty much everything been discovered by this point?
EJ: That's a very good question because it's on the level of "how can you ever prove that something doesn't exist?" We are always on the lookout for new recordings. To find a song that Elvis sang, that nobody ever heard is going to be difficult, but if we can find session takes with outtakes of songs and early radio performances--we certainly are looking for that all the time. The one thing I want to say about the rarities is that these are rarities to what I think is the main audience to this box set--people who have Elvis, but nothing like the complete Elvis, and to them, these are rarities and extraordinary recordings. We decided not to include anything previously unreleased on the box set, basically, because it's expensive, and it would be very unfair to have a handful of unreleased material and ask people to spend all that money just to get the one disk if they didn't want the rest of it.
MR: What's beautiful about this box set is that you can listen to it from the perspective of listening to an artist that is growing.
EJ: And you can listen to it in a true historical context. All of the recordings on the first twenty-seven discs are in chronological order. So, you can actually follow his progress, or, for that matter, a bit of his decline in the mid-'60s probably happening shortly after "Viva Las Vegas." So, you can follow the career step by step, and it's almost like you are on the same journey that Elvis was.
MR: That was my point exactly. It's not unusual for artists with as much material as Elvis to have recorded songs that weren't released until later albums, so the chronology gets kind of dicey just tracking it from album to album.
EJ: That's true. Basically, Elvis was an artist who made his commercial breakthrough in America, and definitely later in Europe by ways of singles, and singles in those days were not on albums. "Heartbreak Hotel" was not on Elvis' first album, where you could argue today it would have belonged, and "It's Now Or Never" was not on Elvis Is Back!, the album he cut just after he got out of the army. The thing with Elvis that is truly interesting is that in the mid-'60s, where Elvis basically only recorded soundtrack albums, RCA kept releasing singles that weren't from soundtrack recordings. That was what got me interested in Elvis--suddenly there would be this recording and you'd say, "Wow, that's very different." A good example of that would be "Loving You" or "Tell Me Why" from the mid-'60s, and it turned out that these were just recordings that were never released in the '50s, taken out of the vault in the mid-'60s and launched on records almost ten years after they were recorded. Same story on "Crying In The Chapel," which was recorded for Elvis' '60 gospel album His Hand In Mine, but because of a copyright issue, it was left off the album. Five years later, when RCA didn't know what to release, they thought, "Well, we can release this leftover we have, 'Crying In The Chapel,' for Easter, and we should get some radio attention because it's Easter." They didn't know that they had a number three U.S. hit and a number one U.K. hit just sitting there in the vault for five years.
MR: Those are great stories, and when you come across these tracks, are you always shocked that, well, "interesting" tracks like "Crying In The Chapel," became big hits?
EJ: I don't know. That's a very good question. It had been kind of a pop hit back in '53, but that Elvis in the midst of The Beatles, The Stones, Dylan, and The Beach Boys, could have a world wide top hit with a religious song was surprising, and I don't think anybody anticipated that. I don't think RCA or Elvis anticipated that--it was just a miracle that happened. It could be that the record is actually very good.
MR: Okay, it's just not one of my personal favorites I guess. Speaking of personal favorites, what is one of your favorite Elvis recordings?
EJ: One of my favorites would be Elvis' first commercial record, "That's All Right, Mama."
MR: Now, I hear that of the thousand box sets that were manufactured, eight-hundred have already sold.
EJ: You know, I think that is interesting in a time when people tell me that the CD is dead. So, whatever predictions may have been for an item like that, obviously because I'm a producer and a writer for it, I'm relieved to see that there are people out there who really want this. I'm sure they won't be disappointed.
MR: Let's talk about "Suspicious Minds" and those Memphis sessions. This batch of recordings are some of the most beloved Elvis tracks of all time. What is the historical importance of these recordings?
EJ: Well, there were changes at that time--Elvis had just come off a very successful television special. Remember, in '67, his commercial career was going down the drain, and to some extent, his artistic career was doing the same. He does the comeback special that is aired in the U.S. on December 3rd, '68, and shortly after that, he seems totally committed to try and make new records that are different and more meaningful than what he had been doing for all those movies. He goes to American studio in Memphis--Chips Moman ran that studio, and had a house band that was fabulous. Elvis went down there to start recording in new surroundings, something that always fired Elvis up because he was very competitive in his own mind, and he wanted to impress all these new musicians. So, the dedication from Elvis is far above the level of some other sessions that he did, and on top of that, there were some magical songs going into it. You can argue that the true achievement of the sessions is not found in those massive hits like "In The Ghetto," "Kentucky Rain," "Suspicious Minds," and "Don't Cry Daddy," but in the recordings he did of old country songs and old R&B songs that are just as magical. It was just a matter of all the right people at the right time and a dedication on Elvis' side that is not without comparison in his career. I think the success of that television special was, in principle, Elvis doing what he once did. It's a very retro kind of television special, singing old rock 'n' roll songs, and now it was time to take that into a modern world. Even if somebody had written "Suspicious Minds" today, people would think it was a contemporary song. It's one of these songs that has a feel to it and a lyric that makes it timeless, and, in many ways, so does "In The Ghetto."
MR: Right. That's another song that, although it's not the most covered song by Elvis, it's one of the most revered, isn't it?
EJ: Yeah, there are certain songs that people, I think out of respect or maybe they think they can't do it better, don't cover because it's so much Elvis' song. You don't get too many cover versions of "Are You Lonesome Tonight?" either because that's a difficult place to go, and I think that's what separates "In The Ghetto" from "Suspicious Minds." "Suspicious Minds" is also a tune that you can maybe put into a rock band and it would fit--a modern rock band could get away with playing it and still make it contemporary by '10 standards, I think.
MR: I've heard covers of that. It's funny that we're talking about this because I never really considered the fact that Elvis is uncoverable.
EJ: In some ways, yes, but there is a little irony in this little story in that Elvis wasn't the first to record "Always On My Mind," but he did and it's become an Elvis classic--it was actually the b-side of "Separate Ways," so it wasn't a hit, and it was covered by Willie Nelson, whose version became a monstrous hit. So, you can cover him, but early Elvis is hard to cover and get away with. When he started playing live in '69 and '70, he did, sometimes, wonderful versions of his own songs that didn't sound anything like when he recorded them back when he was young. Nobody managed to get that airy, breezy magic of "That's All Right" or "All Shook Up."
MR: Right. I know we mentioned this earlier, but I think it's amazing that only one-thousand of these were made and eight-hundred already have been sold. Elvis lives, it's true.
EJ: Well, he lives in our minds for everything he did for music. He lives in the minds of those musicians who took over from him. You get people like The Beatles, Bob Dylan, Bruce Springsteen, and U2--everybody somehow relates to those early Elvis recordings, and they meant something in their personal lives, and subsequently, he became an inspiration for their professional lives.
MR: Exactly, and don't forget David Cassidy. That's kind of a joke but not really.
EJ: Well, I could talk about so many artists. It's true of what we would call "credible artists" by journalist terms, but it's on every level. You can go all over the world and find weddings where they're playing Elvis' "Can't Help Falling In Love."
MR: Ernst, during the army years how did they handle the recording process? Was he just on hold?
EJ: He was totally on hold, but they had saved enough to keep releasing singles while he was away. There were several megahits that came out while Elvis was in the army. The first thing was "Wear My Ring Around Your Neck," but "Hard Headed Woman," "One Night," "I Need Your Love Tonight," and "A Big Hunk O' Love" were in the can, so they could be released while he was away. They didn't have enough to release anything other than the King Creole album as a new album, but remember that we were in the singles market in the '50s--the album market was just starting to develop. While he was away, he gave RCA the opportunity to collect all the material that wasn't available on albums before and put them into albums. So, there were the Elvis Golden Records One and Elvis Golden Records Two, A Date With Elvis, and For Elvis Fans Only, where people who had now started buying LPs could get all these tracks that were previously only available as singles.
MR: Was the Moody Blue album a compilation of leftover tracks or was he working on an album before he passed away?
EJ: That was the album that Elvis' producer, Felton Jarvis, put together before Elvis died, and it was meant to be a regular album. There was a problem, though, that Elvis had, to some extent, lost his appetite for recording, so they didn't have a full album's worth of material. So Felton, in the spring of '77--literally just a few months before Elvis died--would bring a tape recorder out on tour and convince Elvis to sing a few songs live on stage that he hadn't recorded so he would get enough material to fill out the album. The most famous of those songs is Elvis' version of "Unchained Melody," which was captured during a show on tour in April. You're almost right in that there is a compilation element to it because Elvis hadn't recorded enough for a full studio album.
MR: I have one last question for you that I ask everyone. What is your advice for new artists?
EJ: Try to find something in yourself that expresses who you are instead of just being a copycat. All these talent shows on T.V. produce many a fine singer, but what we're looking for is not necessarily the best singer, but somebody who has something original to offer us, and I don't think talent contests encourage that kind of musicality.
MR: I agree with you totally. Thank you so much for the interview, Ernst.
EJ: Well, I've enjoyed this, so anytime you want to go back, we'll get on the phone again.
(transcribed by Ryan Gaffney)
AT RISK YOUTH CHOIR FROM ISRAEL MAKE FIRST TIME VISIT TO LOS ANGELES IN NOVEMBER
MULTI CULTURAL SURVIVORS OF TRAUMA AND DISPLACEMENT FIND LOVE & RESPECT IN YEMIN ORDE YOUTH VILLAGE
High school choirs have popular currency this fall, with the trials and tribulations of a diverse group of talented teenagers drawing television audiences to Glee. The real life narratives of the members of Israel's Yemin Orde Choir, who performed in Los Angeles on November 3 and 4, were more compelling than anything portrayed by their fictional counterparts. Survivors of trauma and displacement, separated from their family and native land the five boys. Immigrants from Ethiopia, Brazil and the Former Soviet Union, the five boys and six girls of the traveling choir came to Los Angeles to share their music and the message of inclusion from the Yemin Orde Youth Village.

Yemin Orde Youth Village, located in the Carmel Mountains near Haifa, is both home and school to more than 500 disadvantaged youth from around the world, many of whom have no family or support group in Israel. Yemin Orde is the pre-eminent residential program for at-risk youth in Israel. The children all live and study there within the embrace of a unique philosophy that cherishes diversity, cultivates self-esteem and develops leadership.
Yemin Orde is dedicated to giving children the highest quality care and education. With a population from as many as 20 different countries, Yemin Orde recognizes that affirming cultural background is critical. At Yemin Orde, everyone in the Village works toward integrating newcomers into Israeli life while respecting and celebrating each child's native culture.
Catchy contemporary Israeli songs, selections inspired by Jewish liturgy and traditional folk music make up the Yemin Orde Choir repertory along with compositions by the children's director, Ronen Lan-Rieder. The teenagers themselves compose the lyrics to many of Lan-Rieder's songs, with titles such as The Art of Giving and Generations of Wisdom. Songs like these reflect the essence of Yemin Orde principles and every performance resonates with the diversity of their respective cultures and experiences within the larger Israeli community.
Temple Emanuel
8844 Burton Way
Popular in the Community