The songwriting/production team of Kenny Gamble and Leon Huff has been the musical force behind over 3500 songs in 35 years, rivaling catalogs by Lennon and McCartney, and even Bacharach and David. Their Philly International label focused on "The Sound Of Philadelphia," was distributed by Clive Davis' Columbia Records group in the seventies, and gave the latter company its most successful R&B chart hits. Almost immediately after signing with the company, Gamble and Huff's combined talents steered the likes of The O'Jays, Harold Melvin and the Blue Notes, Billy Paul, MFSB, and the Three Degrees into both R&B and Pop's Top Ten with songs such as "Love Train," "Me And Mrs. Jones," "Back Stabbers" and "If You Don't Know Me By Now" becoming as timeless as any single can be.
The pair has received many prestigious awards, but none are as important to them as their latest--Honorary Doctor of Music degrees from the Berklee College of Music. They will accept their doctorates this weekend, with Kenny Gamble delivering the college's commencement address to its over 860 graduates, parents, and guests. Perhaps he'll offer some insight into what was behind their brand of R&B that focused on peace, empowerment, and social conscience. But for those who cannot attend, the following is an interview with Kenny Gamble and Leon Huff as they prepared to head to Boston for the weekend ceremony.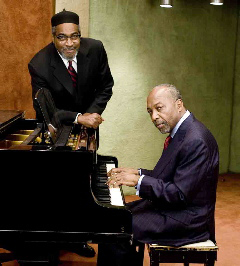 Mike Ragogna: Gamble and Huff are so important in the whole lexicon of R&B and pop music, and now you're receiving honorary doctorates in music from The Berklee College of Music.
Kenny Gamble: I think it's great because it's an honorary doctorate that Huff and I are getting together, and it's really good to be recognized for your work at that level.
Leon Huff: It's a wonderful feeling right now to accept this award, it really is.
MR: And you've accumulated so many prestigious awards previous to this one.
LH: We just got inducted into the Rock and Roll Hall of Fame which is Rock and Roll heaven! We got dance music, we went in the Dance Music Hall of Fame with Quincy Jones and Nile Rodgers. I mean, we've been a lot of awards, but this award here is very special because it's from Berklee. It's a fantastic school.
MR: So many talented musicians have graduated from or attended Berklee.
KG: I became aware of that school, it's even in Quincy Jones' background, and Arif Mardin's...I think they're luminaries from that school. I'm like sittin' alongside some very powerful and hip people.
MR: Although they cover all genres, Berklee has been equated with jazz, and rumor has it that you're big jazz nuts, right?
KG: Yeah, I like jazz a lot. My favorite jazz musician would have to be Miles Davis.
LH: Oh definitely. I'm doing an album that shows flavors of that style. I have a very, very thick jazz album collection, I love jazz a lot. My friend Smokey Robinson got the award last year, and he's a favorite of mine also.
MR: And you know what, people don't think of about it, but his vocals--especially when he just takes off--are as smooth jazz as you're going to get without classifying it as that.
LH: Yeah, you're right, it has that jazz flavor. I've always been a jazz buff, always.
MR: Who are your favorite jazz acts?
LH: Right off the top of my head? There's Count Basie. I have a lot of his albums from the big band era. I love the album where Quincy Jones did the arrangements for Frank Sinatra and Count Basie, and he stole the show. Then you've got Duke Ellington. And you've got one of my favorite female singers, I had the pleasure of seeing her in a club and she was like fantastic to me...that was Sarah Vaughn. I've seen her live. Those people who saw her and I were like amazed. And you've got Aretha Franklin. I mean, powerful.
MR: Going back to Sarah Vaughn. People debate who's recorded the best version of "Key Largo," but to me, hands down, she's got it.
LH: And Frank Sinatra gave her props. I mean, between, Sarah Vaughn and Ella Fitzgerald...
MR: What contemporary jazz artist do you like?
LH: Herbie Hancock is a favorite of mine.
MR: What an amazing player.
LH: Another favorite is Sting.
MR: Right, Sting has embraced jazz, always blending it with his own style.
LH: And, of course, Burt Bacharach and Hal David. They're two of my favorites.
MR: Yeah, though they're not technically classified as "jazz," they expanded pop with jazz phrasings and accents. And it seems that most of the artists you mentioned crossover different genres.
LH: I love all genres of music. I grew up with those types of musics. My mother was close to music, she played piano for the church. So I always had records in my house. Always had albums. The big '78s, you know? But I always read the liner notes, and I used to love old jazz stories and pictures. I grew up with all kinds of music. My mother loved Lawrence Welk, so I always listened to all kinds of music.
MR: Did you get to hear Barbra Streisand's new live album that was recorded last year at the Village Vanguard?
MR: Well, on it, she circles back to the style of her very early days, when she sang from a more jazzy place.
LH: I would enjoy that. Barbra Streisand, she's a jazzer, you know?
MR: It's said that every 13 1/2 minutes, somewhere in the world, radio plays a Gamble and Huff song.
KG: Well, I think it's still a work in progress. As I travel, I hear the music all over everywhere in all different kind of formats, so it's really great.
LH: Well, let me tell you something, you know. Here's an example of that maybe? I was watching the Kentucky Derby, right? So, I'm sitting there and during the show before the race, this guy was introducing people. They had a red carpet and everything. So, they come to a part of the show, and they played "For the Love of Money." And I'm sitting there looking at this. Now, that was the first time. Then the second time was at the Floyd Mayweather/Shane Mosley fight. Mayweather comes down and walks to the ring to "For the Love of Money," The O'Jays are in the ring singing the song. So, that song was really busy that day. I'm looking at the Coors beer commercial during the playoffs, and the "Love Train" is still rolling.
MR: Was there a point when you realized that your material had proliferated so intensely?
LH: I always read the trade papers. I always read Record World, Billboard, and Cashbox. I read those publications religiously 'cause I follow the charts. But there was an issue that came out, and this one really blew me away because I counted ten Gamble and Huff songs in the Top 100. That showed me and Gamble were on a roll. I circled ten--I said, "Gamble! Ten!" He said, "Yeah, okay." We knew we had an audience.
MR: That brings us to the origin of Philly International Records. Can you talk about its origin?
LH: Gamble and Huff started with Gamble & Huff Productions. We were doing work for everyone. We were doing Nancy Wilson for Capitol, we were doing Wilson Pickett and Dusty Springfield for Atlantic. We were doing a lot of work, then we decided to do our own thing. We came in contact with Clive Davis, who was president of Columbia at the time. He was interested in bringing us to his office to talk about starting a label.
MR: Wow, that was pretty good foresight, wasn't it.
LH: Yeah. Clive had that vision, which he still has, you know? He gave us the opportunity to have our Philly International label distributed by a very powerful organization, Columbia at that time, which is Sony now. But when we formed Philly International, in Clive Davis' book, he says that when he signed Gamble and Huff's Philly International to be distributed by Columbia, they went on a creative rampage for the next nine, ten months because we came out really strong with "Back Stabbers," "Me And Mrs. Jones," and "Love Train." I mean we came out of the box really smokin'.
MR: That was an amazing era. On the other hand, people keep re-recording your songs. Are there any favorite re-records that you've heard of your material recently?
KG: The cover songs I like the most right now are the ones by Michael Bubblé. He did "Me And Mrs. Jones" and "You'll Never Find Another Love Like Mine." I like the flavor he adds when he interprets the songs.
LH: And there are some wonderful versions of Gamble and Huff songs on Rod Stewart's new album. Rod Stewart did about five of our songs, and he did a fantastic version of "Love Train" and "If You Don't Know Me By Now." He did another song that I love "Never Gonna Give You Up," and killed it!
LH: I've always loved Rod Stewart's voice. Anyway, the music is still active today. I thank God for all that's happening.
MR: Who were your first signed acts when you were Gamble & Huff Productions?
KG: The Intruders and The O'Jays.
LH: The Intruders was our very first act. Boy, did I love that group. I had fun with that group. We managed to cut some really good records with them. "Cowboys and Girls" became a national hit for them.
MR: What is your favorite song by each of these artists: Lou Rawls, The O'Jays, Harold Melvin & The Blue Notes, Billy Paul, and The Three Degrees?
KG: Lou Rawls' "You'll Never Find Another Love Like Mine," The O'Jays' "Love Train," Harold Melvin's "If You Don't Know Me By Now," Billy Paul's "Me And Mrs. Jones," and The Three Degrees' "When Will I see You Again."
MR: What's your all-time favorite song by one of your acts?
LH: I tell you, it's funny, Gamble used to say, "Every time we used to answer that question, we had a different one every time." But I'm gonna give you one that me and Gamble decided that we would both be on the same page with this one because it has such a great message. That's "Love Train."
KG: I always say "Love Train" too.
MR: Beautiful. Not like it matters, but mine was always Harold Melvin and the Blue Notes' "Wake Up Everybody," the long version. When I was at my college radio station, that came over the speakers, and there was almost a hush in the room as about seven or eight of us just stood there mesmerized. The next day, a couple of us hitched a ride from Purchase, New York to White Plains to buy that record.
LH: That was sort of a spiritual awakening when we were recording that track, that music because it had such a spiritual overtone to it. The way I played it... I was playing the Wurlitzer then, and the feeling that I got when that was playing was like I was in another zone. I totally got down on that one, I tell you. And I sat in the control room and watched Teddy Pendergrass go into another zone. I've never seen anything before of that performance, right there. I was like staring at him, a lot of those performances were spontaneous, none of it was written down.
MR: It's so soulful, pretty outrageous.
LH: We've got Teddy good on that one. We pulled it out of him.
MR: You also worked with Lou Rawls.
LH: Oh I love Lou. That voice was like a voice from heaven. I had a ball working with Lou, and we signed Lou, and our first song was (sings) "You'll never find...." Oh, I had pleasure playing that one. That was one of my best tracks that I played with him. When we recorded Lou, he took us to another level. Lou had a huge pop following. Lou was connected with the Black College Fund, The United Fund....he had that telethon every year. Lou was exposed, but he needed that big record. So, "You'll Never Find Another Love Like Mine" really turned his career around. And when he came back with records like "Lady Love," they loved him all over again. Lou had a voice, a baritone that sounded like nobody.
MR: Who would you say grew the most as an artist during the time he or she worked with you?
KG: I think the O'Jays definitely grew the most, because they stuck together. And that's why they were able to accomplish a lot more. It's so important.
LH: In terms of music, Teddy was a very powerful artist. Teddy was the first one to have an all-female concert! The very first one. Teddy was the first black artist--I don't know whether this has been challenged or not--but Teddy was the first one to have 10 platinum albums in a row.
MR: Is that right? Even over Isaac Hayes and folks like that?
LH: Teddy was a very powerful artist. That's all I could say. That voice roared like thunder.
MR: It's so sad, the same about about Lou Rawls' passing.
KG: The predominant thoughts I have on them are that I loved working with both of them and I miss them a lot. They were such fantastic artists. And you just can't help thinking about them all the time.
MR: And there's Michael Jackson's. You got to work with him and The Jacksons for a while.
LH: Yeah, another powerful artist, what a creative mind, Michael. And his brothers. That was a fun experience.
MR: You oversaw their hits like "Enjoy Yourself."
LH: Yeah, and "Let Me Show You The Way To Go." That was one of my favorite ones too. I just loved Michael's voice. Michael had a "voice" since he was nine years old. When I first heard Michael sing "I Saw Ma Kissing Santa Claus," a boy singing like that? Come on! I go back with Michael 'cause I watched him grow. He happened just to come to our path, and ended up with my dear friend Quincy Jones.
KG: It was a great privilege for us and very exciting working with The Jacksons. I think we learned just as much from them as they did from us. And I think Michael is more alive today than ever before. He left such a great impression on the world.
MR: What's your relationship with Quincy like?
LH: I love Quincy. I met Quincy when I was like 19, 20-years-old, when I first walked into Mercury Records. He was the first black president of a major record company. I was working for a production company Madera/White Productions, and Madera with White wrote a song for an artist that Quincy Jones was producing at that time, and that song was "You Don't Own Me" by Leslie Gore. Ah, What a powerful record that was, and Quincy produced that record. From the first time I met Quincy when I went to his office in New York, it's been love ever since. To have had the opportunity to play on one of Quincy Jones' sessions in New York, early in my career... Quincy hugged me when I first met him, I still feel it. He's such a warm person, it's been like that, you know? Every time I see him, if I'm in L.A. or something, it's a big hug.
MR: How cool was it to get the Rock and Roll Hall Of Fame award?
KG: Oh, that's the ultimate. That's like getting an Academy Award. It's as big for us as a baseball player going in the Baseball Hall of Fame. We're in the Songwriters Hall of Fame, too, but when you're in the Rock and Roll Hall of Fame, that says it all. So of course we were very happy that it happened for us.
MR: Was it a little bittersweet to receive it as the first "The Ahmet Ertegun Award" after his passing?
LH: It was special to be the first recipient of that. I loved Ahmet Ertegun. Gamble and I were working for Atlantic Records, but I think I knew Ahmet Ertegun before I even met him because I read a lot of stories. I loved to read biographies of the old great stories....Ahmet, Jerry Wexler...I think I knew these guys before I actually met them. When I met Ahmet, I met one of the musical gods in New York. His brother Nesuhi, Tommy Dowd, that whole Atlantic thing...I mean, what a chance to be in that vibe with them when we were doing Archie Bell and the Drells, when we were doing Dusty Springfield. But we were in and out of that Atlantic building quite often. I always respected Amhet because of his contribution to music was huge.
KG: We started hanging around them during the early days, when we worked with Atlantic, recording Dusty Springfield, Archie Bell & the Drells and Wilson Pickett. That's where I first met all those guys, Jerry Wexler, too. They were a tremendous inspiration to us.
MR: Did you also work with Arif Mardin?
LH: We came close to working with Chaka Khan. We had a meeting with Arif and Chaka Khan. When I met Chaka Khan, I was thrilled to death. Even meeting Arif was like wow! Me met and had lunch together and we talked. It didn't materialize when it was a thrill meeting Arif then. I think he did some great things with Chaka Khan.
MR: How did "TSOP" become the Soul Train theme?
KG: Don Cornelius wanted a good theme song for his program, so we brought him into Philadelphia and we did it for him. And that's why we called it "TSOP (The Sound of Philadelphia), the Soul Train Theme."
LR: At that time Don Cornelius had started that TV show. It was like really in its early stages, and he needed a theme song to go with it. Somehow, he contacted Gamble and asked us if we could come up with a theme song for his show. He flew in to Philadelphia, and me and Gamble accepted the challenge. So, he hung around for about a week, I think he came in on a Friday. We went in the studio on a Saturday, but nothing really came of it. So, we came back on Sunday and we nailed it. We came up with (hums melody). We built it from there, and that song was like really popular because of the show.
MR: And I think one of the reasons the show stayed in everybody's mind was because of the theme!
LH: Yeah. We went to the studio with the MFSB orchestra and we nailed that one. I think after that, we did a couple of albums with them because they sounded so good.
MR: Since you're all from Philly, what were your adventures with Daryl Hall and John Oates?
LH: Aw, two of my favorites, come on, you know? They always speak really well of me and Gamble, and we always stuck with them because they're two great talented guys. I think Darryl Hall was in a singing group at the time me and Gamble were hustling around Philadelphia. I think he was in a group called The Temptones.
LH: He was in and out of those R&B circles. I think he was the first white act at the Uptown Theater. They loved him. I think Darryl Hall was like deep into the roots of R&B.
MR: That's what he became famous for, didn't he.
LH: Yeah, I love him, you know. And I think he did a version of "Me And Mrs. Jones" too.
MR: And John Oates has a deep, soulful voice that goes on for miles.
LH: (laughs) Yeah, I love them both, they were two of my favorites.
MR: You were on American Idol when one of the shows featured contestants singing your hits. What was it like appearing on the show?
KG: I think it was great to be on American Idol because it has created some of the greatest artists the business has known. You have Carrie Underwood, Ruben Studdard, Fantasia, Jennifer Hudson, Kelly Clarkson, Chris Daughtry, the list goes on. American Idol has made a tremendous contribution to the entire entertainment industry, really. I mean Jennifer Hudson won an Academy Award in her first movie. The effect of American Idol is just unbelievable and we were very fortunate to be on the show. I just wish they would use some more of our music.

LH: All the talent, singing me and Gamble's songs, and the band sounded fantastic. And Simon was very gracious with me and Gamble. I mean, the whole thing. Randy...and I had my wife with me, Gamble had his wife. They had a great time. It was a hell of an experience.
MR: How important do you think American Idol is in our culture?
LH: Well, I tell you. I'm gonna go back to when I was growing up as a teenager, there was a show called The Ted Mack Original Amateur Hour. I'm taking you way back. It sort of reminded me of that it's a TV show to expose talent. So, here comes Simon with this idea, which was needed. There's so much talent right now. Competition is like everybody's singing. Whether flat or not, they're singing. They're competing, and Simon just found a way to expose them on TV. So, it's like a modern day Ted Mack Original Amateur Hour. By the way, a person who won that Ted Mack Original Amateur Hour talent contest was Gladys Knight. She won it. She was like 13, 14-years-old and I remember when she did. That girl got to sing like an angel, and she's still singing. So, I see all that, and Simon had the idea to create that TV show, which was great.
MR: Gladys Knight, a winner on Ted Mack's show. Not many people know that.
LH: Every time I see Gladys, I want to remind her of that. "I saw you on the Ted Mack Original..." She falls out laughing. It's great.
MR: What is your advice to new songwriters?
LH: My advice to new songwriters is try to write music that's going to stand the test of time. Write great stories that everybody could understand what you're talking about. Great melodies. Me and Gamble focused on great melodies and great stories, stories like "Me and Mrs. Jones." I love that song. That song will be around because "Me and Mrs. Jones" is a story. "Back Stabbers," "For The Love Of Money." Stories. "You'll Never Find Another Love Like Mine." Stories. That's my advice.
LIVE FROM DARYL'S HOUSE PAYS TRIBUTE TO THE LATE T-BONE WOLK: THANKS FOR THE MEMORIES; EARNS WEBBY AWARD FOR VARIETY
Former and Present Daryl Hall and John Oates Band Members Join in for Set That includes Songs by The Band, NRBQ, Harold Melvin & the Blue Notes, Isley Bros., Percy Mayfield

The 30th edition of Live From Daryl's House is a celebration of the life of the late T-Bone Wolk, the longtime musical director for Daryl Hall and John Oates, who passed away on Feb. 27 from a heart attack at the age of 58. The episode brings together several former members of the band, including guitarist G.E. Smith, sax player Mark Rivera and drummer Mickey Curry, with current members Paul Pesco and Charlie DeChant for a set of T-Bone's favorite songs, including The Band's "The Weight," NRBQ's "If I Don't Have You," the Isley Bros.' "Caravan of Love," Harold Melvin and the Blue Notes' "I Miss You," Professor Longhair's "In the Night," Percy Mayfield's "Please Send Me Someone to Love" and H&O's own "Change of Season." The installment debuts May 15 at www.lfdh.com.

"Singing 'I Miss You' during the show was a transcendental moment for me," said Daryl. "This LFDH is the ultimate homage to my friend and musical partner."

Live From Daryl's House was recently honored with a prestigious Webby Award for Best Variety series on the Internet from more than 10,000 entries. Hall will receive the award at the 14th Annual Awards ceremony on June 14 at Cipriani Wall Street, hosted by The Office's B. J. Novak, along with fellow honorees Amy Poehler, OK Go, Roger Ebert and Vint Cerf, among others.

Wolk was the musical director, bassist and guitarist, for Daryl Hall and John Oates for nearly 30 years, starting with their 1981 album, Private Eyes. His last performance with them was Jan. 30 at the Jamaica Blues and Jazz Festival in Montego Bay, captured on last month's installment of Live From Daryl's House.

The episode will include a menu of some of T-Bone's favorite foods, including garlic pizza from La Manda's in White Plains, NY, as well as homemade meat loaf cooked up by T-Bone's 91-year old father. A special broccoli rabe, one of T-Bone's signature dishes, will be prepared by Vinnie LaMorte. T-Bone famously created this dish live on MTV in the '80s during a guest VJ segment by Daryl and John.

On June 11, look for Daryl to perform with former Live From Daryl's House guests Chromeo at Bonnaroo, where he'll be taking the webcast experience to the live masses at the famed Tennessee festival.

Past episodes of Live From Daryl's House have featured a mix of well-known performers like Smokey Robinson, The Doors' Robby Krieger and Ray Manzarek, Toots Hibbert, Nick Lowe, K.T. Tunstall, Todd Rundgren, Gym Class Heroes' Travis McCoy and Fall Out Boy's Patrick Stump along with newcomers such as Canadian techno-rockers Chromeo, MySpace pop-rock phenom Eric Hutchinson, Cash Money rocker Kevin Rudolf, Wind-up Records' Chicago rockers Company of Thieves, Bay Area singer/songwriter Matt Nathanson, Charlottesville, VA's rising Parachute, Chicago rock band Plain White T's, Boston bluesman Eli "Paperboy" Reed and highly touted tunesmith Diane Birch. 

Daryl started the free monthly webcast in 2008 after having the idea of "playing with my friends and putting it up on the Internet," and the show has since garnered acclaim from Rolling Stone, SPIN, Daily Variety, CNN, BBC, Yahoo! Music and influential blogger Bob Lefsetz, who have cited Live From Daryl's House as a perfect example of a veteran artist reinventing himself in the digital age by collaborating with both established colleagues and newer performers.
David Ippolito Gets YouTubed
A yummy slice of Friday night's NYC CONCERT deliciousness!
Don't miss David Ippolito's funny new FACEBOOK SONG on YouTube!
http://www.youtube.com/watch?v=zDHb4wewAIQ
REAL LIFE. REAL NEWS. REAL VOICES.
Help us tell more of the stories that matter from voices that too often remain unheard.