Fuel is a documentary about oil, but it is not about the use of petroleum as the energy source for America's cars, light bulbs and computers.
The film presents crude oil and its byproducts as the fuel that powers the military-industrial complex, political corruption, corporate greed, environmental destruction, and disease. While Fuel's labeling of oil as the root cause of all of those scourges at times goes too far (especially when tying oil directly to 9/11 and its aftermath), it provides compelling evidence of at least partial causality.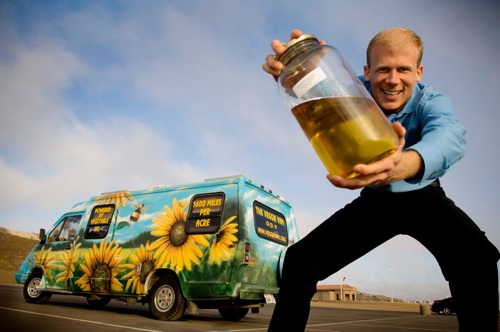 Director Josh Tickell and the main character of Fuel, biodiesel.
The narrative of Fuel follows the life of its director, Josh Tickell, and his near-lifelong quest to cleanse America of its addiction to oil by tirelessly promoting clean, renewable alternatives to petroleum power. Tickell's story begins in Louisiana, the heart of American oil refining, where he spent much of his youth. As a boy, he was exposed to the pollution of air, soil, and water that was the result of decades of oil drilling and processing. He quickly learned that the government agencies charged with protecting citizens from such pollution shunned their responsibility simply because they were in Big Oil's pocket. The toxic waste dumped by refineries caused severe health problems in local residents, including higher rates of cancer and reproductive problems in women -- a fact devastatingly humanized by Tickell's mother choking back tears as she recalls her nine miscarriages.
Despite those and other citations of the evils of oil production and consumption included in Fuel, the film's tone is decidedly positive. Tickell, whose on-camera commentary is peppered throughout the film in tandem with his narration, has a warm, irrepressibly upbeat presence. His inviting personality shines through in the segments of the film that chronicle his "veggie van" tour of the US in the late 1990s, when he drove a Winnebago powered by waste frying oil from fast food restaurants across the country to raise awareness about biofuels. It is clear that Tickell made a choice to channel his excitement and optimism into the film's central message. His genuine belief that widespread adoption of cleaner fuels in the US is not only possible, but closer than most Americans could imagine, makes Fuel compelling and exciting. Tickell's emphasis on the positive, on what is possible, makes the film distinctly different from the best known documentaries of recent years directed by peoples' hero/pariah Michael Moore. By leaving behind Moore's familiar tactics of mockery and ambush interviews, Tickell makes the content of Fuel (some of which is quite incendiary) digestible to Americans of all backgrounds and political persuasions. This accessibility and broad appeal no doubt played a major role in Fuel's garnering the Sundance Film Festival's Best Documentary prize in 2008.
To back up his optimism, Tickell includes fascinating facts about current alternative energy technologies and the huge potential they hold for powering America's future. From algae that feed off of power plants' CO2 emissions to megaflora trees that reach full maturity in just three years to provide rapidly renewable biomass, Tickell shows that numerous sources of biofuels are ready today to power a cleaner America tomorrow. Interviews with enthusiastic experts in a variety of fields who espouse the effectiveness of clean fuel technologies and the plausibility of their widespread use, lend legitimacy to Tickell's position. And, for good measure, Tickell throws in some star power in the form of inspired interviews with celebrity renewable fuel advocates like Neil Young, Willie Nelson, Sir Richard Branson, and Woody Harrelson. History, it seems, supports Tickell's case as well: both Henry Ford and Rudolf Diesel (inventor of the diesel engine) originally intended for their mechanical marvels to be powered by plant-based fuels.
While demonstrating that all of the needed technology for a petroleum-free America is already in place, Tickell also profiles two model societies that are already well on their way. He visits Sweden (which has pledged to be off of fossil fuels entirely by 2020) and Germany to demonstrate that grassroots action combined with intelligent planning can bring about an oil-free society. If two other modern Western cultures can make it happen, Tickell asks, why can't we?
That is the unmistakable final message of Fuel: we can do it, and every interested American needs to start now. The film ends with an impassioned call to action from Tickell, who urges every viewer to push his or her representatives in Congress to take legislative action in support of alternative energy. The hopeful tone, fascinating technologies, and historical background all make for an inspiring film. By aiming from minute one for inspiration, by opening doors to reveal amazing possibilities in the world of clean, healthy, renewable fuels, Fuel achieves exactly what it intends.
Fuel does not chastise Americans for using petroleum products, but instead shows that a post-oil nation is well within our grasp -- all we need to do is extend our hands.
Fuel, directed by Josh Tickell, 112 minutes, not rated by the MPAA. Released today in theaters nationwide.

Support HuffPost
The Stakes Have Never Been Higher
Related
Popular in the Community