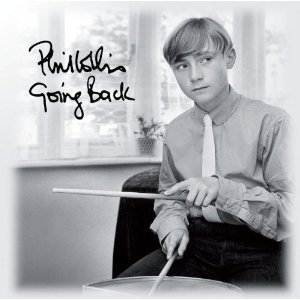 A Conversation with Phil Collins
Mike Ragogna: It seems like your new soul album, Going Back, has been years in the waiting, especially after your having such a big solo hit with The Supremes' "You Can't Hurry Love" in the eighties. What inspired you to do an album like this now?
Phil Collins: Well, it's something that I've always wanted to do, of course. Sometimes those things get kind of put on the back burner and you never get around to doing them. I listened to this stuff when I was a teenager, basically. I used to go up to London from the suburbs to clubs to listen to bands. One particular band was The Action, and they were a big mod group that played all this stuff as well as Atlantic groups like Don Covay, Sam & Dave and things like that. This is the music I started to listen to and the records I bought. I kind of always wanted to sing the songs, but never got the opportunity because I joined Genesis when I was nineteen, and at that point, we never played anybody else's songs. So, this was the first time that there has been time and an inclination to do it. I'm glad I waited this long because I think the album is better for it.
MR: Can you remember a time when you gravitated more towards soul music than other kinds of music?
PC: Well, when I was twelve or thirteen The Beatles' first album was coming out, and there was a cross section on the first two albums they did. They had some Motown and early soul record covers, and so did The Stones. So, I was getting third hand versions of quite a lot of these songs from other bands -- English bands at the time. This is the music that I kind of lived my life to. I know it sounds weird now because forty years or so later, I've been known, really, for playing with Genesis, which is kind of a million miles, it seems, away from this stuff. But if you listen to some of the really early Genesis things you can hear a soul drummer trying to get his bit in, you know?
MR: Are there artists that you favored over other artists? For instance, you do a couple of more Stevie Wonder songs than not on this project.
PC: Well, I wasn't motivated necessarily by proportional representation. I mean, I did twenty-nine songs and there are two Marvin Gaye songs out of the eleven that were left off the record. In Europe, there's a special edition with all twenty-nine songs. I had to whittle it down to eighteen to get it on one CD, so certain artists like Marvin Gaye didn't make it into the last eighteen, but that's not to say that I prefer Stevie Wonder to Marvin Gaye, it's just that I went song by song rather than by artist. Martha Reeves is much more represented than The Supremes, but I wasn't really bothered about trying to get everybody's name on the board, you know?
MR: Of course. You recorded a couple of songs by Dusty Springfield, one of so many people's favorite artists. It was nice that her music made the mix too.
PC: Yeah, people have been generalizing and calling it a Motown record but it's not really. As you said earlier, it's really soul music--if one can call Carole King and Gerry Goffin songs soul music. Dusty Springfield was certainly the closest thing we had to a soul singer in the sixties in England, and she did those two songs that I do, "Going Back" and "Some Of Your Lovin'," which have always been amongst my favorite songs, and when I did covers, they were on the list of songs to choose from. Then, there's The Ronettes' "Do I Love You," which was kind of a very mod song. There were certain bands, The Action, for example, at The Marquee, that played these songs, and I didn't see it as outside the box. It was a great song, so the fact that it was The Ronettes, which is a different sort of area than Motown, didn't really bother me. Same thing with Curtis Mayfield--I collected a lot of Curtis Mayfield records. Again, through The Action and their set lists, I got turned on to a lot of artists and a lot of songs, primarily The Impressions. "You've Been Cheating" is another song that didn't make the record, but that's another one of Curtis Mayfield's songs. Apart from his latest solo stuff, as The Impressions, there are some fantastic songs.
MR: Was the intention of this album to not only give your take on these songs but also to be faithful to the period?
PC: Well, that was the idea. I didn't want to bring anything new to the table, really. I don't mean that in a negative way, I just think that I wanted the record to be an operative of the period, so you would kind of have that feeling you had when you heard the song originally. That was an interesting project to try. My engineer and I listened constantly to the originals--when we were recording with The Funk Brothers, doing my demos, and mixing. We constantly referred back to see what it was that made those records and those songs sound so special, and sometimes, it was obviously the way they were recorded because the technology at the time was very limited.
MR: What was it like recording with The Funk Brothers?
PC: It was an education. Just the history is pretty daunting. There are only really three active Funk Brothers left, and I managed to get those three. They actually do gigs as The Funk Brothers still. Eddie Willis, who is the guitar player, for example, is one of the three guitar players who played on everything, pretty much. Sometimes just watching them smile when they were doing something or listening to something kind of gave me the thumbs up and told me that it was actually going in the right direction.
MR: Are you a fan of the Standing In The Shadows Of Motown project?
PC: Yeah, it was extraordinary. Sadly, since then, half the band has died. Pistol Allen and Uriel Jones died, Joe Messina retired, and various members have either just retired from the business or have died. That film was in '02 and it was a great film. And it was fantastic that it was made when it was because otherwise, there wouldn't have been the people to play those songs and tell everybody in the movie.
MR: Since you're very close to a lot of these songs on a personal level, do you have any specific memories connected with any of them?
PC: Well, they're smattered with memories. "In My Lonely Room" was one of the first songs that I heard by this group, The Action. It was a b-side, and I kind of fell in love with it straight away. Then, I found out it was a Martha & The Vandellas song, and I went out and bought it. There are memories because in a school band, I had played all this material, and what words we didn't know, we made up. The lady that was my first wife was in that school band, so there are all kinds of memories.
MR: Part of you history is being a child actor. I guess you started at fourteen, right?
PC: Yeah, when I was fourteen, I got my first professional job, but I had been on stage in an amateur sort of way from a very early age.
MR: And you had been schooled at this, right?
PC: I went to a drama school, yes. I don't believe I learned much, but I went to a drama school. That's what you're talking about, right?
PC: From there, you get sent out to a lot of auditions. Commercial television was starting in England, way behind the rest of the world probably, but commercial television was starting so there was a sudden demand for kids in TV advertising or television plays. So, I went to drama school, and because my mother was kind of involved answering the phone, I started to get sent for jobs.
MR: What are your more popular roles?
PC: I did The Artful Dodger in Oliver on the West End stage for seven months, and that was fantastic. That was great fun, and it was a great musical. Then, I got sent to do a bit part as a screaming kid in A Hard Day's Night, so it involved no acting at all. I just got paid for screaming at The Beatles, but that was a great day out.
MR: Very nice. You're not really associated with the latter so much.
PC: Some people who really keep their ears to the ground know it. I've seen my friends and kids I went to school with in the movie, but not me. Thirty years later, in '94 I believe, Walter Shenson, who produced the film, heard this story that I was in it. I said, "Well, I'm not in it. I've seen my friends, but I don't see me." So, he gave me the outtakes of the part in the theatre at the end, and I eventually found me. In The Making Of A Hard Day's Night, which is a DVD you can get, I narrate the whole film, and I find me and put a little circle around me. So, I actually was there, and I got paid for it, but it's not exactly a part of rock and roll history.
MR: You also starred in Buster?
MR: And you received an Academy Award for "You'll Be In My Heart," from your score to Tarzan, right?
PC: Yeah, I wrote the songs for the animated movie Tarzan, and "You'll Be In My Heart" got the Oscar. Then, we took that on to Broadway, and I wrote nine extra songs and was very involved in that. So, in a way it book-ended--starting life as The Artful Dodger in Oliver, and then a few years ago, writing a musical for Disney. That was a great experience for me.
MR: Then, of course, there is the title track of the film Against All Odds, a song that I think everybody knows inside and out.
PC: Yeah, I was on the road for my first tour and I was asked by Taylor Hackford to write a song for this film that he'd done. But I couldn't write on the road, so I told him there was a song that I had, and I let him have a copy of this song and he fell in love with it. I re-wrote the lyrics based on the story of the film, and it's gone on to be a hit and a song of mine that everybody knows.
MR: Speaking of songs of yours that everybody knows...
PC: There's no truth in the rumor at all. There's no story.
MR: (laughs) No, no, no, what I'm talking about is "You Can't Hurry Love."
PC: Oh, alright. I thought you talking about "In The Air Tonight."
MR: Actually, "In The Air Tonight" is another of your songs with cinematic history. Tom Cruise and Rebecca De Mornay on that train ride in...
PC: ...in Risky Business, yeah. That is kind of an often forgotten moment because most people want to talk about what the song is about, and the song isn't about anything, actually, it was all improvised. So, that's what I thought you were going to ask me.
MR: The drum pattern in that, I think, has been sampled by everybody. In fact, you were the main Linn Drum sample for a long time, weren't you?
PC: Well, certain drum machines, when they started making sampling drum machines, used bits of "In The Air Tonight." Sometimes, when there was a loud drum introduction, it was a sampler's dream to take all those different sounds and have them separate. So, yeah, I was featured on those drum machines quite a lot, but you know, it's flattering in some way.
MR: I wonder if these days we would look at it like modern sampling. We've finally gotten a control on it to where people are being paid royalties, you know?
PC: I think it's a question of how many notes you use. A lot of hip hop guys have used "In The Air Tonight" in various shapes and forms, and if they're going to change it, I have to be told and give my permission. But otherwise, people just use it if they want.
MR: Because it was such a big hit, there are generations of people who associate you with "You Can't Hurry Love," not the original artist. How do you feel about that?
PC: Yeah, people who were too young to have heard the original did assume that I wrote it, and when they find out that I didn't, they go back to discover the original and songs like it. "You Can't Hurry Love" is a bit of a point in a direction that I would do something like Going Back eventually. It was my love of that music, that was the reason I did "You Can't Hurry Love," and that's the reason that I could have done this record at any point in my career.
MR: The sound on that record is very similar to the recording style you have on Going Back.
PC: We didn't spend quite as much time on "You Can't Hurry Love" as we should have done, I don't think, in terms of trying to get the right Motown sound. We got what we thought we could, but we went far deeper on this record with the way we recorded it. Certainly though, it was a record of its time, and people, hopefully, have discovered where it came from.
MR: Was there ever a point where you wanted to introduce some of these songs or this type of style into Genesis?
PC: I think we all loved soul music, generally. Peter was a great Otis Redding and Nina Simone fan, and so was Tony Banks. As a drummer, I was trying to bring some into it, but Genesis' concept was already formed, in a way, before I even joined. So, it was something to enjoy behind closed doors--it wasn't actually something to bring into Genesis, you know?
MR: On Going Back, are there any songs that, when you finished the album and played it back you went, "Wow, that's really something"?
PC: Yeah, "Papa Was A Rolling Stone." I mean, there are a few of them, but it was very difficult to take that one on, and I think we ended up doing it justice. I think "Going To A Go-Go" is another one. It's difficult to choose favorites, if you like, because anytime on any given day you just hear it by accident and suddenly say, "Well, that actually sounds pretty good." So, for me, the project is fresh enough to try to resist naming individual songs. But I think because of its length and the kind of song it is, "Papa Was A Rolling Stone" was one of the more trying songs--the one that kind of pushed us a little bit into getting the arrangement and the sound exactly right. Of course, Bob Babbitt of The Funk Brothers played bass on that track, and Eddie Willis was on guitar as well, so we had part of the team that did the original, you know?
MR: Well, certainly this is going to be an education for a lot of people, especially younger people who may not be familiar with a lot of these original versions. It's great that you didn't just record huge hits, you also did some b-level material.
PC: Yeah, some of the darker songs are b-sides and stuff, and some songs were hits in England and not in America. I tried to stay clear of songs that have been done too many times because, obviously, it's something that has happened quite often and recently. I just picked my favorites, you know? I just tried to avoid a few of the pitfalls that other people have fallen into, and tried to avoid a few of the songs that people knew too well. Otherwise, I just picked the songs that turned me on.
MR: Are you going on tour to support the record?
PC: No, no. No more touring. I'm kind of grinding down to a halt at the moment with my life. I've got my two little boys at home in Switzerland, so in the foreseeable future this is my last record, I think.
MR: Wow. Phil, with all your experience, do you have any advice for new artists that are coming into the field?
PC: Well, it's a very different business from the music business that I kind of started off in, if you like. It would be to try to get a depth of material. So much happens so quickly these days that it's difficult to get a firm grip or foundation. There's such a lot of saturation out there with so much music and so many places to hear it and watch it. When I was starting, of course, there was very little music on TV, and people had to go hunt for you. Anybody who is doing it, starting off, I wish them the best of luck.
Tracks:
1. Girl (Why You Wanna Make Me Blue)
2. (Love Is Like A) Heatwave
3. Uptight (Everything's Alright)
4. Some Of Your Lovin'
5. In My Lonely Room
6. Take Me In Your Arms (Rock Me For A Little While)
7. Blame It On The Sun
8. Papa Was A Rolling Stone
9. Never Dreamed You'd Leave In Summer
10. Standing In The Shadows Of Love
11. Do I Love You
12. Jimmy Mack
13. Something About You
14. Love Is Here And Now You're Gone
15. Loving You Is Sweeter Than Ever
16. Going To A Go-Go
17. Talkin About My Baby
18. Going Back
(transcribed by Ryan Gaffney)

Calling all HuffPost superfans!
Sign up for membership to become a founding member and help shape HuffPost's next chapter