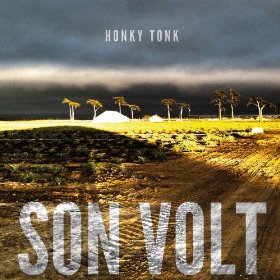 A Conversation with Son Volt's Jay Farrar
Mike Ragogna: Jay, how are you?
Jay Farrar: Hello, I'm good, thanks.
MR: The last time we spoke, you were working on the documentary on Kerouac.
JF: Yeah, One Fast Move Or I'm Gone, writing songs from the words and lyrics of Jack Kerouac.
MR: Your new Son Volt album, Honky Tonk, is the band's musical follow up to American Central Dust, right?
JF: Yes, absolutely. It's a continuation of a lot of the sound and instrumentation of American Central Dust, but also it's a continuum going back to the first song off the very first record--"Windfall," off Trace. Basically, it's getting back to a fiddle and steel guitar aesthetic that was very prominent on that first song on the first record.
MR: These last couple albums feel like they have a little more of a mission. I know you're not mimicking him and you don't "sound" like him, but Gram Parsons comes to mind when I hear your music lately.
JF: There's definitely an element of wanting to acknowledge and pay homage to country music from the '50s and early '60s. That's the type of music that I was finding inspirational. I've been learning to play the pedal steel guitar, and I've been playing it out in St. Louis in a local band. So I really became immersed in that kind of music, and I've really followed the pedal steel guitar playing of Ralph Mooney in particular. I just really got caught up in it and sort of found myself in that mindset when it came time to write songs for this record.
MR: Mark Spencer is credited as being the pedal steel player on this album. Did you also pop some pedal steel, maybe uncredited, on the album yourself?
JF: I did not. Mark Spencer played the pedal steel, and also Brad Sarno, who is a local guy here in St. Louis.
MR: At this point, is it a given that this is the Son Volt sound, at least as far as the last couple of albums?
JF: With Brad Sarno, he seemed to have a pretty wide range to pinpoint what each song needed. He also seems to have a pretty good background. Mark is a multi-instrumentalist, so he can play just about anything on any instrument. Basically, the songs were kind of divided, with the more classic country stuff going to Brad Sarno and the stuff with different elements, like if it were going in more of an Irish direction, that would be Mark's song to try.
MR: What is Son Volt's creative process?
JF: Son Volt always kind of had that inherent duality of the acoustic side and the electric side. This time I wanted to focus more on the acoustic side and put more country into the sound in particular. I really studied the pedal steel playing of Ralph Mooney, and that took me back to the Bakersfield sound, where guys like Buck Owens were allowed to create their craft and do what they were doing organically, without a lot of outside interference. Since the recording industry was based in Nashville, there would often be programming guys putting a string section on, or there would be a lot of background singers that weren't really integral to the song, so that's why I really liked the Bakersfield sound.
MR: In that environment, there also wasn't the whole mindset of, "Hey kid, you gotta have a hit single."
JF: Those guys were out there in the clubs, playing real loud, so they brought kind of a rock and roll sensibility to what they were doing.
MR: "Wild Side" and "Down The Highway" are a couple of my favorite tracks on Honky Tonk. Can you give us a little story behind those songs?
JF: With "Wild Side" I was just getting into the mindset and actually using the lexicon of a lot of familiar concepts that were used in that time period. A lot of words like "love," "heartache," "heartbreak"... I just soaked it up, and when it came time to write these songs, this is what came out. In "Down The Highway," I think I was just eluding to the idea that music is really about taking it on the road, and there's something about singing music every day that is good for the soul.
MR: What advice do you have for new artists?
JF: Perseverance, I think, is paramount. The same is true today as it was going all the way back. Since we're talking about that time period of the '50s and early '60s, those country music artists never really took a break. They were just on the road all the time, taking their music out there to an audience. So, that remains a constant. If someone wants to do it, the internet is certainly a platform that can help them do that.
MR: What was the best advice that you got?
JF: I'm not sure I ever got good advice. Once again, it was just trial and error and perseverance.
MR: Is that the secret behind Son Volt?
JF: It could be argued that it is. Once again, the best advice I got was probably from my father, who placed a great deal of importance on the idea of embracing music as a force in your life.
MR: Who is your favorite artist right now? Do you have one?
MR: Contemporary or anyone whose music you grew up with.
JF: That's really hard to pin down to one. In the context of country music, I think George Jones is one that continually comes up. That is supported by my son, who eschews anything honky tonk or country music related, but there was one guy that he will say is okay, and that's George Jones.
MR: How does he feel about Merle Haggard? If you like Jones, sometimes, those two go hand in hand.
JF: I'm not sure he's heard any Haggard. Maybe that will open some doors.
MR: We mentioned the Jack Kerouac project before, and the last time we spoke it hadn't come out yet, so I'd like to get some of your final thoughts on that project. When the dust settled, do you think it made an impact on how you go about creating music?
JF: I think it did. Each project along the way you learn from the experience and take something away from it. That was an experience of stepping aside from Son Volt and stepping aside from what I normally do, so I really got a lot out of the experience, and working with Ben Gibbard was really great.
MR: Are there any other side projects you think you'll be working on?
JF: I think it's good to do those kinds of projects from time to time. Son Volt is going full speed ahead right now, but I would expect to so some other projects with other folks down the line.
MR: And I imagine Son Volt will be touring in support of this album?
JF: We have tours planned through the summer, so yeah, we're getting out there.
MR: Do you take the kid on the road with you?
JF: I have before. Both of my kids have gone on stage with me before. They have busy lives, busier than mine sometimes.
MR: Are they heading down a similar path that dad headed?
JF: Right now, their lives are pretty well balanced between sports and music. No one is in a rock band yet.
MR: Jay, I really appreciate your time today. We'll have to do this again sometime, perhaps for part three--are you envisioning a part three as well?
JF: There's always a third act, right?
MR: [laughs] Very nicely said. By the way, I'll just say it now. "Tear Stained Eye." What a great recording. Okay, all the best, and please come back soon.
JF: Thanks Mike. See you around.
Tracks:
1. Hearts And Minds
2. Brick Walls
3. Wild Side
4. Down The Highway
5. Bakersfield
6. Livin' On
7. Tears Of Change
8. Angel Of The Blues
9. Seawall
10. Barricades
11. Shine On
Transcribed by Ryan Gaffney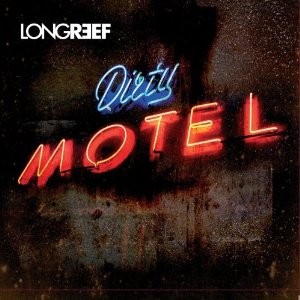 "SHE LIKES THE LADIES" WITH LONGREEF
Aussie rock band LONGREEF (Josh Barker, Tristan Davies, Nick Miller, Jim Wark) are back on the road in support of their latest EP Dirty Motel. The band recently shot a video for their second single "She Likes The Ladies," the song being a crowd favorite. The band decided to keep the video simple and do what they do best, perform the track live, so every shot in the clip was filmed out on the road, at shows, festivals and opening slots.
On the techie side, the video was shot with Go Pro Hero II cameras and captures the energy and mayhem and a bunch of other stuff that is the Longreef live experience. Oh by the way, "She Likes The Ladies" was released to radio on March 5 and is seeing adds across the country. "We think this is a song that everyone can relate to in their own special way," says lead vocal hero Josh Barker.
History lesson. Longreef came to the States in 2010 to write and record their self-titled debut EP that was released in 2011, found a home in Florida and began touring relentlessly in support of their debut. For twelve months, they stayed on the road and played more than 150 shows across 11 states and 30 cities. Whew. They headlined shows and shared the stage with some big names including Bush, 30 Seconds to Mars, Stone Temple Pilots, Seether, Taproot, Red Jumpsuit Apparatus and more. So the first single off their self-titled debut was "Lonely" and it reached 33 on Billboard's Top 40 R&R Indicator charts. And in 2012, the band performed over 200 shows with no signs of stopping or hedging their bets (that's right, no bets hedging) in 2013.
Important: This year, they've also decided to give back through their constant touring. After performing at a Ken Stabler Foundation event in March that benefited the Ronald McDonald House, the band decided to now donate 10 cents for every mile they tour this year straight to Ronald McDonald House. Nice, huh?
"LET IT SHINE" WITH LEN BRODSKI & NOAH CHENFELD
This time, Noah teams up with Len "Brodski," yet another brother in the Chenfeld dynasty. Okay, this family needs to stop being creative like right now. Can't keep up...
Calling all HuffPost superfans!
Sign up for membership to become a founding member and help shape HuffPost's next chapter