The best strategy when you're at a film festival -- especially a film-abundant and richly diversified film festival -- is to run wildly into that celluloid dark. Ditch your comfort zone. Kick down the walls. Embrace what you detest. So I headed for a sports film.
In high school I was a sports freak; I excelled in football, baseball, and basketball. Sports were my life. Although offered a sports scholarship to a large national university, I chose the Vietnam War. There I learned that sports had little in common with war; and sports films, I would conclude, had little in common with anything. Fast forward four decades, my brain pulsating at the South by Southwest Film Festival in Austin, Texas, and I'm rushing into the Paramount Theater for a sports film.
Hood to Coast chronicles a brutal 197-mile relay race in Oregon that starts on Mount Hood at an elevation of 6,000 feet and ends the following day when the runners cross the finish line at sea level by the Pacific Ocean. With 12,000 runners and 2,000 vans ferrying a thousand 12-person relay teams to 36 legs along the route, the Hood to Coast Relay is the largest race in the world. And probably the strangest.
Begun in 1982 by a group of dedicated runners, the Relay grew into not merely a massive event, but one that relishes the unconventional and quirky. Team members wear outrageous uniforms and engage in sophomoric pranks. The slowest teams begin first and the fastest teams last, the staggered starting times allowing everyone to finish at more or less the same time. In this race -- "It isn't a race," one runner says, "but an event" -- individual achievement takes a back seat to community unity. "It's like Woodstock moving down a road," another participant says.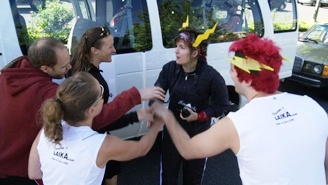 There are the stick-figured long-distance runners addicted to shedding a second off their times, but they're a minority. The vast majority of the participants are passionate not about winning, but about simply participating in this whacky Woodstock on running shoes. The film Hood to Coast captures well the zaniness and irreverence and nutty antics and community spirit. The dialogue is snappy, ironic, and smart. The cinematography is simply captivating.
A film crew of more than 100 deployed 25 cameras and two helicopters and shot 600 hours of "the mother of all relays" (from the Relay's website). The footage is stupendous, chronicling the majestic heights of Mount Hood, descending through dark-green forests and sprinting across placid valleys, skirting small towns, slicing through urban Portland along the banks of the Willamette River, and finishing at Seaside on the brown sand of the Pacific Ocean. The scenery is gorgeous. The total effect is awesome.
But director Christoph Baaden and associate director Marcie Hume, with editor Christo Brock, are not interested in a simple sports film, focusing on members from four different teams.
There is Jim Ekberg of "The Dead Jocks in a Box" team, a passionate athlete and comedian extraordinaire. Jason Baldwin is a member of "Thunder N' Laikaning," a flabby and dismissive and funny guy who discovers serious meaning in the agony of running. The serious runner is hilarious, and the sedentary humorous turns serious about running. But also the lightness is peeled back to expose darkness.
A member of "Heart N' Sole," Kathy Ryan, 67, last year experienced a near fatal heart attack, yet insists upon running with her usual grit and determination -- but with a new uneasiness. Ryan Bowe, 30, who suffered a fatal heart attack during last year's run, is replaced this year by his heartbroken family and friends who have formed "Team R. Bowe." When not laughing, you just might be crying.
Between the good-time lightness and the deadly darkness there is the arduous -- the physically demanding and mentally stressful running, the runner's inner battle and relentless question: to stop or to continue? With each participant running two or three legs and covering 15 to 20 miles, there is a point in the race, according to Jim Ekberg, "where the spirit takes over and the body leaves off."
Hood to Coast illuminates what happens when the spirit takes over but the body still finishes the race. You run farther than you had ever thought possible and accomplish what you had never thought possible. And you are ecstatic. Your self-esteem skyrockets. You glow.
This penetrating documentary also reveals the key to the spirit carrying the body across the finish line - a tightly knit supportive community. It's true. Whether running in Oregon or humping in Vietnam, bonding with others enables you to go farther than anyone imagined you could go. In Oregon, it's camaraderie with fellow team members; in Vietnam, with your buddies. The real purpose of the Hood Coast Relay, it seems to me, is to bring people together into a communal gathering to raise the individual higher.
Surrounded by open-minded filmgoers and filmmakers at the South by Southwest Film Festival, I broke through an old wall to watch a sports film. And then I watched others break through walls - like the anti-social wall - allowing participants to draw together. Breaking through the fear of death wall enabled a woman to continue living a full life. The physical pain wall was overcome so a computer geek could elevate his physical achievements, the anti-spirit wall so just about everyone could believe "I can." I watched a massacre of bad walls.
Wrapped inside this sports film is an educational film. The fun-packed times are preparation for a brutal test. When the agony of the race subsides, the sense of accomplishment expands ... then one oozes all kinds of great feelings. Hood to Coast is one stunning sports film with smart lessons for living a better life.
For the Hood to Coast website, click here
.
Popular in the Community