Socially enlightened, singer-songwriter Bruce Cockburn is back with a new project and supporting tour. The following audio track, "The Iris Of The World," is a HuffPost exclusive taken from his upcoming studio album, Small Source Of Comfort, to be released on March 8th.
This lead track to Small Source of Comfort includes the humorously rueful line, "I'm good at catching rainbows, not so good at catching trout." The lyrical admission serves as a useful metaphor for Cockburn's approach to songwriting. "As you go through life, it's like taking a hike alongside a river," he explains. "Your eye catches little things that flash in the water, various stones and flotsam. I'm a bit of a packrat when it comes to saving these reflections. And, occasionally, a few of them make their way into songs."
http://www.facebook.com/officialbrucecockburn?ref=mf
http://www.myspace.com/officialbrucecockburn
www.brucecockburn.com
BRUCE COCKBURN SMALL SOUCE OF COMFORT TOUR DATES:
MAR 24 KELOWNA BC COMMUNITY THEATRE
MAR 25 VANCOUVER BC CHAN CENTRE
MAR 26 VICTORIA BC McPHERSON PLAYHOUSE
MAR 27 NANAIMO BC PORT THEATRE
MAR 30 CALGARY AB JUBILEE THEATRE
MAR 31 BANFF AB ERIC HARVIE THEATRE
APR 1 EDMONTON AB WINSPEAR THEATRE
APR 2 PRINCE ALBERT SK RAWLINSON CENTRE
APR 3 SASKATOON SK TCU PLACE
APR 5 WINNIPEG MB BURTON CUMMINGS THEATRE
APR 6 THUNDER BAY ON COMMUNITY AUDITORIUM
APR 8 KINGSTON ON GRAND THEATRE
APR 9 TORONTO ON MASSEY HALL
APR 10 NORTH BAY ON CAPITAL THEATRE
APR 12 ST. CATHARINES ON SEAN O'SULLIVAN THEATRE
APR 13 MONTREAL QC L'ASTRAL
APR 14 MONTREAL QC L'ASTRAL
APR 15 OTTAWA ON NATIONAL ARTS CENTRE
APR 16 KITCHENER ON CENTRE IN THE SQUARE
MAY 3 NEW YORK CITY NY CITY WINERY
MAY 4 NEW YORK CITY NY CITY WINERY
MAY 5 ANNAPOLIS MD RAMS HEAD
MAY 6 PHILADELPHIA PA KESWICK THEATER
MAY 7 ALBANY NY HART THEATRE
MAY 9 WASHINGTON DC BIRCHMERE MUSIC HALL
MAY 11 BAY SHORE NY BOULTON CENTER
MAY 12 WOODSTOCK VT WOODSTOCK TOWN HALL
MAY 13 NORTHAMPTON MA CALVIN THEATER
MAY 14 BOSTON MA BERKLEE PERFORMANCE CENTER
MAY 15 TARRYTOWN NY MUSIC HALL
MAY 17 ITHACA NY STATE THEATER
MAY 19 ANN ARBOR MI THE ARK
MAY 20 ANN ARBOR MI THE ARK
MAY 21 MADISON WI BARRYMORE THEATRE
MAY 22 CHICAGO IL OLD TOWN SCHOOL OF FOLK
MAY 23 MINNEAPOLIS MN CEDAR CULTURAL CENTER
MAY 26 DURANGO CO COMMUNITY CONCERT HALL
MAY 27 BOULDER CO CHAUTAUQUA AUDITORIUM
MAY 28 DENVER CO ARVADA CENTER
MAY 29 CARBONDALE CO PERFORMING ARTS
MAY 31 LOS ANGELES CA EL REY THEATRE
JUN 1 SAN FRANCISCO CA YOSHI'S
JUN 2 NAPA CA UPTOWN THEATRE
JUN 3 PORTLAND OR ALADDIN THEATRE
JUN 4 SEATTLE WA KING CAT THEATER
JUN 25 RENO NV CELEBRITY SHOWROOM # *

JUN 26 LAYTONVILLE CA KATE WOLF MUSIC FESTIVAL #
JUN 29 BOISE ID VAC CENTER # *
JUN 30 VICTOR ID MAIN STREET PARK # *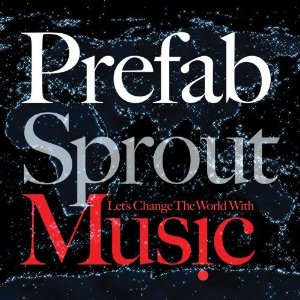 A Conversation with Prefab Sprout's Paddy McAloon
MR: Paddy, you're new album is titled Let's Change The World With Music. You're serious about that, aren't you.
PM: Doesn't your copy of the record have a giant As if... stenciled beneath the title?
PM: There is an actual title track, but--for various incredibly boring reasons--it failed to make the final selection. Shame, as it might have allowed me to duck this question...which I'm going to do anyway!
MR: So, after listening to the first track "Let There Be Music," you seem to equate it with creation which many eastern religions believe is the basis of creation. Is that where you stand?
PM: I thought it a nice concept. You know, God as invisible but audible. Like ad men, songwriters are always looking for a new angle. And as there are no new ideas under the sun, we end up retreading some old news. Beaten to the finishing line by incense burning ascetics, probably.
MR: In "Ride," are you calling out those who would "Ride, ride, home to Jesus..." as in those who are hypocritical about it?
PM: It's simply a song about goodness, about doing the right thing.
MR: Tongue-in-cheek or not, this album is more "spiritual" than any you've previously recorded. Has spirituality become more on your radar since you recorded this album in the nineties?
PM: It's an old record now, even though it's just seen the light of day. So, I have to put on my '92 head to remember where I was coming from back then... I think I was looking for a strong emotional lyrical base for the music. My belief's barely came into it, would you belief? I see the job of songwriter as being closer to a scriptwriter rather than a diarist.
The problem for a songwriter like me is that I love to write music. But I'm not sure that the music is terribly strong, so I try to distract myself and potential listeners by singing stuff over the top of it. And if I'm going to sing stuff over the top then I try to find a subject and a lyrical tone of voice that fits the music underneath. That's where I'm coming from. So, crazy as it may sound, my opinions and beliefs aren't that interesting to me. But I do remember thinking back in '92, can I get away with this, is it possible to make a white gospel record that is full of doubt?
MR: How would you say the group has evolved since the days of your first album, Steve McQueen?
PM: We've evolved pretty much into a hypothetical band right now! Tinnitus means never having to say, "Hello, Cleveland!"
MR: Has the estate truly ever forgiven you for borrowing the actor's moniker?
PM:Absolutely. That particular bike jumped the barbed wire fence a long time ago.
MR: What players join you on this project?
PM: It's all me, unfortunately. The entire album is my home demo, which we never got to record as a band back in '93.
MR: Even "Earth: The Story So Far"?
PM: Yeah, even "Earth: The Story So Far" is performed by li'l ol' me and a computer made of straw. (Those were the days, eh?)
MR: If you or music could change the world, where would you start?
PM: I'm starting with the man in the mirror. I'm asking him to change his ways.
MR: Your music and your style haven't really strayed from the romantic side over all these years. As your song suggests, might you be one of the "Last Of The Great Romantics"?
PM: That song is about a chump who refuses to face facts. So, yes, I suppose I am.
MR: What advice would you have for new artists?
PM: Cover my songs. All of them... particularly you, Bublé. Oh, must I be serious? Listen to your heart. Then reach for the beta-blockers.
MR: What advice would you have for those wanting to change the world with music?
PM: For God's sake don't leave home without the right tools. It's really not a job for amateurs.
Tracks:
1. Let There Be Music
2. Ride
3. I Love Music
4. God Watch Over You
5. Music Is A Princess
6. Earth: The Story So Far
7. Last Of The Great Romantics
8. Falling In Love
9. Sweet Gospel Music
10. Meet The New Mozart
11. Angel Of Love
Calling all HuffPost superfans!
Sign up for membership to become a founding member and help shape HuffPost's next chapter