Carole King and James Taylor's "Troubadour Reunion" tour intends to raise three-million dollars for local programs and charitable organizations, including their respective favorites, Alliance for the Wild Rockies and the Natural Resources Defense Council (NRDC) and more than 90 other organizations. Funds will be raised through sales of VIP Stage Seat Packages in 37 cities. The following video is an exclusive promotional EPK explaining the event for Huffington Post readers: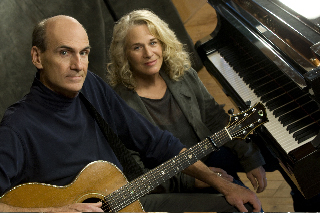 The following is an intact press release that best describes Carole King and James Taylor's benefit concert series:
GROUNDBREAKING SET DESIGN PUTS FANS 'INTIMATE and IN THE ROUND' with CAROLE KING & JAMES TAYLOR on TROUBADOUR REUNION NORTH AMERICAN TOUR
Proceeds from VIP Stage Seat Packages set to raise $3 million for nearly 100 national and local charities - public sale begins today 

Carole King and James Taylor are offering fans the opportunity-of-a-lifetime, to see two musical icons up-close-and-personal with 'intimate and in the round' Stage Seats on their Troubadour Reunion Tour. The VIP Stage Seats were designed as tables for two surrounding the center stage performance. The innovative design recreates the intimacy of a vintage nightclub within the high-energy atmosphere of a modern arena performance--paying tribute to Carole King and James Taylor's legendary 1970 performances at L.A.'s famed Troubadour club. 
 
All VIP Stage Seat Packages benefit established charities, including the Natural Resources Defense Council (NRDC) and Alliance for the Wild Rockies, which Ms. King and Mr. Taylor have long championed--plus more than 90 additional national and local charitable organizations. The VIP Stage Seat Packages are estimated to raise an unprecedented $3 million for charity and are available for 37 of the Troubadour Reunion North American concerts.
 
VIP Stage Seat Packages are available exclusively at www.ticketsforcharity.com
VIP Stage Seat Packages include:
 

* One Stage Seat (arranged in tables for two) 

* Special access to Carole King and James Taylor's sound check session 

* Pre-performance private reception with complimentary wine, beer and hors d'oeuvres

* Special Event Tour Laminate

* Commemorative Troubadour Reunion Tour Book
 

"When we first talked about reuniting, we knew we wanted to bring the Troubadour to life," said Mr. Taylor. "These Stage Seats are one small way to pay homage. We also saw a national reunion tour as an opportunity to support the great work that charities are doing all across the U.S."
 
"Creating this unique stage seating for charity was very exciting for me-- and I felt, a very natural extension of my collaboration with James. We are both as passionate about the importance of giving back as we are about our music. And we're thrilled to have the opportunity to positively impact so many outstanding social and environmental causes with this tour," said Ms. King. 
 
While the VIP Stage Seating packages are just now going on public sale, limited fan club pre-sales--in just a matter of days--raised over $600,000 for some of the nation's most admired non-profits, including Autism Speaks, Habitat for Humanity and many more. These one-of-a-kind Stage Seat Charity Packages are now available for sale to the general public and can be purchased by visiting www.ticketsforcharity.com or by calling Tickets-for-Charity® at 1-866-567-4576.
Tickets-for-Charity® works with some of the biggest names in entertainment to offer fans access to great concert seats, at typically the same or better price they find elsewhere, while supporting great causes in the process. They have generated millions of dollars in donations working with artists such as Billy Joel, Brad Paisley, Coldplay, Elton John, James Taylor, John Mayer, Kenny Chesney, the Rolling Stones, The Police and U2 and partners with more than 90 of the world's most respected non-profit organizations, including Boys and Girls Clubs of America, CARE, Feeding America, The Leukemia & Lymphoma Society, Malaria No More, United Way of America and The Wildlife Conservation Society. To learn more about Tickets-for-Charity® and its complete list of partners and current Charitable Sale™ events, please visit www.ticketsforcharity.com. 
For complete tour routing, please visit www.jamestaylor.com and www.caroleking.com.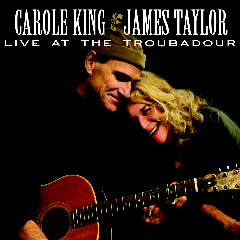 Carole King & James Taylor - Live At The Troubadour
Before James Taylor launches into his Apple Records classic "Carolina In My Mind," he tells the audience, "We're trying to recreate as much as possible when we played here in the early seventies--which we did repeatedly, evidently." This is the premise for the reunion tour and the new CD/DVD of his performances with Carole King at L.A.'s famed Troubadour venue. It's Carole on piano and vocals, James on guitar and vocals (joined after the first couple of songs by their band), their lyrics center stage without a hint of entourage clutter. After the first couple of songs--performed more like two friends accompanying each other in the living room--the ol' gang from the ol' days joins their ol' pals onstage, bassist Lee Sklar already having noodled his way into the set by the second song. This is a seventies-style hangover that you won't want to get over by concert's end. Fans are going to feel thoroughly fulfilled and kick themselves for not having attended this event or their current almost forty-year-old counterparts, though it's not too late, baby, to catch one of their many benefit concerts in association with this release.
Beyond the music, there's so much joy captured on this CD/DVD package, this beyond mutual admiration club fawning over each other without any self-consciousness. For instance, during her monologue on playing "Blossom"'s piano part, Carole reveals, "When I first learned that we were going to be doing this...I tried to see if I could remember it. My brain didn't, my fingers did, and my heart definitely did." And there's that bro-luv thrown to The Section by James about the pair's vintage musical unit: "We're all fortunate that these three guys, who were the original band in nineteen-seventy-whatever, are here tonight. Please welcome--still living and at the top of their game--Danny Kortchmar, 'Kootch'...Lee Sklar, 'Mr. Natural'--the man behind the Shroud Of Turin hooks--and 'Mr. Clean,' Russell Kunkel."
The set is immaculate and never strays from its purpose, successfully emulating another era of arrangement simplicities and band colorings. This is not about any new technologies (beyond the DVD being mixed in 5.1), bombast, upstaging, or showing off (though Danny's soulful reinvention of the guitar solo and Carole's jazzy piano on "It's Too Late," both delightful surprises). The intimacy of the venue and the relationships within the unit allowed for a sustained smoothness in performances with occasional shoutouts like Carole's "Kootcheroo!" and in the intro of "Something In The Way She Moves," even James' old producer Peter Asher (who's taping the event, imagine that) gets a verbal high-five for signing the artist to The Beatles' label. All of this folk-pop fun was captured on camera thanks to the Emmy Award-winning video director, Martyn Atkins.
A couple of the many informative intros include origin stories for songs such as "Sweet Baby James" and what was behind Carole's original "You've Got A Friend" becoming James' own big hit and personal signature song: "This is a Carole King tune, a pure Carole King tune. I heard it for the first time standing right there, where that green and red Christmas-y light there." He then kids, "I can't remember anything for one year either side of hearing this song, but I remember standing there and hearing maybe the best pop tune ever written...I was just amazed." And then he offers a gentlemanly nod to Carole. "I didn't realize at the time that I'd be singing that song every single night for the rest of my life. It's a great song to be known for...so, I thank Carole for it often when she's not around, and I'm gonna thank her right now for it." Obviously, both Carole and James had friends, good friends, in each other.
Start Here: "It's Too Late," "Sweet Baby James," and "You've Got A Friend"
CD/DVD Tracks:
1. Blossom
2. So Far Away
3. Machine Gun Kelly
4. Carolina In My Mind
5. It's Too Late
6. Smackwater Jack
7. Something In The Way She Moves
8. Will You Love Me Tomorrow?
9. Country Road
10. Fire And Rain
11. Sweet Baby James
12. I Feel The Earth Move
13. You've Got A Friend
14. Up On The Roof
15. You Can Close Your Eyes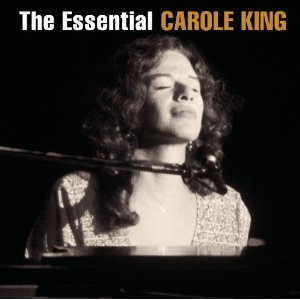 Carole King - The Essential Carole King
Someone decided to approach Carole King's legacy by including not only a disc of her own hits, but also many of her Brill Building classics as covered by others. That makes The Essential Carole King one of the smartest attempts at anthologizing this magnificent songwriter's history. That said, there is a little to quibble about, for instance, "Smackwater Jack" (huh?), "Believe In Humanity," "It's Going To Take Some Time," "Hard Rock Cafe," and "Being At War With Each Other" plus Freddie Scott's version of "Hey Girl" would have been preferable to Billy Joel's--no slam on the Big Guy. On the other hand, it does nail the two tracks written for Maurice Sendak's Really Rosie series, and who can argue with what is included on this package? Perhaps some of these MIA tracks will make the 3.0 version, right guys (nudge, nudge)? In any case, this is a great collection, especially disc one with its reaching back to her own first hit, "It Might As Well Rain Until September." Plays like buttuh.
Start Here: "I Feel The Earth Move," "Child Of Mine," "Only Love Is Real," and "Jazzman"
Disc 1
1. It Might As Well Rain Until September
2. Child Of Mine
3. I Feel The Earth Move
4. So Far Away
5. It's Too Late
6. You've Got A Friend
7. Sweet Seasons
8. Been To Canaan
9. Corazón
10. Jazzman
11. Nightingale
12. Only Love Is Real
13. Will You Love Me Tomorrow/Some Kind Of Wonderful/Up On The Roof (Live) - with James Taylor
14. Really Rosie
15. Pierre
16. You Can Do Anything - with Babyface
17. The Reason
18. Now And Forever
Disc 2
1. Will You Love Me Tomorrow - The Shirelles
2. Take Good Care Of My Baby - Bobby Vee
3. Every Breath I Take - Gene Pitney
4. Crying In The Rain - The Everly Brothers
5. The Loco-Motion - Little Eva
6. Up On The Roof - The Drifters
7. Chains - The Cookies
8. One Fine Day - The Chiffons
9. Oh No Not My Baby - Maxine Brown
10. Just Once In My Life - The Righteous Brothers
11. Pleasant Valley Sunday - The Monkees
12. (You Make Me Feel Like) A Natural Woman - Aretha Franklin
13. No Easy Way Down - Dusty Springfield
14. Wasn't Born To Follow - The Byrds
15. Hey Girl - Billy Joel
Calling all HuffPost superfans!
Sign up for membership to become a founding member and help shape HuffPost's next chapter