L.A. musician and singer-songwriter Henry Wolfe is an artist whose album Linda Vista, produced by Nico Aglietti and Aaron Older (Edward Sharpe and The Magnetic Zeros), will be out late March 2011. Additionally, the artist has just confirmed tour dates in New York and at SXSW in support of the project. A onetime New Yorker and front man for indie rockers Bravo Silva, his previous solo releases include Wolfe Sings Field, a darkly comic album of songs written by his friend, writer and satirist Peter Field, and The Blue House EP, an eclectic collection of modern, guitar-driven folk songs co-produced and recorded by Malachi DeLorenzo (Langhorne Slim). Wolfe's song "Stop The Train" was also featured on the Julie & Julia soundtrack.
Henry has shows coming up at...
• NYC's City Winery on January 7th, as part of APAP, with the Portland Cello Project and Emily Wells OR
• South by Southwest in March, details TBA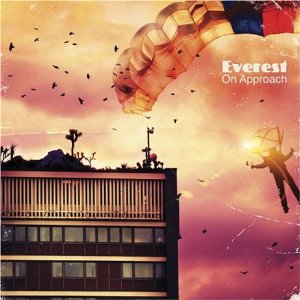 A Conversation with Everest's Russ Pollard
Mike Ragogna: We are talking with Everest's Russ Pollard, the band's lead vocalist, guitarist, lyricist, drummer, and I imagine a few other musical posts. Hello Russ.
Russ Pollard: Hi Mike, thanks for such a warm introduction.
MR: Recently, you performed on one of the late shows?
RP: Yeah, we played on Jimmy Fallon.
RP: It was fun. I think the band was in a really good space mentally that day. Live television can either be fun or a total anxiety attack depending on how we're feeling, but we had a total blast. Jimmy Fallon's staff is really focused on the musicians that come through, they did their best to make us comfortable. And playing caddy corner from The Roots was a huge thrill. So, we made the best of it, and I think it turned out great.
MR: Let's talk about the album. On Approach is your second record, a follow up to Ghost Notes which got a lot of critical acclaim back in 2008. So, I've got this new album in my hand, it's got a great cover. How would you define your sound?
RP: I think it's a hard thing for us to define as a band, we've talked a lot about it. I think a lot of times, sonically, we are just coming from a place where we are trying to please each other. When you have five different personalities, coming from different backgrounds and have different record collections, you get this really unique thing. Whatever noise we make is ours. We felt like On Approach was a good title for this record because we feel like we are still on our way to defining that sound. I think each tour that sound becomes more and more evident to us and the people who have seen us multiple times. We are really just a band trying to transcend the moment through music. Whatever it is that allows us to do that, we just want to go in that direction. I think the artwork for that record is sort of an example of how we're feeling, a total hodgepodge. You never know what you're looking at, and it's a little bit surreal, and that's how I feel the tunes are. It all sort of made sense to us that we would call it On Approach because we are approaching whatever the next phase is.
MR: Do you see a difference in the band from Ghost Notes to On Approach?
RP: I'm just starting to see it. With shows like Jimmy Fallon and getting a lot of airplay on stations like XRT in Chicago and KCRW in Los Angeles, it's spreading in a very organic way. We were just on tour for eight weeks, we just got home, and towards the end of the tour, we started to see a momentum building. There were more and more people coming out to see us, and more awareness of our band. So, it's actually working.
MR: What's the coming up single from the album?
RP: I think "Keeping The Score" is going to be the next single from that.
MR: "Keeping The Score" which has a very live feel to it. What was the recording process like?
RP: The process began when we were on tour with Neil Young. We did about six or seven weeks total on the road with Neil. We were playing much bigger places than the band was used to, and the back stages were big enough where we could bring in our gear and rehearse and write. So, a few of the songs like "Keeping The Score," we wrote while we were on tour with him. Then, we sort of fine-tuned them in front of his audience, took them back home to L.A., and started tearing them back apart having played them enough to know what we liked and didn't like. What's so cool about that version of "Keeping The Score" on the album is that the handclaps are sampled from one of those Canadian shows where we opened for Neil Young. We just synced it up with the track, so it's a live audience but it's a studio version. It was our guitar player Joel's idea. He's the smart one in the band.
RP: Yeah, he's an idea man and he was like, "I really think we should do this." We recorded all those shows in such a high quality because we were able to use Neil Young's recording gear. And Kolowna, B.C., is where we got it from, so we thanked them on the record.
MR: What's your Neil Young connection.
RP: In a nutshell, Joel has a recording studio here in Van Nuys, California, just outside The Valley, and we do a lot of work in there and we took the tapes we had been working on for Ghost Notes back to Joel's place. And when we had the final mixes together, he had a connection with Elliot Roberts who manages Neil Young, and he invited Elliot down to listen to the record to see what he thought. At the end of the listening--which was quite intimidating and exciting--he turned around and looked at me and said, "You write some good songs, why don't we put it out in February." And at the time, he and Neil had this label called Vapor Records. I was overjoyed because I've always loved Neil Young and admired him. I was really overjoyed that we would have the chance to be on that label. He arranged for Neil to see us play live, and unbeknownst to me, it was at a show in Utah at the Sundance Film Festival. Neil was in town to promote the CSNY movie that he had made. So, he just dropped in to this 100-person club to watch us play live. The rest of the guys in Everest came back stage as I was warming up and they said, "Neil Young is back there, you may want to go and introduce yourself." I can't describe the feeling but it was something I've never felt before and will never feel again. I walked straight up to him, shook his hand, and thanked him for coming, I kind of broke the ice. He stood out in the middle of the crowd and watched the majority of our set, and then called Joel afterwards and said get ready to get out of the clubs, I'm taking you on the road. Then from there, we went and we played shows with him, and he was a coach, a mentor, and a friend in all ways to us. He was a shaman. We learned a lot from him, we gained a friendship with him that I will cherish for the rest of my life.
MR: Neil Young is such an icon. What an amazing figure in North American music.
RP: Oh yeah, he's amazing. I feel bad for the guy right now because his whole LincVolt project just basically burned up--the electric car that he had been working on in his warehouse. He lost heirlooms and cars, on top of that, this project that he's been obsessed (about). So, it's pretty weird timing for him.
MR: I feel badly for him to, but the first thing I thought of was the masters.
RP: Yeah, I think all that stuff was okay. I think some of the props from some of the tours got damaged. Some American history is gone and that's sad.
MR: It must be awesome to be buddies and be overseen by him. On the other hand, you're a very solid group standing on your own two feet. You're been on tour with folks like Guster and Matt Costa.
RP: We did some dates with Guster, they're lovely guys and I really respect them. They have a company that's called Revolver. They go out and they help green tours by going out and recycling, informing people, and making people aware of how people can be a little more conscious while they're traveling. They're really active guys, really serious individuals. And Matt Costa was a good friend of ours, we just finished a month on the road with him. It was great, it was really successful. We made a lot of new fans. There were a lot of great people we met and we were happy to share our tunes with them.
MR: You also had a show with My Morning Jacket.
RP: Yes we did, that was epic. That was one of my favorite days of my life. I just adore that band, and I think they are incredible. We were absolutely so lucky to get to play with them and know those guys. They work so hard and they do such cool stuff. It was a sold out night in New York City, it was just a dream come true.
MR: Where do you see the band in five years?
RP: I see it going to where a band like My Morning Jacket or Band Of Horses has gone. They have solid careers, they have a fan base, they do what they want, they are making a difference, and they are able to fund and finance themselves off their art.
MR: What advice do you have for new artists?
RP: My only advice is to do what you want, who cares what anybody else thinks. Be confident because people are drawn to confidence. People want to be entertained, they don't want to see fear or a lack of self respect. So, you have to believe in yourself and you have to work really hard and you have to be used to being broke.
MR: The having to get used to being broke part is one of the more original things I've heard. I don't think anybody else has said that.
RP: It's the sad truth. There are good things that come from starving people as far as art is concerned.
Tracks:
1. Let Go
2. I've Had This Feeling Before
3. Keeping The Score
4. Dots
5. Unfortunate Sea
6. East Illinois
7. Fallen Feather
8. House Of 9's
9. Tall Buildings
10. The Rush
11. Catalyst
(transcribed by Theo Shier)

REAL LIFE. REAL NEWS. REAL VOICES.
Help us tell more of the stories that matter from voices that too often remain unheard.