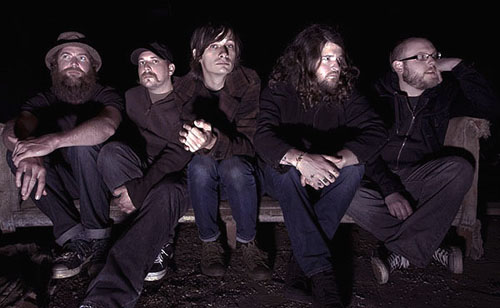 (photo credit: Jason Thrasher)
The new video by Dead Confederate "Run From The Gun" was directed by Scott Carney (who previously directed the "Like A Vibration" video from The Whigs), and incorporates vintage war footage from WWII, Korea, Vietnam and the Gulf War. It also incorporates Civil War battle sequences from D.W. Griffith's Birth of a Nation. It coincides with the release of their new album Sugar (a lighter-toned released than their previous Wrecking Ball) that was recorded by John Agnello who previously worked with acts such as Sonic Youth, Dinosaur Jr., and Hold Steady. Songwriting duties for Sugar were handled by bassist Brantley Senn and front man Hardy Morris.
Hardy Morris: "The song was inspired while thinking about our (The United States) mistreatment of Native Americans and it then kind of morphed into a song about other wars and volatile times throughout history. It occurred to me that it would have been beneficial to those people to go back in time and tell them to "run from the gun." I really didn't want the band to be in the video. I just wanted it to be real footage from real conflicts. History gets glamorized and even though the song sounds kind of light and upbeat, I wanted the imagery to be rather dark and, more importantly, real. Our friend Scott Carney of the Louisville, KY band Wax Fang did a great job of finding and editing the footage"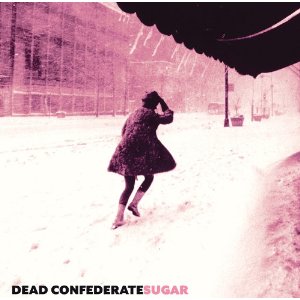 Tracks:
1. In the Dark
2. Run From the Gun - with Ben Wigler
3. Father Figure
4. Quiet Kid
5. By Design
6. Mob Scene
7. Semi-Thought
8. Giving It All Away - with J Mascis
9. Sugar
10. Shocked To Realize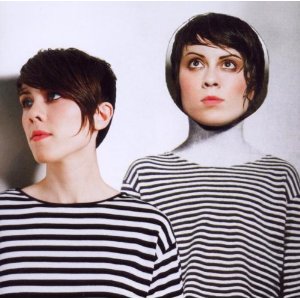 A Conversation with Tegan and Sara

Mike Ragogna: What's up in the world of Tegan and Sara?
Tegan Quin: Currently, we are on our tour until the end of September. Closer to home, we are working on a DVD and just released a vinyl box set. We released a music video and are sort of constantly writing and have these little projects. We wrote a song for Margaret Cho's new record that came out yesterday, continuing to do collaborations and working on stuff. We are always busy.
MR: Let's first talk about your latest album Sainthood.

Sara Quin: Yes. It came out in October.

MR: And Sainthood follows The Con which was a pretty popular album.
TQ: The Con was such an important record to a lot of people. It was also a depressing record, and sometimes, I think those sad records seem to really impact people. We didn't want to compete with that in any way, we didn't want to undo that sort of intensity that people felt, so we tried to create something that was really different but we used a very similar team. Chris Wallace of Death Cab for Cutie was our producer. We used some of the same band like Ted Gowens and Jason McClure, and Chris played bass also. So, there were elements of it that were the same, but we changed our approach of how we recorded it.
We recorded it as a live band and in a big studio. There was less intimacy involved in making the record. The Con was a project Sara and I worked on in Chris Wallace's basement for two months. It was a lot more intimate, more traditional in terms of recording, but it also had collaborations on it. I wrote a couple of the songs with Hunter Burgan from AFI, and Sara and I wrote a few of the songs together. There was a more collaborative spirit to the record, I think we gave it a more energetic feel. So, we were hoping that it would be a good companion to The Con, but it wasn't a Con part two. I had to try hard to not do that even though I wanted to. Being a Virgo, I like to do the same thing again and again. It would be so easy to make another depressing record.
MR: (laughs) Depression was not my personal experience with The Con. I felt it was just thoughtful.
TQ: Yeah, that's good. Maybe that's just where my perspective is. I wanted to keep doing that, to write another record where people would find it as a support system in their life. I like that our record is like a therapist--you buy it at a store, you bring it home, and it takes care of you. I wanted to do that again, but we all decided to push it in a different direction. I like how Sainthood turned out and it got pushed in the right direction.
MR: My favorite track on this album is "Hell."

SQ: Do you have something that you want to talk about?

MR: Perhaps, perhaps. Do you have an hour?

SQ: Cool. It's a great song. It actually was a collaboration that Tegan did with Hunter Burgan, who is in the band AFI. They have a side project, and they had written a bunch of material that wasn't being used. "Hell" was one of my favorites from that writing project. We had always--for Tegan and Sara--only written music ourselves, even quite independently from one another. So, this was a really new thing, to include material that was written by somebody else as well. It was kind of a weird thing to have to wrap my head around, but it was like my favorite song of hers and I wanted it to be on the album.

MR: Sainthood also features "Paperback Hit," what's the story behind this song?
TQ: In the midst of writing for Sainthood--part of my not doing the same thing a second time around--I sort of got into trying out these other programs. One of the programs was called "Reason," and I went in one day without having read anything about it and just started pushing buttons and this crazy electronic hard core song came out. I tried to sing over the top of it, and it was a disaster. It was a last ditch effort as I really loved it, and I was excited that I created it. I sent it to Sara and she sent back the song "Paperback Hit." We got into the studio and it became really obvious that none of us have any experience in the dance world or know how to do it live unless we played it to a track.
MR: Now, Sainthood already has been nominated for the Polaris Music Prize.
TQ: It's very exciting because I think that the record was so different than other records. People responded to it differently especially up in Canada. This prize came up, and we wondered if we would get nominated this year. We had never been nominated before, and it's basically critics and writers and journalists in the industry all vote on their favorite record, so a lot of times, the bands that are on there are really obscure. We made it on to the list and now are in the finals. I really don't think that we'll win, but it is still kind of exciting to be nominated finally. Many of the bands that are nominated--Caribou, Broken Social Scene, Owen Pallet--a lot of these people are our peers, and have been nominated before. They're considered critically acclaimed bands, so it's kind of cool to be hanging out in that company for a bit. I don't know that we necessarily see ourselves that way, but it's exciting to be accepted into that world.
MR: And you won't know until September 20th?
MR: You guys had a hit a couple of years back with "Walking With A Ghost," which was covered by The White Stripes.

SQ: Yeah, that was really cool. At the time, around '05, we were still, I would say, just a small speck of a band in the public consciousness. So, it was exciting to have a lot of radio play, but also to have a band that was so established, and that we really admired and respected somewhat validate the material by covering it. It was a really exciting time for us.

MR: Let's catch the readers up on your history. You're Canadian, right?

SQ: It's true, we are Canadian.

MR: And one of your first big breaks was that Neil Young's manager found you and signed you to his label, right?

SQ: Yes. We sort of had connections through some other Canadian artists. There was one artist by the name of Hayden, and he had a fantastic record that got a lot of attention in America. One of the people that had been interested in him was Elliot Roberts who manages Neil Young. We were connected to Hayden's manager and were looking to send the record we had made out to some people. It was just a very simple, independent record that we made in my mom's dining room after high school, but Elliot was one of the people that we sent the record to and he was very interested. He was actually the only person that was interested.
We really were excited that he was interested, obviously because he was connected with Neil and managed a number of tremendous acts that we really admired and respected. But also because he was the only person that was interested, we were really relieved. So, we ended up signing a record deal with him, and we're still riding the end tails of that record deal, actually, ten years later. We're still sort of connected to them, and they've been really instrumental in providing a mentorship to us over the last ten years, helping us build an infrastructure, and a really cool, sustainable career.

MR: When a record company allows a group to grow and supplies mentoring on occasion, it actually can be the start of a pretty healthy relationship.

SQ: Absolutely. You have to be the right kind of artist to want that. If you told me that it was going to take ten years and it would be sort of grueling at times...there were certainly times when I would wonder what I was doing. I had this ritual of coming off tour and printing off application forms for college thinking, "This is ridiculous. I just need to go back to school and get a job. I can't do this forever, it's too hard." So, it certainly wasn't easy, and it's the long way around for sure. But what I think ends up happening in the end--when you have a record company and a career that's built organically, once you have achieved success or have hit certain markers--you can be pretty certain that they're established for good. You don't have to worry so much about the hype or buzz going away, and for us, we've been able to be on this path when we have fans. Just last night, we were playing in Norfolk, and I never would have imagined that eight-hundred people would be coming out in a place like Norfolk and singing along with every song from seven albums of material. These are really established fans who really know the whole body of the project.

MR: Let's go over those six albums. You have Under Feet Like Ours.

SQ: This Business Of Art.
SQ: ...So Jealous, which we released in '04, The Con...
MR: ...featuring folks from Death Cab For Cutie, Weezer, AFI, and Kaki King.
MR: Let's talk about your new video, "On Directing," directed by Angela Kendall.

SQ: She's a Vancouver based filmmaker. She's made a couple of videos for our project, actually, and her biggest project with us was filming and documenting the entire making of The Con, the album we made with Chris Walla from Death Cab For Cutie in Portland in '07. She moved down to Portland with us, and lived in the house, and recorded pretty much everything we did for two months. Anyway, we continued to collaborate with her, and she shot "On Directing" for us, and also a second video for "North Shore." We had a very small budget, and we actually shot the videos in one day. So, we picked more performance kind of treatments because we didn't want to waste any time on anything that would require a lot of work in post production. We just sort of stuck to what we knew so it would translate on film.

MR: A simple, indie, guerilla approach.

SQ: I guess so, yeah. If I knew who Andy Gorilla was, I would probably agree with you.

MR: (laughs) I may have said that poorly. "Indie" as in an independent band or label, and "guerilla" as in...

SQ: ...yes. I see. Guerilla with the "gu."

MR: Damn you, my New York accent! So, you're part of a touring EP being released soon?

SQ: Yes. With Paramore, New Found Glory, and Kadawatha for the Honda Civic Tour that we're doing right now.

MR: Nice. And one of the Tegan & Sara songs is a b-side, "Sheets" I think it is?

SQ: Right. It's a song that we recorded for Sainthood that ended up not making the cut for the album. But it's a great little cut for a b-side, and it's been doing very well on iTunes. It's not very often that we get to release additional material, so that's very exciting. After that comes out, we're doing a pre-sale for a really exciting project. We're doing a complete collection of vinyl of all of our records to date, and there's going to be an additional album included in that set that will contain b-sides, demo versions, and materials from all of our albums. So, it's stuff that's never been heard and stuff that's from as early as '03. I can't decide if it feels like we're entering a second phase of our career or if we're, like, dead. We're releasing all this commemorative type stuff, and I feel like we're ghosts or something going back into the archive, but I'm hoping it's just ushering us into the second wave of our career.

MR: Vinyl is sexy. Many people swear it sounds better, others like the cleaner sound of the CD. What's a fan to do?

SQ: Well, it's weird. I think it depends, the ear decides which is better. For kids that have never heard anything on vinyl or for people like my parents who grew up listening to vinyl, they don't seem to care as much about that. But there is definitely a wave of people who agree that it sounds warmer and that it almost sounds like music should sound, and I tend to agree. I'm starting to really like the model for releasing digital versions, and then going ahead and releasing things on vinyl.

MR: What advice do you have for new artists?

TQ: When we started playing music, our mom kept saying "go to the University and have a back up plan," and we probably should have done that but we didn't. I'm glad we didn't because I think what we had going for us is that we were so young and we were willing to sleep in the car every night or take the greyhound bus between shows. When I meet artists right now, it is one of the things I really focus on--how old they are and what they have in their life. When I sit down with a bunch of artists that are in their thirties that have houses and dogs and responsibility and debt, it's like going to be really hard to do what you have to to make it in this business. You have to be able to sacrifice everything, and you have to be willing to go on the road for hundreds of days a year and make nothing. We made nothing for so many years.
We meet these bands and there are like six of them and they want to have a crew. Even bands that sign record deals, they go out and sign with a label and they get put on the back burner. You have to be smart, creative, keep your budgets low. You have to be driven and be willing to get out there and work your project and be willing to give up everything to have it succeed. Only one in a million get the deal they really want. It doesn't happen very often. So, the advice that we give is pretty dark, but if you love what you do and want to do this, then just get out there and do it. I think you should do it if you want to do it. But I always tell artists that you have to be prepared. I don't glaze it over for anybody because I have seen too many amazing bands fail. Too many incredible artists not have it work out. We are not delusional. Sara and I are very lucky that we started out as young as we did because it took a long time.
SQ: Well, it's difficult. I work with a lot of young artists. I know a lot of bands that I'm just friends with, and I'm also working with a band called An Horse out of Australia, who signed a record deal with Mom And Pop Records in New York just last year. They're just making their second record, and I'm just sort of working as their A&R, I guess. I like to think of myself as a liaison between them and the label. I feel like I struggle from feeling like I know exactly what to tell them, and then other days, I have no idea what to tell people. It is just so specific now. I really feel like each band has a specific set of needs, and there are so many different ways to tackle a career. It's this weird cocktail of what you want, what you think the audience wants, what sort of career you imagine, how long you want to be doing this, how hard you actually want to work. It can be really, really complicated.
For a long time, I thought that was what Tegan and I had accomplished, and the approach we used to accomplish it was not a foolproof formula or anything like that, but we had ten years of experience. I thought if I gave people this succinct explanation of what we did, and a plan to execute it for their own career, how can they fail? Well, it doesn't always work. Each band has to figure it out on its own. I definitely think that what Tegan and I have done by touring relentlessly and trying to be transparent and authentic with our audience--really trying to connect honestly and truly with people--has meant that every time we go back to a city, I know those people are coming back.
MR: The bond that's made between the artist and fan during live performances.
SQ: I think that that's really the future of music, the connection that is made in live performance. Hopefully, it translates in the recorded music, but I don't think that's what people should count on in the coming years. I don't mourn it the way other people do, but I think the record industry is really going to change in the next ten years. It's not because I think we're not selling as many records anymore so the record industry has to change. I just think that people want the experience of live music, and that's ultimately what's going to outlast videos, the internet, and Twitter, and whatever fancy-dancy thing that people like for a month. Ultimately, what people really want to experience is me standing on a stage, playing music. So, I just tell bands all the time, "Be as good as you can, and tour as much as you can, and be as versatile as possible, and just tour your ass off."
MR: Will you be touring your asses off?
TQ: Yeah, absolutely. We tour all the way up until the end of the year.
MR: In the past, you've toured with Ryan Adams, Ben Folds, Death Cab For Cutie, Rufus Wainwright, Weezer. Cool company you're keeping.
TQ: Yeah, we definitely get around and have had a busy twelve years. We have supported a lot of bands and this year is no different. We have played some really amazing festivals, and now, we are on this tour with Paramore. Later this year, we're going to be doing some dates with other artists that I can't say out loud yet, but soon, we'll be able to announce them.
It's exciting, and as a band, it's really cool to get in front of someone else's audience, especially for us as we spent so much time building our own audience. We really have a deep respect for other people's audiences. It's so fascinating. It's part of the world that you just don't get to see very often, and when we get in front of someone else's audience, it's so fascinating to see how they do things and how their audience responds to them. It's kind of joining someone's relationship for a couple of weeks.
Tracks:
1. Arrow
2. Don't Rush
3. Hell
4. On Directing
5. Red Belt
6. The Cure
7. Northshore
8. Night Watch
9. Alligator
10. Paperback Head
11. The Ocean
12. Sentimental Tune
13. Someday
(transcribed by Erika Richards & Ryan Gaffney)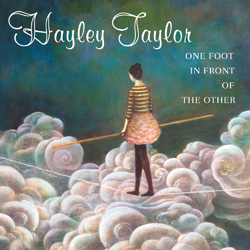 A Conversation with Hayley Taylor
Mike Ragogna: Your new album is titled One Foot In Front Of The Other. Can you tell us about it?

Hayley Taylor: Sure, I started making it about three years ago. I didn't know if I was going to make an EP or a record at first. In the beginning, I wasn't working with a label, and I just wanted to continue creating music. I found that I could pretty much do it on my own, collaborating with friends. So, I just started writing songs and working on them and having friends play on them. I got some great placements for the songs, and I decided, in the end, I'd rather have control of what was happening with the record.
In terms of making it, I first worked with an awesome producer named Eric Robinson who is based in L.A., and we did five songs including "Waking." We recorded the songs live with my band, then did some over-dubs with my cellist and a lap steel player, and vocals, of course. That was awesome because you get to capture the live performance that way, and it was really fun playing all together. I took those five songs and sent them to a bunch of people, and got some great placements for them. I was going to put it out as an EP, but because I had already done an EP, I said to myself, "I really want to put out a full album."
So, I ended up using a guy in New York, Dan Romer, who is an incredible musician and producer. We got along so well that I decided I wanted to record some songs with him as well. I flew out to New York and worked with him. He played most of the instruments on those songs, though we did have his drummer and some of his friends join in. Working with him was great. He really likes to sketch things out first, and he introduced all these cool, unique instruments like ukulele and stuff that I never would have thought of which was really, really fun.

MR: You have a really interesting amalgam on this album of folk, roots, country, and pop. And you use the electric instruments less for power than for arrangement.

HT: Thank you. I don't know if I planned that, but it just coincided that way, I think.

MR: You mentioned before about song placement. You've had songs in How I Met Your Mother, Royal Pains, Privileged...

HT: Yeah, and some MTV shows.

MR: And you have a single, "Felt Like Love," that's featured in a Vicks campaign?

HT: Yeah, that was featured in a bunch of Vicks commercials. Everybody seems to be really drawn to that song. I never would have thought that it was the single of this album, I didn't really write it to be a single. But everyone keeps telling me, "This is the single," and I think it's the most upbeat and fun song. I think people are drawn to that.

MR: You've also done some acting, right?

HT: I have.

MR: And we've seen you in many shows over the years. Do you remember what you've acted in?
HT: Oh, wow. I've done a bunch of things. I've done a couple of movies--Nuts when I was younger, and I've done a lot of guest spots on 7th Heaven, The Twilight Zone, and just a bunch of different TV stuff.

MR: Why did you transit into music?

HT: Well, it's really funny because in my head, I never planned on being a musician even though, looking back, I had been doing a lot of music. I played classical piano as a child and was always performing, but it wasn't until college that I really got into it. I grew up acting. My mom is an actress as well, and she took me on an audition when I was two year's old where I got the part instead of her. So, she decided it was meant to be. By the age of four, I was working off and on. I was still going to school and my parents really believed in getting a good education, which I'm really happy for.
I loved acting and I went to college and did a bunch of plays, and I went to L.A. after college to take an acting class. In the class, you could either play a song or do a monologue, and I played the one song that I knew how to play on guitar, and a guy in the class came up to me afterward and said, "Wow. That was really great. You kind of sound like Bob Dylan. Do you want to start a band?"
I had always written, growing up. I was really into poetry, I was an English major in college, and I first thought I would be a poet. Then, I realized that even the Poet Laureate has a day job because you can't sustain yourself. So, songwriting was a way for me to integrate my poetry with music, and it made it ten times more exciting for me. I had always been drawn to music, but I had never considered it. I started a band with the guy from my acting class, and we played around L.A. for a couple of years. It was really fun, and it kind of took off. Then, after awhile, I realized that the people I was playing with weren't entirely on the same page as me. My guitar player really wanted to be in a jam band and the drummer wanted to be in a hard rock band, and I was really focused on the lyrics and the singer-songwriter aspect. That was about the time that Hotel Café opened and it was really tiny. I started playing there, and playing a bunch of other venues where I met a bunch of other singer-songwriters and really got into that kind of music. I just found that that suited me more.

MR: Who are your influences?

HT: I'm so inspired by a lot of musicians out there. I love Aimee Mann, and Radiohead, and Ingrid Michaelson has been a really great model for doing music on an independent level, and doing it really well. The producer that produced my album produced her album as well. So, I got to kind of see a close-up of her career, and it's definitely inspired me that doing it independently is almost a better route at this point. I've seen so many friends be on labels and get shelved for years, under the gun of someone telling them, "You don't have a single. It doesn't fit in here." So, I think in life, I've found that, at this point, I'd rather do it independently so I can have creative control.

MR: Many artists have just had it with labels. You can really get lost in the cracks.

HT: Exactly. This way, I make the decisions along with my lawyer who is a great friend that I absolutely trust. He actually lives in Alabama, and everybody says to me, "Why don't you have a lawyer in L.A.?" I say, "Because I have a great lawyer in Alabama." I just find that, creatively, it's more fulfilling. I have a hard enough time playing songs for friends and getting their feedback, but most of the time, the longer I sit with the song, the more the vision comes to me of what I want it to be. I listen to a lot of music while I'm recording, and actually get inspired by that.
MR: By the way, you're a Vassar graduate, aren't you?

HT: Yes, I went to Vassar, and I loved it.

MR: I'm just curious, what was the song that you sang at the acting class that so intrigued your classmate?

HT: It was called "Family" by Dar Williams. My best friend's younger sister had taught it to me on vacation. I knew how to play that, and also, I think "Wonderwall" by Oasis.

MR: There are a lot of singer-songwriters out there. How do you--especially when you have an independent album--cut through the din?

HT: I think the first thing is really having passion for what you're doing, and doing it for the love of doing it, not with an agenda because you never know what's going to happen. In art, there's just no direct path. If I went to medical school, studied hard and did all the steps, I would become a doctor. There is no set path for any art, really. One day you can be on top of the world, and the next day, people won't return your phone calls.
In terms of getting my album out there, I saw a trend in America or, I guess, in TV that they were using a lot of music. They weren't using songs so much back in the day, they had theme songs and scores. Then slowly with shows like Felicity, and The O.C., they started using more actual songs in the shows.

MR: Right, many times, as part of the plot.

HT: Exactly. That's how I was finding a lot of new music; I would go look up the songs and see that other people were looking up the songs. So, I just realized that was a really great asset, and it was almost the best promotion that I could possibly get. I just focused on trying to do a lot of music placement, and just making songs that I believed in, and working with great people, and...yeah.

MR: You could have put out an EP that was kind of a Hayley Taylor's Greatest TV Hits, but you went for the fully fleshed-out album.

HT: Right. I think albums might be outdated soon. With people being able to download one song on iTunes, you could almost just release singles. I had a discussion with a friend of mine the other day about just that. But I still love an album, I love having the artwork and the cohesiveness of a bunch of songs together.

MR: Speaking of artwork, your album cover is really sweet. It has a lady on a tightrope putting one foot in front of the other which is kind of the philosophy for this record, isn't it?

HT: It is, it really encapsulates how I feel about art in general--you have to do what feels right to you and then just keep going forward. For a long time, I thought that if you didn't succeed right away at something, you should try something else. I bounced between a bunch of different artistic pursuits; I went to art school for painting, I was acting, I was writing, but music was the one thing I was super-passionate about. So, I just made a decision at some point that I was going to forge ahead and do it no matter what. Even on the days where I was like, "This is totally pointless," or days when people said stuff that didn't gel with me, I just said, "One foot in front of the other."

MR: You've met a lot of interesting people. Do you have any interesting stories about those interesting people?

HT: I have definitely met a lot of people, especially growing up in Los Angeles, which I wouldn't recommend to anyone raising children. I always dreamed of walking to school instead of being in the valley, but it definitely created an interesting life for me. I don't want to get too sad, but Brittany Murphy was one of my best friends from about fifteen on, and I dedicated the record to her as well as to other people that died this year that were really important to me. She was a great friend, and she really supported my art; she threw an art show for me and hosted it, she came to all my music shows, and she was very musical and really believed in me. It was really difficult to put this album out and keep forging ahead after this year, but I decided that the people that I loved who I had lost would want me to continue on and grow and carry their memory with me.

MR: That's really sweet. Are there any songs that you wrote about her specifically?

HT: "Plans" was kind of a song about us, how it's not too late to do all of the things you wanted to do while you're still here. Looking back, it's kind of sad now because I guess for her, it is too late.

MR: What does the future bring?

HT: What does the future bring? Let me look into my crystal ball (laughs). I really don't know. I hope that it brings more opportunities for me to create songs and to collaborate with other people. I would love to do more touring, I really haven't done a lot of that, I've mostly been focusing on music placement. As an independent artist, I'm kind of a one woman machine. I go through different phases of performing, editing on Pro Tools, gathering musicians, rehearsing, promoting the album, and then it just sort of starts over again. There are a lot of jobs that I am trying to fill.
Tracks:
1. Waking
2. Felt Like Love
3. What's Going On
4. How Good We Had It
5. Pretty In The Dark
6. Bulletproof
7. No More Wishing
8. Orange Tree
9. Plans
10. Don't Look Down
(transcribed by Ryan Gaffney)
...and last, but not least...
NOAH & DYLAN CHENFELD'S VIDEO DEBUT "HARD TO SAY I LOVE YOU"
:
Popular in the Community