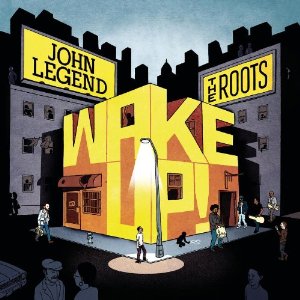 John Legend & The Roots - Wake Up!
"Wake up everybody, no more sleepin' in bed, no more backward thinkin', time for thinkin' ahead..."
Back in the sixties, Eugene McDaniels created a glorious anti-Vietnam War anthem titled "Compared To What" that became a hit by Les McCann and sax blower Eddie Harris, its most passionate read delivered by Roberta Flack on her First Take album. This brilliant protest song, whose lyrics earned McDaniels a spot on Nixon's hit list, gets reworked into an urgent call-up by John Legend and his pals The Roots to be as relevant in 2010 as it was in 1969 regardless of its Vietnam storyline. The track is one of Wake Up!'s best groove-a-thons, this new Legend/Roots summit producing some of the most soulful and inspired recordings ever heard by either entity. It might even be appropriate to label this album as Legend's best since it's his most unified project conceptually and, quite frankly, it contains more soul than all of his previous releases combined -- not a slam, but a testament to his growth as an artist.
Wake Up! yearns to enlighten and empower through mainly sixties and seventies issue-laced r&b, crossfading higher concepts such as antiwar, neighborhood rebuilding, elimination of poverty, and restoration of dignity. Though the drive of the album's kickoff track -- a take on Curtis Mayfield's "Hard Times" (this time out, featuring Black Thought)--sets up an album of champagne/retro-ghetto sonics and images, the heart of Wake Up!'s social consciousness pumps more strongly through cuts such as the Marvin Gaye minor classic "Wholy Holy," whose sultry gospel calls for people to come together for a brand of salvation that reaches beyond religion; "I Can't Write Left Handed" that wrings gallons of empathy out of Bill Withers' peace treatise; and "Our Generation," a song made famous by Ernie Hines in 1970. This version sounds as ominous as it is horn and groove-laden, and it wisely reminds us that "...our leaders make us fight, we don't know what for."
The album's centerpiece is "Little Ghetto Boy," Donny Hathaway's masterpiece that's presented here in two parts including a rapped prelude by Malik Yusef. But the best track may be the most commercial, this congregation's cover of Harold Melvin & The Blue Notes' "Wake Up Everybody." It's a heavily Pendergrass-inspired duet between Legend and Melanie Fiona with a guest rap by Common that always feels like it's in motion, its lyrics about as practical as they come. If by the end of this faithful recording you're not at least thinking about your own possible complacency and that maybe "the world won't get no better if we just let it be," you may want to consider actually waking up someday.
Tracks:
1. Hard Times - with Black Thought
2. Compared to What
3. Wake Up Everybody - with Common & Melanie Fiona
4. Our Generation (The Hope Of The World) - with with CL Smooth
5. Little Ghetto Boy (Prelude)
6. Little Ghetto Boy - with Black Thought
7. Hang On In There
8. Humanity (Love The Way It Should Be)
9. Wholy Holy
10. I Can't Write Left Handed
11. I Wish I Knew How It Would Feel To Be Free
12. Shine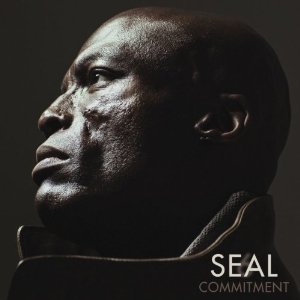 Seal: Michael, where's Arianna and why is she not on the phone?
S: What kind of interview is this?
MR: What kind of interview is this indeed.
S: Yeah, well, you'll see. She'll be on the phone after this album, mate!
MR: You really like this album, don't you? In fact, I've read that you think it's your best album.
S: It's not that I really like this album, I'm just a bit annoyed that she isn't on the phone. You know I'm a great admirer of her. I've even downloaded her iPad app.
S: Yeah, so you tell her that while she's busy doing other things.
MR: (laughs) You've got it.
S: Yeah, you can tell her that she hasn't heard the last from me.
MR: I would hope not. So, it's that time when we probably should discuss your new album Commitment, or rather Seal 6: Commitment?
S: Yeah, I was bored, so I just wanted to confuse things a little.
MR: Nice. Now, this album is literally about your commitment to all sorts of things in life, like love and family...
S: It's about everything -- Love, my wife, my family, my professional life, my friends, my actions, ownership of responsibility, and accountability. It's all commitment to me. My outlook on life requires a level of commitment, and I see that not only in myself, but in the kind of commitment that others who are close to me have vested in me. That is one of the reasons why we have made the kind of music you hear on this album. It has been affected by that commitment I talk about, and that's why I chose to include that in the title.
MR: Well, there's also a bigger implication too, as far as a commitment to one's community or planet.
S: Absolutely. On a socio-political level, if you look at what has happened to this country over the last two years, we have shown a level of commitment which is pretty staggering.
MR: On "Weight Of My Mistakes," beyond the surface meaning, there seem to be a couple more messages going on.
MR: And one of the messages is about responsibility, like really looking at what you've done and going, "Okay, we move forward and we learn."
S: You have to, and I'm glad you get that from it because that's exactly what I meant. Quite often, we go into relationships, and we fall in love with that thing we like about the person. Then, we sort of spend the second six months trying to change them, and I think in that song, it's about acceptance and growing together to form something different rather than trying to change that person. You'll never change someone. People will change by themselves, but you will never change them. The relationship that the both of you have may change the both of you, but it's all about acceptance. "The weight of my mistakes depends on how I feel, but don't let it bring you down." It's nothing to do with you because it's not your problem, it's my stuff. I will deal with it, and you knew that going in, so let's move forward.
MR: What a beautiful message. And overall, it seems like another purpose of this record is to serve as one big love song to your wife, Heidi Klum.
MR: I've read that you exchange vows every anniversary. So, you guys are deeply in love.
MR: It's sweet that you're able to pull together these kinds of lyrics, expressing your emotions as you do for each of these songs.
S: I always think that an album, certainly for a singer/songwriter, is kind of like an audio biography. You know how people write in their diary?
S: Well, I'm just singing it, that's the only difference. That's not to say that every single thing that you hear or that I write in that audio diary is based on a personal experience between my wife and myself. It is not only based on what we go through, but what our friends go through, how I look at the world, how she looks at the world, things that have happened, and events. It's just my outlook on life and how life has affected my place in this world and our lives.
MR: And your commitment to keeping that solid.
MR: Your first single off of this record is "Secret," right?
MR: What's the story behind "Secret"?
S: Well, again, it's commitment, isn't it? It's basically two people coming together and committing to the fact that they are going to be together. The "Secret" can be perceived in a number of ways. It could be denial--all the time you know your truth, you can see your destiny and you know what it's going to be. But whether or not you are willing to commit to that at that particular point is a different question entirely. It's a very simple song, and a song that I feel has the ability to allow people to relate to it because there's just enough of a metaphor in the title to have that sentiment sit exactly where I want it to sit. Now, when you explain it, that of course takes away from it. When I explain the actual personal meaning it has to me, that takes away from it.
MR: Speaking of love affairs, is there one going on between you and David Foster?
S: There is, very much so. He is, first and foremost, a great friend, which is the most important thing. In addition to that, needless to say, he is the last of the truly great producers. He and Quincy Jones I just think are mind-bogglingly brilliant.
MR: Yeah, David Foster is one of those people who whatever he touches turns to gold. He brought an artist along, this guy named Peter Cincotti.
S: Yeah, he opened for me. He's great.
MR: David produced him and really let him shine which I imagine has a lot to do with studio rapport. What is the working relationship like with David in the studio?
S: It was just like one big Funfest, he's amazing. It's intense in periods, but I just love being around him. He's direct, he's inspiring, he's motivational, he's funny, and he's a genius, so you spend half of your time being in awe of him, and the other half arguing with him.
MR: What was your reaction to seeing how "Kiss From A Rose" was used in Batman Forever?
S: Are you kidding me? It was one of the biggest blessings in my career. I will be eternally grateful to Joel Schumacher for putting that song in the movie, and I mean that, sincerely, from the bottom of my heart. I owe a massive part of my career to him.
MR: Nice. That, of course, was on your second album, right?
S: It was on the album. Unfortunately, it wasn't written for the movie, otherwise, it would have been eligible for an Oscar, but that's another story. It was on my second album.
MR: Another question I wanted to ask you is about your Soul Live album, which was just beautiful.
MR: You recorded many covers on that project including "A Change Is Gonna Come," which I think has become one of the great versions of that song.
S: Well, it's nice of you to say that, but it will never be compared to, much less replace Sam Cooke's version. When you think of "A Change Is Gonna Come," or any of the songs on that album, there are three people you think of, and none of them are Seal--those being Sam Cooke, James Brown, and Otis Redding. The fact that I even had the opportunity to sing those songs is enough for me, but I don't profess or believe for even one second that I was in any way, shape or form even near the originals. It's nice that you say that, but it's just quite simply not the case.
MR: Okay, but also what I'm saying here is that there is now a generation of people who know those songs based on your versions--and, of course, other artists who release cover versions -- as opposed to the original artist.
S: That's the luxury of being able to sing a truly great song.
MR: In the States, your hits began with "Crazy," but in the U.K., you started your run with "Killer."
MR: Okay, since that initial hit, all these years later, was there something that significantly affected or changed you?
S: Well, just the day I met Heidi. The day I met her, that's when my life changed. Then, of course there was another big change when Leni was born. Those two things really changed me...just meeting her for the first time, spending time with her, and enjoying a comfort level which I had never felt before. There was a peace and quietness, followed by more peace, quietness, and stillness. It was just beautiful, and from that point on, my life changed.
MR: Do you have any advice for new artists?
S: Do I have advice for new artists? Know who you are. Just know who you are and play to your strengths, and don't try to be something you're not.
MR: Well, a lot of artists have a choice right now between DIY, using the internet and all of the tools that are available, or really pounding the pavement to try to get on a major label to at least initially further their careers. When you look at the road that you took compared to nowadays, how would Seal have come onto the scene now?
S: It's impossible to say. It's just impossible to say. I'll tell you what I certainly wouldn't have done is go on American Idol or any of these talent shows.
MR: I'm so glad you said that.
S: I would absolutely not have done that. Now, I do have a lot of, not so much admiration, but respect for people who do choose that route because it's very difficult. It's so synthesized, and I don't relish the idea of standing in front of a group of people who, by the way, know nothing about what it takes to be a star and be judged by them and having my career or future balance in what they say. It's great TV entertainment, but it actually does nothing in terms of creating a star.
MR: This is music to my ears.
S: You either are a star or you're not. You're not created on American Idol or any of those shows.
MR: So, you've got this beautiful new album coming out, a wonderful career, and a beautiful life. How does it get better, and where do you go from here?
S: When I put down the phone with you, I go home and pick up my daughter from school, and that's it. It doesn't get a whole lot better.
MR: That's beautiful. Alright, Seal, I don't want to keep you, but I really appreciate you giving me some time here.
MR: Take care, and we'll pass along your best to Arianna.
Tracks:
1. If I'm Any Closer
2. Weight Of My Mistakes
3. Silence
4. Best Of Me
5. All For Love
6. I Know What You Did
7. The Way I Lie
8. Secret
9. You Get Me
10. Letting Go
11. Big Time
(transcribed by Ryan Gaffney)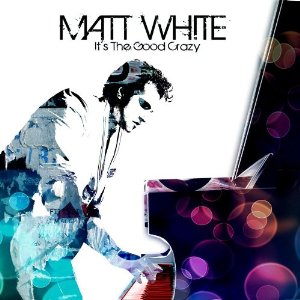 A Conversation with Matt White
Mike Ragogna: Your new album called It's The Good Crazy is your second album, your first one being Best Days?
Matt White: That's exactly right. Yeah, the record just came out ago, and I just played a big show last night. I'm laying in bed, relaxing, and just waking up at twelve twenty-nine unfortunately.
MR: Now, you're no stranger to Iowa, are you?
MW: No, Iowa happens to be one of my favorite places to come through. When you do these tours, there are certain things you get used to, like there being one thousand miles between Texas and Arizona. So, when you go through that area there are certain things and certain highlights. Whenever we're in Memphis, we go to this certain barbecue place, and when we're in Des Moines, there's a place where this guy just kind of takes care of all musicians and cooks home cooked food for us.
MR: Well, when you come through Fairfield, I'll cook for you.
MW: I'll happily eat it, believe me. Denny's, Cracker Barrel and trail mix from 7-11 gets boring after the forty-sixth day.
MR: You say that now, but when you taste my food, Denny's will look like Tavern On The Green.
MW: Right, I'll go back to Cheez-Its.
MR: Now, about this new record of yours. One of my favorite songs is "And The Beat Goes On," which is the happiest song I think I've ever heard.
MR: What's cool is that the piano part almost sounds like a seventies sample. Actually, the whole album has this sort of retro vibe, and I don't know if it's intentional or not, but it works so well because you also have modern production techniques making a nice marriage of the two.
MW: Some of the stuff was just full-on analog tape. My first record was all Pro Tools and all digital, and I certainly think that that's great. But a quote was said to me that said, "The record industry is over, so why not make a record that I actually like?" As much as I liked and enjoyed making my first record, everything I did was edited, and it sucked the soul and vibe out of the music. What's cool about music is the imperfections, like not being perfectly in tune. When I go to a show, the things I like are when things are a mistake. You listen to Beatles records or to Dylan or even some of the Simon & Garfunkel records, the guitar is out of tune, and that's what makes music. You just can't be perfect. I compare it to digital photography because I can tell a digital photograph over a real photograph any day of the week. You can use any kind of filter or whatever, but I can always tell.
MR: There's almost like a surrealism to it.
MW: Yeah, you listen to a song like my favorite song, "Taking On Water," and the depth of the sound is a little bit darker than a modern pop album. If you put it up against a pop sounding record, it doesn't have that depth of sound. But that was all done on tape, and done in the exact same way as the people that I admire did it. Then sometimes, we have songs that are a marriage of the two, like the single "Falling In Love (With My Best Friend)" The vocals, guitar and bass were all analog, then we had a kind of modern loop that we literally couldn't figure out how to do on tape, even with five of the best engineers. So, we synced with the Pro Tools, but it still has a kind of warmth. When you mix a record, you never know how it's going to come out. It's like you throw up cards and let them come down, and you keep on doing it until you get it right.
MR: "Taking On Water" was one of those songs where it sounds like you took it analog as best you could, until the end.
MW: You can hear the producer say, "Take five," because we were all playing facing each other and I couldn't really move. The same thing happened with "Therapy" and "When I Fall," which is one of my other favorites. I was playing, and you always want to play to a click, but the producer was like, "No clicks, no nothing. Go in there and play it and sing the song, and if the piano mic picks up your vocals, so what?" and that's what we did. And we had this choir come in because I did it in a church, and it was just a really trippy process. There were no lights down in the control room, and it was very intense to be there.
MR: You also used a classic recording method and things were truly analog.
MW: One of the great, last records is Nevermind by Nirvana, for example. They did that all analog, and the editing must have been just the most intense process because no plug-in on Pro Tools was going to equal the real sound of something tangible--this is a frequency versus an actual piece of tape. The king of the universe can tell me that it sounds exactly the same, which is sort of what they did when I did Best Days saying, "It's the same, and you can't tell the difference." So, I was like, "Okay, maybe you can't tell the difference." But I could.
MR: Yeah, you can tell the difference. I think the brain hears it and goes, "Wait a minute, you're giving me numbers. You're giving me zeros and ones."
MW: Sonically and scientifically, the frequency is totally different; one is triangles, while one is squares."
MR: Exactly. Who are your influences because I'm hearing all sorts of things?
MW: It's weird, I go through periods. With this record, I was listening to a lot of Paul Simon and a lot of Dylan, but my influences are people like Elton John. Some of those records I've been listening to since I was three years old. Zeppelin, to me, is just the greatest band of all time. Springsteen because I'm originally from Jersey. Billy Joel I love because when I was playing piano and having to go to music school, I was studying classical, and studying classical music has this connotation of being not so cool or whatever. So, I walked by one of the rooms in the school of music and I saw these cool people playing jazz. I was like, "What's this jazz? You don't have to follow an exact formula for playing?" So, I started playing more jazz piano kind of stuff, and improvisational music. That's sort of how that happened, if that makes sense.
MR: Absolutely. Paul Simon I definitely hear in your lyrics.
MW: He's the best. He's just so unbelievable and massively talented, I don't even know how he can walk among people. Lyrically and the way those records were made? With the approach to the rhythm section, using African influences? The song that really came to me was "Therapy" because when you're in New York in your late twenties, everybody is trying to get married or set you with people, and everyone in New York seems to go to therapy. So, maybe there's a way to put those two themes together, and then all of the sudden this waltz (hums) groove came to me. That's another song that was all tape. Then, there's a song like "Honeymoon Phase." Everyone always talks about the first six months of a relationship being the most exciting, and it's like, "Yeah, that's the honeymoon phase." It's weird because I don't remember how I write the songs or how they come up. I don't remember the process because I'm so in it, I guess, but I remember thinking of that theme.
MR: Your producers were David Baron and Henry Hirsch?
MW: Yes, David Baron and Henry Hirsch. They did all the Lenny Kravitz stuff, and Henry Hirsch did some Madonna, a bunch of Mick Jagger and Stones stuff, and he's just a really old school record maker from the '70s. He got the last board that Zeppelin recorded Zeppelin II on from Olympic studios, and shipped that board to New York from Germany. I don't know how they did it, I guess by a boat. But he brought that in, and David Baron and Henry Hirsch ran a place called Edison studios with Lenny Kravitz. Then, Henry bought this church up in Woodstock and brought all his gear and all these special, crazy mics that I'm not sure what they do, and just the best recording equipment because sound is so important. If I went up and played acoustic guitar and sang, that would sound better than an entire production at another studio.
MR: Let's talk about your single "Falling In Love (With My Best Friend)."
MW: It's actually a very true story about one of my good friends growing up, this guy Rob, who I probably shouldn't say his last name, and this girl who he was best friends with growing up. There was always an undercurrent of sexual tension through middle school and high school, then they went to separate colleges, but remained best friends, and there was always difficulty with each other's boyfriends and girlfriends. The entire twelve years before they finally realized that they were meant to be together, everyone would always say, "Oh, you guys should really be together." So, that's sort of where the theme of the song came from. A lot of relationships start off that way, but for me, personally, it was difficult to get from having a very close girlfriend to being a lover, but I hear stories, and it happens more and more every day. I think it's just a very common theme that happens a lot. So, that's where that theme came from, and we put really weird guitars on it, and there's a Bernard Purdie kind of drum groove. So, that's how that song came.
MR: Now, I have to ask you about the song "Sunshine," where you say, "...I need a relief from the same old groove. I hate the 405, the job, and the solution is sunshine." But you live in California, right?
MW: I'm back and forth, but that song really came from a momentous kind of thing. I was dropped from Geffen in Canada, and it was the worst because I was in Calgary at a highway Holiday Inn, so that's how that song came about. I was in a country that wasn't familiar to me, very North in the country, and that's how that song came.
MR: Hey Matt, who do you like as far as new artists?
MW: New artists? Brendan James is another singer-songwriter, piano man. I love Mumford And Sons, which is this band from the U.K. and Australia, and they're now just exploding. I love Bon Iver, who I guess is not new, Lykke Li, and Temper Trap. Personally, I love the more simple, darker kind of music.
MR: Is there any advice that you'd like to give to up-and-coming artists?
MW: The only advice is to just keep on writing songs. It's so true that you're one song away from breaking. You just have to keep on writing, and play with every kind of musician you can possibly play with. I've been in the most bizarre situations playing music, and it's taught me so much, even in my guitar playing. I don't really play guitar and I have no theory on guitar, but I was taught by street musicians in Washington Square park, who just would sit out there and jam, and who knows what their stories were? Some were seventy-year-old hippies, who had just been there forever, and some were music students from NYU. Just play with anyone and everyone you can play with.
Tracks:
1. And The Beat Goes On
2. Falling In Love (With My Best Friend)
3. She's On Fire
4. Taking On Water
5. Colorblind
6. When I Fall
7. Honeymoon Phase
8. Therapy
9. Teacher Teacher
10. Off My Wall
11. Sunshine
(transcribed by Ryan Gaffney)

REAL LIFE. REAL NEWS. REAL VOICES.
Help us tell more of the stories that matter from voices that too often remain unheard.