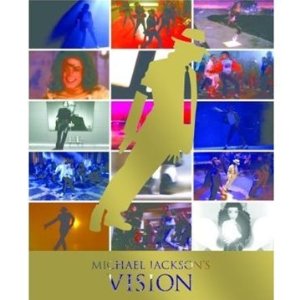 This 35-track, triple disc DVD collection is such an important and significant pop-culture package that it might scare your unsuspecting holiday recipient into thinking you're saying something more than merely Happy Whatever. Michael Jackson's Vision will thrill (ahem) and haunt as it works its way through groundbreaking and flat-out brilliant clips like "Billie Jean," "Beat It," mini-movies such as "Thriller" (thank you forever, Vincent Price), "Smooth Criminal," "The Way You Make Me Feel," and, of course, Martin Scorsese's "Bad" (co-starring a very boy-faced Wesley Snipes).
However, though this body of work, as a whole, is undeniably incredible from various perspectives, it really wouldn't be fair to say that every video was a classic. As MJ's clips and short films progress, they become less dependable, and to varying degrees, they seem to lack connection--personal or otherwise--which is the opposite effect his charming, earlier videos have. On the other hand, "You Are Not Alone," Joe Jackson's supposed favorite, "Earth Song," and "Gone Too Soon"--dedicated to the late Ryan White--still touch the soul. And, of course, "They Don't Care About Us," in any version, reveals the artist's affinity with alienation, something much of his later audience both experienced personally or identified with in their King of Pop.
Appearances by icons like Marlon Brando, Chris Tucker, Lisa Marie Presley, Steven Spielberg, John Travolta, Macaulay Culkin, George Wendt, Michael Jordan, Eddie Murphy, Iman, Magic Johnson, Naomi Campbell, a blink-and-you'll-miss-her Tyra Banks, and all sorts of other fun guests make the celebrity quotient sometimes as important as the video's message and images, though they never overshadow the star, a testament to the power of Michael Jackson's undeniably powerful onscreen presence.
That said, you still have to click past a few endless self-indulgences such as the mess that is "Speed Demon" and a couple of other head-scratchers. But what you're left with is hours of what might be some of pop music's most cherished and entertaining musical visions ever created. And that third "bonus" DVD--the rarities disc--showcases Jackson's true boyish innocence in vids like the Paul McCartney duet "Say, Say, Say," The Jackson's "Enjoy Yourself," and the previously unreleased, heartbreaking prayer that is "One More Chance." Hell yeah, we still miss you, Michael.
DVD 1
1. Don't Stop 'Til You Get Enough
2. Rock With You
3. She's Out of My Life
4. Billie Jean
5. Beat It
6. Thriller
7. Bad
8. The Way You Make Me Feel
9. Man In the Mirror
10. Dirty Diana
11. Smooth Criminal
12. Another Part of Me
13. Speed Demon
14. Come Together
15. Leave Me Alone
16. Liberian Girl
DVD 2
1. Black Or White
2. Remember The Time
3. In the Closet
4. Jam
5. Heal The World
6. Give In To Me
7. Who Is It
8. Will You Be There
9. Gone Too Soon
10. Scream
11. Childhood
12. You Are Not Alone
13. Earth Song
14. They Don't Care About Us
15. Stranger In Moscow
16. Blood On The Dance Floor
17. Ghosts
18. You Rock My World
19. Cry
DVD 3
1. Blame It On the Boogie - The Jacksons
2. Enjoy Yourself - The Jacksons
3. Can You Feel It - The Jacksons
4. Say Say Say - Paul McCartney & Michael Jackson
5. They Don't Care About Us - Prison Version
6. Why? - 3T featuring Michael Jackson
7. One More Chance - previously unreleased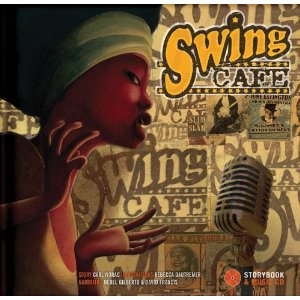 Mike Ragogna: Bebel, I was living in L.A. when your album Tanto Tempo was released, and I remember it was played very often in a record store called Amoeba Records. But enough of that, how are you?
Bebel Gilberto: Thank you, I am doing very well. I am in New York City and am happy to be talking to you.
MR: Let's talk about your association with a new book called Swing Café, which is a sweet story about a cricket named Zaz...that would be you!
MR: Please, Bebel, would you fill us in on this character and how it relates to the book and your narration?
BG: Well, the character is actually a cricket and she loves to sing, you know? And she is really into singing. She is an artist.
MR: And she comes to New York by hopping a ride on a fruit hat.
BG: Exactly, exactly. Nobody notices her until she is over there. And for me, the experience of doing that was amazing because I had to speak in English, but it was supposed to have my accent. So, it was quite fun because I made a voice for her but at the same time, I could totally visualize myself as the character. It was a very pleasant thing to do and I really enjoyed doing it.
MR: You meet a savvy fly named Buster, right?
MR: And David Francis is the voice of Buster?
BG: Yes, he is the voice of Buster.
MR: How did you get the narration down? Can you explain how that was.
BG: I was invited by this Canadian group of people and they invited me to do this narration and I did it quite a long time ago.
MR: Now, the storyline goes that the Swing Café is on East 54th street in New York, and there is a lot of jazz music associated with it.
BG: Yes. Absolutely. It is really, really amazing.
MR: Some of the artists represented are Duke Ellington, The Mills Brothers, Lionel Hampton, Fats Waller. Now, this is straight out jazz, mainly. But you are associated mostly with Bossa Nova and Brazilian music, right?
MR: You've also released some remix albums emphasizing beats.
MR: Bebel, musically, who inspired you?
BG: Many people from Billy Holiday to Ella Fitzgerald. I have been listening to every kind of music, from Michael Jackson to Prince to Bossa Nova itself. It's where I get my inspiration from.
MR: You are the daughter of Joao Gilberto and your mother Miucha. I would imagine while growing up, there was nothing but music in that house.
BG: Absolutely! You are right about that.
MR: Was it obvious you always were that you were going to be part of the dynasty?
BG: Well, I guess it is still a question mark because when you have so many artists in the family, you know how it is. That's one of the reasons I decided to move to New York and start everything on my own. But anyway, I guess everyone is proud, of course.
MR: So far, you've released four Brazilian-flavored albums--Tanto Tempo, Bebel Gilberto, Momento and All In One. Plus the remix projects and all your EPs.
MR: So do you tour a lot to support all your works?
BG: Yes, I tour a lot. I have basically been touring since 2000 when Tanto Tempo came out. I started touring ostensibly everywhere in the world, and that helped me a lot because my music got spread around and people just wanted to have me come back...and in the most awkward places. It was amazing! I got to know the whole world, and it's amazing to see how Brazilian music is growing, you know, in the world, because that also opens the door for other singers. And Brazilian culture in general is getting much (more) well known today and that makes me feel very proud.
MR: Why do you think it's taking off?
BG: I guess it's because it's a real opening from the whole world as well. In Europe, maybe 40 years ago, Brazilian music kind of got a boon with Bossa Nova. But then it kind of got frozen and now people are just more curious and open-minded, basically.
MR: There's a popular Norwegian duo called Kings Of Convenience who, regardless of not being Brazilian, have a real mastery of acoustic Bossa Nova, and they combine it with a love of Simon & Garfunkel. Plus there are a few other rising groups that, surprisingly, though they're from different parts of the world, have made Brazilian music their own.
MR: So, here in the States, you've had songs on very popular television shows here, such as "Lonely" and "So Nice" on Nip/Tuck.
MR: And you had music appear on Entourage too.
BG: Yes, Entourage and Sex In The City as well.
MR: Yes, "Samba de Bencao."
BG: That is the Black Samba.
MR: And also "Tanta Tempo," those featured in the movie Closer.
BG: Yes, they were all featured recently. My song "Samba Da Bencao" was on the movie soundtrack Eat, Pray, Love.
MR: Let me introduce Julianne here. She is Brazilian, and she has a couple of questions.
Julianna Neves: Oh, how are you? I am really a big fan of yours and your Dad's. He is my favorite and the one that I play most here on my show, Tropical Waves. My show is to make people imagine they are close to the ocean and this is your Dad. You and a lot of Brazilians do very well regarding music.
BG: Oh, wow, great. I am so happy to hear that! I must listen to it and do my homework, I guess. I am going to take some time off finally at the end of the year and I will definitely search for it.
MR: So, really? You actually do get some time off?
BG: Oh, yes definitely. I have a husband. You must always make a way to make a little bit of fun. This year has been much more calm. Last year was the year that we released All In One and I was touring, basically, until Christmas. So, now I am just going for a few concerts and staying there until January 20th, so it's going to be a long one.
JN: Oh, enjoy it! I have a quick question about Joao Gilberto and meditation.
BG: Well, I am kind of not allowed to talk about my Dad because I made a deal with him. But I must say that yes, he is a Yogi and practices Yoga and self-realization, and basically meditates. But I don't want to go deeper into that.
MR: Building on the concept of a meditative style, Bebel, your music has seductive, meditative pulses running through it. Are you also taking a look at things like Trance music? I can see other influences coming into your music as well. What other genres are you particularly fond of beyond Brazilian?
BG: It's interesting that you should say that because I never really thought about it. Yesterday, I had a bunch of people who didn't know about my music asking me how could I describe it and I said, "Oh, you know, it's almost like music for you to kind of meditate to, to feel good, and to be like in the parallel kind of feeling. The influence that I had from my father that I mentioned before is very obvious in my music. But also the way of singing, whispering...that also kind of achieves some kind of wave into your head that makes you feel good and kind of connect with the sound that I am creating with my music. That's what I instantly feel.
JN: How does the music from Bahia inspire you? I have been noticing more and more that I get closer to all of the Brazilian artists that the Bahia state has a lot of influence on. Bahia artists have a lot of influence and I was reading that Carlinhos Brown helped you with this last CD. Is that right?
BG: Yeah we worked together. I was in his studio for about a month in Bahia, and Carlinhos is from Bahia. He can create incredible sounds that you could not get from anywhere else, but he also works with a lot of talented Bahia-based people that played with me, and also on my second album. He kind of created a thing with everyone in the community that he takes care of it. The reason that this works is because the people in Bahia, they are so into music that everyone kind of has music or a rhythm feeling or talent inside of them because Bahia itself is a town and a State that has a lot of music and magic and passion and this is the influence that you get just being there. I got married in Bahia, and that's where I am going to be going now. So, I would say you don't know Brazil if you don't go to Bahia.
JN: We have to be very grateful being Brazilian for the influence from Africa. I think what makes Brazil different from the other countries in South America is that we had the experience. Unfortunately, it was a slave ship, but we had influence come from them and I think this is what makes a big difference in our music. Do you agree with that?
MR: Most people don't understand the lineage or know the history. Most listen to it and enjoy it, but they kind of stop there, the intellectual questioning stops at the enjoyment.
MR: Bebel, who are some of your favorite artists that are out there right now.
BG: It will be hard for me to choose as I have many. But let's say that people that really changed my way of thinking...I would say Bjork, for instance. When she came in, I was really into her music, and Sadé when she came into the '80s. This was a person that influenced me a lot. Michael Jackson. I saw him for the first time as the Jackson Five and it got me crazy. I always wanted to be Michael Jackson, you know? The way that he approached pop music and disco was, for me, very, very influential. And I will say, from Brazil, Gilberto Gil and Gal Costa, they are the most influential artists since my childhood because also, I am the daughter of my mother who also loves to go to concerts, and she is also a singer herself. I was lucky to get to see most of the interesting concerts in the '70s.
MR: Did they send you a copy of the Swing Café yet?
BG: They did send me and I was here looking while I was talking to you and I just realized it was gone.
MR: Did you take a second or two to check out the artwork on the packaging?
BG: Oh, yes, the art is beautiful. The whole thing is beautiful, I really, really love it. It made me really proud of it. You know, its like with audio-visual, you can really hear and read and see it. It's very well done and is a beautiful package.
MR: Have you done more voiceovers?
BG: Right after that, I got to do a little voiceover for this animation film coming out next year about Rio de Janeiro. I was happy that I got to do a cricket and then four months later, I was a toucan. So, it has been an interesting year doing voiceovers.
MR: Maybe that's your future. You want to do more of that work?
BG: Oh, I would love to it is really, really nice.
JN: Starting off your career you started singing for kids, is that right?
BG: I always have a thing with children. It is very interesting, and I also did a huge musical that we were playing for two years in a row. It was huge. And after that, when I was 13, I belonged to the stage. I guess this gave me a lot of base, and I feel very comfortable on stage, so that helped me a lot.
JN: You are beautiful on stage. The videos, and everything...so natural. You are doing great, Bebel. You are beautiful!
BG: Thank you. Thank you so much!
MR: Yeah, we all love you around here, Bebel, once again proving that Iowa continues to have great taste.
BG: Oh, my God, thank you so much.
MR: Do you have any advice for new artists that are starting out?
BG: Well, I guess that the most interesting thing-- maybe most people don't think about unless you are raised by artists as I was--is to combine discipline and artistic methods which, for me, was always difficult. It is good that you study a little bit and practice and take it a little bit serious as a job, than just, "Okay, I am an artist, I can do whatever." Most of the time, I felt like, "Oh, I don't need to think about it," or was just waiting for the feeling to come in or just waiting for the projects. It's always good to have some discipline and to prepare yourself in that way.
MR: Bebel, thanks so very much for your time. Speaking of time, you're going to be taking time off for the rest of the year, but are there plans for a new album?
BG: Well, I should be doing another album next year for sure, and also, I have a big plan with a DVD so that will be kind of based on my 10 years of the albums and the tours. This is the project that has taken a lot of my time and I should be releasing it next year and should be filming down in Rio de Janeiro. Not sure if it's going to be a whole, full album, maybe an EP with a few songs to go with the DVD.
MR: When you have this all ready to roll, we would love to have you back!
BG: Let's do it. Anytime. I have more to tell, and I will ring you guys.
MR: Thanks again for visiting us, Bebel.
JN: Yes, thank you, Bebel.
BG: Thank you so much and please keep listening to my music.
Tracks:
1. Manuello - Carmen Miranda
2. Hot And Bothered - Duke Ellington
3. Creole Love Call - Duke Ellington
4. Tiger Rag - The Mills Brothers
5. Chinatown, My Chinatown - Slim & Slam
6. Shakin' The African - Don Redman
7. Jivin' The Vibes - Lionel Hampton
8. Handful Of Keys - Fats Waller
9. Daybreak Express - Duke Ellington & His Orchestra
10. A Bunch Of Rags - Vess L. Ossman
11. Minnie The Moocher - Cab Calloway
12. Sing Me A Swing Song - Ella Fitzgerald
13. Hot And Bothered - Duke Ellington
14. Creole Love Call - Duke Ellington
15. Tiger Rag - The Mills Brothers
16. Chinatown, My Chinatown - Slim & Slam
17. Shakin' The African - Don Redman
(transcribed by Erika Richards)
NOISE POP ANNOUNCES FIRST CONFIRMATIONS OF 2011 LINEUP
19th Annual Noise Pop to Feature Yo La Tengo, Best Coast, Dan Deacon, Wavves, Ted Leo,
and More!

"...One of the best ways to see punk legends, indie darlings and the best local upstarts in one extended weekend. It's meant to be a nonstop party... You can taste each and every intelligently booked showcase. - Rolling Stone

"While New York's CMJ and Austin's South by Southwest have become a who's who for the music industry elite San Francisco promises something for the rest of us." - Nylon

"Since it's inception in 1993, San Francisco's Noise Pop Festival has grown into one of the most respected indie rock extravaganza's in the country." - Pitchfork

Seminal independent music festival Noise Pop is proud to announce the festival dates, as well as the first confirmed performers, for their 2011 events. The nineteenth annual Noise Pop Festival, which will take place throughout San Francisco from February 22nd to February 27th, 2011, will play host to the likes of established indie rock mainstays, such as Yo La Tengo, Ted Leo, and Versus, as well as up-and-coming favorites, such as Best Coast, Dan Deacon, Telekenisis, and more. A list of all confirmed performers thus far can be found below. More confirmations will be announced shortly.

BEST COAST
DAN DEACON ENSEMBLE
DANIEL MARTIN MOORE
HOW TO DRESS WELL
MAX BEMIS (SAY ANYTHING)
TED LEO (SOLO)
TELEKENISIS
THE CONCRETES
THE STONE FOXES
WAVVES
YO LA TENGO
VERSUS
VOXHAUL BROADCAST
Noise Pop Festival badges, which provide entry to all Noise Pop Festival events, will be available to purchase for $160 on December 9th at 10 am PST / 1 pm EST on Noisepop.com. Early Bird Badges are now onsale for $125 atnoisepop.com, and include a free festival t-shirt with purchase.

Since it began in 1993, Noise Pop Festival has become a north star for the music industry, bringing emerging and promising talent to the forefront of their lineup. Numerous acclaimed artists have graced their stages, from The White Stripes and Yoko Ono, to Death Cab for Cutie and Bright Eyes, and many more. This six-day festival takes place across numerous event spaces in the SF area, catering to upwards of 20,000 fans. The festival has expanded in recent years to also include art gallery shows, as well as a music-centric film festival, premiering documentaries aboutThe Flaming Lips, Lou Barlow, and The Mountain Goats' John Darnielle, in addition to feature-length films.

Special to the festival is the Noise Pop Culture Club (NPCC); taking place on the last two days of the festival at Public Works, the NPCC has something for every type of arts enthusiast, almost acting as a mini-festival within the festival at large. With a show, art exhibitions, film programs, and the Pop 'N Shop street fair with local designers and food, as well as workshops taking place from noon until 6:00PM, you can satisfy every facet your artistic and creative pallet here.

Noise Pop also has a residence this year with the Noise Pop-Up Shop, the homebase for the fest for the month of February. Taking over FIFTY24SF, and partnering with Upper Playground, this limited-time-only store will serve as a multipurpose venue for the fest; merchandise store, art gallery and information center by day, and a performance space by night.

REAL LIFE. REAL NEWS. REAL VOICES.
Help us tell more of the stories that matter from voices that too often remain unheard.