Alicia Keys - The Element Of Freedom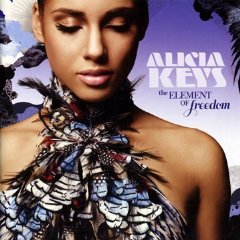 We're at album number four and Alicia Keys still mesmerizes. Though the collection's pre-released, simple single "Doesn't Mean Anything" with its romantic mini-movie promo clip understandably didn't seem to mean anything to the charts (she definitely has had more daring records), this sweetly-made r&b confection of crescendos and long, breath-controlled whole notes served its purpose by heralding The Element Of Freedom that does have an air of release about it. As a whole, the album doesn't really push the vocalist-pianist's music further than where it already was established on earlier releases. But it works its main theme of "I will survive nutty-relationships" very well, the concept of "Love Is Blind" being Alicia's conclusion this time out. With that as the premise, this project clicks better as a body of work than two of her three previous albums, and it avoids sounding like a smattering of singles across a CD.
Evidently, Alicia's been through a lot relationship-wise (just ask the tabloids), and she's still searching for that perfect coping mechanism. The confessional "Try Sleeping With A Broken Heart" is one of this album's best Elements, and in it, she declares that she's going to get over Mr. Dumbass, but tonight, let it be Löwenbräu. (Well, Moët, but you get the point.) Nicely, "Love Is My Disease" tallies some of the blame of a failed relationship in Alicia's column in a non-maudlin way, and "This Bed" might as well be a metaphor in that it locates where almost all of her new freedom can be found. Her Beyoncé duet "Put It In A Love Song" pumps up the volume and tempo beyond the mood of its neighboring tracks that, for the most part, are happy grooving to an almost contemplative, moderate pace with the beautiful "Empire State Of Mind (Part II)" (a variation of the Jay-Z duet) wrapping things up in a smoothie of a ballad.
Suggestion: On the next album, those drum loops need to acknowledge it's 2010 (or beyond) because these samples and their generic-ness are putting a little drag on Alicia's keys (though not her vocals). Also, you might consider a little less compression on her voice since she's not Miley Cyrus and her vocals are getting squashed when she has emotional peaks. Still, from the perspective of this being an "artist"'s album, it's a fine listen, and it shows Alicia maturing both vocally and as a strong young woman with some good, bad experiences in the world of love.
Start Here: "Try Sleeping With A Broken Heart" and "Put It In A Love Song" with Beyoncé
Tracks:
1. The Element Of Freedom (Intro)
2. Love Is Blind
3. Doesn't Mean Anything
4. Try Sleeping With A Broken Heart
5. Wait Til They See My Smile
6. That's How Strong My Love Is
7. Unthinkable (I'm Ready)
8. Love Is My Disease
9. Like The Sea
10. Put It In A Love Song - with Beyoncé Knowles
11. This Bed
12. Distance And Time
13. How It Feels To Fly
14. Empire State Of Mind (Part II)
Robin Thicke - Sex Therapy: The Session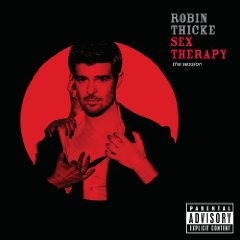 Looks like somebody's having a good time with Mrs. Sexy. Robin Thicke's latest, Sex Therapy: The Session, kind of implies that it's a collection of porno-y odes, and, to be honest, it is. But it's really much more, it also being a potent mix of r&b and rap with the soulful singer-songwriter channeling Marvin and Smokey on some of the more seductive songs. After three terrific melodic albums, this latest offering from the Thicke Dynasty's legacy (look Pops, I'm a supastah!) continues the trend and often outsmarts Justin FutureSex Timberlake in the process. Robin's very clever "Meiplé" with its vintage TWA-era vibe and San Tropea rhythm track finds our Rico Suave flirting, "I know you wanna..." that's answered by an orgasmic female whose reply sounds like "...f**k!" (okay, more than just sounds like it). "I'm gonna show you how it feels when it's good, I know I'll do it better than your boyfriend ever could," insists The Thicke One in "Make U Love Me," in which size matters and imaginary boyfriends are exposed by blabber-mouth mamas. And what slurpy, overtly sexual song would be complete without Snoop Dogg dropping by for a visit as, of course, he does on "It's In The Morning," a track so soulful-seventies that you forget there are loops and synths copulating about. The sync-y sequenced "Shakin' It 4 Daddy" with Nicki Minaj is the best rap therapy this session has to offer--just try not singing "She's shakin' it for daddy, she's shakin' it for me" when the track ends.
"Elevatas" with Kid Cudi has some nice moments and experiments with a couple of grinding samples, but it only kicks-in when Robin goes Gaye again with his falsetto voice, its infectious chorus hitting a "Billie Jean" chord progression punctuated at the bridge with a Michael Jackson "Ooooh" squeal. "Rollacoasta" visits Motown via Atlantic Records, and then we reach the album's masterpiece, "Million Dollar Baby" with Jazmine Sullivan, that's a faithful reworking of "Trouble Man" down to Marvin Gaye's alternating two-note hook on the third verse. The track "2 Luv Birds" is the gentle ballad, every project's gotta have one, right? But this one isn't generic, its simplicity and natural beauty exists outside the bedroom, and it even has a short storyline to follow. "Jus Right" jets back to the same Sadéland as "Meiplé," and Sex Therapy... finally ends with a bang (ahem) with "Diamonds," Game's natural macho contradicting the Roberta Flack "Feel Like Makin' Love" vibe and Thicke's falsetto'd vocal section that insists love is "precious as diamonds." Timberlake might be the right locale when it comes to whose turf Thicke is playing in; but there honestly are times when Thicke's version of FutureSex, with all its retro r&b, out-sexys JT's mutli-billion seller. Plus it's a less static listen with a much deeper soul. This is quite a successful Sex Therapy that will have you back for more sessions in the end. (Wait, that's not quite right...)
Start Here: "Rollacoasta," "Elevatas," and "Meiplé" with Jay-Z
Tracks:
1. Mrs. Sexy
2. Sex Therapy
3. Meiplé - with Jay-Z
4 Make U Love Me
5 It's In The Mornin'" - with Snoop Dogg
6 Shakin' It 4 Daddy - with Nicki Minaj
7 Elevatas - with KiD CuDi
8 Rollacoasta - with Estelle
9 Million Dollar Baby - with Jazmine Sullivan
10. 2 Luv Birds
11. Jus Right
12. Diamonds - with Game
Pixies - Minotaur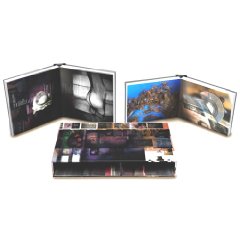 Minotaur is an assembly of those great Pixies albums we all loved plus so much more, and this recorded output, surprisingly, has been given such a royal treatment, you'll scratch your head wondering who the heck's going to spend hundreds of dollars on discs they already own. Well, that would be you, and you don't exactly own THIS particular batch of goodness. Minotaur is the epitome of eclectic, going waaaay beyond anything one might have imagined existing in any universe by Frank Black and Joey Santiago's legendary alternative band. Beyond its crazy-great stereo mastering, the box set features endless 5.1 surround mixes that include Blu-ray and DVD variations, mastering in 24/192, a previously unreleased 1991 Brixton concert, plus a 54-page book that covers the band's career. Designed by Vaughan Oliver with Pixies photography from Simon Larbalestier, this six-pound masterpiece would be worth it if it only had "Cecilia Ann" which it does (on Bossanova). But for those inclined to listen to another track or two, every song was mastered with acres of audiophile, so snatch one up before your best friend does and texts you every day of the holiday season on how great it is and how you don't have one.
Start Here: Track 1 through Track 10,000 (or so)
Albums:
Come On Pilgrim
Surfer Rosa
Doolittle
Bossanova
Trompe le Monde
Stereo and 5.1 mixes, 6 Blu-rays, 6 DVDs, 54b page book, and more joy than a human being should be allowed
James Horner - Avatar: Music From The Motion Picture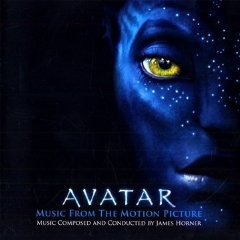 Cue the primal drums, distant tribal calls, a dramatic orchestral entrance followed by a female obligato, then introduce those swelling multi-keyed minor chord progressions with military snares. Although this could have been the very same description of music backing any recent sci-fi flick on SyFy or otherwise, this happens to be the lift-off track of one of the most moody yet emotionally-driven scores unleashed this year in any movie genre. Film composer James Horner's Avatar: Music From The Motion Picture aurally seduces best when it's balancing its alien synth layers and aggressive percussive slams with its organic instruments, sprite-like keyboard glisses, and other-worldly voices. But its heart lies in its melodic statements, such as the first segment of the hopeful "Becoming One Of 'The People'..." during which the identity of the Na'vi (the planet's natives) are fine-tuned through a descriptive orchestral sequence and silken samples.
By the time we reach the soundtrack's fourth track, "Pure Spirits Of The Forest," most of the musical cues and elements pertaining to the planet Pandora and the two disparate cultures are established, and the battle is foreshadowed with much sympathy to the Na'vi to properly illustrate just how much will be lost if the earth warriors' mission succeeds. The most elegant track, as well as its most memorable, is "Climbing Up 'Iknimaya--The Path To Heaven'," and "Jake's First Flight"--backed by percussive drums and an unintelligible Pandora High-ish choral group--tugs at the heartstrings Rudy-style with all of its sports-implied, triumphant chord changes. However, the track's mandatory Battlestar Galactica lone voice motif that's been done-to-delirium in the sci-fi genre sounds a bit obvious, although it never sticks out like a sore whatever the Na'vi call "thumb."
And this being a James Cameron film, there must be one very "titanic" theme song, and that would be the surprising closer, "I See You (Theme From Avatar)," that acts as a musical bridge between score and pop without pandering to Billboard's Top Ten. The song's Pandoran vocals were supplied by Grammy Award-nominated singer Leona Lewis, and it was co-written by Horner and Oscar-winning Thaddis "Kuk" Harrell, lyricist to the stars (his song "Ladies [Put A Ring On It]," recorded by Beyoncé, currently is nominated for Grammy's Song Of The Year). By the way, remember that chill you felt hearing Horner's score during Spock's funeral scene in Star Trek: The Wrath Of Khan? Be prepared to be Khan'd again in a very good way.
Start Here: "Pure Spirits Of The Forest," "I See You (Theme From Avatar)" with Leona Lewis, and "Jake's First Flight"
Tracks:
1. ''You Don't Dream In Cryo. ....''
2. Jake Enters His Avatar World
3. Pure Spirits Of The Forest
4. The Bioluminescence Of The Night
5. Becoming One Of ''The People'' Becoming One With Neytiri
6. Climbing Up Iknimaya - "The Path To Heaven''
7. Jake's First Flight
8. Scorched Earth
9. Quaritch
10. The Destruction Of Hometree
11. Shutting Down Grace's Lab
12. Gathering All The Na'vi Clans For Battle
13. War
14. I See You (Theme From Avatar) - Leona Lewis
A Video Conversation With Precious Composer Mario Grigorov
Lee Daniels' Precious recently received much attention for its storyline involving a pregnant teenager from an abusive home and her teacher who takes on the role of mentor. It's been an art house favorite with impressive reviews and ticket sales since its November release, and its interpretive soundtrack was composed by Mario Grigorov whose scores have graced over thirty films including 29 Palms and Taxi To The Dark Side. Also, his world-meets-classical approach has graced his own albums including Paris To Cuba and Aria (that reached #4 on Billboard's Classical Crossover chart), and they were as critically-acclaimed as they were genre-defying.
The following is a video interview with the Bulgarian-born artist who discusses many topics including his work on the film Precious, his classical training, his musical journey (partly spent as a youth in the palace of Iran's Shah), and his creative process. It was prepared especially for the Huffington Post's entertainment page with full and edited versions presented here.
Full Version:
Edited Version:
A Conversation With Julian Lennon on theRevolution and "Lucy":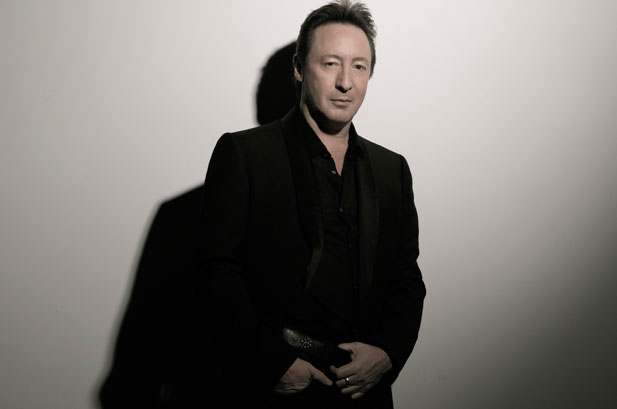 Mike Ragogna: Julian, this is like your twentieth interview of the day?
Julian Lennon: (laughs) It's been a looong day, but I'm fine.
MR: Are you all talked-out yet?
JL: No, this is partly the beginning of the onslaught. You know, it's been a while since I've done any interviews so I haven't quite condensed any of my answers yet (laughs). Go for it!
MR: Nice. You've taken on quite a mission here.
JL: On a few levels, yes.
MR: You're not only promoting a new Julian Lennon release, but you're also behind theRevolution LLC.
MR: Would you discuss how you started plotting theReveloution?
JL: Yes, I'd been speaking with the other founding members over six months to a year now. In fact, one of them, a friend who came up with the initial idea for it, I'd been speaking to for years and years. I'd been out of the business, so I wasn't particularly interested at that point. It was only after, I guess it was about five years ago, that I'd started writing again, and then after last year, I finished the album and thought, "Okay, where do I go from here?" since we had the demise of the music industry as we know it and the labels as we know them. There are still a few hanging on for dear life, and I did meet with all of the labels that were left. But it's certainly not set up the way it used to be though we're in a much more beneficial position now for the artist's sake.
MR: Traditionally, all artists end up unhappy with their label at some point.
JL: I'd made some poor decisions myself in the past, but I'd never really had a great relationship with any label I'd worked with either. With the last album, Photograph Smile, ten years ago, we tried to do it independently with viral marketing, but it was a little too early. It just wasn't set-up well enough to do what we're trying to achieve today. Anybody can get a song out there virally these days.
But there's still the issue for me--and this is where theRevolution, in part, comes into play as well as the subsidiary Artist's Alliance that is more like the managerial arm--that even though the world is your oyster now as far as the internet and viral marketing, it all still needs to be managed and looked after and organized and that's a lot of work. And so I thought I didn't want to follow through with the old school regime, although there are still elements that are in place. There is still a need for traditional marketing and distribution, people still want that hard copy CD, you know, they want to see it in their hands. But I honestly feel that that will dissipate too, slowly. I wouldn't say five years, but I would venture to say it won't be too long. Nonetheless, it still exists, and it's still an important factor and has to be dealt with. But really, the new way forward, without a doubt, is what the internet brings.
MR: So your company's outreach will succeed mainly through the internet?
JL: We can reach so many people and be involved so many ways with so many projects. It's just astounding, I think if you can think it up, you can almost do it these days.
MR: And many labels aren't too keen on investing lots of money on anything that already isn't a proven hit, so you've got the chicken and the egg scenario.
JL: Meeting with all the companies, I thought there had to be a different way forward. I thought I don't want to go it alone, I don't think I can, I need someone who has a bit of knowledge of where I need to go. I think all of the founders of this new company, from their respective backgrounds--like Michael Birch, one of the founding members of Bebo, and Todd Meagher who brought the original model that shifted a little bit with my inclusion--bring things to the table.
MR: Are the three of you the core of the company?
JL: There's also another partner in the shadows at the moment that's possibly coming on board who's a dear friend of mine. He's been involved in the back scenes of the industry as a lawyer and many other things. We all bring something to the table, and we've been able to achieve things by going out and meeting the big boys like the bosses and the founders of iTunes, YouTube, Yahoo, the list goes on. I'm literally meeting them face-to-face, one-on-one, trying to make it so that all of us can work together in trying to do the best that we can for music and artists that we care about.
MR: How did they respond to your proposals?
JL: The main guy at iTunes is a lover of albums and a lover of music, and I was so happy to hear that. He said that he was the one who came up with the idea of downloading LPs so you get all the downloads of the liner notes, etc., etc., plus extra video, which is what saddened me initially about downloadable music. You never knew who was producing it, you never knew who was playing on it. I feel that I'm at the right place at the right time because I consider myself a serious songwriting artist, especially with the last album and this one. It's an ongoing concern, and I'd like to see more of that continue which is the longevity of the great singer-songwriters. I'd be able to help those artists, new and old, still remain in the light so to speak, so they don't disappear in the light of the one-hit-wonders that just reach #1 or Top Ten and then disappear out of our lives forever.
MR: You're pulling a lot of aspects together under one roof.
JL: It's all interconnected. It's all related one way or another from all directions, whether it's the songwriting element or the business element, the emotional element... For me, it's really all tied-in. And everything comes from one place as far as I'm concerned in regards to music and what we're trying to do with theRevolution.
MR: What's the back story on your new song "Lucy" that's being released through theRevolution?
JL: I decided to fly to New York to follow up on some meetings in regards to theRevolution. I was going to spend, literally, a week in New York, a week in L.A.--I hadn't been there in quite some time, maybe a year or two. At that time, I was meeting with the founding members about a potential developing artist for theRevolution. His name was James Scott Cook, a great singer-songwriter who was a bit of a rocking, modern day crooner. I was literally going in to support him to sing a few little background doo-doo-doos and da-da-das, maybe some oohs and ahs. I learned during the recording process that Lucy Vodden, my old school friend from when I was in kindergarten, had passed away from Lupus. This saddened me a great deal. The song we were actually working on at that particular point in time was called "Lucy" too.
James and I talked it over and I said, "Listen, why don't we make this a duet, make it a charity single." So we went forward with that idea on the project, and then during the process, I also learned that James' grandmother who's 89 has been suffering with lupus for most of her life. Here's the real clincher--her name is Lucy also. So the fact that we were recording a track called "Lucy," hearing of Lucy's passing, and also that James' grandmother also was named Lucy and had Lupus too, it was all too much of the stars aligning. We finished setting up theRevolution, did all the meetings, they all came together on this and said what a wonderful story it was. It's a wonderful story, it's like this is relating a story to your grandchildren except it's continuing the legacy of Lucy, The Beatles, and "Lucy In The Sky" for generations to come. In the process, we're helping to finance, hopefully, some good research for the St. Tom's Lupus Trust in England and The Lupus Foundation in America. If we can do it with two new artists of theRevolution and as a precursor to our albums coming out next year, then it's a win-win for everybody.
JULIAN LENNON & JAMES SCOTT COOK DISCUSS AND PERFORM "LUCY":
AND HERE'S A WORD FROM OUR FRIENDS, THE FUZZY STONES...
Last Minute Stocking Stuffer AND a Fun Way to Support Kids with Serious Illnesses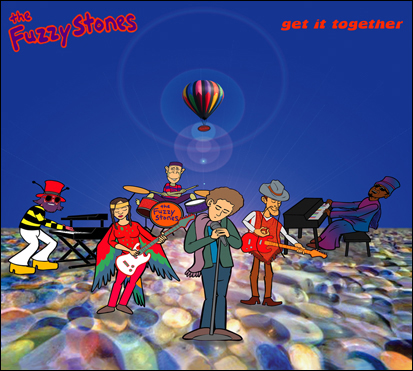 The Fuzzy Stones is an animated rock band for hip kids ages 2 to 102. Their CD "Get It Together" has a unique quality that brings people and families together with feel good rock music described by Cleveland Scene rock critic Jeff Niesel as a cross between The Beatles and the Flaming Lips. The Fuzzy Stones will bring out the inner kid in anyone (buy one for your kids, but you'll be cranking it up loud in your car long after you drop them off at school). Even teenagers, indie-rock hipsters and college kids love the Fuzzy Stones, and if you use the following link, 50% of all CD and MP3 sales will go to support University Hospitals Rainbow Babies and Children's Hospital!:
Order right away for delivery by Christmas!
About University Hospitals Rainbow Babies and Children's Hospital:
Rainbow Babies and Children's Hospital, located in Cleveland, Ohio, is a world leader in the treatment of children with heart disease, cystic fibrosis, sickle cell disease and endocrine and metabolic disorders. Rainbow is also among the best hospitals in the country for neurology/neurosurgery and respiratory disorders. As a leading academic medical center that is the primary teaching hospital of Case Western Reserve University, Rainbow offers cutting-edge therapies to area children long before they're available nationwide. Rainbow Babies & Children's Hospital is proud to be among the many non-profit children's hospitals affiliated with Children's Miracle Network. Together, they care for over 17 million children each year. Your support can help ensure this high level of care for every child who comes to Rainbow.
PRESS RELEASES INCLUDING NEWS ON THE WHITE STRIPES:
SANTA BRING MY SOLDIER HOME
The Stunners' Holiday Ballad, Produced by Mega Hit-Maker Desmond Child, Benefits The USO And Families of American Servicemen.
Girl group THE STUNNERS, ages 16-19, have written and released a holiday song with a message, and a purpose. "Santa Bring My Soldier Home," a soaring ballad produced by mega hit-maker Desmond Child (Bon Jovi, Aerosmith, Ricky Martin, Katy Perry), is a tribute to all of the servicemen and women who can't be with their loved ones this holiday season.
Fans can download the song for free at http://www.santabringmysoldierhome.com. The site encourages users to donate to the USO, benefiting military families. The group will be performing the song on various TV and radio shows, and making concert appearances throughout the holidays.
The Stunners penned the song after seeing photos of US soldiers being deployed overseas. "Those images really made us think about the sacrifices these men and women make for our country. The idea really grew from there," says group member Tinashe Kachingwe.
Adds member Hayley Kiyoko: "We're all very close to our families, and to us, that's what the holidays are about. This song is our gift to the military families who can't be together this holiday season."
After hearing the demo, Child knew immediately that the project was special. Says Child: "I heard the rough mix and realized that five teenagers were inspired by the situation of these soldiers. Their desire to make a difference, to really do something, touched me profoundly. This song has one of those messages that gets you from the very first listen."
In addition to production by Child, "Santa Bring My Soldier Home" boasts co-production and mixing by Corey Rooney (Jennifer Lopez, Michael Jackson).
The Stunners hope the song will move people to contribute to the USO. Fans can donate at www.uso.com, or via mobile donation system mGive using a special text number listed on the site. The USO (United Service Organizations) lifts the spirits of America's service members and military families. They provide a touch of home to troops wherever they serve through centers at airports and military bases around the world, top quality entertainment and innovative programs and services tailored to meet troop needs. They also provide critical support to those who need it most, including forward-deployed troops and their families, wounded warriors and their families, and the families of the fallen.
The Stunners self-titled debut EP was released on October 20 through RED/VCR Music. The group has been featured on TV's EXTRA, and other high-profile media outlets. They will release a full-length CD next year, and are developing a TV series with Lionsgate (NYSE: LGF), the leading next generation studio.
The White Stripes - Under Great White Northern Lights Box Set
In the summer of 2007, The White Stripes embarked on a cross-country Canadian tour to accomplish their goal of performing in every province and territory across the expansive northern nation. Now, the band has announced the release of a limited edition box set to commemorate that journey with a series of work capturing the striking live moments and poignant off-stage interactions of one of the world's most enigmatic bands. This captivating collection contains a DVD of the Emmett Malloy-directed documentary film, Under Great White Northern Lights, a live DVD of the band's 10th Anniversary show, Under Nova Scotian Lights, as well as a CD/double LP of 16 live tracks, exclusive 7 inch, hard cover book of photographs and a silk-screened print. Although the package will not be available until March 16, 2010, pre-sale orders will be accepted starting today from http://whitestripes.com/ugwnl_boxset/. Further details on these items are below.
All orders placed before January 1st will receive a special holiday card from the band, as well as three exclusive live mp3's of tracks from the 10th Anniversary show instantly upon ordering: "A Martyr For My Love For You," "Hotel Yorba," and "Hello Operator." Additionally, members of The Vault, Third Man Records' groundbreaking online subscription service, will also be sent a special slip mat for their orders placed before the end of the year.

In celebration of the announcement of this limited edition box set, The White Stripes will be premiering footage of their song "Let's Shake Hands" on Myspace.com (myspace.com/thewhitestripes) worldwide at 9 pm PST tonight. This performance of the song was filmed at the band's 10th Anniversary show and can be seen on the DVD Under Nova Scotian Lights.
Limited Edition Box set includes:
0.DVD of the documentary film The White Stripes Under Great White Northern Lights, directed by Emmett Malloy (92 minutes)
0.DVD of the band's 10th Anniversary show, The White Stripes Under Nova Scotian Lights, directed by Emmett Malloy (135 minutes)
0.The first-ever official live album from The White Stripes, featuring 16 songs recorded at various shows during their 2007 Canadian tour on both vinyl and CD. The double LP comes pressed on 180 gram black vinyl packaged in a gatefold jacket with a 6 panel insert unique to the box set. The CD accompanies the film and Anniversary show DVDs in a special 7" square 3 panel folder along with a 24 page bound booklet and slipcase.
Track Listing:
1. Let's Shake Hands
2. Black Math
3. Little Ghost
4. Blue Orchid
5. The Union Forever
6. Ball and Biscuit
7. Icky Thump
8. I'm Slowly Turning Into You
9. Jolene
10. 300 MPH Torrential Outpour Blues
11. We Are Going to Be Friends
12. I Just Don't Know What to Do With Myself
13. Prickly Thorn, But Sweetly Worn
14. Fell In Love With a Girl
15. When I Hear My Name
16. Seven Nation Army
0.7 inch vinyl featuring Icky Thump (Live) and The Wheels On The Bus (Live). Two versions available with different artwork and color of vinyl depending on your country of residence.
0.208 page hard cover book containing photographs of the Canadian tour shot by Autumn de Wilde with a foreword by Jim Jarmusch.
0.1 of 6 different silk-screened prints designed by Rob Jones.
Fans will also be able to purchase standalone pieces of this set, including the film on DVD as well as CD and double vinyl of the 16 tracks on March 16, 2010, while the books will be available to purchase independently at a later date. The box set will be the only place you will be able to get the limited edition 7", silk-screened print and Under Nova Scotian Lights 10th Anniversary show DVD.

The White Stripes Under Great White Northern Lights, one of the highlights in this impressive collection of work, premiered at the Toronto Film Festival in September to rave reviews. This visually stirring and emotive feature length film celebrates the band's 10 year history, documenting the band playing to crowds in towns of all sizes across the Great White North - from traditional venues to matinee gigs at unusual locations such as a bowling alley, a boat and even on a city bus - culminating in a momentous 10th Anniversary show at the historic Savoy Theatre in Glace Bay, Nova Scotia.
Some praise for the documentary:
"...reveals as much about Canadian culture as it does about Jack and Meg White's friendship, work ethic and music." - RollingStone
"One-of-a-kind scenes...that make this film a true gem." - Spin
"...a startlingly intimate look at the mysterious dynamic between Jack and Meg." - LA Times
"...capture[s] the quirkiness of the entire tour, but also the intense emotional moments." - Reuters
"...a pure blast of the fierce joy of live rock 'n' roll." - MSN
iTunes Picks Angel Taylor's Love Travels As 2009's Best Pop Album

It's been a great year for singer-songwriter Angel Taylor, whose critically acclaimed debut album, Love Travels, has just been named iTunes Best Pop Album of 2009. Love Travels has been called "one of the top debuts of the year" by the Associated Press, and received three-out-of-four stars in People magazine, which announced Taylor as, "fresh and honeydew-sweet... her glowing pop tunes will win over fans of both Corinne Bailey Rae and Colbie Caillat." Essence magazine raves that Taylor is "heaven sent" and that her "graceful piano driven songs about finding, losing and yearning for love are sure to resonate with audiences of all ages." The music industry's bible, Billboard magazine, has also hailed the 21-year-old singing/songwriting sensation as one of their "15 Artists to Watch in 2009," and The New York Post agrees, ranking her amongst their "6 Who'll Sizzle" this year.

VH1 has put their stamp on Angel Taylor, including her in their prestigious "You Oughta Know" new artist campaign starting in January 2010. VH1 will also debut Taylor's first music video, "Like You Do." Previous "You Oughta Know" artists include, Amy Winehouse, The Fray, and Columbia Records label-mate, Adele.

Prior to the album's widespread release in September 2009, "Make Me Believe" was chosen as an iTunes Single of the Week and has already been downloaded more than a half-million times, with Taylor also being heard on prime time television hits "One Tree Hill" and "90210." She spent the spring opening for Adele and Brett Dennen, and started her summer on the road with Kate Voegele before embarking on a fall tour with Brandi Carlile and Five For Fighting. Taylor made her national television debut on October 17, 2009 when she performed her single, "Like You Do," on the Ellen DeGeneres show.

Produced by Mikal Blue [Colbie Caillat], Love Travels marks Taylor's coming of age as a songwriter. The 12 tracks are more than just personal missives that she has set to music; they are living and breathing experiences that everyone has shared. The names may change, but the stories remain the same.


Popular in the Community