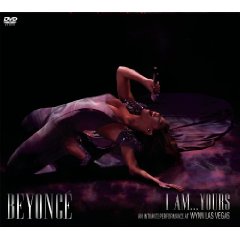 "You had me at hello," sings Beyoncé Knowles as the soul-pop diva embraces scores of outreached hands while working her way to the stage through a crowd of 1500 at the Wynn Hotel's Encore Theater in Las Vegas. Thus begins her new two-hour plus concert CD/DVD I Am...Yours taped in August that is meant to be an intimate, elegant framing of the singer, although that intimacy will seem super-sized when the program is broadcast on ABC-TV this Thanksgiving. This "concert" is a staged, stripped-down reconfiguration by Beyoncé and co-director Nick Wickham (filmed by Ed Burke) of her current touring extravaganza that covers her biggest hits (like "Halo," "Sweet Dreams," and "If I Were A Boy"), and even shoehorns-in a Destiny's Child tribute as she whisks us through her career highlights in two tidy acts plus an "intermission" that is nothing of the sort (it's a jazz medley with a dance payoff).
Beyoncé's performances are backed by her Suga Mama ensemble plus an orchestra whose satin interpretations pump lush over pomp (much like her Thierry Mugler wardrobe), and the retro, mood-lit platform casts the vocalist in a Diana Ross light--a comparison to the latter artist being an obvious intention. Beyoncé's I Am...Yours is a satisfying decade-and-then-some retrospective that reveals the artist's interesting back story with a personal warmth not always emphasized by our current cast of pop stars.
Start Here: "Halo," "Destiny's Child Medley," and "That's Why You're Beautiful"
CD 1
1. Hello
2. Halo
3. Irreplaceable
4. Sweet Dreams Medley
5. If I Were A Boy
6. Scared Of Lonely
7. That's Why You're Beautiful
8. Satellites
9. Resentment
10. Déjà Vu Jazz Medley
11. Déjà Vu
CD 2
1. I Wanna Be Where You Are
2. Destiny's Child Medley
3. Work It Out
4. '03 Bonnie & Clyde
5. Crazy In Love
6. Naughty Girl
7. Get Me Bodied
8. Single Ladies (Put A Ring On It)
9. Finale
DVD / Blu-ray
Act One - Intimate...
Scene One: Hello Introduction
Scene Two: Halo
Scene Three: Irreplaceable
Scene Four: Sweet Dreams Medley
Scene Five: If I Were A Boy
Scene Six: Scared of Lonely
Scene Seven: That's Why You're Beautiful
Scene Eight: Satellites
Scene Nine: Resentment
Intermission
Déjà Vu Jazz medley
Déjà Vu
Tap Sequence
Act Two - Storytelling
Scene One: I Wanna Be Where You Are
Scene Two: Destiny's Child
Scene Three: Beyoncé
Scene Four: Single Ladies (Put A Ring On It)
Finale And End Credits
Bonus Feature
What Happens In Vegas... (Behind The Scenes)
FYI - Beyoncé just won Best R&B/Soul Female Artist at the 2009 American Music Awards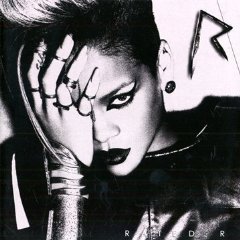 Debuting tonight on the ABC-TV network is the Anthony Mandler-directed video for "Russian Roulette," the first single from Rihanna's new studio album, Rated R. The track--produced by label mate Ne-Yo--as well as the album, deviate from the path A Girl Like Me and Good Girl Gone Bad hip-hopped along, though familiar collaborators such as Chase & Status, Justin Timberlake, Tricky Stewart, and others reappear to lend support.
In many ways, especially after Chris Brown's alleged brutal attack earlier this year, the 21-year-old has every right to let loose the angry, and Rated R takes a walk on the primal side to achieve this. Actually, if these songs were any darker or more pointed in attitude, this album might have had to have been titled Rated NC-17. In some places, her Caribbean accent seems thicker than on her previous albums, perhaps due to this being more of a catharsis than a stab at six or more U.S. pop hits. "Hard" hits exactly in that way, though the Timberlake original "Cold Case Love" resides on the other end of the emotional spectrum.
Of course, guests include many producer/songwriter contributors, plus the eternally cool Slash adds a solid but whack guitar part on "Rockstar 101," an absurd track that normally wouldn't fit on an album like this but does because almost no musical stone is left unturned. From this perspective, Rated R succeeds for its guts and spilling of them, and it's nice that Def Jam allowed this artist to record the album she needed to as opposed to another volume of potential greatest hits.
Start Here: "Mad House," "Russian Roulette," "Cold Case Love," and "Stupid In Love"
1. Mad House
2. Wait Your Turn
3. Hard
4. Stupid In Love
5. Rockstar 101
6. Russian Roulette
7. Fire Bomb
8. Rude Boy
9. Photographs
10. G4L
11. Te Amo
12. Cold Case Love
13. The Last Song
Buddy Holly - Not Fade Away: The Complete Studio Recordings And More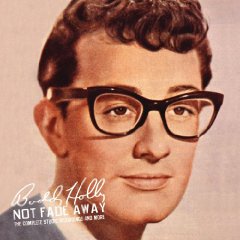 With this six-disc box set, the final and best statement has been made on the music of Buddy Holly. Over the 203 preserved tracks, compilation producer and Holly authority Andy McKaie unites the early rocker's Brunswick, Coral, and Decca recordings with quite a few alternate takes, previously unreleased leftovers, every classic hit and b-side, and those now-famous apartment tapes...in short, everything. Additional remastering has been done expertly by sonic genius Erick Labson, and the 80-page book features annotations, important photos, and liner notes that couldn't be better by rock 'n' roll aficionados and wordsmiths, Billy Altman and Bill Dahl.
This is the type of box that deserves a Grammy, regardless of it being a mere six CDs as opposed to the dense, over-100-disc gatherings of past awards. Buddy Holly is not arguably one of the most important chapters of and most influential figures in music's recorded history, he simply is. And there's also no argument that Buddy Holly is the creative inspiration for generations of musicians both famous and obscure that have followed. If by some bizarre reason there isn't at least a nomination, then the oh-so-important Grammy board needs to collectively resign.
Start Here: Anywhere You Want
CD 1
1. My Two-Timin' Woman
2. I'll Just Pretend
3. Take These Shackles From My Heart
4. Footprints In the Snow
5. Flower Of My Heart
6. Door To My Heart
7. Soft Place In My Heart
8. Gotta Get You Near Me Blues
9. I Gambled My Heart
10. You And I Are Through
11. Down The Line
12. Baby, Let's Play House
13. Down The Line
14. You And I Are Through
15. Baby, It's Love
16. Memories
17. Queen Of The Ballroom
18. Memories
19. Moonlight Baby (aka Baby, Won't You Come Out Tonight)
20. I Guess I Was Just A Fool
21. Don't Come Back Knockin'
22. Love Me
23. Midnight Shift
24. Midnight Shift (false start/alternate)
25. Don't Come Back Knockin' (alternate)
26. Don't Come Back Knockin'
27. Blue Days, Black Nights
28. Love Me
29. Baby Won't You Come Out Tonight
30. I Guess I Was Just A Fool
31. It's Not My Fault
32. I'm Gonna Set My Foot Down
33. Changin' All Those Changes
34. Rock-A-Bye Rock
35. Because I Love You
CD 2
1. Rock Around With Ollie Vee
2. I'm Changin' All Those Changes
3. That'll Be The Day
4. Girl On My Mind
5. Ting-A-Ling
6. Rock Around With Ollie Vee
7. Modern Don Juan
8. You Are My One Desire (false start)
9. You Are My One Desire
10. Gone (incomplete)
11. Gone
12. Gone (alternate take)
13. Have You Ever Been Lonely (incomplete alternate)
14. Have You Ever Been Lonely (alternate)
15. Have You Ever Been Lonely
16. Brown-Eyed Handsome Man
17. Good Rockin' Tonight
18. Rip It Up
19. Blue Monday
20. Honky Tonk
21. Blue Suede Shoes
22. Shake Rattle And Roll (partial)
23. Bo Diddley
24. Ain't Got No Home
25. Holly Hop
26. Brown-Eyed Handsome Man
27. Bo Diddley
28. I'm Looking For Someone To Love
29. That'll Be The Day
30. Last Night (undubbed)
31. Maybe Baby (first version)
32. Words Of Love
33. Mailman Bring Me No More Blues
34. Not Fade Away (alternate overdub)
35. Not Fade Away
36. Everyday
CD 3
1. Ready Teddy
2. Valley Of Tears
3. That'll Be The Day (greetings to Bob Thiele)
4. That'll Be The Day (greetings to Murray Deutsch)
5. That'll Be The Day (greetings to Bill Randle)
6. Peggy Sue (alternate take)
7. Peggy Sue
8. Listen To Me
9. Oh Boy (undubbed)
10. I'm Gonna Love You Too
11. Send Me Some Lovin' (undubbed)
12. It's Too Late (undubbed)
13. Oh Boy
14. An Empty Cup (And A Broken Date)
15. Rock Me My Baby
16. Rock Me My Baby (alternate)
17. You've Got Love
18. Maybe Baby
19. Send Me Some Lovin'
20. It's Too Late
21. Tell Me How
22. Little Baby
23. (You're So Square) Baby I Don't Care
24. Look At Me
25. Mona (rehearsal)
26. Mona (version 1)
27. Mona (version 2)
28. Mona (version 3)
29. Rave On
30. That's My Desire (two false starts plus undubbed master)
31. Well...All Right Well...All Right
32. Fool's Paradise (alternate take 1)
33. Fool's Paradise (alternate take 2)
34. Fool's Paradise (undubbed master)
CD 4
1. Think It Over (false start & rehearsal take)
2. Think It Over (undubbed alternate)
3. Think It Over (undubbed master)
4. Take Your Time (false start & alternate take)
5. Take Your Time
6. Fool's Paradise
7. Think It Over
8. Lonesome Tears
9. It's So Easy
10. Heartbeat
11. Love's Made A Fool Of You (undubbed)
12. Early In The Morning
13. Now We're One (fragment)
14. Now We're One
15. Come Back Baby
16. Reminiscing (undubbed)
17. True Love Ways (mono mix)
18. True Love Ways (stereo mix)
19. It Doesn't Matter Anymore (mono)
20. It Doesn't Matter Anymore (stereo)
21. Raining In My Heart (mono)
22. Raining In My Heart (stereo)
23. Moondreams (mono)
24. Moondreams (stereo)
25. You're The One
26. That's What They Say (w/fragment)
27. What To Do
28. Peggy Sue Got Married
29. That Makes It Tough
30. Crying, Waiting, Hoping
31. Learning The Game
32. Wait Till The Sun Shines Nellie
CD 5
1. Slippin' And Slidin' (slow version #1)
2. Slippin' And Slidin' (slow version #2)
3. Slippin' And Slidin' (fast version)
4. Drown In My Own Tears (fragment)/Buddy & Maria Elena talking in apartment
5. Dearest (alternate take)
6. Dearest
7. Untitled Instrumental (a/k/a Buddy's Guitar/listed as "Tremolo Instrumental")
8. Love Is Strange
9. Smokey Joe's Café
10. Peggy Sue Got Married
11. Crying, Waiting, Hoping
12. That's What They Say (version 2)
13. What To Do
14. Learning The Game
15. That Makes It Tough
16. Baby Won't You Come Out Tonight
17. Because I Love You
18. Changin' All Those Changes
19. I'm Gonna Set My Foot Down
20. It's Not My Fault
21. Rock-A-Bye Rock
22. Brown-Eyed Handsome Man
23. Bo Diddley
24. What To Do
25. Peggy Sue Got Married
26. Crying, Waiting, Hoping
27. That Makes It Tough
28. That's What They Say
29. Learning The Game
30. Reminiscing
31. Wait Till The Sun Shines Nellie
32. Dearest (version 2)
33. Slippin' And Slidin' (slow version 2)
CD 6
1. Baby Let's Play House (I Wanna Play House With You)
2. Down The Line
3. Wait Til' The Sun Shines Nellie (overdub version 2)
4. Reminiscing
5. Flower Of My Heart
6. Door To My Heart
7. Soft Place In My Heart
8. I Gambled My Heart
9. Gotta Get You Near Me Blues
10. Gone (version 3)
11. Rip It Up
12. Honky Tonk
13. Blue Suede Shoes
14. Shake Rattle And Roll
15. You And I Are Through
16. Baby It's Love
17. Memories
18. Queen Of The Ballroom
19. Love's Made A Fool Of You
20. Wishing (mono)
21. Wishing (stereo)
22. Maybe Baby
23. That's My Desire
24. Have You Ever Been Lonely (version 1)
25. Good Rockin' Tonight
26. Blue Monday
27. Ain't Got No Home
28. Holly Hop
29. Slippin' And Slidin'
30. You're The One
31. Love Is Strange
32. (Ummm, Oh Yeah) Dearest
33. Smokey Joe's Café
The Doors - Live In New York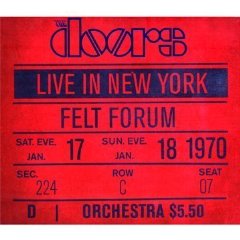 Appearing in New York City for the last time before Jim Morrison died, The Doors blues-rocked for four nights at the Felt Forum, a smaller-than-the-Garden arena whose acoustics were preferred by the band after having played the larger venue in the previous year. Live In New York is a six-CD sprawl that presents all of the performances, those concerts having gone down as some of the band's most significant live works (over the years, only a few selected songs have been released across their box set and the album Absolutely Live).
These shows included takes on classic blues numbers and some of their oldest material as the band revisited their roots for revitalization, and the concerts also launched songs such as "Roadhouse Blues," "Ship Of Fools," and "Peace Frog" whose studio counterparts would later make up the core of the Morrison Hotel album. Each night's set list was altered at the time for freshness (the last night including John Sebastian sitting-in), and with Bruce Botnick's new mixes, the recordings themselves sound as immediate as if you were at the Forum during those legendary concerts.
Start Here: "Roadhouse Blues," "Light My Fire," "Little Red Rooster," and "Back Door Man"
CD 1
Start Of Show
Roadhouse Blues
Ship Of Fools*
Break On Through (To The Other Side)*
Tuning
Peace Frog
Blue Sunday
Alabama Song (Whisky Bar)
Back Door Man*
Love Hides*
Five To One*
Tuning/Breather
Who Do You Love
Little Red Rooster
Money
Tuning
Light My Fire*
More, More, More
Soul Kitchen*
End Of Show
CD2
Start Show 2
Jim How Ya Doing?
Roadhouse Blues
Break On Through (To The Other Side)*
Ship Of Fools
Crawling King Snake
Alabama Song (Whisky Bar)
Back Door Man*
Five To One
Pretty Neat, Pretty Good
Build Me A Woman
Tuning/Breather
Who Do You Love*
Tuning/Breather
Wild Child*
Cheering/Tuning
When The Music's Over
CD3
Tuning/Breather
Light My Fire*
Hey, Mr. Light Man!
Soul Kitchen*
Jim's Fish Joke
The End
End Of Show
CD 4
Start Show 3
Roadhouse Blues*
Ship Of Fools*
Break On Through (To The Other Side)*
Tuning/Breather
Universal Mind*
Alabama Song (Whisky Bar) - False Start*
Alabama Song (Whisky Bar)*
Back Door Man*
Five To One
Tuning/Breather
Moonlight Drive
Who Do You Love*
Calling Out For Songs
Money*
Tuning/Breather
Light My Fire
More, More More
When The Music's Over*
Good Night - End Show
CD 5
Start Show 4
Roadhouse Blues*
Peace Frog*
Alabama Song (Whisky Bar)*
Back Door Man
Five To One
We Have A Special Treat
Celebration Of The Lizard
Alright Let's Boogie
Build Me A Woman
When The Music's Over*
More, More, More
CD 6
Soul Kitchen*
For Fear Of Getting Too Patriotic
Petition The Lord With Prayer
Light My Fire
Only When The Moon Comes Out
Close To You
The Encore Begins
Rock Me*
What To Do Next?
Going To N.Y. Blues*
Tuning/Breather
Maggie M'Gill*
Tuning/Breather
Gloria*/End Of Show
Susan Boyle - I Dreamed A Dream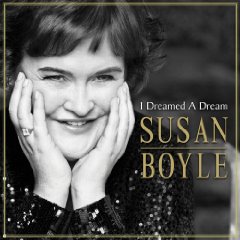 It was lots of fun over this past year to read everyone's quick-witted and dim-witted blogs about Scottish singer Susan Boyle, the 48-year-old housewife who amazed millions of British and YouTube viewers with her renditions of "Cry Me A River" and Les Misérables' "I Dreamed A Dream." That title says almost everything you need to know about the self-proclaimed "wee-wifey," Boyle successfully having challenged convention while following her heart's desire by appearing on Britain's Got Talent. And when the middle-aged pop idol appeared on America's Got Talent, her eerily good take on The Rolling Stones' "Wild Horses" earned her a standing ovation, that performance expanding her presence in U.S. households beyond the internet.
This new album--naturally, titled I Dreamed A Dream--features a few of Boyle's most internationally popular reworks including the above-mentioned as well as covers of John Stewart's original "Daydream Believer" (the old Monkees and Anne Murray hit), and a touching version of Madonna's "You'll See." With faith playing a major role in her personal life, Susan Boyle's "Amazing Grace," "Silent Night," and "How Great Thou Art" were necessary inclusions, as were the self-confident and assertive "Who I Was Born To Be" and the song "Proud" that practically is an anthem for anyone who is, well, proud of their lives.
This will be an album to watch because it could very well shake up the Top Ten based on interest from mature and Christian demos as well as the extremely curious. You've got to root for the underdogs when they're this honest about their convictions, and Susan Boyle is like a singing Rocky of her generation on both sides of the pond. Sure, her vibrato warbles in spots, her read sounds a little lost when tackling lyrics that get wordy, and this will be a tough listen for anyone without ears for the easy listening format. But makin' rekkids is a new experience for Boyle, and she did it pretty well this time out without a trace of Mrs. Elva Miller on the microphone. In a year when Barbra Streisand can have one of the biggest albums of her career, Susan Boyle comes to the plate ignoring the signals. Watch her point the bat at us with an evil grin then proceed to hit a homer.
Start Here: "Wild Horses," "You'll See," and "I Dreamed A Dream"
1. Wild Horses
2. I Dreamed A Dream
3. Cry Me A River
4. How Great Thou Art
5. You'll See
6. Daydream Believer
7. Up To The Mountain
8. Amazing Grace
9. Who I Was Born To Be
10. Proud
11. The End Of The World
12. Silent Night
An Interview With The Jimmies' Ashley Albert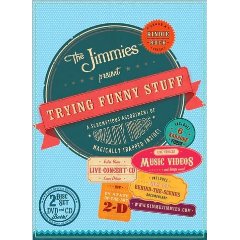 Mike Ragogna: How would you best describe a "Jimmie"?
Ashley Albert: "Jimmies," in the northeast, are sprinkles that you put on ice cream. "The Jimmies" had become my company name...what I like about it is that their only purpose on ice cream is to add a little extra fun. They have no nutritional value, they're not even particularly delicious, and there's no reason for them to be there except if you want to add a tiny bit more fun than what ice cream already offers. So I like the idea that The Jimmies are just there for a little extra fun. Make that a lot more fun.
MR: Yeah, and you can't say the word without smiling at the end of it. Nicely played!
AA: I'm a namer, like in general, and people come to me when they have babies, new businesses, books, or products, that's my thing. I would actually start a company that did that if I could think of a good enough name for it.
MR: There seem to be many Jimmies, but it's also your persona. How does that duplicity work in Jimmies World?
AA: Originally, when The Jimmies came about, it was just me. I got a record producer and made the album with him, then I had auditions in New York and cast the band. I'd never been in a band before, I didn't know anything, I just sort of went like, "I don't know, what's in a band...a bass player, a keyboard player, a drummer," so I sort of picked those instruments. It's always been a work-for-hire kind of thing, and I now have a stable of great guys I can call upon at any moment.
MR: You have a couple of different projects, the DVD/CD Trying Funny Stuff and the older CD Make Your Own Someday that's been out for a while, right?
AA: Yeah, that's been out for about three years, but it's never gotten any national distribution. So once I made this deal with Barnes & Noble, we decided to re-release it. It had been a pretty underground record, and it won a bunch of "Best Album Of The Year" raves and a bunch of awards, but really, only the parents who were in the super-super in-the-know had heard the record. Since the DVD was sort of a companion piece to the CD because it's all the music from it, we decided to release them both at the same time.
MR: So Barnes & Noble saw the genius of your Jimmies?
AA: Yeah, which is incredible because we did it independently. Usually, a big place like Barnes & Noble isn't interested in working with an independent artist, they want to work with major labels and distributors. It's very difficult, in general, for an independent artist to get brick-and-mortar stores. They really only want the franchise stuff that's on TV that's already guaranteed to sell. It's amazing, they have it on their overheads, and someone told me when they walked in the store, we were playing on their sound system. We're their "gift" buy, and they even have us on their end-cap...they've really gotten behind it. I get on the phone with them all the time, and for such a big company, it feels very personal and they're good people. So, I'm completely blown away, excited, and grateful that they're taking a chance on us.
MR: It's like you're trailblazing for independent artists as you elevate your presence there.
AA: Now we just have to get people to buy it so that more independent artists will be able to get in there!
MR: And even with a Barnes & Noble backing projects like these, artists like yourself who create children's music have a tough go of it since parents don't necessarily know what they're looking for. Like for most genres, touring seems to be the best way to support a project.
AA: We have a great booking agent, the same as The Imagination Movers, which is amazing. There are times when people call for them and when they can't afford paying for them, they kind of slide us into that slot if they still need a musical act.
MR: Who takes care of the details for your tours?
AA: I do everything myself from the negotiations of the contract to packing up the bubble machine to getting us hotel rooms.
MR: Taking the show that's on Trying Funny Stuff must be interesting to recreate on the road since there's a lot going on.
AA: It's a tremendous effort to get out there and tour, and like you said, it's so hard to get the awareness out to parents, even to come out to the shows. They just don't have time...if it's not on TV or they just don't know about it, you can't ask parents to do the investigative research to find out. So, I'm focusing on trying to find alternative ways to get in front of families, and that's more effective than doing one-off shows here and there.
MR: Making music for children that aren't super-young also must be challenging.
AA: The challenge for us, and also one of the great things, is that we're one of the few kid bands out there that are making music for elementary school-aged kids. A lot of the kids bands are aiming at the younger toddlers and pre-school kids, and there's not a lot of contact made with elementary school kids. The problem is the older kids will watch the young stuff until they get old enough, and then they move on to the Hannah Montanas and Jonas Brothers of the world. So, no one has to make music for that age group, they just get buckled-in, they just have to hook the older kids and the younger kids, then the middle kids will follow.
MR: Is there has to be a lot of satisfaction in directing music at that age group?
AA: I love that we're doing it for them, they're the best kids. They're not only the ones that are still young enough to be silly and laugh and have fun, but they're old enough that they have a sense of humor, a sense of language, and they're able to follow the nuances of puns and my style of ridiculousness.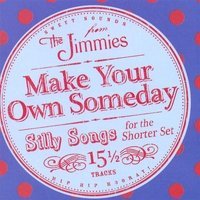 1. What's That Sound?
2. Bedhead
3. Spanimals
4. The Peanut Butter Polka
5. Cool To Be Uncool
6. Do The Elephant
7. Teeth
8. What's On Your Shirt?
9. Punxsutawney Phil
10. Somebody's Birthday
11. Taddy
12. Huptsha Huptsha
13. Soaper the Scaredy-Bot
14. Tuesday Blues
15. Googlie Mooglie
INTERMISSION: Hey, check out the new Paramore video, "Brick By Boring Brick"!:
MySpace Music Invites Fans to GET CLOSE TO LADY GAGA with New Contest
Site Premieres New Album from Adam Lambert Titled For Your Entertainment
Win a chance to meet Lady Gaga, attend her rehearsal and "Monster Ball" concert in Boston all while capturing it on camera. MySpace Music announced today an exclusive contest with international pop superstar Lady Gaga to win the chance to film the first U.S concert of her tour on December 1st in Boston, MA; the video will be edited and featured on the homepage of MySpace. The Fame Monster herself will be choosing fan-submitted videos claiming why they deserve to "get close" to the superstar. The contest kicks off today at Lady Gaga's official MySpace profile at: http://www.myspace.com/ladygaga. The chosen fans will be flown to Boston, equipped with cameras, to document her performance and share their experiences. The day they arrive they will head to the venue to watch Lady Gaga rehearse and meet and interview her. At the end of the night, the winners will hand in their cameras and their footage will be edited together into a comprehensive concert piece fully shot by her biggest fans and, in essence, creating three new official live videos for Lady Gaga.
In addition to the aforementioned contest, music fans can listen to Adam Lambert's highly anticipated debut album, For Your Entertainment, in full and for free exclusively on MySpace Music (http://www.myspace.com/adamlambert) and iLike (http://www.iLike.com/adamlambert) . The exclusive album stream will be available on MySpace Music and iLike a week in advance of For Your Entertainment's release on November 23, 2009.
GLEEFUL NEWS! - CAST VERSIONS OF "BOOTYLICIOUS," "IMAGINE," "TRUE COLORS," AND CAST MASH-UP OF "HAIR/CRAZY IN LOVE," AMONG SONGS FEATURED IN "GLEE" WEDNESDAY, NOVEMBER 25, ON FOX
Columbia Records and Twentieth Century Fox Television today released select songs on iTunes featured in this week's episode of GLEE, including cast versions of Beyonce's "Bootylicious," John Lennon's "Imagine," Cyndi Lauper's "True Colors" and a cast mash-up of "Hair" from the musical and Beyonce's "Crazy in Love."
In this week's all-new episode, airing Wednesday, Nov. 25 (9:00-10:00 PM ET/PT) on FOX, WILL (Matthew Morrison) is concerned that SUE (Jane Lynch) is up to no good, so he pays a visit to an instructor of a competing Glee Club (guest star Eve) to see what information she might be leaking, which leads to the club getting a look at their hair-rising competition. Meanwhile, KURT (Chris Colfer) gives RACHEL (Lea Michele) a makeover to impress FINN (Cory Monteith), but he may have ulterior motives in the "Hairography" episode of GLEE.
In addition to these new songs, cast versions of Diana Ross and Lionel Richie's "Endless Love," The Pretenders' "I'll Stand By You," Jennifer Paige's "Crush," Paul Anka's "(You're) Having My Baby," Bill Withers' "Lean On Me," cast mash-up of The Police's "Don't Stand So Close To Me" with Gary Puckett and the Union Gap's "Young Girl," Ike & Tina Turner's "Proud Mary," "Defying Gravity" from Broadway's "Wicked," Billy Idol's "Dancing With Myself," Young MC's "Bust A Move," Neil Diamond's "Sweet Caroline," Sisqo's "Thong Song," Jill Scott's "Hate On Me," The Supremes' "You Keep Me Hangin' On," Jordin Sparks and Chris Brown's "No Air," Avril Lavigne's "Keep Holding On," Queen's "Somebody To Love," Heart's "Alone," Journey's "Don't Stop Believin'," "Maybe This Time" from "Cabaret," Céline Dion's "Taking Chances," Rihanna's "Take A Bow," Carrie Underwood's "Last Name," Jazmine Sullivan's "Bust Your Windows," Kanye West's "Gold Digger," REO Speedwagon's "Can't Fight This Feeling," Salt-N-Pepa's "Push It" and Duffy's "Mercy," as well as mash-ups of Bon Jovi's "It's My Life" with Usher's "Confessions Part II" and Beyoncé's "Halo" with Katrina and the Waves' "Walking on Sunshine," are also available for purchase via all digital service providers.
"Glee: The Music, Volume 1," which features music heard in the first season of the series, is currently available for purchase. Released on November 3, the album sold in excess of 113,000 units in its first week alone and garnered an astounding No. 4 spot on the Billboard Top 200 Album Chart. And for fans who just can't get enough of GLEE's high-spirited music, "Glee: The Music, Volume 2" hits stores on Tuesday, Dec. 8.
GLEE, the genre-defying new musical comedy series, follows an optimistic teacher who - against all odds and a malicious cheerleading coach - attempts to save McKinley High's Glee Club from obscurity while helping a group of aspiring underdogs realize their true star potential. Starring Dianna Agron, Chris Colfer, Jessalyn Gilsig, Jane Lynch, Jayma Mays, Kevin McHale, Lea Michele, Cory Monteith, Matthew Morrison, Amber Riley, Mark Salling and Jenna Ushkowitz, GLEE is produced by Ryan Murphy Television in association with 20th Century Fox Television. Ryan Murphy, Brad Falchuk and Ian Brennan are co-creators of the series. Murphy, Falchuk and Dante Di Loreto serve as executive producers, while Ian Brennan serves as co-executive producer.
NORMA JEAN PERFORMING NEW SONG "KILL MORE PRESIDENTS" ON THE EXPLOSIONS 2009 TOUR
CREATING LIVE MUSIC VIDEO VIA FAN VIDEO CLIPS WITH PRIZE PACK GIVEAWAYS
NEW ALBUM OUT SUMMER 2010
Calling all Norma Jean fans--get your video phones & flip cams charged and ready to record the live performance of their new song, "Kill More Presidents," for their current EXPLOSIONS 2009 Tour. The band is asking fans to use their portable digital cameras to film the band playing the new song live and then upload to a microsite after the show. Norma Jean will then create a live music video with all material coming from fan submissions.

For those who submit video clips, Norma Jean offer a hefty set of prizes from such sponsors as Monster Energy, Activision/Tony Hawk RIDE, Alternative Press Magazine, Denny's, Keep A Breast, Rockett Clothing and Hot Topic. Those without a digital video camera can still submit their email address for the Norma Jean mailing list and enter to win the second tier prize pack. Winners will be chosen at random.

Norma Jean will be playing "Kill More Presidents" live on the 2009 EXPLOSIONS tour with support from Horse The Band, The Chariot, and Arsonists Get All The Girls. A new Norma Jean album is slated for summer 2010.

Click here for the contest microsite: http://www.normajeannoise.com/video/
PATTY GRIFFIN TO RELEASE GOSPEL-INSPIRED ALBUM

DOWNTOWN CHURCH TO BE RELEASED JANUARY 26, 2010
EMI/Credential Recordings is excited to announce that Patty Griffin is set to release Downtown Church, a gospel-inspired set on January 26, 2010. It is Griffin's seventh album and was produced by Buddy Miller. Downtown Church was cut live in The Downtown Presbyterian Church on 5th Ave. N. in Nashville over the first week of January 2009 with Griffin singing from the pulpit. It features vocal support from Emmylou Harris, Raul Malo, Jim Lauderdale, Shawn Colvin, Mike Farris, Buddy and Julie Miller as well as Regina and Ann McCrary, whose father was one of the founding members of the legendary gospel group the Fairfield Four. The musicians are bassist Dennis Crouch and drummer Jay Bellerose who played with Miller in the Alison Krauss/Robert Plant touring band, as well as long-time Griffin guitarist Doug Lancio, Stuart Duncan on fiddle, John Deaderick on piano and Russ Pahl on steel guitar among others.

The idea for Downtown Church started with EMI's Peter York suggesting to Griffin that she should consider doing an album of gospel songs. His suggestion grew out of a version of "Waiting For My Child," the song Griffin recorded with Mavis Staples for the Oh Happy Day compilation. Griffin's answer was simple: "That would be great, as long as Buddy Miller is producing it." She continued, "I still feel like black gospel music, what's come out of the United States from slavery, is really the foundation for almost everything that I love. I'm talkin' Beatles and everything. That, to me, is just basic. The foundation."

When Miller and Griffin started work on the record, the producer sent the singer his favorite gospel songs. "Buddy dumped so many songs onto my iTunes that it crashed," Griffin said. "That was a year before we even started making the record. And then he sent me a couple of CDs. There were like 100 songs to start. It was pretty fun going through all that stuff; I got through the first 50 and had everything I needed."

Like Griffin's previous six albums, Downtown Church is stylistically diverse, focusing not only on the black gospel tradition but also on the white Southern gospel songs of Hank Williams and Alfred G. Karnes (one of the dozens of artists not named Carter or Rodgers who were recorded by Ralph Peer in Bristol, TN, during the late 1920s), and one beautiful nod to Hispanic gospel traditions. Alongside, two Griffin originals and a closing hymn attributed to St. Francis of Assisi round out the record.

Her own contributions came after listening to a goodly handful of Bob Dylan's religious work. "Buddy sent me a lot of that stuff," she says. "It's just not my point of view. The songs I'm singing, I'm just interpreting someone else's ideas, and I'm not tied to those ideas. Listening to Dylan, who's contemporary, and who's in my genre, if I may be so bold as to say that, I felt like I really had to write my own and put a couple in there that feel like me."

Griffin and her band will be touring throughout 2010.

LISA GERMANO NEWS AND MORE
Ida Con Snock is the 21st full length album by legendary rambler, cartoonist, and "outsider" folk singer, guitarist Michael Hurley. The new album features Hurley accompanied by NYC's premier acoustic experimentalists Ida. Ida Con Snock was recorded at Levon Helm Studios in Woodstock and Brooklyn Studios in Brooklyn engineered by Justioan Guip and Andy Taub respectively. Ida Con Snock is his second for the Gnomonsong label distributed by Revolver USA.

Ida's less-is-more finesse shines through brightly on these rich studio recordings, melding perfectly with Michael's inimitable playing, singing and songwriting. While many of his contemporaries have expired or are long past their creative prime, his muse is still at full strength. Many of these songs are already familiar to Hurley devotees: there are seven originals and five loving covers of 50's rock 'n' roll chestnuts, C&W and folk vintage here. They all bubble with laid back ease and tremolodic goodness.
Hurley's unque gifts as a songwriter are something that hasn't gone unnoticed by new a generation of respected musicians. In recent years, Michael was invited to tour with alt-country heroes Son Volt and Lucinda Williams. He's also shared bills with Smog and Palace Brothers; played with the Giant Sand rhythm section; and has appeared with and played on and been covered by Vetiver on record and onstage. His songs have also been covered by indie stars Cat Power and Yo La Tengo among many others.
http://www.snockonews.net/


Still harvesting and sustaining in the deep woods of Vermont , MV & EE (Matt "MV" Valentine, once the brawn of the Tower Recordings, and Erika "EE" Elder, CEO of Heroine Celestial Agriculture and The MV & EE Medicine Show) are following their 2008 release Drone Trailer with their feature-film-for-the-blind Barn Nova, which marks their return to the Ecstatic Peace! label.

MV & EE aspire to the sort of beautifully rewarding standard in their documented output that Sun Ra or The Grateful Dead achieved. It is with Ecstatic Peace! that their most consistent works have been born and continue reach fans with The Golden Road, their most constant band. Together with Doc Dunn (pedal steel, rhythm guitar, vocals, drums) and Mike Smith (Rickenbacker 4001, vocals) who appeared on Drone Trailer as well as J Mascis (drums, guitar, plate reverb) and Woods' Jeremy Earl (vocal, drums) they take you on the ride now known as Barn Nova and here they jam. Justin Pizzoferrato also appears contributing percussion, space echo and aiding once again at the controls. This album was recorded at MV & EE's own home studio "Maximum Arousal Farm" as well as their current local New England rooms of choice, "Bank Row" (an old mid 1900's bank) and J's home studio "Bisquiteen."
www.myspace.com/mveebummerroad
http://www.ecstaticpeace.com/kits/barnnova_kit.html

Magic Neighbor is the eighth album from singer/songwriter/multi-instrumentalist Lisa Germano. The album was recorded by Jamie Camdiloro at his home in Los Angeles, produced by Germano. Magic Neighbor is her third release on Young God Records.
Germano didn't approach the recording with the intent of "making a record;" she just needed to address these songs and decide whether they'd be meaningful to anyone besides her. Lacking the means of recording at home she began working with Camdiloro where they'd left off with in the maybe world tracking voice and piano. Besides new songs, Lisa revisited older compositions that'd never been rendered properly, including some that were among the first she'd ever written. She re-worked some lyrics, added more instrumentation, and then brought in Sebastian Steinberg (Soul Coughing) on acoustic bass and Greg Leisz on pedal steel. None of the arrangements were worked out beforehand; all the playing was improvised in the studio.
The final results are impossibly poignant and often heartbreakingly beautiful. Her production has a powerful, imaginative effect - seductive and truly magical. No one sounds like her. You get the feeling you're walking through her dreams as you listen. The intensity of feeling in her singing is a little frightening sometimes - it's like she's singing very close to your ear, leading you through her ultra emotional world. Magic neighbor was written about Germano's neighbor who put her two cats to sleep because... she wanted a new kitchen. But it's a positive record about trying to be happy with all the sad shit in the world, dealing with your own fights and being the mighty one who rises above it and contributes something of worth.
http://www.lisagermano.com/
www.myspace.com/lisagermano
http://younggodrecords.com/

"To start again, we're the lucky ones" opens "Shelter," the first track on The Swimmers' People Are Soft, and with it rings the sound of the band reinventing itself. Following the success of 2008's Fighting Trees--which garnered rave reviews from The Philadelphia Inquirer, Magnet, The Tripwire and Time Out Chicago--Steve and Krista Yutzy-Burkey, Scott French and Rick Sieber decided to start fresh by building a home studio from the ground up and recording a new album entirely on their own. The hard-won results feature intensely personal songwriting couched in distorted synthesizer hooks, crushing electric guitars and dark reverb swells. "It was a very focused and isolated time in the studio, and much of the grit was in the mixing process. These songs were darker and more intricate than the last record, and they demanded a very affected, refined sound," says lead singer/songwriter Steve Yutzy-Burkey.
Steve met his wife Krista, the Swimmers' keyboard player, when she was a harp performance major at a small liberal arts college in Indiana. At the same college, Steve played in various groups with bass player Rick Sieber, who was working towards a degree in Library Science. The three graduated and relocated to Philadelphia, where Steve, in response to an intriguing job listing, became a pipe organ tuner. There, he and drummer Scott French began recording music together as they repaired and tuned massive church organs. Their piano-pounding, vocal harmony-laden debut album was proclaimed by influential WXPN program director Bruce Warren to be " the best record not released in 2007," and Fighting Trees was subsequently picked up for release by MAD Dragon Records.
www.myspace.com/helloswimmers
http://theswimmers.com/press
www.maddragonrecords.com

What Will We Be is the sixth full length release from Devendra Banhart who exploded on the international music scene in 2002 quickly winning a coterie of devoted fans as well as an unusually hefty amount of critical kudos right from the outset. The new album was recorded in a sleepy Northern California town throughout the Spring of 2009 co-produced by Devendra and Paul Butler (from UK outfit Band Of Bees). What Will We Be is his label debut for Warner Brothers Records.
On What Will We Be Devendra attains the same clarity and focus as his groundbreaking solo work. The album is dominated by powerfully melodic, mid-tempo numbers played with relaxed expertise. But there's also ambitious stylistic range displayed with the inclusion of evanescent ballads like "Meet Me At Lookout Point," the epic riff-rocker "Rats" sprightly R&B flavored groovers on "Baby," and the sultry Latin-flavored stunner "Brindo," the Roxy-inspired "16th & Valencia, Roxy Music" among other pleasant surprises.
The basic recording line-up was Devendra on vocals and guitar; Noah Georgeson (producer of Banhart's last two albums, Little Joy, Bert Jansch and Joanna Newsome) on guitar and backing vocals, Greg Rogove (Priestbird) on drums and backing vocals; Luckey Remington (The Pleased) on bass and vocals and Rodrigo Amarante (Los Hermanos, Little Joy) on guitar and backing vocals. All the musicians involved played a part in arranging the songs recorded. Devendra and company took up residence in a private home, North of San Francisco, and set up a recording studio in it.
www.devendrabanhart.com
myspace.com/devendrabanhart
THE AVETT BROTHERS ANNOUNCE 2010 SPRING TOUR

AUSTIN CITY LIMITS PERFORMANCE ON JANUARY 23rd

The Avett Brothers are thrilled to announce their 2010 spring tour dates. With their album I and Love and You debuting at number 16 on the Billboard charts and selling over 40,000 units during the first week alone, these North Carolina rockers haven't shown any signs of slowing down.

On the heels of an extremely successful 2009 year with their critically acclaimed Rick Rubin produced album I and Love and You, and an extensive electrifying US tour, The Avett Brothers gear up to remind fans just how powerful a musical force this quartet is. Beginning their spring tour on February 4th in Athens, OH the band will travel throughout the US and end up in Cumberland, MD on May 28th (see below for full itinerary).

The Avett Brothers recently taped a special performance for PBS' Austin City Limits. Austin City Limits is the longest-running music series in American television history. With this performance, the Avett Brothers join the celebrated ranks with music legends and innovators from every genre including the likes of Willie Nelson, Johnny Cash, Jerry Lee Lewis and Fats Domino. This momentous performance will air January 23rd on PBS.

This year, the brothers have been wowing late night audiences across America with performances on The Late Show with David Letterman , The Late Late Show with Craig Ferguson and more recently, Late Night with Jimmy Fallon where they debuted their second single "Slight Figure of Speech."

The video for "Slight Figure of Speech" premieres today on the comedy site, FunnyOrDie.com, with a guest appearance by funny man Andy Daly. The video was directed by fellow North Carolina native Jody Hill, the brain behind HBO's cult classic "Eastbound & Down".

Paste Magazine hails I and Love and You as one of the "Best Albums of the Decade". The Boston Globe calls The Avett Brothers' live performance "electric energy of rock 'n' roll with the spirit of old-fashioned storytelling". The Village Voice affirms they play "with the ferocity of a punk band, strumming them out with a hard locomotive chug, hopping in place, harmonizing in one moment and screaming hoarsely in the next." Esquire Magazine proclaims, "If they are sex, they are sex with the lights on."

THE AVETT BROTHERS 2010 SPRING TOUR DATES:

1/01 Atlanta, GA, Fox Theatre
1/03 Dallas, TX, Granada Theater
2/24 Athens, OH, Ohio University
2/26 Ithaca, NY, State Theatre
2/27 Cleveland, OH, House of Blues
2/28 Indianapolis, IN, Egyptian Room @ Murat Centre
3/02 Columbia, MO, Missouri Theatre
3/03 Midwest City, OK, Rose State PAC
3/05 Minneapolis, MN, First Avenue
3/06 Milwaukee, WI, Turner Hall Ballroom
3/07 Chicago, IL, House of Blues
3/09 Ann Arbor, MI, Michigan Theater
4/17 Oakland, CA, Fox Theater
4/18 Reno, NV, Grand Sierra Theatre
4/20 Boulder, CO, Boulder Theater
4/21 Boulder, CO, Boulder Theater
4/23 Tucson, AZ, Rialto Theatre
4/24 Mesa, AZ, Mesa Arts Center/Ikeda Theater
4/25 Indio, CA, Stagecoach Festival
4/27 Sacramento, CA, Crest Theatre
4/28 Santa Barbara, CA, Arlington Theatre
4/29 San Diego, CA, House of Blues
5/02 Wilkesboro, NC, MerleFest
5/28 Cumberland, MD, Del Fest: Allegany County Fairgrounds

THE GUESS WHO'S SO LONG, BANNATYNE (1971) AND ROCKIN' (1972) REISSUED ON CD
LIMITED EDITION REISSUES CONTINUE ICONOCLASSIC RECORDS' ACCLAIMED GUESS WHO REISSUE PROGRAM
So Long, Bannatyne releases December 8, 2009; Rockin' releases January 12, 2010
Iconoclassic Records announces the latest releases in the label's continuing reissue program of the original albums by The Guess Who. SO LONG, BANNATYNE, originally released in 1971, will be reissued on December 8, 2009; ROCKIN' (from 1972) will follow on January 12, 2010. Both releases are now available for pre-order. Each album has been digitally remastered from the original master tapes by Grammy®-winning engineer Vic Anesini and features extensive liner notes with new interviews and song commentary from all of the living band members as well as producer Jack Richardson. Each CD edition is limited to 3,000 non-numbered limited edition copies.
The Guess Who proved they could weather a significant personnel change with 1970's commercially and artistically triumphant Share The Land, welcoming guitarists Kurt Winter and Greg Leskiw onboard as replacements for Randy Bachman, with the guitarists joining long-standing members Burton Cummings (vocals, keyboards), Jim Kale (bass) and Garry Peterson (drums). The 1971 follow-up to Share The Land, SO LONG, BANNATYNE saw the band branching out, embracing more eclectic and less polished and commercial material, much of it with a considerably darker hue than the band's earlier hits and heavily influenced by John Lennon's visceral Plastic Ono Band.
Unprepared at the time for the band's latest evolution, at the time of its release BANNATYNE was saddled by many fans and critics alike with the tag of being the beginning of the end for the band as a vital hit-making proposition. But to a fresh set of ears, a fascinating lyrical continuity emerges that reveals a band and its principal writers burdened by success, cynical, tormented; the result being a kind of ad hoc concept record centering around themes of desperation, anger, disillusionment, resignation and an interminable bleakness, topics frontman Burton Cummings would continue to explore throughout the rest of The Guess Who's lifespan.
Iconoclassic Records' limited edition reissue of SO LONG, BANNATYNE appends the contemporaneous "Albert Flasher" b/w "Broken" single as bonus tracks, making this the definitive edition of a landmark album.
ROCKIN', originally released in 1972, represented a back-to-basics album for The Guess Who. Recorded and mixed in just 4 1/2 days of what were often live-in-the-studio sessions, ROCKIN' captures the band at its loosest, cracking jokes, remembering songs from their youth, and demonstrating the casual brilliance that marked one of rock's finest and most underrated ensembles. Frontman Burton Cummings recalls ROCKIN' as "the best GW time of my entire GW time...we started getting drum sounds about noon on Monday, and we turned in the finished, mixed masters about 3 p.m. on Friday."
The twin-guitars of Kurt Winter and Greg Leskiw power one of The Guess Who's hardest rocking releases. Yet in true early '70s Guess Who fashion, ROCKIN' features an all-inclusive definition of rock, from the heavy riffs of opening track and single "Heartbroken Bopper," the '50s-styled boogies "Get Your Ribbons On" and "Running Bear," the harmony-driven "Smoke Big Factory," the socially conscious "Guns, Guns, Guns," and the psychedelic multipart suite that closed the original album.
A longtime cult-favorite among their fans, The Guess Who's ROCKIN' has been augmented with two previously unreleased bonus tracks exclusive to this limited edition release, including "Lost Sheep," a dry run for the "Hi Rockers!" medley that arguably betters its originally released counterpart.
Motion City Soundtrack Announce US Headlining Tour in Support of Major Label Debut
My Dinosaur Life - Due Out January 19th on Columbia Records

Tour Kicks-off with a Hometown Show on January 23rd at First Avenue in Minneapolis, MN

Motion City Soundtrack announce a US headlining tour in support of their highly-anticipated new album and major label debut - My Dinosaur Life - due out January 19th on Columbia Records. The tour kicks-off with a hometown show at First Avenue in Minneapolis and Motion City Soundtrack will be joined by fellow rockers Set Your Goals, This Providence and The Swellers for the entire tour. Tickets for the shows listed below go on sale at 10AM this Friday, November 20th.

The upcoming 2010 tour will be Motion City Soundtrack's first trek in over a year and first in support of their new album My Dinosaur Life. Produced by Blink-182's Mark Hoppus and mixed by Andy Wallace, this will be the band's fourth studio album and major label debut. Fans can pre-order the album now and the band is offering a special deluxe edition only available through the MCS store which you can access via the band's web site www.motioncitysoundtrack.com.

As the band gears up for the new album and tour ahead, fans and critics alike can follow Justin Pierre on the "Dino Trail" at www.mydinosaurlife.com and catch the guys when they join up with Weezer in December.

Check out www.motioncitysoundtrack.com for the most up-to-date information.
CASH MONEY FOUNDERS WILLIAMS BROTHERS & HIT ARTIST JAY SEAN TO APPEAR AT PACE UNIVERSITY FOR 'WHERE DO I SIGN?" SEMINAR NOV. 23rd
Professor Vernon J. Brown's class to spotlight relationship between entertainment lawyers and their clients

It's back to school for Cash Money CEOs and co-founders Ronald "Slim" Williams, brother Bryan "Birdman" Williams and their latest hit artist Jay Sean.

The principals behind the historic, New Orleans-based hip-hop label will take part in "Where Do I Sign?," Pace University School of Law Professor Vernon J. Brown's Entertainment Law class on the White Plains, N.Y., campus Monday evening, Nov. 23, from 6-8 p.m.

"The goal is to give my entertainment law students practical knowledge in working with their clients and interacting with label executives," Brown explains. "What artists expect from their attorneys and what they should expect from their clients. The class is like Inside the Actor's Studio for lawyers, offering practical advice for the way things actually work in the real world."

Brown has invited a number of his clients to address his class over the past four years, with the discussions focusing on how resolving legal issues has shaped the individual artists' and label executives' careers, with an extensive question-and-answer session. "My long-range goal is to give a similar class to junior high school and high school students, to make them aware of other careers that exist in the entertainment world other than as performers," he says.

The Williams recently marked the 10th anniversary of their distribution deal with Universal Music Group for their groundbreaking label, which over the years has produced hit albums by Lil Wayne, Drake, Jay Sean, Juvenile, B.G., Turk, Big Tymers, Mannie Fresh, Hot Boys and Baby/Birdman, two of Bryan Williams' hip-hop alter egos. Jay Sean is the label's latest success, with a chart-topping single in "Down" and his U.S. debut album, All or Nothing, hitting stores on Monday (11/23).

Brown, who has been Cash Money's business manager and attorney for 14 years and one of the industry's leading business managers for more than two decades, is a graduate of City College of New York, a licensed Certified Public Accountant who earned his law degree from Pace University, where he has taught Entertainment Law for the past four years. As Chairman/CEO of V. Brown & Company, he represents clients in all areas of entertainment, including fashion (supermodels Jessica Stam, Marisa Miller, Miranda Kerr, Coco Rocha), sports (Allan Houston, Charlie Ward, Ty Law, Michael Redd, Clinton Portis and Dwight Freeney), recording artists (Notorious B.I.G., Erykah Badu, Brian McKnight, Ne-Yo), film producers, performers (Steve-O) and directors (Harold "Hype" Williams).

TREY SONGZ GETS "READY" FOR THANKSGIVING BY ASSISTING HIS COMMUNITY
PETERSBURG, VIRGINIA IN HIS "FEED FOR LOVE CAMPAIGN"
R&B SUPERSTAR'S "SONGZ FOR PEACE FOUNDATION" TO GIVE 500 TURKEYS TO FAMILIES;
CHARITY EVENT SLATED FOR TUESDAY, NOVEMBER 24th;
*STUDENTS HAVE BEEN PRE-SELECTED*
Songbook Entertainment/Atlantic recording artist Trey Songz will celebrate the upcoming Thanksgiving holiday by giving turkeys to families in his home state of Virginia. The Grammy-nominated singer/songwriter's philanthropic "Songz For Peace Foundation" - in partnership with Richmond's 106.5 The Beat! - will give Thanksgiving turkeys to 500 families on Tuesday, November 24th in Petersburg, Virginia, beginning at 10:30 am. The 500 turkeys will be given to the families of children attending the 9 different schools in Trey's hometown of Petersburg, Virginia. 50 children will be selected from each school, with 100 children being selected from the singer's alma mater.
Trey's new album, "READY," made a phenomenal chart debut earlier this fall, entering Billboard's "Top R&B/Hip-Hop Albums" tally at #2. The album - which includes the hits "I Need A Girl," "LOL :-) (Feat. Gucci Mane and Soulja Boy Tell 'Em)," and "Successful (Drake & Trey Songz)" - also exploded into the #3 spot on the overall SoundScan/Billboard 200.
Trey is also becoming a major online superstar, with his www.TreySongz.com currently ranked as Atlantic Records' #2 most trafficked artist pages. Furthermore, Trey's loyal army of Twitter followers at @songzyuuup is nearing 500,000 and growing.
Calling all HuffPost superfans!
Sign up for membership to become a founding member and help shape HuffPost's next chapter