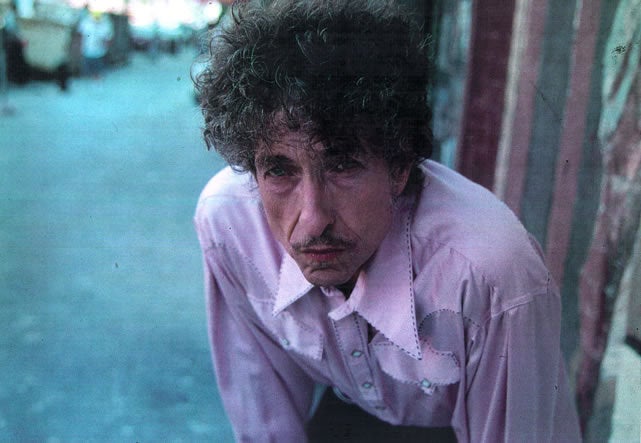 Bob Dylan - Together Through Life
For this artist and about three generations of fans, Bob Dylan's Together Through Life has a very appropriate title. There are so many people around the globe who, over these many years, have used his recordings as their lives' compasses on their daily destinations. For them, this ten-song package may not be the big cosmic treatise they were hoping for. But as the world reinvents itself in these re-orienting times, Together Through Life's neighborhood cappuccino club warmth instead offers shelter from the storm. It's a tonic whose pace is moderate, music is organic, lyrics are intelligent, and feel is refreshingly human.
Distancing itself from Dylan's latest trio of standard bearers--Modern Times (2006), Love And Theft (2001), and Time Out Of Mind (1997), Together Through Life is more intimate with its own casual vision, like that of The Buena Vista Social Club or Standing In The Shadows Of Motown with passed-around bottles of both Jack and port. Or picture Chess Records meets Sun Records, that's probably the best comparison. Wisely, this project's assistant Geppettos--Mike Campbell (guitar, mandolin), David Hildago (accordion, guitar), Donny Herron (steel guitar, banjo, mandolin, trumpet), Tony Garnier (bass), and George Recile (drums)--keep the structure uncluttered, and respectfully allow the vocals and lyrics (mostly Bob Dylan/Robert Hunter co-writes) to animate the record above their own tasteful licks.
Last year, Dylan's contribution of "Life Is Hard" to a new film by La Vie En Rose's French director Oliver Dahan (about a road trip from Kansas City to New Orleans) resulted in this latest album's creation. There's a low-key yet cinematic vibe throughout, and Dylan's hyper-weathered vocals on this and practically every song on the album communicate back stories beyond their words. Another example would be the strip-club-ish, blues number "My Wife's Home Town" (which, of course, is Hell), in which he rages, "She can...make things bad, she can make things worse, she's got stuff more potent than a gypsy curse." But instead of coming off nasty or acerbic--which might have been the case with a younger Dylan--his 2009 voice fills-in yet another expanded plot line on this Willie Dixon upgrade that makes upcoming phrases such as "One of these days, I'll end up on the run, I'm pretty sure she'll make me kill someone" pretty comical. Every character is three dimensional, and two songs later, a more sensitive Dylan shows up on "Forgetful Heart." "The times we knew...who would know better than you," he laments in that song, and later, in his commentary on the world, "It's All Good" (as in his lyrics' "You know what they say, man--it's all good!"), he shows off a charming sarcasm while deploying that overused cliché.
Musically, this is quite a trip through the United States of Americana. From track to track, the styles stray from border to border like in "If You Ever Go To Houston" where we're in Texas if it were a mile from New Orleans; we're at a tough little juke joint in "Jolene"; we're stalked by a mariachi band in the love song "This Dream Of You"; we're in any number of places located on the wrong side of town in the flirty blues-rocker "Shake Shake Mama"; and we get a sterling view of one of the best new Dylan classics since "Lay Lady Lay" in "I Feel A Change Is Comin' On." We also get a runner-up for best new classic in the album opener, "Beyond Here Lies Nothin'." Its "Unchain My Heart" melody mourns out, "Well, I love you pretty baby, you're the only love I've ever known, just as long as you stay with me, the whole world is my throne, beyond here lies nothing, nothing we can call our own." It's not the most lyrically uplifting song, but its upbeat, blues-circle production and Dylan's painfully clenched vocals deliver something very honest and believable.

It's always nice to hear a musical pioneer just relax and apply that thing he or she knows best. Most of the time, that's when we get their best creations, and most of their best creations trigger some of the most inspired contributions by its team. On Together Through Life, you can tell the band is playing with a smile, and Bob Dylan is enjoying his troop as well as every nearly-perfect or heartfelt, misshapen note that they're performing. Not since the artist's collaborations with The Band on Planet Waves or the relaxed group setting of Blood On The Tracks has a Dylan album seemed this collaborative or honest. Or accessible. In general, we always look forward to taking that journey through life with Dylan, but who knew that this time out, we'd be taking a little detour to Carmine Street to hear some road yarns over demitasse.
Tracks:
1. Beyond Here Lies Nothin'
2. Life Is Hard
3. My Wife's Home Town
4. If You Ever Go To Houston
5. Forgetful Heart
6. Jolene
7. This Dream Of You
8. Shake Shake Mama
9. I Feel A Change Is Comin' On
10. It's All Good
Playing For Change - Songs Around The World
When we think of world music, we usually picture people from various cultures playing exotic looking and sounding instruments, usually to a mutli-tempo'd or progressive groove. When folks in the US create music of this genre, they usually build on elements from beyond American pop culture. Now, another, maybe even more appropriate application of that classification can be used for the international roster of artists associated with the Playing For Change organization, Mark Johnson's brainchild, that germinated in a New York City subway when two performing monks mesmerized a morning rush hour crowd by simply playing their simple music. Taking that concept further, Johnson realized that music was bringing all these various types of New Yorkers together, even luring them away from the rigidity of getting to work on time.
"Playing For Change was born out of the idea that we have to inspire each other, to come together as a human race, and that music is the best way to do this," Johnson explained. "The project started four years ago on the streets of Santa Monica, California. We recorded a street musician, Roger Ridley, performing the song "Stand By Me." We then traveled all over the world, through streets, subways, Native (American) Indian reservations, African villages, Himalayan mountains...we went to Dublin...recorded and filmed Bono. None of these musicians had ever met in person. It was the music that brought them together, and the belief that we can do a lot more for this world if we work together than we ever can apart." Beyond Bono, Johnson's cause has attracted such heavy weight activists as Keb' Mo' and Jackson Browne, and Los Angeles' The Knitting Factory recently hosted a concert in which all of the band's members--previously recorded in various international locations--finally met and played together simultaneously for the first time.
This CD/DVD release is the first installment of the program's efforts to help promote world peace, and it includes YouTube favorites such as the above-mentioned "Stand By Me" that has tallied millions of views to date. The Huffington Post's entertainment page hosted the world premiere of "Don't Worry" that has accumulated over a million views, and the most recent video, "One Love," is close to a million. Though we are in the process of becoming a Hulu culture that watches a majority of our television and videos online, it's worth checking out the physical release that contains more videos, behind the scenes footage, and a trailer of Johnson's award-winning documentary, Peace Through Music.
CD
Stand By me
One Love
War / No More Trouble
Biko
Don't Worry
Talkin' 'Bout A Revolution - featuring Afro Fiesta (Capetown, South Africa)
Better Man - featuring Keb' Mo'
Chanda Mama
Love Rescue Me - featuring The Omagh Community Youth Choir
A Change is Gonna Come
Playing For Change Band (New Orleans, LA)
DVD
Stand By Me
One Love
War / No More Trouble
Don't Worry
Chanda Mama
Bonus Material - The Playing For Change Foundation, Peace Through Music Feature Film Trailer

Popular in the Community