Jack Johnson - En Concert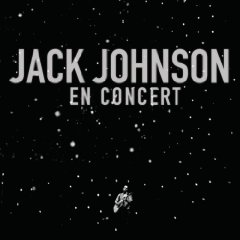 In 2008, Jack Johnson toured the world with his Sleep Through The Static concerts, the best of these shows assembled for his new CD/DVD En Concert that captures quite a bit more than your average live album. Jack brings his beach-troubadour style to some of the great cities of Europe--Berlin, The Hague, Munich, Paris, Newquay, and London--with the help of an entourage of kindred souls featuring Adam Topol, Merlot Podlewski, Zach Gill, plus star appearances by G Love, Ben Harper, Mason Jennings, Neal Halstead, and Matt Costa. Eddie Vedder also makes the cut, his having taken the stage with Johnson at Bonnaroo, and Paul Fuga jumps in for a performance of "Country Road."
Filmmaker Emmett Malloy seriously documents all the fun of their trip across the continent (and beyond), from performances to backstage rehearsals and banter, and from surfing to scenic Euro-exploration. The audiences go as bananas over Johnson and Co.'s shows as if they were U2 concerts, the band's music as rhythmic and natural as if it were being played back home in Hawaii. The emphasis isn't on jitter-camera captures, but instead, everything's as smooth as Mr. Zog's Sex Wax, the lens especially kind to Johnson's various shades of five o'clock shadow.
There are commentaries sprinkled about, off-stage antics, you know, your standard fare. But it's all kept very low key with no rock-star nonsense by surf-celebrator Malloy, whose stylish documentary elevates all of the tour's nuances Endless Summer-style, with human moments outweighing grandeur and without the bro-chatter of the latter. Those personal moments--such as when the artist explains, "The songs we play are about love, and that makes people feel good...that's how I explain it to my son...is that the theme of love is what attracts people"--sweetly counter grand Europic visuals with Johnson's Seagull Soup For The Soul.
With performances sequenced together from various shows, there are moments when it crosses over into Jackson Browne's multi-venue Running On Empty territory, an audio document that also gave us many angles on what it was like for a lyrical artist to be on tour. But especially on the CD portion, you don't even notice as the venues fly by; instead, you just savor the loosey-goosey creative licenses taken that never give us jam band excesses, just occasional segues-for-the-hell-of-it like when Paul Simon's "Mother And Child Reunion" is slipped onto "The Horizon Has Been Defeated." With all its personality--like Johnson's lone surfdog Red Rocks performance and overall slowed down groove-a-billy--this no-miss concert now becomes a don't miss release with the vibe of an Hawaiian vacation spent in the old country. (Profits will go to Jack Johnson's Kokua Hawaii Foundation and the Johnson Ohana Family Trust that endow various environmental projects.) Start Here: "If I Had Eyes"
CD
1. Belle / Banana Pancakes
2. If I Had Eyes
3. Do You Remember / Remember
4. Sleep Through The Static
5. Flake
6. Bubble Toes / Express Yourself
7. Wasting Time
8. What You Thought You Need
9. Country Road With Paula Fuga
10. Staple It Together
11. Sitting, Waiting, Wishing
12. Constellations With Eddie Vedder
13. The Horizon Has Been Defeated / Mother And Child Reunion
14. Good People
15. All At Once
16. Gone
17. Home
18. Times Like These
19. Angel / Better Together
DVD
1. Intro (If I Had Eyes - 11 Seconds - Palais Omnisports, Bercy, Paris)
2. Sleep Through The Static (Palais Omnisports, Bercy, Paris)
3. Belle (Palais Omnisports, Bercy, Paris)
4. Banana Pancakes (Palais Omnisports, Bercy, Paris)
5. No Other Way (Olympia Reitanlage, Munich)
6. Good People (Olympia Reitanlage, Munich)
7. Staple It Together (Olympia Reitanlage, Munich)
8. Flake (The Hague, Amsterdam)
9. Bubbletoes (The Hague, Amsterdam)
10. Go On (Kindl-Buhne Wuhlheide, Berlin)
11. Constellations (Watergate Bay, Newquay, UK)
12. Hope (Hyde Park, London)
13. Wasting Time (Hyde Park, London)
14. Hi Tide, Low Tide (Hyde Park, London)
15. If I Had Eyes (Hyde Park for 3:00 Min then Paris for 1:23)
16. All At Once (Palais Omnisports, Bercy, Paris)
17. Angel / Better Together (Palais Omnisports, Bercy, Paris)
18. Monsoon (Palais Omnisports, Bercy, Paris)
19. Rainbow / Buddha (Palais Omnisports, Bercy, Paris)
R.E.M. - Live At The Olympia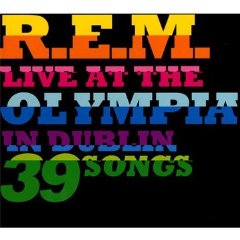 Here's an interesting approach: record an album and shoot a film centered around rehearsing songs that will be recorded for an album. Being a little Being John Malkovich? Overseen by Accelerate's co-producer Jacknife Lee, this release is the result of R.E.M. being holed-up in Dublin's Olympia Theater for five days in 2007, and these CDs--with the DVD doc This Is Not A Show--do show a band's creative process at work when it weighs audience feedback as its criteria for success.
Of course, the sold-out, capacity crowds go nuts after virtually every performance, and the 39 songs of this "Experiment in Terror" (as Michael Stipe called it on and off-camera) are energized; for example, there's "Cuyahoga," whose new aggressiveness adds a bit of fight to the anthem. A great moment of Vincent Moon and Jeremiah's This Is Not A Show keenly touches on a unique, modern day dilemma for songwriters when Stipe reads alleged "West Of The Fields" lyrics to the crowd, a translation he found on the internet: "The animals, how strange, try, try to stick it in." After the room giggles, the singer insists, "I guarantee you, in all my drug-addled twenties, I never wrote that line...never!"
Whether it's concert, rehearsal, commentary, or atmospheric footage, Moon and Jeremiah link everything together with the common theme of "Will this work or not?" that the band seems to be genuinely questioning; and, obviously, if it didn't work, we wouldn't be talking about it now. But the band smartly chose what works best, in this case, deeper album material over hits. This is the band raw--or as close as we're getting to the one we grew up on--and from R.E.M.'s perspective, Live At The Olympia goes out to the songs they love. Start Here: "Carnival Of Sorts"
CD 1
1. Living Well Is The Best Revenge
2. Second Guessing
3. Letter Never Sent
4. Staring Down The Barrel Of The
5. Disturbance At The Heron House
6. Mr. Richards
7. Houston
8. New Test Leper
9. Cuyahoga
10. Electrolite
11. Man-Sized Wreath
12. So. Central Rain
13. On The Fly
14. Maps And Legends
15. Sitting Still
16. Driver 8
17. Horse To Water
18. I'm Gonna DJ
19. Circus Envy
20. These Days
CD 2
1. Drive
2. Feeling Gravity's Pull
3. Until The Day Is Done
4. Accelerate
5. Auctioneer
6. Little America
7. 1,000,000
8. Disguised
9. The Worst Joke Ever
10. Welcome To The Occupation
11. Carnival Of Sorts (Boxcar)
12. Harborcoat
13. Wolves, Lower
14. I've Been High
15. Kohoutek
16. West Of The Fields
17. Pretty Persuasion
18. Romance
19. Gardening At Night
DVD
1. This Is Not A Show - A Film By Vincent Moon and Jeremiah
Train - Save Me, San Francisco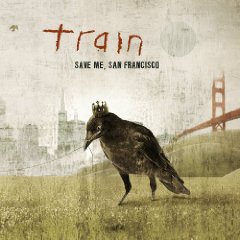 It's back to the basics for "Drops Of Jupiter"'s Pat Monahan, Jimmy Stafford, and Scott Underwood who have returned with a rejuvenated core band sound, and their best album since their self-titled release. Sporting a full-on celebration of its roots and all that is San Francisco, their latest is not any kind of concept album, though its stories and relationships are all San Fran-focused, with the best geo-shout-out going to The Doobie Brothers in "I Got You." Within this Train original, the guys cannibalize then regurgitate that group's "Black Water" with so much glee that Patrick Simmons might as well be in the studio's control room, ready with a slop bucket. Yet it's all so tastefully done.
All this fun starts with the title track during which we hear about the misadventures and that-of-which-we-dare-not-speak from being on the road, including certain "blisters" from not-so-virginal sources. The single "Hey, Soul Sister"--climbing atop a pop chart near you--has the best and only Mr. Mister reference one can recall, and the checklist of things Pat Monahan will be giving his girl on "If It's Love" will NOT be including cologne since, as he cheekily indicates, it's poison (by the way, it is, check it out).
For the retro fan in all of us, Train offers "You Always Know" whose Hollies-meets-Motown amalgam is amazing with Pat sounding like Allan Clarke's more in-tune little brother. In fact, Pat's vocals only have gotten stronger with time, no pitch-correcting devices allowed. Jimmy Stafford's guitars are tighter than ever, and Scott Underwood's pounding, especially on the rockier tracks, also show the drummer in fine form. The lyrics are snappy and feisty, and the ballads don't insult your intelligence. The trio's recent dissolution and reformation has made them personally and musically closer, and these eleven non-Disney, non-American Idol-pop recordings are the very pleasing fruits of their non-labored reunion. Start Here: "Save Me, San Francisco," "Hey, Soul Sister," "Marry Me," and "If It's Love"
NOTE: Please read this Wednesday's HuffPost interview with Train in which we learn if the group will be performing "Spiders And Snakes" on its new tour.
Tracks:
1. Save Me, San Francisco
2. Hey, Soul Sister
3. I Got You
4. Parachute
5. This Ain't Goodbye
6. If It's Love
7. You Already Know
8. Words
9. Brick By Brick
10. Breakfast In Bed
11. Marry Me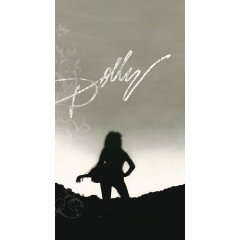 What an excellent overview of Dolly Parton's career this four disc set is, featuring every important hit (as well as some that should have been) plus seven previously unreleased tracks. It reaches back to when the singer was just eleven years old on Louisiana's Goldband Records, and marches forward through her Mercury and Monument releases, her two decades of RCA recordings, and her Columbia period. Dolly then wraps it up with the event record that was "Romeo," her 1993 group effort with Billy Ray Cyrus, Tanya Tucker, Mary Chapin Carpenter, Kathy Mattea, and Pam Tillis.
Through its repertoire, Dolly's producer Rob Santos--along with liner note writers Holly George-Warren and Laura Cantrell--trace the musical history almost seamlessly, treating this singer-songwriter-entertainer with a dignity that has long-eluded the country music legend. Beyond the historical information contained within this collection's 60-page booklet, each period, sequenced chronologically, speaks musical volumes on the Parton story, a couple of the more interesting chapters being her duets with Porter Wagoner and her early RCA days that introduced us to "Jolene" and a mighty song titled "I Will Always Love You." (The box even features "Put It Off Until Tomorrow," the only track among the 99 presented here not sung by Dolly.)
It's kind of unfortunate that many only know Dolly Parton's pop hits "9 To 5," "Here You Come Again," and her Kenny Rogers duet, "Islands In The Stream," since there are so many other important recordings, many of which she composed, that are better representations of the artist. But however one gets there, Dolly Parton's music deserves all our attention, from its pure country roots to its more sophisticated musings for the masses. Start Here: "Jolene," "Dumb Blond," "Together Always" with Porter Wagoner, and "My Tennessee Mountain Home"
Disc 1
1. Puppy Love
2. Girl Left Alone
3. Gonna Hurry (As Slow As I Can) (demo)
4. It's Sure Gonna Hurt - with Merry Melody Singers
5. Love You Gave - with Merry Melody Singers
6. Nobody But You
7. Busy Signal
8. Don't Drop Out
9. I've Known You All My Life
10. Put It Off Until Tomorrow - with Bill Phillips
11. Dumb Blonde
12. Something Fishy
13. I Couldn't Wait Forever
14. I'm Not Worth The Tears
15. Last Thing on My Mind - with Porter Wagoner
16. False Eyelashes
17. Bridge
18. Just Because I'm A Woman
19. Holding On To Nothin' - with Porter Wagoner
20. We'll Get Ahead Someday - with Porter Wagoner
21. Jeannie's Afraid Of The Dark - with Porter Wagoner
22. In The Good Old Days (When Times Were Bad)
23. Daddy
24. Evening Shade
25. Gypsy, Joe And Me
26. My Blue Ridge Mountain Boy
Disc 2
1. Just The Way I Am
2. Down From Dover
3. Everything Is Beautiful (In Its Own Way)
4. Daddy Come And Get Me
5. Just Someone That I Used To Know - with Porter Wagoner
6. Tomorrow Is Forever - with Porter Wagoner
7. Daddy Was An Old Time Preacher Man - with Porter Wagoner
8. Comin' For To Carry Me Home
9. Golden Streets Of Glory
10. Mule Skinner Blues (Blue Yodel No. 8)
11. Joshua
12. Daddy's Moonshine Still
13. Last One To Touch Me - with Porter Wagoner
14. Better Move It On Home - with Porter Wagoner
15. Coat Of Many Colors
16. Traveling Man
17. My Blue Tears
18. Here I Am
19. God's Coloring Book
20. Will He Be Waiting
21. Touch Your Woman
22. Together Always - with Porter Wagoner
23. Lost Forever In Your Kiss - with Porter Wagoner
24. My Tennessee Mountain Home
25. Eugene Oregon
26. What Will Baby Be
Disc 3
1. Jolene
2. Early Morning Breeze
3. I Will Always Love You
4. Please Don't Stop Loving Me - with Porter Wagoner
5. Love Is Like A Butterfly
6. Sacred Memories
7. Bargain Store
8. On My Mind Again
9. Kentucky Gambler
10. Seeker [New Edit]
11. We Used To
12. All I Can Do
13. Light Of A Clear Blue Morning
14. You Are
15. Applejack
16. It's All Wrong, But It's All Right
17. Here You Come Again
18. Two Doors Down
19. Me And Little Andy
20. Heartbreaker
21. I Really Got The Feeling
22. Baby I'm Burnin'
23. You're The Only One
24. Sweet Summer Lovin'
25. Starting Over Again
Disc 4
1. Old Flames Can't Hold A Candle to You
2. 9 To 5
3. But You Know I Love You
4. Single Women
5. Heartbreak Express
6. Do I Ever Cross Your Mind
7. Potential New Boyfriend
8. Islands In the Stream - Dolly Parton with Kenny Rogers
9. Save the Last Dance for Me
10. Tennessee Homesick Blues
11. God Won't Get You
12. What a Heartache
13. Don't Call It Love
14. Think About Love
15. Why'd You Come In Here Lookin' Like That
16. Yellow Roses
17. Time for Me To Fly
18. He's Alive
19. Rockin' Years - with Ricky Van Shelton
20. Eagle When She Flies
21. Silver and Gold
22. Romeo - with Billy Ray Cyrus, Tanya Tucker, Mary Chapin Carpenter, Kathy Mattea, and Pam Tillis
Carly Simon - Never Been Gone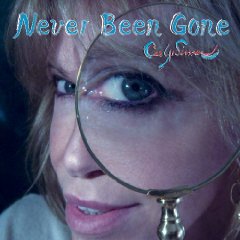 With a super-nudge from her son Ben Taylor, Carly Simon re-recorded some of her classics in stripped-down versions, reducing them to an almost unplugged state. Her holding that magnifying glass on the album cover is an accurate depiction of what's going on track-to-track as the singer-songwriter gets to the heart of what was great about these compositions. She reworks the details as well as her vocals, such as in her new read of "You Belong To Me" that now seems less about re-seduction than an indictment of the temptress that might as well have been from James Taylor's "You Make It Easy." All of the songs offer at least one or two similar curve balls, and Carly's rich, mature voice now offers a smokiness reminiscent of the late Mary Travers'.
It's satisfying to hear Carly Simon approaching some of her popular material through this method as opposed to releasing yet another greatest hits. And it's nice to have a couple of new songs, although "No Freedom" tries a bit too hard to be special. On the other hand, the chordal movements and reflective mood of "Songbird" places it somewhere near "That's The Way I've Always Heard It Should Be" and stalwarts such as "Embrace Me You Child," two chestnuts that showcase the artist at her emotive best. Of the avian, Carly sings, "...I don't where it leads, but I believe it sings its song for me...sees the things I see," but it seems there's a little personification going on here since the song sounds less about the concept of the "muse" and more about how she's taken flight in her own life, making her own inspired choices.
After all her challenges--personal and musical--Carly's a fighter (we always heard that strength in her voice) and a winner. Scaring us a couple years back with the somber, haunting album Into White that came off like some sort of graceful goodbye (especially on James Taylor's "You Can Close Your Eyes," sung with their children Ben and Sally), she re-emerges with solid offerings every couple of years. Never Been Gone is no exception. Start Here: "Songbird," "Boys In The Trees," and "You Belong To Me"
Tracks:
1. The Right Thing To Do
2. It Happens Every Day
3. Never Been Gone
4. Boys In The Trees
5. Let The River Run
6. You're So Vain
7. You Belong To Me
8. No Freedom
9. That's The Way I've Always Heard It Should Be
10. Coming Around Again
11. Anticipation
12. Songbird
needtobreathe - The Outsiders
This alt folk-pop Christian group always seemed like it was gunning for Counting Crows or at least a southern band or two. Their new album The Outsiders rocks lightly with catchy tunes featuring occasional banjoes or a finger-picked/strummy instrument of your choice. It also whips out a big gospel-y chorus for a couple of tracks, and it's all pretty even. This band has a big following, and for them, The Outsiders most likely will do the trick. Newcomers will have to come to the party with a lot of open-mindedness in order to wade through heavy-handed anthems and a little religiousness. Perhaps they should try the country track "Stones Under Rushing Water," featuring the always wonderful Sara Watkins on vocals, since it touches the heart in a way the rest of the album should. Suggestion? Next time out, be a little more outsider-y. Start Here: "Stones Under Rushing Water" with Sara Watkins
Tracks:
1. The Outsiders
2. Valley Of Tomorrow
3. Through Smoke
4. Lay 'Em Down
5. What You've Done To Me
6. Hurricane
7. These Hard Times
8. Stones Under Rushing Water - with Sara Watkins
9. Prisoner
10. Won't Turn Back
11. Girl Named Tennessee
12. Something Beautiful
13. Garden
14. Let Us Love
Pink Martini - Splendor In The Grass
Ooh-la-la, you had us at "Ninna, nanna." Thomas Lauderdale's brand of alt-jazz-world music splashes through France, London, Brazil, with a stop or two in Old Harlem, and elsewhere. The Mama Cass-lite vocals are sprite-like, especially while dancing along French, Italian, Spanish, and Neapolitan cobblestones. For those in the New York know, Moondog's "New Amsterdam" gets beautifully resurected here, and Sesame Street's "Sing," with guest Emilio Delgato (aka the show's "Luis") is adorable. Accompanied by The Harvey Rosencrantz Orchestra and with additional guests Chavela Vargas, Ari Shapiro, and Courtney Taylor-Taylor, Pink Martini's Splendour In The Grass might be a tad poorly titled; it's barely as pastel as the cover and moniker suggest. Instead, it's like a dimly lit foyer in the forties, the one G.I.s waited breathlessly in for Mathilde to appear from her boudoir. Or not. Start Here: "Ou est ma tete?" and "Tuca tuca"
Tracks:
1. Ninna nanna
2. Ohayoo Ohio
3. Splendor In The Grass
4. Ou est ma tete?
5. And Then You're Gone
6. But Now I'm Back
7. Sunday Table
8. Over the Valley
9. Tuca tuca
10. Bitty Boppy Betty
11. Sing
12. Piensa en mi
13. New Amsterdam
14. Ninna nanna - reprise
"Weird Al" Yankovic - The Essential "Weird Al" Yankovic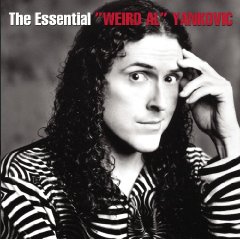 This is all ultra-gooey stuff that any cheese connoisseur worth his or her weight in chedduh would gladly pig-out on. Start Here: "The Saga Begins"
Disc One
1. Another One Rides The Bus
2. Polkas On 45
3. Eat It
4. I Lost On Jeopardy
5. Yoda
6. One More Minute
7. Like A Surgeon
8. Dare To Be Stupid
9. Dog Eat Dog
10. Lasagna
11. Melanie
12. Fat
13. UHF
14. The Biggest Ball Of Twine In Minnesota
15. Trigger Happy
16. Smells Like Nirvana
17. You Don't Love Me Anymore
18. Bedrock Anthem
19. Frank's 2000" TV
20. Jurassic Park
Disc Two
1. Since You've Been Gone
2. Amish Paradise (Parody of "Gangsta's Paradise" by Coolio)
3. Gump (Parody of "Lump" by The Presidents Of The United States)
4. Everything You Know Is Wrong
5. The Night Santa Went Crazy
6. Your Horoscope For Today
7. It's All About The Pentiums (An adaptation of "It's All About The Benjamins" by Puff Daddy)
8. The Saga Begins (Lyrical Adaption of "American Pie")
9. Albuquerque
10. Ebay (Parody of "I Want It That Way" by the Backstreet Boys)
11. Bob
12. Hardware Store
13. I'll Sue Ya (Main Version)
14. Canadian Idiot (Parody of "American Idiot" by Green Day) (Main Version)
15. Pancreas (Main Version)
16. Don't Download This Song (Main Version)
17. White & Nerdy (Parody of "Ridin'" by Chamillionaire featuring Krayzie Bone)
18. Trapped In The Drive-Thru (Parody of "Trapped In The Closet" by R. Kelly)
U2 PLAYS PASADENA'S ROSE BOWL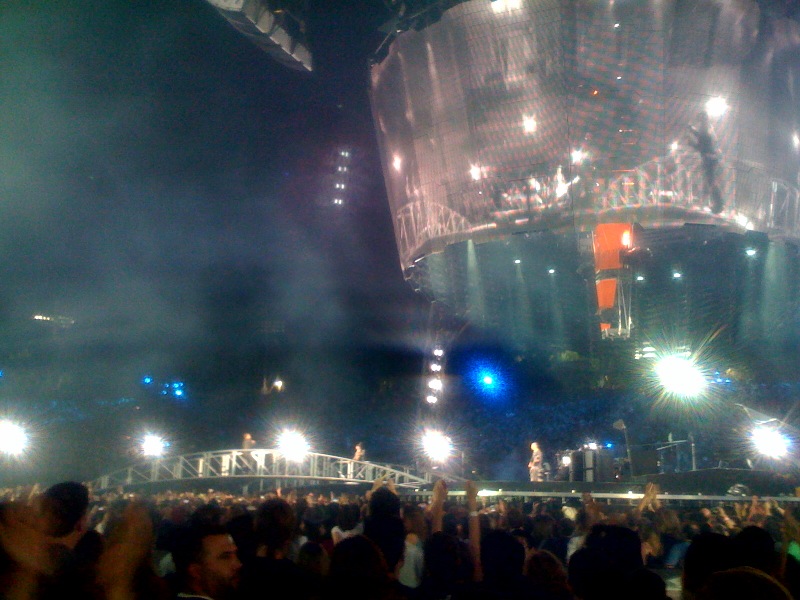 The best word to describe this event is the overused colloquial term "awesome." To turn your head around and witness 95-100,000 fellow U2 devotees packed into the Rose Bowl couldn't help but elicit an emotional response; but to have shared a musically historic event with seven continents being broadcast from your home turf almost made it spiritual. Reportedly the largest assembly since the nineties that the Pasadena venue had ever hosted, the technologically über-advanced concert carried a message of community and interconnectedness, the themes flowing relentlessly through the set list.
Always at the forefront of technology, U2 and its 360 Tour--in association with YouTube--took the stage following a loudspeaker cranking Bowie's "Space Oddity," the stage harnessing what Bono nicknamed "The Space Station." It was an interactive circular screen that was attached to a giant "claw" structure that folded around the platform, then intermittently opened as a bridge to the audience for Bono's coming walkabouts. When Bono, The Edge, Adam, and Larry finally launched the event with No Line On The Horizon's "Breathe," about 1.3 million viewers from all places around the world witnessed as the 24-song set unfolded. "Get On Your Boots" with its Elvis Costello wordplay rip from "Pump It Up" came next, and the music and dazzling special effects relentlessly continued for about 90 minutes of fan bliss.
The set list borrowed much from No Line On The Horizon, but most of the hits surfaced as well as appendages such as "Stand By Me" that was attached to "I Still Haven't Found What I'm Looking For." Throughout the night, Bono-isms--some from song lyrics--were tossed about, including funky phrases like "The future needs a big kiss," "We've got old songs, we've got new songs, we've got songs we can barely play, we've got a spaceship," "Enough with the folk mass," "What time is it in the world, and where are we going?" and "Get up off your big fat ass now." Band introductions included a reference to a time-traveling Larry Mullen, an Adam "Clark Gable" Clayton toss-off, and the singer added, "Every sci-fi movie needs a visitor from outer space...he's Mr. Spock to us, he's The Edge to you" before referring to himself as being an Arnold Schwarzenegger with a little Danny DeVito. There were even pre-taped guest appearances from an international politician and an astronaut from the International Space Station, emphasizing the night's messages of global community and cosmic connection.
One touching moment found Bono calling out to Iran for that "connection" while embracing an American flag prior to revving up "Sunday Bloody Sunday," its symbolism hardly escaping the assembly. Another beautiful scene came in the form of sending love and music to a Burmese dissident. By the time the concert entered its encore phase, "One" bled into five or so songs, the circular screen's "spaceship" and "alien" completing the band's mission with the simple message, "Turn on your radio." Bono and his gang faux-left then returned, the singer crooning "Ultra Violet" into a dangling color-morphing, mini-UFO-looking microphone. With the words "We're going to turn the Rose Bowl over to the Milky Way," the band concluded the spectacle with "Moment Of Surrender" at 11:18 pm, after which 95-100,000 dazed participants exited to Elton John's "Rocket Man," preparing themselves for the very grounding and messy traffic experience that was to come.
Set List:
1. Breathe
2. Get On Your Boots
3. Magnificent
4. Mysterious Ways
5. Medley: Beautiful Day / In God's Country / God Only Knows / The Maker
6. I Still Haven't Found What I'm Looking For / Stand By Me
7. Stuck In A Moment You Can't Get Out Of
8. No Line On The Horizon
9. Elevation
10. In A Little While
11. Unknown Caller
12. Until The End Of The World
13. The Unforgettable Fire
14. City Of Blinding Lights
15. Vertigo / It's Only Rock 'n' Roll (But I Like It)
16. I'll Go Crazy If I Don't Go Crazy Tonight / Two Tribes
17. Sunday Bloody Sunday
18. MLK
19. Walk On / You'll Never Walk Alone
20. One / Amazing Grace
21. Where The Streets Have No Name
22. Ultra Violet (Light My Way)
23. With Or Without You
24. Moment Of Surrender
AC/DC - Black Ice (expanded reissue)
John Anderson - Greatest Hits
John Anderson - Greatest Hits Volume II
The Asteroids Galaxy Tour - Fruit
Atreyu - Congregation Of The Damned
Emilie Autumn - Opheliac: The Deluxe Edition (CD/DVD expanded reissue)
Awesome New Republic - Hearts
Devendra Banhart - What Will We Be
Cecilia Bartoli - Sacrificium - (double disc)
Bassnectar - Cozza Frenzy
Between The Buried And Me - The Great Misdirect
The Blind Boys of Alabama - Duets
Blondie - Blondie Singles Collection: 1977-1982 (double disc)
The Breakaways - Walking Out On Love: The Lost Sessions
The Canadian Tenors - The Canadian Tenors
Chipmunk - I Am Chipmunk
The Cowsills - The Cowsills (reissue)
Creed - Full Circle
Deep Purple - Who Do We Think We Are (vinyl)
Dragonette - Fixin To Thrill
Duran Duran - The Singles 81-85 (3 CD box set reissue)
Editors - In This Light And On This Evening
Melissa Etheridge - A New Thought For Christmas (CD/DVD)
Mike Epps - Funny Bidness ... Da Album
Rosie Flores - Girl Of The Country
The Four Tops - Something To Remember: The Casablanca Sessions
Glass Ghost - Idol Omen
Gov't Mule - By A Thread
Grin - Gone Crazy (reissue)
Euge Groove - Sunday Morning
Sarah Lee Guthrie & Family - Go Waggaloo
Halford - Halford III: Winter Songs
Heavy Trash - Midnight Soul Serenade
Hot Chelle Rae - Lovesick Electric
Michael Jackson - The Music That Inspired The Movie Michael Jackson's "This Is It" (double disc)
Tommy James - Tommy James
Katherine Jenkins - Believe
Jack Johnson - En Concert
Jesse Johnson - Verbal Penetration (double disc)
Kid Creole and the Coconuts - Anthology Volumes 1 & 2 (double disc)
Lightning Bolt - Earthly Delights
Nils Lofgren - Cry Tough (reissue)
Marillion - The Singles 82-88 (3 CD box set)
Brian McKnight - Evolution Of A Man
Lorrie Morgan - A Moment In Time
Morningwood - Diamonds & Studs
The Motels - Atomic Cafe: Greatest Songs Live
The Mother Hips - Pacific Dust
Mr. Big - Back To Budokan: Next Time Around 2009 Tour (CD/DVD)
Joe Nichols - Old Things New
Orba Squara - Sunshyness
Orianthi - Believe
Painkiller Hotel - Black Roses
Dolly Parton - Dolly (4 CD box set)
Pink Martini - Splendor In The Grass
Chuck Prophet - Let Freedom Ring
Putumayo - Putumayo Presents A Family Christmas
R.E.M. - R.E.M. Live At The Olympia (double disc)
Kenny Rogers - Kenny Rogers: The First 50 Years (box set)
Kenny Rogers - The Greatest Duets
Matthew Ryan - Dear Lover
Carly Simon - Never Been Gone
Phil Spector - A Christmas Gift For You (reissue)
Spirit - Fresh From The Time Coast: The Best Of 1968-1977
The Squirrel Nut Zippers - Lost At Sea
Rod Stewart - Soulbook
Stephen Stills - Live At Shepherds Bush Empire (CD/DVD)
Sting - If On A Winter's Night ... (CD/DVD deluxe edition)
String Cheese Incident - Trick Or Treat: Best Of The String Cheese Incident
Swell Season - Strict Joy
Taylor Swift - Fearless Platinum Edition (CD/DVD expanded reissue)
Tainstick - 6 Pounds Of Sound
Tegan and Sara - Sainthood
Train - Save Me, San Francisco
Trans-Siberian Orchestra - Night Castle
U2 - The Unforgettable Fire
Velvet Acid Christ - The Art Of Breaking Apart
"Weird Al" Yankovic - The Essential "Weird Al" Yankovic
Barry White - Unlimited (4 CD box set)
Winger - Karma
Wolfmother - Cosmic Egg
Yo-Yo Ma - Yo-Yo Ma: 30 Years Outside The Box (box set)
Support HuffPost
The Stakes Have Never Been Higher
Popular in the Community