An Interview With Jason Mraz
In the few short years following the release of Jason Mraz's 2002 debut album Waiting For My Rocket To Come, the young San Diego singer-songwriter has had the longest running hit on Billboard's Pop Singles chart ("I'm Yours," 70 weeks), has become a Grammy award-winner, has earned a Songwriters Hall Of Fame trophy, has opened for The Rolling Stones, and, most importantly, has been immortalized by American Idol contestant Chris Richardson for his read of Mr. A-Z's "Geek In The Pink." Though these great achievements say much about the artist, he had a bit more to add about all things Mrazworld...
Mike Ragogna: With all your recent success and popularity, apparently, everyone has one important, burning question. What's up at the avocado farm?
Jason Mraz: Avocado farm's good, man. It's a wealth of trees that have been putting out fruit for the past thirty years. I've only been responsible for it for the past five years, and it's going really well, it's a happening place.
MR: Your latest tour is a bit unique because of how you're approaching the charitable element. Can you explain it a little?
JM: It's called the Gratitude Café Tour that's been going on this summer. Our effort was to make a concert experience a little different for people -- it isn't just "come and sit and watch the show," it's really "come and participate." So, our final show is going to be in San Diego which is my hometown, and we're making it a "gratitude" show where you kind of pay what you want. You can come and pay a dollar or seventy-five dollars, or you can go online for some of our best seats for probably a couple o' hundred dollars. Or you can come with your pockets empty and learn about the local charities we're going to have on hand. It was a way for me to give back to my community, and also, hopefully, a way to inspire that community to pay it forward.
MR: Are some of the proceeds of that last concert going to The San Diego Youth Services?
JM: Yup! The San Diego Youth Services, VH1 Save The Music, and the Surfrider foundation are our three main beneficiaries, and we're getting hit up by many other charities who are probably going to be on hand on that day. I think there are going to be quite a few.
MR: Rumor has it Bushwalla and Brett Dennen are going to be there.
JM: Yeah, Brett Dennen was my first choice. I knew that this was going to be any kind of show I wanted to make it, and Brett is one of the most righteous dudes out there today who's as much an activist as he is a musician. I really wanted to get him on board and continue with the whole philosophy of giving.
MR: And you've had your eye on social causes for a while now.
JM: I wish I had a thousand eyes, you know? But I do go that direction. I try to be socially conscious, I think most of us are, it's just that some of us have a problem with the label of it. We can be socially conscious and just be members of the P.T.A. We could just care for our kids and the kind of school they're going to. Or you could be for the whole planet. There's really no right or wrong way to do it.
MR: You're a vegan, right?
MR: Being a vegan suggests one is more aware of the bigger picture, maybe with a broader way of looking at life.
JM: Let's say you're a vegan or if you choose to eat raw food. Well, that makes you a little more conscious about what you're putting in your body, therefore, raising your consciousness, if you will. And the same thing goes for being conscious about thoughts, your own thoughts, and what you're telling yourself, how you're living your life, how you're creating a life experience for yourself. That is definitely going to bring in how the world shows up for you, and how you can see the world improve in certain areas, or how you could inspire certain people to improve their work or outreach and share a little more of life's resources. There's really no limit as to how far you can go, and hopefully, the concert we do in San Diego will continue to speak that message.
MR: So, in your case, you're doing some educating as well as making some great music.
JM: Yeah, but I'm not trying to preach, I'm definitely not pointing at something then going, "You should do this, you should live this way." I just want it to be inspiring. I want people to leave (the concert) and create their own way to be generous, to create their own version of social consciousness. You know, all I can do is demonstrate the way I'm doing it, and then, hopefully, people will just consider to do it their way too.
MR: Have you always looked at the bigger picture, or is it something that's been growing with your success?
JM: It's definitely grown, I think it comes with age. There were people who taught me, and the more success I have, I feel it's both a great opportunity and a great responsibility to make a positive contribution with the popularity. It's a great opportunity to say some pretty powerful things while people are listening. I could say, "Thank you very much," and go home, but, to me, that doesn't echo.
MR: Your new live album Jason Mraz's Beautiful Mess: Live From Earth will be released on November 10. Can you tell us what's special about it?
JM: It's a concert CD/DVD with some of our favorite songs from the night. We filmed it in one night in Chicago, and the best thing about the DVD is some of the bonus footage. It's behind the scenes documentaries from the videos we've been making, behind the scenes of a day in the life of the tour -- which, as a fan of music and DVDs, I always love the back story that you get--and there are unreleased tunes that will be coming out on the album and DVD as well, so that's always fun.
MR: Many concert DVDs show how close the band is on the road just from the wacky stuff and casual interactions. How tight are you with your band?
JM: We've been pretty tight. We've all been on the road pretty regularly for more than a year-and-a-half with this tour, and you get to be like brothers. Some days you can't get enough, and other days, you bicker like brothers. But overall, there's always a time before the show starts when we come together in a circle and really express our gratitude for where we get to be today. So I'm really glad I travel with guys that are like-minded individuals that really want to support the message and this whole movement. These are great musicians I travel with that are choosing to play my music, so I'm really touched by that. I love my band.
MR: Does your creative process include them?
JM: Once we get to the tour, I kind of let everyone find their own part and add their own thing, but for the writing and arranging of the songs, I'm usually by myself. I kind of play the parts and do a really half-assed job at it before I bring the guys in, so they're not really there for the inception of the songs. They all have other gigs.
MR: Since your new record is live, did they bring as much creativity as you did for the project?
JM: Oh, yeah. Yeah, yeah, definitely to this live album. On this one, each of the guys expresses himself in his own way. I certainly don't tell them, "You should play this part," and I don't tell them what to wear. We're just a bunch of normal dudes that are figuring this out on a daily basis, learning the best was we can express these songs. And every day is different, every venue we play makes it sound different. So, these guys really do express themselves in a show.
MR: Anything about this tour or record that excels beyond what you expected?
JM: The guys who really standout are our horn section, and they're all over the album and DVD and also, my last record. Those guys derive their own parts and really put a lot of color into our show, so this album is really going to highlight what they bring to it.
MR: Does Colbie Caillat join you?
JM: She does join us, yeah. She made a little appearance for us that night in Chicago. We were very lucky.
MR: Will she make an appearance in San Diego?
JM: I don't think so, I've already seen her tour schedule and it doesn't have her in the area. I tried to get her to the Hollywood Bowl as well, but she was already out of town. So I can't imagine she'll be swoopin' in. But I have a great duet partner that I've been with on the road who will be doing a great job that evening in San Diego.
MR: Will the CD/DVD combo be covering material from all three studio albums?
JM: I don't think we got around to any of the songs from Mr. A-Z. We recorded a few that night but they didn't make the final cut, so you're really going to (only) hear songs from the first album and from the most recent one as well as the new material.
MR: Best album title almost ever? We Sing. We Dance. We Steal Things. Jason, do you really need to steal things?
JM: I actually stole that title. I read those words in a drawing by an artist named David Shrigley, and he's the same artist who I ultimately got to do the portrait doodles on my album cover and on the inside artwork. I just loved his brand of humor. When I read that, I thought, well, a) that's hilarious, and b) I think it sums up what modern civilization is all about, and c) that's a really strong album title! I thought, "I'd really love to use that." As I was making the album and kept looking for a title, that one just kept coming back to me. I thought, "I really think I'm making that record." We sing and dance? That's obvious. Through our internet addictions and television programs and celebrity gossip, all humans just want to express themselves. We steal things? Well, that's just our adaptability. We can just look at someone, admire them, and take on their style, become that. Or we steal resources from all over the planet, just so that we could sustain this human situation. I also look at it as anything we don't say "thank you" for, anything we may take for granted.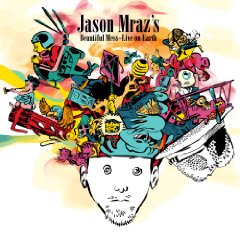 CD
1. Intro
2. Sunshine Song
3. Traveler / Make It Mine
4. Anything You Want
5. Coyotes
6. Live High
7. Only Human
8. The Remedy
9. The Dynamo Of Volition
10. A Beautiful Mess
11. I'm Yours
12. Lucky - with Colbie Caillat
13. Copchase
14. All Night Long
15. Butterfly
16. The Boy's Gone
DVD
1. Intro
2. Sunshine Song
3. Traveler / Make It Mine
4. Anything You Want
5. Coyotes
6. Live High
7. Only Human
8. The Remedy
9. The Dynamo Of Volition
10. A Beautiful Mess
11. I'm Yours
12. Lucky - with Colbie Caillat
13. Copchase
14. All Night Long
15. Fall Through Glass
16. Butterfly
17. The Boy's Gone
18. Un Beau Désordre
19. We Sing. We Dance. We Make Videos.
Barbra Streisand - Love Is The Answer
"There's no 'yes' in yesterday and who knows what tomorrow brings or takes away, as long as I'm still in the game, I wanna play for laughs, for life, for love, so here's to life and all the joy it brings..."
Sounding warmer and the most at home with her recordings since the mid-seventies, the 67-year-old vocalist-supreme at last reclaims the musical territory she reigned over in the sixties. Love Is The Answer is the latest portal into the soul of a woman celebrating her golden years with an album so beautiful, it's easily one of the best she's ever recorded. Make that one of the best albums of its kind that she or any of her contemporaries have recorded in decades.
Sensuously produced by Diana Krall and romantically orchestrated by Johnny Mandel, Love Is The Answer puts Streisand right back on the musical path she once immortalized and probably should have been following for the last twenty years. Her mastery of classics -- such as Bob Hilliard and David Mann's "In The Wee Small Hours Of The Morning" or Jacques Brel and Rod McKuen's "If You Go Away" -- evokes her People and My Name Is Barbra albums of over forty years ago as it transports the listener to a post-prime-Sinatra era filled with music you still had to listen to with your heart to appreciate fully.
Colored by Krall's own moody quartet, everything here wears different shades of melancholy, like "Where Do You Start?" with its lines "Our lives are tangled like the branches of a vine that intertwine, so many habits that we'll have to break, and yesterdays we'll have to take apart." These songs are like the blues on a rainy day, offering semi-sweet, romantic insights into peoples' lives and loves.
Barbra Streisand recording an album this strong and lush and elegant brings her career full circle, and is in sharp contrast to recent Songbook marketing exercises that have filled the pipeline with especially mediocre recordings by maturing artists for years. Love Is The Answer is the antidote to such unimaginative, painfully-contrived releases, and it's time to either discover or rediscover this style of music with Streisand's latest being the perfect place to start.
On Love Is The Answer's "Here's To Life," Streisand sings, "May all your storms be weathered, and all that's good get better, here's to life, here's to love, here's to you." Right back at ya, Babs.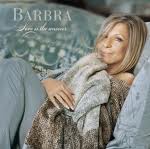 Tracks:
1. Here's To Life
2. In The Wee Small Hours Of the Morning
3. Gentle Rain
4. If You Go Away (Ne Me Quitte Pas)
5. Spring Can Really Hang You Up The Most
6. Make Someone Happy
7. Where Do You Start
8. A Time For Love
9. Here's That Rainy Day
10. Love Dance
11. Smoke Gets In Your Eyes
12. Some Other Time
Bonus Track:
13. You Must Believe In Spring
Deluxe Edition Second Disc:
Features tracks 1 -- 12 without orchestration
It's hard to think of our Material Girl as being 51, especially since Madonna can still slink and writhe and wriggle across a stage just like those young upstarts such as Christina Aguilera. But it's true, and all the hits featured on her double disc set Celebration--spanning 26-plus years if you include her early disco anthem "Everybody"--are still a lot of clubby fun regardless of how many soundlifts the mastering process has applied to keep these old Bessies from sagging. The new track "Revolver," despite its "modern" tweaky synths, relates as well to the earliest hits as it does to the newer recordings like "4 Minutes" with Justin Timberlake, proving Madonna had more than a lucky star guiding her throughout her whole very public, very savvy pop career. Yeah, she always could write and record a cool song.
But wait a minute, this collection is missing "Angel," "True Blue," "Causing A Commotion," "Keep It Together," "Hanky Panky," "Rescue Me," "Rain," "I'll Remember," "This Used To Be My Playground," "Deeper And Deeper," "Secret," "You'll See," "Don't Cry For Me Argentina," "Oh Father,"...OMG! What, there's a box set coming in 2010? (Oooh, a box set coming in 2010, nice!) Well, whatever, two discs of Madonna's best still is cause for a celebration.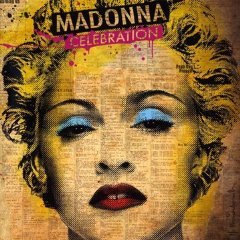 Disc 1
1. Hung Up
2. Music
3. Vogue
4. 4 Minutes
5. Holiday
6. Everybody
7. Like A Virgin
8. Into The Groove
9. Like A Prayer
10. Ray Of Light
11. Sorry
12. Express Yourself
13. Open Your Heart
14. Borderline
15. Secret
16. Erotica
17. Justify My Love
18. Revolver
Disc 2
1. Dress You Up
2. Material Girl
3. La Isla Bonita
4. Papa Don't Preach
5. Lucky Star
6. Burning Up
7. Crazy For You
8. Who's That Girl
9. Frozen
10. Miles Away
11. Take A Bow
12. Live To Tell
13. Beautiful Stranger
14. Hollywood
15. Die Another Day
16. Don't Tell Me
17. Cherish
18. Celebration
Genesis - Genesis Live 1973 - 2007
If you're a Genesis fan, you'll love this box. If you only bought the studio records because you feared the live albums wouldn't have the same impeccable arrangements, performances, and production, you'll love this box. And if you're just aching to get your hands on more classic era Genesis since there are only so many times you can listen to Nursery Crime, The Lamb Lies Down On Broadway, or Abacab, you'll love this box. It nicely documents Genesis' genesis, from its Peter Gabriel-fronted period to the hit-filled Phil Collins era and beyond (and back again with his return). Genesis Live 1973 - 2007 lets you see and hear the progression, now with new stereo mixes that reveal each keyboard squeak and previously hard-to-hear bass drum kick. Phil Collins has never looked or sounded so sweaty, nor Peter Gabriel as gloriously psycho. For those still unconvinced because of a pre-conceived belief that Genesis' live albums were so-so, you so should try this box out, or at least grab Seconds Out and Three Sides Live when the set eventually is broken down to its individual components.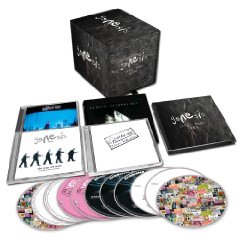 Includes:
8 CDs / 2 DVDs
Genesis Live
Seconds Out
Three Sides Live
The Way We Walk
Live at the Rainbow 1973
Live Over Europe 2007
Chris Bell - I Am The Cosmos / Deluxe Edition
By the time Chris Bell recorded the material that comprised his posthumous album I Am The Cosmos, his involvement with Big Star was over (in 1972), and the solo artist was left to create music from his own vision. He wrote on everything from the cosmic to Christianity, traveled to Europe in search of creative inspiration, and, before passing in 1978 from a car accident, he left behind enough material to complete a solo album. Surprisingly, I Am The Cosmos never sounds like it was cobbled together in any way, despite its having been recorded in two Memphis studios as well as at France's Chateau D'Heurville where its original sessions occurred. Geoff Emerick -- most famous for his work with The Beatles and various Abbey Road Studios projects -- sonically shaped the initial batch (including the title track), though it later was shelved as Chris moved on to Memphis' Ardent and Shoe studios to record further. Regardless of its piecemeal history, I Am The Cosmos (considered by some to be one of the great early alt-pop records) and its key cuts -- "You And Your Sister," "Look Up," "Make A Scene," "I Got Kinda Lost," "Speed Of Sound" (amazingly Poises-esque), and, of course, "I Am The Cosmos" -- display Bell's spun-out genius at its best. This deluxe edition also features alternate mixes, and tracks from his pre-Big Star group, Icewater, along with recordings including Keith Sykes and Nancy Bryan.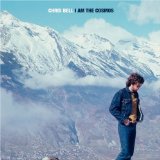 Disc 1
1. I Am The Cosmos
2. Better Saver Yourself
3. Speed Of Sound
4. Get Away
5. You And your Sister
6. I Got Kinda Lost
7. Look Up
8. Make A Scene
9. There Was A Light
10. I Don't Know
11. Fight At The Table
12. Though I Know She Lies
Disc 2
1. Looking Forward - Icewater
2. Sunshine - Icewater
3. My Life Is Right - Rock City
4. I Don't Know - alternate version
5. You And Your Sister - alternate version
6. I Am The Cosmos - extended alternate version
7. Speed Of Sound - alternate version
8. Fight At The Table - alternate mix
9. Make A Scene - alternate mix
10. Better Save Yourself - alternate mix
11. Get Away - alternate version
12. You And Your Sister - acoustic version
13. Stay With Me - with Keith Sykes
14. In My Darkest Hour - with Nancy Bryan
15. Clacton Rag - instrumental
Alice in Chains - Black Gives Way To Blue
Jann Arden - Free
The Avett Brothers - I And Love And You
Chris Bell - I Am the Cosmos / Deluxe Edition (expanded reissue)
Joshua Bell - At Home With Friends
Bellamy Brothers - The Anthology, Volume 1
Big & Rich - Greatest Hits
Blackberry Smoke - Little Piece of Dixie
Breaking Benjamin - Dear Agony
Brookville - Broken Lights
Ian Brown - My Way
Buckcherry - Live & Loud 2009
Mariah Carey - Memoirs Of An Imperfect Angel
Cherry Poppin' Daddies - Skaboy JFK: The Skankin' Hits of the Cherry Poppin' Daddies
Cory Chisel And The Wandering Sons - Death Won't Send A Letter
Chromeo - DJ Kicks
Jesse Cook - The Rumba Foundation
Elvis Costello - The Costello Show: Live At The El Mocambo (reissue)
Dethklok - Metalocalypse: Dethklok Dethablum II
Dennis Diken with Bell Sound - Late Music
Drivin N Cryin - The Great American Bubble Factory
Danny Elfman - Taking Woodstock
Emerson, Lake & Palmer - Welcome Back My Friends, To The Show That Never Ends...Ladies And Gentlemen (reissue, deluxe edition)
Evergreen Terrace - Almost Home
The Fools - Lost And Found
Foreigner - Can't Slow Down (CD/DVD)
Judy Garland - The Garland Touch (reissue)
Ghostface Killah - Ghostdini: Wizard Of Poetry In Emerald City
Bebel Gilberto - All In One
Selena Gomez - Kiss And Tell
Green Jelly - Musick To Insult Your Intelligence By
Corey Harris - blu.black
Hatebreed - Hatebreed
Al Jarreau - The Very Best Of: An Excellent Adventure
Karen O And The Kids - Where The Wild Things Are (soundtrack)
Robert Earl Keen - The Rose Hotel
Kidz Bop Kids - Kidz Bop Christmas
Kill Hannah - Wake Up The Sleepers
Kris Kristofferson - Closer To The Bone
Miranda Lambert - Revolution
La Roux - La Roux
Fedde Le Grand - Output
Ramsey Lewis - Songs From The Heart: Ramsey Plays Ramsey
Like a Storm - The End Of The Beginning
LoveHateHero - Fight Of Flight
Patty Loveless - Mountain Soul II
Corb Lund - Losin' Lately Gambler
Lynyrd Skynyrd - God & Guns
Madness - The Liberty Of Norton Folgate
Madonna - Celebration
The Manhattan Transfer - The Chick Corea Songbook
Michael McDonald - This Christmas
The Melvins - Chicken Switch
Paramore - Brand New Eyes
Abby Parks - The Homeplace
Push Play - Found
Mitch Ryder - Detroit Ain't Dead Yet (The Promise)
Hope Sandoval & The Warm Inventions - Through the Devil Softly
Bob Schneider - Lovely Creatures
Chris Smither - Time Stands Still
Skyzoo - The Salvation
State Radio - Let It Go
Curtis Stigers - Lost In Dreams
Barbra Streisand - Love Is the Answer
Strung Out - Agents Of The Underground
The Supremes & Four Tops - Magnificent: The Complete Studio Duets
Twin Atlantic - Vivarium
Warren G - The G Files
Zero 7 - Yeah Ghost
THIS WEEK'S NEW BOX SETS:
Alabama - The Music Of Alabama
Mariah Carey - MC
Johnny Cash - The Music Of Johnny Cash
Miles Davis - The Music Of Miles Davis
John Denver - The Music Of John Denver
Earth, Wind & Fire - The Music Of Earth, Wind & Fire
Genesis - Genesis Live 1973-2007
The Isley Brothers - The Music Of The Isley Brothers
Waylon Jennings - The Music Of Waylon Jennings
Kenny G - The Music Of Kenny G
KoRn - The Music Of KoRn
Willie Nelson - The Music Of Willie Nelson
Ted Nugent - The Music Of Ted Nugent
Elvis Presley - The Music Of Elvis Presley
Frank Sinatra - The Music Of Frank Sinatra
Rod Stewart - The Rod Stewart Sessions 1971-1998
Katt Williams - The Katt Box

***IT'S SEPTEMBER AND TIME FOR CHRISTMAS PRESS RELEASES!
TRANS-SIBERIAN ORCHESTRA WELCOMES YOU TO NIGHT CASTLE, THEIR MOST AMBITIOUS ROCK OPERA TO DATE;
FIRST SINGLE IS "NUTROCKER";
PROGRESSIVE ROCKERS TO RELEASE HIGHLY ANTICIPATED TWO-CD SET AT LOW, FAN-FRIENDLY PRICE;
EPIC WINTER TOUR BEGINS NOVEMBER 1ST;
NIGHT CASTLE ARRIVES EVERYWHERE OCTOBER 27TH

Atlantic recording group Trans-Siberian Orchestra has announced the upcoming release of its hugely anticipated new album. NIGHT CASTLE will arrive in stores and all digital retailers on October 27th.
Years in the making, NIGHT CASTLE is without question TSO's most ambitious and adventurous work to date. Founder Paul O'Neill and crew have created 26 songs that run the gamut from hard rock to classical, taking the listener on a journey through different points of history. NIGHT CASTLE details the triumphs and follies of man but is ultimately an epic story of transformation and love. The two-CD set will be released at a special low price, and will include a unique 68-page booklet, featuring story, lyrics, and full-color illustrations by legendary artist Greg Hildebrandt.
"Obviously our fans have been unbelievably patient," O'Neill says. "This was supposed to come out a few years ago. But we were dedicated to making something really special, and the longer it took, the more pressure we felt to give people the best possible piece of art we could.
"These are hard times," he adds, explaining the lower price, "and we're trying to do what we can to make them better. We believe in value with Trans-Siberian Orchestra; everything we do - the shows, the albums, the souvenirs - are over-the-top productions with a lot of stuff for people to see and hear and feel, and we do that for as inexpensive a price as we can."
NIGHT CASTLE will be preceded by the first single, "Nutrocker," which ships to multi-format radio outlets nationwide later this month. The track sees TSO paying homage to one of their greatest influences, Emerson, Lake & Palmer, and features rock icon Greg Lake on bass.
One of the most successful live acts in music history, Trans-Siberian Orchestra has slated a major North American tour to bring NIGHT CASTLE to its legions of loyal fans. The massive trek -- which includes both matinees and evening performances in many markets - begins on November 1st and rolls on through early January.
With sales in excess of 7 million -- including nearly 2 million CDs and DVDs sold in the past two years --Trans-Siberian Orchestra is among the most popular groups of the modern era. The Orchestra debuted in 1996 with the timeless CHRISTMAS EVE AND OTHER STORIES. Highlighted by the remarkable hit single, "Christmas Eve/Sarajevo 12/24," the album has since achieved 2x platinum certification from the RIAA, with sales now rapidly approaching 3 million. Two further albums completed O'Neill's Christmas Trilogy: 1998's THE CHRISTMAS ATTIC and 2004's THE LOST CHRISTMAS EVE, both of which are currently approaching 2x platinum certification. All three of the Orchestra's Christmas-themed albums have proven enduring blockbusters, returning annually to the top 10 on Billboard's "Top Catalog Albums" and "Top Holiday Albums" charts.
BEETHOVEN'S LAST NIGHT, TSO's rock opera fantasy about "what could have happened" on Beethoven's final night of life has also been certified gold.
Released in 2001, TSO's full-length DVD, THE GHOSTS OF CHRISTMAS EVE, has also received RIAA platinum certification. Narrated by the late award-winning actor Ossie Davis, the magical production - which features guest appearances from Jewel and Michael Crawford - is the annual centerpiece of PBS' holiday programming, airing over 500 times in more than 120 markets since 2002.
TSO has also made an array of high-profile TV appearances, including bravura performances on such shows as ABC's Good Morning America and Live with Regis & Kelly, and NBC's The Today Show and Late Night with Conan O'Brien.
As visionary on stage as they are in the studio, TSO is one of the fastest-growing live bands on the road today, with attendance increasing consistently each year. The group has performed before more than 5 million people since 1999, with a total live gross now exceeding $200 million.
For additional information, please visit www.trans-siberian.com and www.nightcastlealbum.com.
NOVEMBER
1 Council Bluffs, IA Mid-America Center 3:00pm & 7:30pm
1 Youngstown, OH Covelli Centre 3:00pm & 7:30pm
2 Wichita, KS Kansas Coliseum 7:30pm
2 Lansing, MI Breslin Center 7:30pm
3 Denver, CO Pepsi Center 8:00pm
4 Colorado Springs, CO World Arena 3:30pm & 8:00pm
5 Richmond, VA Richmond Coliseum 7:30pm
6 Charleston, WV Charleston Civic Center 8:00pm
7 Peoria, IL Peoria Civic Center Arena 3:00pm & 8:00pm
7 Dayton, OH EJ Nutter Center 3:00pm & 8:00pm
8 Green Bay, WI Resch Center 3:00pm & 7:30pm
8 Toledo, OH Lucas County Arena 3:00pm & 7:30pm
9 Madison, WI Kohl Center Arena 7:30pm
11 Ottawa, ON Scotiabank Place 7:30pm
12 Fort Wayne, IN Allen County War Memorial Coliseum 7:30pm
12 Toronto, ON Air Canada Centre 7:30pm
13 Moline, IL i wireless Center 8:00pm
13 Rochester, NY Blue Cross Arena 8:00pm
14 Minneapolis, MN Target Center 3:00 pm & 8:00pm
14 Hartford, CT XL Center 3:00 pm & 8:00pm
15 Grand Forks, ND Alerus Center 4:00pm
15 Manchester, NH Verizon Wireless Arena 3:00pm & 7:30pm
16 Winnipeg, MB MTS Center 7:30pm
18 Providence, RI Dunkin' Donuts Center 4:00pm & 8:00pm
18 Calgary, AB Pengrowth Saddledome 7:30pm
19 Worcester, MA DCU Center 7:30pm
20 Vancouver, BC Pacific Coliseum 8:00pm
20 Wilkes-Barre, PA Wachovia Arena at Casey Plaza 8:00pm
21 Seattle, WA Key Arena 3:00pm & 8:00pm
21 Philadelphia, PA Wachovia Center 3:00pm & 8:00pm
22 Portland, OR Rose Garden 3:00pm & 7:30pm
22 Hershey, PA Giant Center @ Hershey Park 3:00pm & 7:30pm
25 Salt Lake City, UT Energy Solutions Arena 4:00pm & 8:00pm
25 Greensboro, NC Greensboro Coliseum 4:00pm & 8:00pm
27 Reno, NV Reno Events Center 3:00pm & 8:00pm
27 Greenville, SC BI-LO Center 3:00pm & 8:00pm
28 Sacramento, CA Arco Arena 3:00pm & 8:00pm
28 Charlotte, NC Time Warner Cable Arena 3:00pm & 8:00pm
29 San Jose, CA HP Pavilion 3:00pm & 7:30pm
29 Columbia, SC Colonial Life Arena 3:00pm & 7:30pm
DECEMBER
2 Fresno, CA Save Mart Center 7:30pm
2 Raleigh, NC RBC Center 4:00pm & 8:00pm
3 Anaheim, CA The Theater at Honda Center 8:00pm
3 Jacksonville, FL Jacksonville Veterans Memorial Arena 7:30pm
4 San Diego, CA San Diego Sports Arena 8:00pm
4 Sunrise, FL BankAtlantic Center 8:00pm
5 Las Vegas, NV Orleans Arena 3:00pm & 8:00pm
5 Orlando, FL Amway Arena 3:00pm & 8:00pm
6 Phoenix, AZ Jobing.com Arena 3:00pm & 8:00pm
6 Tampa, FL St. Pete Times Forum 3:00pm & 7:30pm
9 Las Cruces, NM Pan American Center 4:00pm & 8:00pm
9 Washington, DC Verizon Center 4:00pm & 8:00pm
10 Lubbock, TX United Spirit Arena 7:30pm
10 Baltimore, MD 1st Mariner Arena 7:30pm
11 Tulsa, OK BOK Center 8:00pm
11 Uniondale, NY Nassau Veterans Memorial Arena 8:00pm
12 St. Louis, MO Scottrade Center 3:00pm & 8:00pm
12 East Rutherford, NJ Izod Arena 3:00pm & 8:00pm
13 Milwaukee, WI Bradley Center 3:00pm & 7:30pm
13 Albany, NY Times Union Center 2:30pm & 7:30pm
16 Memphis, TN FedExForum 4:00pm & 8:00pm
16 Pittsburgh, PA Mellon Arena 3:00pm & 8:00pm
17 New Orleans, LA New Orleans Arena 7:30pm
17 Lexington, KY Rupp Arena 7:30pm
18 Bossier City, LA CenturyTel Center 8:00pm
18 Cincinnati, OH U.S. Bank Arena 8:00pm
19 Little Rock, AR Alltel Arena 3:00pm & 8:00pm
19 Cleveland, OH Quicken Loans Area 3:00pm & 8:00pm
20 Oklahoma City, OK Ford Center 3:00pm & 7:30pm
20 Cleveland, OH Quicken Loans Arena 3:00pm & 7:30pm
22 Des Moines, IA Wells Fargo Arena 7:30pm
23 Indianapolis, IN Conseco Fieldhouse 3:00pm & 8:00pm
23 Kansas City, MO Sprint Center 3:00pm & 8:00pm
26 Chicago, IL Allstate Arena 2:00pm & 7:00pm
26 San Antonio, TX AT&T Center 3:00pm & 8:00pm
27 Detroit, MI The Palace of Auburn Hills 3:00pm & 7:30pm
27 Houston, TX Toyota Center 3:00pm & 7:30pm
28 Austin, TX Frank Erwin Center 3:00pm & 8:00pm
29 Hamilton, ON Copps Coliseum 2:30pm & 7:30pm
30 Dallas, TX American Airlines Center 3:00pm & 8:00pm
30 Buffalo, NY HSBC Arena 3:00pm & 8:00pm

Calling all HuffPost superfans!
Sign up for membership to become a founding member and help shape HuffPost's next chapter