Paul McCartney - Good Evening New York City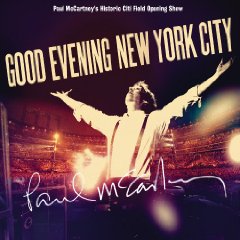 Following his simple greeting "Good evening, New York City," Paul launched into his three-date appearance back in July of this year at Citi Field, initiating the Shea Stadium replacement as a major concert venue as well as upgraded sports arena. Commemorating that historic event is this new double disc plus DVD set titled after his salutation, and it rocks through over thirty very well-known tracks, especially emphasizing The Beatles' material, with more than half the album dedicated to the Fab Four's catalog. This is a dream come true for Beatles fans, but what about McCartney and Wings devotees? Smartly, McCartney includes some of the best of his personal repertoire, with high-energy takes on sing-a-longs like "Mrs. Vanderbilt," "Let Me Roll It," and "Flaming Pie" that are as spirited as those on the hits "Jet," "Band On The Run," "My Love," and "Live And Let Die." And on the DVD--no surprise here--Paul owns the stadium, moving about and controlling the audience from whatever vantage point he's momentarily stationed.
Good Evening New York City is a marvelous testament to McCartney's energy, voice (yeah, his chops are in fine form), and relationship with his former band mates. You can't help but get a little misty during Paul's acoustically-strummed ode to his fallen brother, John Lennon, in "Here Today," a song in which, it should be remembered, he tells his friend he loves him. He also melds Lennon's anti-war anthem "Give Peace A Chance" onto "A Day In The Life," creating one of the most satisfying medleys you can think of. And John isn't the only Beatle to whom Paul throws a nod. Though it begins with a disorienting shuffle, Paul's version of George Harrison's "Something" then shifts into a more faithful interpretation that sounds like it was written for the singer. Other warm moments include a take on "The Long And Winding Road," "Blackbird," and "Let It Be," whose gospel organ permeates the new facility as reverently as if it were a game night.
For those who remember, The Beatles performed at Shea Stadium back in 1965, inventing arena-rock during a time when they reinvented pop music for the modern world. These recent concerts may not have been as significant as that historical sixties event, but for so very many people in Citi Field those nights, this was as close to hearing something like The Beatles as they were going to get; for Paul McCartney, it probably was intoxicating reliving some cherished memories of his younger years; and for the rest of us, Good Evening New York City is the only way we will be able to appreciate the magic and music performed at the new structure.
Start Here: "Jet," "Live And Let Die," and "Back In The USSR"
CD 1
1. Drive My Car
2. Jet
3. Only Mama Knows
4. Flaming Pie
5. Got To Get You Into My Life
6. Let Me Roll It
7. Highway
8. The Long And Winding Road
9. My Love
10. Blackbird
11. Here Today
12. Dance Tonight
13. Calico Skies
14. Mrs. Vandebilt
15. Eleanor Rigby
16. Sing The Changes
17. Band On The Run
CD 2
1. Back In The USSR
2. I'm Down
3. Something
4. I've Got A Feeling
5. Paperback Writer
6. A Day In The Life / Give Peace A Chance
7. Let It Be
8. Live And Let Die
9. Hey Jude
10. Day Tripper
11. Lady Madonna
12. I Saw Her Standing There
13. Yesterday
14. Helter Skelter
15. Get Back
16. Sgt. Pepper's Lonely Hearts Club Band / The End
DVD
1. Intro
2. Drive My Car
3. Jet
4. Only Mama Knows
5. Flaming Pie
6. Got To Get You Into My Life
7. Let Me Roll It
8. Highway
9. The Long And Winding Road
10. My Love
11. Blackbird
12. Here Today
13. Dance Tonight
14. Calico Skies
15. Mrs. Vandebilt
16. Eleanor Rigby
17. Sing The Changes
18. Band On The Run
19. Back In The USSR
20. I'm Down
21. Something
22. I've Got A Feeling
23. Paperback Writer
24. A Day In The Life / Give Peace A Chance
25. Let It Be
26. Live And Let Die
27. Hey Jude
28. Day Tripper
29. Lady Madonna
30. I Saw Her Standing There
31. Yesterday
32. Helter Skelter
33. Get Back
34. Sgt. Pepper's Lonely Hearts Club Band / The End
Paul McCartney - A Life
by Peter Ames Carlin (audiobook)

In the book A Life, author Peter Ames Carlin not only explored Paul McCartney's years as both an immensely talented artist and musical pioneer, but also as a cultural icon, treating his subject matter as respectfully as his biography documenting The Beach Boys' Brian Wilson's creative years. Carlin wrote about McCartney's music and life as one, covering high points and achievements as well as conflicts, and spread across Tantor's new ten disc audiobook--read by the British narrator John Lee--there are virtually no details, big or small, Beatles or Wings-related, that doesn't get touched on in some fresh, informative way. The discussions of Paul's early days and his wife Linda's personal challenges may be some of the most touching, especially if you haven't read the book, due to Lee's expert voiceover. With all of the dishy books on pop figures that have been released recently--especially on John Lennon--it's nice to be able to celebrate one's musical hero with as much dignity as Carlin's A Life does.
John Mayer - Battle Studies

The symphony tunes-up, a fat snare with drone and arpeggio synths punch-up the track, and class is in session as John Mayer's Battle Studies begins. On Mayer's fourth full studio album (not counting his trio, eps, or live releases), the artist mostly explores relationships that are all but casualties, as well as conflicts within himself concerning personal direction. In "Heartbreak Warfare"'s chorus, Mayer offers his partner a simple solution: "If you want more love, why don't you say so?" after imaging the couple's toxic interactions with "clouds of sulfur in the air, bombs...droppin' everywhere." He also offers quick POVs like the convention-challenging single "Who Says," in which Mayer says, "Who says I can't get stoned, turn off the lights and the telephone, me in my house alone, who says I can't get stoned?" Fair enough, and his list keeps growing, sometimes with wiseguy wit, always circling back with lines about an old relationship gone wrong, the reason for his herbal cloistering.
Other welcome treats (or threats) along the way are "Assassin," a track that is a little more edgy than what we're used to from Team Mayer. In this little slice of minor key metaphor, he singles-out that certain she-devil while employing moody lyrics and a Peter Gabriel-style angst (complete with repetitive vocal tag) that perfectly portray the culprit's misdeeds (along with Mayer's) as it evokes the eighties. Also among the best is the beautiful potential hit "Half Of My Heart" that features Taylor Swift. She adds a nice touch to a song that sounds like a bridge between Pop's Top Ten, the country charts, and Fleetwood Mac. And the closing track--the twin-guitar'd and echo piano'd "Friends, Lovers Or Nothing"--is loaded with just enough Phil Spector nods (and Lennonisms) to invite a lawyer's cease-and-desist letter (no, not really) as well as a lighter-flicking crowd-sway as it fades into the sunset.
Ultimately, Battle Studies is like a good old-fashioned "theme" album. Song after song, Mayer struggles with his future and personal relationships maturely, his having grown significantly from the days of merely calling out cookie-cutter stereotypes and hypocrisy, or casting bodies as wonderlands. On the other hand, Battle Studies' songwriting revisits the simplicity of his album Room For Squares during which the listener traveled alongside Mayer and his youthful, disjointed journeys. But unlike his previous projects and more in the style of classic singer-songwriter albums of the seventies, Battle Studies stays on target, focusing on the central theme of conflict--with the occasional break for relief--from beginning to end. It's no coincidence that Mayer's modernized cover of the blues-rock standard "Crossroads" is followed by "War Of My Life," a song that declares his need to finally choose what's best for him, meaning "no more suffering, no more pain, never again."
Perhaps that's the purpose of this album, it being a declaration of independence from relationships that suck and life choices that mean nothing. Mayer's always been the smartest egg in the carton, and it wouldn't be too far-fetched to think that this album is a catharsis for the superstar who's young enough to still be sorting things out. And it's nice that he can multitask since the album also is highly entertaining. As far as Mayer's current trajectory, it seems that with every new album, he just keeps getting better--as an artist, as a songwriter, and as a guitar player. It was just a few years back when, after winning his first industry trophy, he told award-presenter James Taylor and a Grammy audience that he would make them proud. No problem with that last one.
Start Here: "Half Of My Heart," "Heartbreak Warfare," "Who Says," "War Of My Life," and ""All We Ever Do Is Say Goodbye" (oh, that's half the album, isn't it...)
Tracks:
1. Heartbreak Warfare
2. All We Ever Do Is Say Goodbye
3. Half Of My Heart - with guest Taylor Swift
4. Who Says
5. Perfectly Lonely
6. Assassin
7. Crossroads
8. War Of My Life
9. Edge Of Desire
10. Do You Know Me
11. Friends, Lovers Or Nothing
Jason Mraz - Jason Mraz's Beautiful Mess/Live On Earth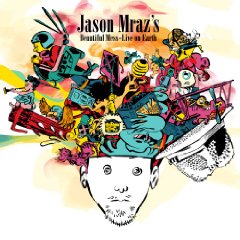 This year's bumper crop of live albums has seen some pretty spectacular band re-framings, and in the Era of the Vanishing Compact Disc (poof!), it seems wise that live would be the way to go for most acts wanting to sell albums that don't align themselves with a fading paradigm. And the CD/DVD combo seems to make the most sense in the marketplace, offering two mediums mostly for the price of one.
Jason Mraz' Beautiful Mess/Live On Earth is a magnificent mess o' music, and it's one of the format's best offerings. It sounds like a road trip gone right, with equal measures of casualness and strict arrangements, plus a healthy dose of good intentions driving the bus. Mraz labeled the mission the "Gratitude Café Tour" with part of its profits going to worthy charitable causes, but that's where the seriousness ends.
As seen on the DVD portion (that features more songs than the capacity-jammed CD), the main dude is having mucho fun and is plotzing over his crowd as much as they enjoy him. Like the big kid he is, he vocally horses around with the material whose lyrics are loaded with flashes of new age and fratboy pranksterdom.
This is all good-natured, good-hearted music that visits pop, acoustic, slight hip-hop, reggae, you name it, he's got it. In concert, Mraz sounds better and more believable than on his studio records that are, themselves, also pretty terrific. On all his recordings, he's a master wordsmith, at times utilizing phonics like a first language, and those words seem that much more sincere when he's communicating them live. By the way, for those who wondered if she'd make the gig(s), yes, his co-hitster Colbie Caillat joins Jason Mraz's Flying Circus on "Lucky."
Start Here: "Anything You Want," "Remedy," "Lucky," "Only Human," and "Coyote"
CD:
1. Intro
2. Sunshine Song
3. Traveler/Make It Mine
4. Anything You Want
5. Coyotes
6. Live High
7. Only Human
8. The Remedy
9. The Dynamo Of Volition
10. A Beautiful Mess
11. I'm Yours
12. Lucky - with Colbie Caillat
13. Copchase
14. All Night Long
15. Butterfly
16. The Boy's Gone
DVD:
1. Intro
2. Sunshine Song
3. Traveler / Make It Mine
4. Anything You Want
5. Coyotes
6. Live High
7. Only Human
8. The Remedy
9. The Dynamo Of Volition
10. A Beautiful Mess
11. I'm Yours
12. Lucky - with Colbie Caillat
13. Copchase
14. All Night Long
15. Fall Through Glass
16. Butterfly
17. The Boy's Gone
18. Un Beau Désordre
19. We Sing. We Dance. We Make Videos.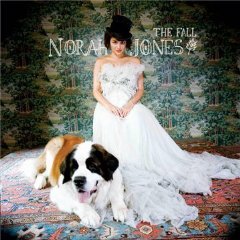 Norah Jones' new album isn't what you'd expect. It's going to be labeled as her "experimental" project due to its more uptempo, guitar-oriented approach, but it's basically a Norah Jones album that's full of silk and melody, if not the same production values. Teaming with all sorts of collaborators such as Joey Waronker, Ryan Adams, Smokey Hormel, James Gadson, Jacquire King, and Marc Ribot, Jones and her "sound" are fishing around for something that sticks, and for the most part, The Fall works as an exhibition of growth, not coherence. The Fall's first single, "Chasing Pirates," is a nice game-changer, but thankfully for her older fans, there also are songs such as "I Wouldn't Need You" that ground the change. And those allured by the sultry are going to bristle at "It's Gonna Be," the album's "rocker." Still, those new guitar textures work very well with her voice, and this Norah Jones seems to no longer be Arif Mardin's jazzy understudy. Ultimately, this is probably the best direction--for now--for the artist and her music.
Start Here: "Chasing Pirates" and "Light As A Feather"
Tracks
1. Chasing Pirates
2. Even Though
3. Light As A Feather
4. Young Blood
5. I Wouldn't Need You
6. Waiting
7. It's Gonna Be
8. You've Ruined Me
9. Back To Manhattan
10. Stuck
11. December
12. Tell Yer Mama
13. Man Of The Hour
LAST MINUTE JOHN MAYER PRESS RELEASE:
The "John Mayer Live From the Beacon Theatre" concert airs LIVE and in HD on Fuse Tuesday, November 17, at 9pm ET! The special concert event is in conjunction with the release of Mayer's new album, "Battle Studies," and will include additional programming including a personal and revealing one-on-one interview with the artist.
Here's a sneak peak into the John Mayer Fuse TV Special with brand
new interviews w/ Mr. Mayer:
"Who Says" Interview Segment: http://www.youtube.com/watch?v=DTz71g6YGi4
Interview Outtakes and JM Kidding Around: http://www.youtube.com/watch?v=bRr7cWkWWWE
Concert Trailer: http://www.youtube.com/watch?v=BSL2d8spV-w
And check out how to get your Tweets featured during the Live John Mayer broadcast:
"Who Says: Tweets on TV" - Viewers can be a part of the show by participating in "Who Says: Tweets on TV." The audience is invited to post tweets using #mayeronfuse for the chance to see their thoughts on-air during the two hour live concert.
More information about the live concert broadcast can be found here:
http://fuse.tv/ontv/shows/john-mayer/
"John Mayer Live from the Beacon Theatre" app, widget and event leading up to the special:
Widget: http://www.clearspring.com/widgets/4af110ed7907c6a0
Facebook "Event" Invite: http://www.facebook.com/event.php?eid=171661825826&index=1
John Mayer Concert Facebook App: http://apps.facebook.com/john-mayer-p-fhchfi/
Calling all HuffPost superfans!
Sign up for membership to become a founding member and help shape HuffPost's next chapter