Snoop Dogg - Malice N Wonderland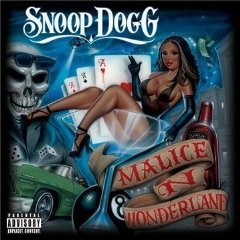 "Whashappenin', y'all? This is Chuck, and I want you to check out my daddy's new album." What follows gets a bit less aw shucks-y as the kid's prelude to "I Wanna Rock"--Malice N Wonderland's current single--launches into a regal "Snoop Dogg" chant that's answered with neighborhood shout-outs by His Highness before an actual song begins about a minute into the track. Welcome to Snoopworld, where Chevys still are bouncin', would-be gangstas still kind of prowl the streets (albeit it's a new generation), explicit-isms flow like 40 oz. beer, and tempos best not harsh anyone's mellow.
No new ground or beats are covered here as the Creative Chariman of Priority Records keeps the bar on his tenth album right about in the middle, assigning energy detail to a posse whose best contribution is by Jazmine Sullivan. Her lead vocal elevates "Different Languages" into the best album track position, while R. Kelly's soulfulness lifts the extremely melodic "Pimpin Ain't Easy" out of the urban soup that is an album called Malice. Lil John adds to the macho of "1800," the previous single "Gansta Luv" grooves along with The-Dream (and good ol' co-producer Tricky), and another of the album's singles, "That's The Homies" can't hide its Timbaland tendencies. Soulja Boy and his cacophony of pitch-corrections conquer "Pronto," "Secrets" mainly is a Kokane and Bokie Loc duet that's cleverly built on an interpolation of The Romantics' "Talking In Your Sleep," Brandy gets the smoovist co-hosting job on the album's quietest storm and penultimate closer "Special," and "Upside Down" revels in its being the most dangerous rant on the rekkid.
However, it's not all strawberries and champagne on the ballad "Love Drunk," though The-Dream pours from a vintage bottle o' sexy. He gets stomped on when Snoop drops a "You know who I am, I'm the mutha-f***in' Dogg" that's followed by a barrage of calculated cool which destroys the musky vibe unnecessarily. On the other hand, Snoop's now like the godfather of this genre, it's his call, and he mostly makes the right ones regarding his version of the Westside. It still may be wild, but especially with its young roster of smooth guests and producers playing counterpoint, it's not as dangerous as it used to be. There still is almost no better old-ish school rapper than Snoop whose Malice N Wonderland adds even more musical bling to his mutli-label catalog, his sonically still banking on it always being 4:20 somewhere in the universe.
Start Here: "Different Languages" with Jazmine Sullivan, "I Wanna Rock," and "Love Drunk" with The-Dream
Tracks:
1. Intro
2. I Wanna Rock
3. 2 Minute Warning
4. 1800 - with Lil Jon
5. Different Languages - with Jazmine Sullivan
6. Gangsta Luv - with The-Dream
7. Pronto - with Soulja Boy Tell 'Em
8. That's Tha Homie
9. Upside Down - with Nipsey Hussle and Problem
10. Secrets - with Kokane and Bokie Loc
11. Pimpin Aint EZ - with R. Kelly
12. Love Drunk - with The-Dream
13. Special - with Brandy and Pharrell
14. Outro
Snoop's "I Wanna Rock" video directed by Erick Peyton:
Timbaland - Shock Value II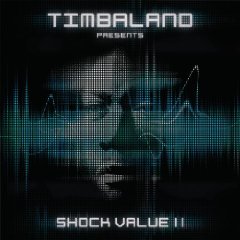 This album has had almost as many cancelled release dates as it has guests. Timbaland's Shock Value II--not to be mistaken with his classic 2007 album Shock Value--relies heavily on its supastahs and is as rambunctious as a Top Forty/Hip-Hop revival. There has been much hype and build surrounding this record (it basically having been a non-starter since election day of 2008), and its stops and starts are reportedly the result of Timbaland productions with Beyoncé and Jay-Z. "Morning After Dark" with Nelly Fertado practically has become an anthem since its mid-October debut during an album launch party on KIIS-FM's On-Air With Ryan Seacrest. "Say Something" with its multiple videos has turned Timbaland's duet with Drake into a cult-y confection, and iTunes got the jump with the Miley Cyrus collaboration "We Belong To The Music" and the Katy Perry piece "If We Ever meet Again."
The music is exactly what you would picture a Timbaland album to be. It's got lots of synthy zuz-zuz-zuz and electro-grooves, and despite a co-star list that D.W. Griffith would be proud of, the production seems too monogamous when a little infidelity might have jazzed things up a bit. On the other side of the coin, there are so many cool surprises like the Miley Cyrus, Nelly Fertado, and newcomer SoShy workouts that it keeps your attention as it stays interesting. Actually, it's both disturbing and exhilarating to hear Miley and her country twang attempt an '80s girl-group thing on "We Belong To The Music," a Starland Vocal Band-meets-Abba danceclub-y Katy Perry on "If We Ever Meet Again," and a monotone-ish Nelly who keeps pace with a percolating, synthy throwback of a track, "Morning After Dark," that blends The Bangles with Eddy Grant's "Electric Avenue." But the overused auto-tune and over-sampled, staccato-played vocals may doom the album to an era-centric categorization even as early as five years from now when the fad is beyond exhausted (remember what happened to Michael McDonald and Bee Gees records?). Further illustrating an overused concept, American Idol's top graduate Daughtry appears. He sounds great on his track, so does Justin Timbaland, er, Timberlake on "Carry Out," and Jet on "Timothy Where You Been" (how could they not with Mista Land overlording?). But the party, at times, just feels too massive for the room, and after a while, you forget who's house you're in.
Still, it's another great outing for the super-producer, though there's an obvious danger here regarding his "artist" side. How soon does Timbaland really want to become Herb Alpert or Quincy Jones? It's very appropriate for him to have today's best artists appear on his albums since he's become the sonic backbone to some of the decade's best records. But must it be every artist ever? He blurs his own identity as "artist" when employing others' talents this much. And to that point, the best track on Shock Value II may be the workout "Ease Off The Liquor" which, despite the female vocal reply, is all Timbaland. So it will be interesting to see if Shock Value III backs down a bit on the open door policy for singers. On the other hand, it's fun to have something that doesn't read Now 57 featuring this many artists in one place.
Start Here: "Ease Off The Liquor," "If We Ever Meet Again" with Katy Perry, and "Say Something" with Drake
Disc 1
1. Intro - with DJ Felli Fel
2. Carry Out - with Justin Timberlake
3. Loose Control - with JoJo
4. Meet in The Middle - with Bran' Nu
5. Say Something - with Drake
6. Tomorrow In The Bottle - with Chad Kroeger & Sebastian
7. We Belong To The Music - with Miley Cyrus
8. Morning After Dark - with Nelly Fertado & SoShy
9. If We Ever Meet Again - with Katy Perry
10. Can You Feel It - with Esthero & Sebastian
11. Ease Off The Liquor
12. Undertow - with The Fray & Esthero
13. Timothy Where You Been - with Jet
Disc 2
1. Long Way Down - with Daughtry
2. Marchin' On - with OneRepublic
3. The One I Love - with Keri Hilson & D.O.E.
4. Symphony - with Attitude, Bran' Nu * D.O.E.
Clipse - Til The Casket Drops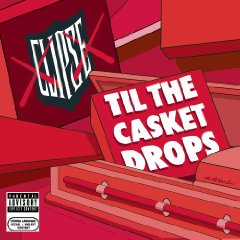 You probably already heard the Clipse singles "Popular Demand" with Cam'ron and Pharrell, and the poppy "I'm Good" with the latter artist. But Til The Casket Drops (its title the first line of "Kinda Like A Big Deal" with Kanye West) is pretty exciting, its samples and loops being more musical, tempo-shifting, and aggressive than a majority of current hip-hop platters. DJ Kahlil kills on the duo's "Kinda..." as well as "There Was A Murder," and the duo of brothers Malice and Pusha T really push the envelope with musical ideas and samples, with a fine balance occurring between anger and "humor" (no, let's call it clever light-heartedness).
The new single "Door Man," at times, is pure Beastie Boys ("I put my money on the roof and crush this bitch"). But its lobotomized "la-la's," ominous minor key melodies, and drug-thug urbanisms ground this Neptunes-produced anthem in the brothers' turf. Themes get more foreboding on the Sean C and LV-produced "Never Will It Stop" with Ab Liva ad libs upping the danger quotient. Keri Hilson tempers the creepiness of "All Eyes On Me," and "Counseling" has to be the one most surprising yet best tutorials on sex addiction in hip-hop.
The Neptunes produce a majority of the tracks, with even secondary songs like "Champion" scoring an impressive grade. And though it may not be as revered as their previous album Hell Hath No Fury, its stories are as intense, and its vision might e-clipse that of the previous classic. Despite "Footsteps"' proclamation "I hate conscious rap," that's exactly what Til The Casket Drops is. Its music and production are progressive, its songs more often than not cerebral, and yet it's a lot of fun, like the unambitious wiseguy in class whose IQ is off the charts. Hey Clipse, you don't fool us.
Start Here: "Kinda Like A Big Deal" with Kanye West, "Counseling," "Door Man," "All Eyes On Me" with Keri Hilson, and "Life Change"
Tracks:
1. Freedom
2. Popular Demand (Popeyes) - with Cam'ron And Pharrell
3. Kinda Like A Big Deal - with Kanye West
4. Showing Out - with Yo Gotti
5. I'm Good - with Pharrell
6. There Was A Murder
7. Door Man
8. Never Will It Stop - with Ab Liva
9. All Eyes On Me - with Keri Hilson
10. Counseling - with Nicole Hurst
11. Champion
12. Footsteps
13. Life Change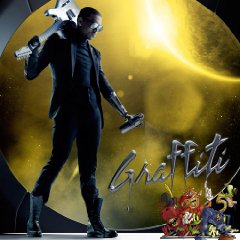 Not so fast, Chris Brown. Yeah, we all make mistakes, but yours was a particularly heinous one. To be honest, your album is fine, though your hit single "I Can Transform Ya" just conjures images of what you once transformed someone into--we saw the pictures. Though "Pass Out" with its Steve Winwood "Valerie" sample is one of your best recordings ever, sorry, we saw the pictures. And if you think we're buying any of the self-deprecating crap on "Lucky Me" and "Crawl," forget it. We saw the pictures. You know what? You need to go listen like right now to Rihanna's latest to see just how much you messed-up, pally. A fickle or memory-challenged public already might be giving you a pass, so be it. Enjoy your sales, hopefully you'll earn enough to attend some anger management classes.
Tracks:
1. I Can Transform Ya -with Lil Wayne & Swizz Beatz
2. Sing Like Me
3. Crawl
4. So Cold
5. What I Do - with Plies
6. Famous Girl
7. Take My Time - with Tank
8. I.Y.A.
9. Pass Out - with Eva Simons
10. Wait - with Trey Songz & Game
11. Lucky Me
12. Fallin Down
13. I'll Go
An Interview with Papa Roach's Jacoby Shaddix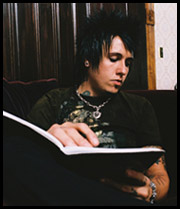 Back in 1977, singer-songwriter and activist Harry Chapin co-founded the organization World Hunger Year with Bill Ayers, a famous DJ of the era, because, as his daughter Jen explained, "He saw hunger and poverty as an insult to America." When Chapin passed, his organization lived on mainly with the support of his friends, family, and rock and pop musicians that have taken up his cause as their own. The alt-rock band Papa Roach is one of the more recent and dedicated foot-soldiers in the ongoing war on hunger, and its lead singer Jacoby Shaddix took some time from his tour to explain his group's involvement with the World Hunger Year organization.
Mike Ragogna: When did your band start helping the needy?
Jacoby Shaddix: It began in April 2009, and we worked with a local charity called Loaves & Fishes in Sacramento. When we were working on our record Metamorphosis, we were paying attention to what was going on in the world around us and directly in our community of Sacramento. There were a lot of home foreclosures, so we started to really dig-in and research the homeless population and what was going on there. There was so much desperation and hopelessness. 55-65% of each state's homeless population is made up of Korean War, Vietnam, Iraq, Desert Storm, and Kosovo war veterans. A lot of these guys go serve our country and then have a real tough time getting back into society.
That's exactly where I came from. My family was once homeless, my father was a Vietnam veteran. It's what helped destroy our family unit because he had way too much wreckage and baggage and issues and a drug problem. He just didn't know how to connect back into society as a normal, hard-working American apparently.
So we started working with Loaves & Fishes, and people were tripping out. People were going, "Oh my God, there's a rock star serving us food. We'd never seen this before!" Seeing smiles on people's faces, I was like, "Alright, that's cool. I like the fact that I can go down there and cheer people up and serve them plates, but what can I really do. How do I really put food on their table 'cause that's what I want to do."
MR: Do you remember your homeless years?
JS: I don't remember, it was the first year of my life. My mother showed me pictures that one of her friends took of how we were living. My crib was an apple box. But we were living in the mountains, not the streets of a city. That was the difference between being homeless in downtown Chicago or L.A. versus being in the sticks where people aren't looking at you and being so judgmental of your lifestyle.
MR: When did you first become involved with the World Hunger Year organization?
JS: We researched it and found World Hunger Year to be, pretty much, the most effective in America as far as putting food on the table, you know, talkin' the talk' and walkin' the walk. Bruce Springsteen and Aerosmith are a couple of the bigger artists (associated). I asked our management, "You know, Bruce Springsteen is always about giving back to his community. Who's he working with?" They asked why and I was like, "I want to see what we can do." That's how it started, and over the last few weeks, we've put over 13,000 meals in people's bellies.
MR: What kinds of events are you participating in or creating to generate funds?
JS: We're just doing something really simple right now. We're auctioning off a V.I.P. package where a fan can watch our soundcheck, hang out with the band, and interview us, which has been interesting over the last few weeks since there are all kinds of characters that we've been meeting. Also, they get to watch us from sidestage. So it's a cool experience for the people who want to throw down and help out in their community. They get something out of it too, you know? I wish we could have been doing that all the time, all the money is going to a good cause.
MR: Is this a short term or long term commitment?
JS: For us, it's just the beginning. We're going to keep getting creative with new ideas to raise money for WHY and get those plates on the tables so people can eat. When we got involved with Loaves & Fishes in April, that was the realization because I sat down with Sister Lydia at the homeless shelter in my hometown in Sacramento. She was like, "People don't realize that, okay, it's Christmas Eve, and everybody wants to be givin' to the homeless during the season, but guess what? Being homeless is not seasonal. It's a year-round issue, it's been around in America for a long time." A lot of them are war veterans, and those are the people we are hyped about supporting. But are we really willing to support them when they're down and out? Those are the people that are fighting for our country.
MR: What's the education that the public needs regarding this?
JS: That not every homeless person is a junkie or a drunk. There are a lot of middle class families in Sacramento with workers in their homes that are out there living in tents. They're not drug addicts, they're just trying to get a leg up, trying to find a job in an economy that's so horrible that it's not just the perception of people goin', "Oh, he's just a f***in' homeless bum junkie." There are those, and it is what it is. But there are people out there that want to make their lives better for themselves. But people are unfortunately put in this position more and more because of the economy and the state of affairs.
MR: After spending time interacting with this country's homeless and hungry, naturally you're learning more and more about the crisis and what their needs are. What do you believe we should be focusing on as a nation politically to help end hunger?
JS: I'd say first and foremost, take the ten million dollars that we're spending on the war on drugs and redistribute some of that money toward the rehabilitation of soldiers that come back from war, straight up. Mentally, physically, psychologically, spiritually--all of the above. I think that's a responsibility that our government should hold.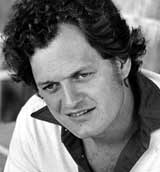 World Hunger Year Co-Founder, The Late Harry Chapin
Your Daily Dose Of Press Releases:
BEYONCÉ TIES RECORD WITH LAURYN HILL WITH TEN GRAMMY® NOMINATIONS
RECORD WAS SET 10 YEARS AGO

With her 10 Grammy® nominations, iconic superstar Beyoncé ties the record for most nominations for a female artist in a single year with Fugees great, Lauryn Hill. Hill received 10 Grammy® nominations in 1999 all for her classic solo album, The Miseducation of Lauryn Hill. Most of Beyoncé's nominations are for her smash album, I AM...SASHA FIERCE, but one nomination honors the performer's work on the Cadillac Records soundtrack for her rendition of the Etta James hit, "At Last." Beyoncé brought her dramatic side to the film, Cadillac Records, in 2008 playing the troubled side of the celebrated singer.
Speck Mellencamp Goes Grassroots To Get His Dad John Mellencamp To Quit Smoking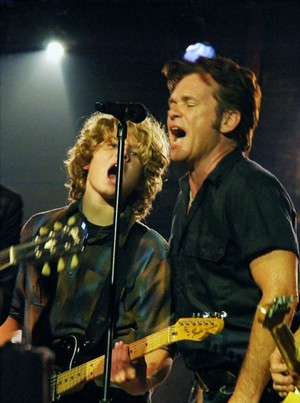 A young son's seemingly impossible social networking campaign to get his famous dad John Mellencamp to quit smoking has caught on like, well, wildfire.
At last count Speck Mellencamp is approaching 150,000 participants in his "1,000,000 to join, my dad john mellencamp will quit smoking" effort via a special Facebook page. The father-son story has generated enormous media appeal, with coverage extending beyond the front page of The Indianapolis Star--the Mellencamps live in Bloomington, Indiana--to international pickup in places including Germany and the Czech Republic.
"I didn't think it would catch on the way it has," the 14 year-old Speck told his father's web site Mellencamp.com. "I'd been asking Dad to quit for a long time, and saw how people were using Facebook to raise awareness of things like HIV and cancer research and got the idea to use it myself."
The youngster went ahead and challenged the old man, whose cigarette addiction has long concerned family and fans--especially since his heart attack in 1994. A resigned John Mellencamp, in fact, has self-deprecatingly referred to his habit as "the only thing I'm good at."
"I didn't actually think it would become this big," Speck continued. "People are leaving messages that if I reach a million, they'll quit, too!"
People are also sharing stories of their own family members whose health was diminished because of smoking.
"I think they picked up on it because of who Dad is--and how he always has a cigarette with him," said Speck.
And his father's reaction?
"He was really surprised," he said. "He thought it would just be a couple of my friends who would join it."
Speck's mother Elaine Irwin-Mellencamp says that everybody she has run into since her son's campaign began just a few days ago is cheering him--and his father--on.
"I don't think any kid likes to see a parent smoking," she says, adding that Speck is too young to remember how hard his father had tried in vain to quit.
While John Mellencamp is not commenting publicly, she believes that he is "surprised and proud" at Speck's achievement so far.
"It's always inspiring when people build a true grassroots movement," she says, "and when a 14 year-old kid does it, it's all the more charming. It's become a story of applying oneself and making a difference, and I'm really proud of him for having that experience."
As to whether John can be counted on to hold up his end of the bargain, she says: "I told John not to take the bet if he wasn't serious, because I know Speck is a strong-willed little individual."
But Speck told Mellencamp.com that his dad has already taken it seriously: "He's actually started cutting back since we went over 100,000."
An accomplished guitarist who often joins the Mellencamp band in backing his father on the hit "Authority Song," Speck has shown his appreciation to those who have signed up to his Facebook page.
"I wanted to thank everyone for joining my group," he wrote. "Your support has been overwhelming. I think the coolest part of all of this is that a lot of you have committed to quitting smoking if my dad will. It's no longer only about my dad, but it has become something bigger. Thanks again for all of your support. I enjoy reading your stories."***
***This story first appeared on examiner.com and is now being used as a press release.
EXPERIENCE HENDRIX TOUR LAUNCHES IN MARCH JIMI'S MUSIC PERFORMED IN CONCERT BY ALL-STAR LINE-UP
Experience Hendrix, the fourth edition of the biennial concert tour that features an all-star line up of music greats paying homage to the music and legacy of Jimi Hendrix gets underway in early March of next year with special performances across the country.
Featured artists who will be performing music written and inspired by Jimi Hendrix include some of the best known and most respected artists in contemporary rock and blues including Joe Satriani, Jonny Lang, Eric Johnson, Kenny Wayne Shepherd, Brad Whitford (of Aerosmith), Doyle Bramhall II, Ernie Isley, Living Colour, Double Trouble's Chris Layton, along with bassist Billy Cox. Cox, who first befriended Hendrix when the two were in the 101st Airborne Division of U.S. Army, played in both the Jimi Hendrix Experience and Band of Gypsys and performed with Hendrix at such landmark festivals as Woodstock and the Isle of Wight. Cox commented, "It's a thrill for me to play Jimi's music for audiences now as it was in the 1960s. The Experience Hendrix tours have shown how timeless this music really is." Joe Satriani remarked, "I finally get to pay tribute to my hero the right way, on stage with an amazing, once in a lifetime, line up of musicians!" Sacred Steel featuring Robert Randolph, Susan Tedeschi and David Hidalgo and Cesar Rosas of Los Lobos are also performing on selected Experience Tour dates.
Various combinations of these music greats will be performing Jimi's signature songs including "Purple Haze," "Voodoo Child (Slight Return), "The Wind Cries Mary," "Little Wing" and "Red House." As has been the case with previous Experience Hendrix tour incarnations, special guests are expected to sit in at many of the dates making the concerts all that much more memorable for both new and veteran Hendrix fans. Past special guests have included Paul Rodgers, Buddy Guy and Carlos Santana.
Kenny Wayne Shepherd, a veteran of several Experience Hendrix tours remarked, "Jimi Hendrix's music has really inspired to push the limits of my own music. He didn't observe any boundaries musically. He was an amazing player and a tremendous showman so I incorporated some of his showmanship in what I do." As far as having been part of the Experience Hendrix touring phenomenon, Shepherd noted, "It touches you on the inside and gets you fired up."
The Experience Hendrix Tour is presented by Experience Hendrix, LLC, the Hendrix family-owned company founded by James A. "Al" Hendrix, Jimi's father, entrusted with preserving and protecting the legacy of Jimi Hendrix. Earlier this year, Sony Music Entertainment's Legacy Division and Experience Hendrix entered into a worldwide catalog licensing venture to make all of Jimi's extraordinary music, including classic albums, never before heard archive recordings, and filmed concerts available through all forms of media.
Launching on the west coast, the month-long tour will bring the troupe of players, each a headliner in his or her own right, to concert venues in major U.S. markets including Los Angeles, San Francisco, Denver, Minneapolis, Chicago, St. Louis and Atlanta.
Notes Experience Hendrix Tour producer John McDermott, "The line-up for this tour reflects the breadth of Jimi's ongoing influence that reaches down through the generations. The guests that have been attracted to participate are enthusiastic about the proposition of performing with their counterparts. That mindset underscores the fact that the Experience Hendrix tour is all about musical camaraderie and the recognition that Jimi Hendrix, undeniably, casts the longest shadow in the realm of great music and great musicians."
Janie Hendrix, CEO of Experience Hendrix noted, "Everyday, we see how Jimi's musical legacy continues to transcend generational and cultural boundaries. This tour is our way to give a live concert experience that reflects the genius of his unifying spirit. Part of our mission is to share Jimi's music with audiences of all ages and these tours continue to play a key role in fulfilling that vision. As my brother said, "We want our sound to go into the soul of the audience, and see if it can awaken some little thing in their minds.. 'cause there are so many sleeping people..."
Experience Hendrix Tour 2010 dates follow
March 4 - Santa Barbara, CA - Arlington Theater (1)
5 - Los Angeles, CA - Gibson Amphitheater (1)
6 - Las Vegas, NV - The Joint @ Hard Rock (1)
7 - Mesa, AZ - Ikeda Theater (1)
9 - Fresno, CA - Table Mountain (1)
10 - San Francisco, CA - Warfield Theater (1, 2)
12 - Reno, NV - Silver Legacy (1, 2)
14 - Denver, CO - Paramount Theatre (1, 2, 3)
16 - Kansas City, MO - Uptown Theater (1, 2, 3)
17 - Minneapolis, MN - Orpheum Theater (1, 2, 3)
18 - Chicago, IL - Chicago Theater (1, 2, 3)
20 - St. Louis, MO - Fox Theatre (2, 3)
21 - Milwaukee, WI - Riverside Theater (2, 3)
23 - Akron, OH - Civic Theatre(2)
24 - Montclair, NJ - Wellmont Theatre (2)
25 - Red Bank, NJ - Count Basie Theater (2)
27- Atlanta, GA - Fox Theatre (2)
1 = David Hidalgo and Cesar Rosas appearing
2 = Sacred Steel featuring Robert Randolph appearing
3 = Susan Tedeschi appearing
LEGENDARY CUBAN VOCALIST AND LATIN GRAMMY WINNER OMARA PORTUONDO TO PERFORM IN THE U.S.A
CUBAN PIANIST ROBERTO FONSECA TO OPEN IN SUPPORT OF NEW RELEASE, AKOKAN
New York, Washington, DC, Boston, Philadelphia, Miami
Cuban vocalist Omara Portuondo, who scored a Latin Grammy Award for her 2008 recording, Gracias (World Village / Montuno) - and a Grammy nomination for the same recording, announced in early December - will bring her rich, soulful brand of jazz and balladry to live audiences in the United States as she embarks on a five-city tour in late February and early March 2010. Portuondo, an original member of the celebrated Buena Vista Social Club® - a group whose roots date back to the Cuban club scene of the 1940s before it gained international acclaim in the late '90s. She was the first Cuban artist in six years to be granted a visa to perform in the United States.
Pianist Roberto Fonseca, a rising star in the Cuban jazz scene, will open for Portuondo throughout the tour. Fonseca, whose musicianship has been heralded by the UK's Evening Standard as "muscular...percussively rhythmic and floatingly melodic," is touring in support of his new recording, Akokan, scheduled for U.S. release on February 16th, 2010.
The tour stops in five cities over eight days:
2/23 Keswick Theater - Philadelphia 2/24 Lisner Auditorium - Washington, DC
2/26 Sanders Theater - Boston 2/27 Town Hall - New York
3/2 Filmore Theater - Miami
The travel visa granted to Portuondo - for the 2010 dates as well as earlier U.S. performances in Los Angeles, San Francisco and Las Vegas, where she became the first Cuban resident to appear on the Latin GRAMMYS - are an example of the Obama administration's efforts to improve political and cultural relations between the U.S. and Cuba, which have been strained for several decades. The reviews of the fall shows were very positive:
"Portuondo's most recent solo set 'Gracias' was one of last year's best records and her 100 minute set in San Francisco showed that she's an even bigger talent on stage."
- Oakland Tribune, 23rd Oct 2009
"Portuondo's contralto still registers as a formidably potent and emotionally limber instrument, telegraphing ruefulness or parental tenderness or swooning romantic fatalism."
- Los Angeles Times, 25th Oct 2009
Born in Havana in 1930, raised on the rich sounds of North, Central and South American jazz and dance music, and seasoned by the often volatile political and social forces that have shaped her homeland over the past half-century, Portuondo has ascended to iconic status around the world. The New York Times review of Gracias noted that the years have done nothing to mitigate her vocal prowess: "Her voice...is rich, shapely, dynamic and still sultry."
Initially a dancer during her teen years at the famous Tropicana cabaret, she launched a singing career with a group called Los Loquibambla, a combo that merged the sounds of bossa nova and American jazz. She later joined the Quarteto d'Aida, with whom she recorded and toured for 15 years before recording her first solo album in 1959. Later, despite the upheaval of the Cuban revolution in the late '60s and its aftermath in the '70s and '80s, she continued to forge a career as a member of Cuba's high-profile Orchestra Aragón.
Her career reached a new pinnacle in the late '90s via her impassioned performances on the Grammy-winning 1997 recording, Buena Vista Social Club. Propelled by this success, she has spent the past decade piling up awards and accolades from either side of the equator for a series of finely crafted recordings.
"It is the simple and profound things - life, love - that inspire me most," she says. "Singing energizes me, and with this energy, I can introduce my culture and my roots to the world. Music is a part of nature, and a huge part of my life."
Born in 1975 (also in Havana), Roberta Fonseca has been recording as a solo artist since 1998, and has toured with Portuondo numerous times over the past decade. The UK's Independent has praised his "elegant line and unhurried feel for time and space," while The Guardian heralded him as "a fabulously gifted pianist, composer and bandleader." In the span of a dozen years, he has crafted six albums and performed with numerous high-profile Latin and American jazz artists, including Herbie Hancock, Ibrahim Ferrer, Michael Brecker, Cachaíto López, Wayne Shorter and many others.
Fonseca's new album, Akokan (the title means "heart"), showcases the percussive style that has become his trademark, and brings the energy, magic and improvisational prowess of his live show to the studio setting. In addition to the band that has accompanied him for twelve years, the album also features Cape Verdean vocalist Mayra Andrade and American guitarist Raul Midon.
Despite the breadth and depth of his resume, Fonseca manages to capture the scope of his musical vision in just a few words: "I'm enthusiastic to share this journey with my audience, wherever they welcome me."
Omara Portuondo with Roberta Fonseca Tour Dates 2010
23 - Philadelphia, PA - Keswick Theater
24 - Washington, DC - Lisner Auditorium
26 - Boston, MA - Harvard University Sanders Theater
27 - New York, NY - Town Hall
March
3 - Miami, FL - Fillmore Theatre
Scott Weiland Announces Auction of Personal Items and Memorabilia to Benefit his ArchAngel Organization

100% of the Proceeds Will Go to the Family of Scott's Brother, Michael Weiland, Who Unexpectedly Passed Away in 2007;

Items include a signed guitar as well as clothes worn on stage, at awards shows, on tour and at various other public engagements;

Auction to begin December 7, 2009 at SoftDriveRecords.com/ArchAngel

Los Angeles, CA December 7, 2009- Scott Weiland, the charismatic lead singer of Stone Temple Pilots, will offer the public a rare glimpse into his personal life next week as he auctions off a variety of clothing and personal affects to benefit his ArchAngel Organization. Weiland formed ArchAngel when his brother, Michael Weiland, passed away in early 2007 after a long struggle with addiction. Proceeds from the auction will be given to Michael Weiland's widow and two children.

According to Scott Weiland: "The overall idea is to grow this into something more, while still helping my brother's family, and to also reach out and help families who are or have recently been through the same painful and seemingly hopeless situation. For now however, this is what we can and what we are able to do. Have fun with it and know that 100% of the profits are going to help my sister in-law and my nieces Sophie and Claudette."

Items being auctioned off include a guitar signed by Stone Temple Pilots, designer suits and denim, and clothes worn on stage, at awards shows, on tour and at various other public engagements. Other items include Scott's casual attire, clothes he wears around the house as well as some "crud" Scott had at his house or studio. Most items are signed by Scott Weiland. New items will also be added periodically. The ArchAngel auction site can be accessed through http://www.SoftdriveRecords.com/archangel . Auctions will last two weeks and all items will have inexpensive starting prices.

For more information on Scott Weiland and his ArchAngel Auction, go to www.softdriverecords.com or www.scottweiland.com.
K BAND MUMFORD & SONS TO RELEASE MUCH-ANTICIPATED DEBUT SIGH NO MORE MARCH 2ND IN THE US
SEVERAL US TOUR DATES IN EARLY 2010
West London indie rock quartet MUMFORD & SONS is set to release their critically acclaimed US debut album, Sigh No More, March 2nd on Glassnote Records. They will play several headlining dates in North America in early 2010 in support of the release (dates below.)
On their debut, Mumford & Sons have created a gutsy, banjo-driven, old-time sound that marries the magic of Crosby, Stills & Nash with the might of Kings of Leon and the harmonies of Fleet Foxes. Sigh No More was recorded at Eastcote Studios, where Arctic Monkeys, Brian Eno, Tindersticks and Laura Marling have honed their sound. The band teamed with producer Markus Dravs who has worked with such superstar acts as Arcade Fire, Bjork and Peter Gabriel. Sigh No More was recently released in the UK to critical accolades. The album debuted in the UK iTunes Top 10 recently and is being lauded by tastemaker publications such as NME ("A band who know they're onto something not just good, but spectacular") and Q Magazine ("A record that swings from arresting fragility to hearty dynamics.") The first single, "Little Lion Man," is already being boasted as "The Hottest Record In The World" by Radio 1's Zane Lowe, and the band has been longlisted for the BBC Sounds Of 2008 Poll, which features the most promising new music talent.
Formed in 2007, the band's goal since day one has been to make music that matters. Before recording their debut, Mumford & Sons self-produced three EPs and toured the UK extensively, bringing their rootsy rock across the country. The band recently wrapped a handful of well-received performances during the annual CMJ Music Marathon in New York, which left TIME OUT NY to comment, "The Brit combo has a spine-tingling way with harmony."
Mumford & Sons are Marcus Mumford (vocals, guitar, bass drum, and tambourine strapped to his left foot and right,) Ben Lovett (keyboards,) Country Winston (banjo, dobro, electric guitar) and Ted Dwane (bass.)
Tour dates for Mumford & Sons:
2/9 - Los Angeles, CA - Troubadour
2/11 - San Francisco, CA - Popscene @ 330 Ritch
2/15 - Toronto, ONT - El Mocambo
2/18 - New York, NY - Bowery Ballroom
UMPHREY'S MCGEE ANNOUNCES WINTER TOUR DATES
UMPHREY'S RECENTLY UNVEILED THE STEW ART SERIES (aka, "S2"):
PRE-SHOW EVENTS IN SELECT MARKETS WHERE FANS CAN "CONDUCT" THE BAND!
WITH S2 UMPHREY'S MCGEE CONTINUES TO LEAD THE INDUSTRY IN INNOVATIVE MUSIC EXPERIENCES
Umphrey's McGee has never played by the rules. Now, with the unveiling of their all- new Stew Art Series (aka, "S2") - an interactive fan experience where audience members "conduct" the band's live improvisations - Umphrey's McGee continue to offer their fiercely loyal fanbase the most innovative musical experiences available.
Look for the band to announce S2 events at various stops along their recently announced 2010 winter tour dates. Confirmed tour dates are as follows:
December 10-13 Caribbean Holidaze Runaway Bay
December 29 Vic Theatre Chicago IL
December 30-31 Aragon Ballroom Chicago IL
January 14 Orpheum Theatre Flagstaff AZ
January 15 House of Blues Las Vegas FL
January 16 Warfield Theatre San Francisco CA
January 17 Knitting Factory Reno NV
January 19 Knitting Factory Boise ID
January 20 The Depot Salt Lake City UT
January 22 Belly Up Aspen Aspen CO
January 23 Fillmore Auditorium Denver CO
February 2 Slowdown Omaha NE
February 3 Liberty Hall Lawrence KS
February 4 The Pageant St. Louis MO
February 5 War Memorial Auditorium Nashville TN
February 6 The Tabernacle Atlanta GA
February 9 WorkPlay Soundstage Birmingham AL
February 11 The Orange Peel Asheville NC
February 12 The Music Farm Charleston SC
February 13 Neighborhood Theatre Charlotte NC
February 14 Rams Head Live Baltimore MD
March 21-23 Jam in the 'Dam The Melkweg Amsterdam
May 28-30 Summercamp Chillicothe IL
Hosted as individual events before that evening's already schedule show, Umphrey's Stew Art Series is a crowd-sourced improvisation experiment, in which all the music performed by the group on stage will be entirely directed by S2 audience members. Check out this S2 video from the inaugural S2 event in Milwaukee: http://www.youtube.com/watch?v=XYJn64XRGXU.
The first few S2 events have been received with overwhelming enthusiasm and to rave reviews, including recent coverage in Billboard Magazine. For S2, sold-out crowds of 50 fans submit their ideas by texting descriptive words, phrases, and pop culture references (pretty much whatever came to mind), to the Umphrey's Mozes mobile interface. The suggestions are then filtered by the band's long time Sound Caresser Kevin Browning and projected on a screen for the band to digest and turn into the next phase of the jam. The band's music varies stylistically with suggestions ranging from "an afternoon bus ride in Jamaica" to "drinking pina coladas...in a hurricane". As one elated fan commented after a show, "S2 was the coolest thing I have ever been a part of. It's always been a dream of mine to meet the band, and the opportunity to participate in leading the Jam for the band was a dream come true as well."
As highly skilled improvisational musicians known for using a complex set of signals on stage to prompt spontaneous musical changes, S2 is proving to keep the band on their toes as they navigate through the audience's prompts. S22 event), every attendee receives an autographed CD of the Stew Art Series they attend - minutes after the event has concluded. To be clear, each S2 show is a TOTALLY separate event than the scheduled concert date and will be sold as a separate ticket - getting a ticket to S2 does not get you into the show later that night (and vice versa). The S2 experiment is just that, an experiment. Keyboardist Joel Cummins explains, "The improvisational elements of our show have always been one of our favorite parts about playing together - and we think the audience feels that way, too. That's our inspiration for the S2 series. It's also a great way to stay on top of our chops." S2 events take place in the early evening before the respective show start times. Prices and ages vary from show to show - which should last one hour (with Q&A).
This is not the first time that Umphrey's McGee has taken new approaches to delivering their music to the fans. Before their latest studio recording, Mantis, was released in January of this year, the group made the album available for pre-order in an interesting way. Fans were offered more free bonus content the more Mantis pre-orders were received; as the fans "unlocked" levels of content by getting more of their friends to pre-order the album. The idea was to give the fans incentive to help spread the word about the album, and to offer a totally unique music experience.
BILL COSBY TEAMS WITH BOYS & GIRLS CLUBS OF AMERICA FOR 'STATE OF EMERGENCY' CAMPAIGN

LISTENing Parties set to be held December 12th and 13th

Boys & Girls Clubs of America is joining forces with Bill Cosby in support of the comedian/educator's latest CD project, "Bill Cosby Presents the Cosnarati: State of Emergency." The youth development organization is set to host a series of LISTENing parties across the country to foster community dialogue and promote the album's socially conscious themes--self-respect, education and service to others--which embody the principles championed by Boys & Girls Clubs. These sessions will kick off on December 12th and 13th across America and will be greeted with a phone call from Cosby and the Cosnarati.

"Boys & Girls Clubs of America is excited that Clubs are hosting LISTENing parties to mobilize their communities around very poignant issues that are affecting youth nationwide," says Judith J. Pickens, the organization's Sr. VP, Program & Youth Development Services. "We believe this is the perfect opportunity for the Clubs to not only engage teen members but also fosters dialogue and action throughout the community."

With some 4,300 Boys & Girls Clubs across the United States, the organization counts among its diverse alumni actor Denzel Washington, Olympic Gold Medalist Jackie Joyner-Kersee, actress Jennifer Lopez, President Bill Clinton, and Cosby himself. "Thank you Boys and Girls Clubs of America. Your support of the Cosnarati LISTENing Parties gives the true meaning of 'it takes a village'", said Cosby.

Released November 24th and executive produced by Cosby, "State of Emergency" is produced by Cosby's longtime musical colleague William "Spaceman" Patterson and special guest rappers/activists Jace the Great, Brother Hahz and Supa Nova Slom. To continue the dialogue and further combat the social issues addressed on the CD, Cosby developed the LISTENing parties.

Visitors to billcosby.com can sign up to host or attend LISTENing parties in their own neighborhoods. Party hosts will receive a "State of Emergency" pack which will include a CD, the album lyrics, a list of talking points and a copy of the CD's companion book, the Cosby co-written "Come On People: On the Path From Victims to Victors."

For more information about "Bill Cosby Presents the Cosnarati: State of Emergency," please contact:

Popular in the Community