Promoting Angelique Kidjo's cover of the Curtis Mayfield classic "Move On Up" is a new video directed by Kevin J. Custer with imagery and dancers from Bill T. Jones' acclaimed Tony-nominated Broadway musical Fela!. Recorded with Bono and John Legend, the song is taken from her critically-acclaimed album Oyo, an album of music that inspired the artist as a youth in Benin. After this Huffington Post debut, the video will be used to help promote Kidjo's upcoming June 10th performance for the FIFA World Cup Kick-Off Celebration Concert at the newly renovated Orlando Stadium in Soweto/Johannesburg.
"I am convinced that the success of the FELA! musical on Broadway is the indisputable sign that people are now interested in the true richness, depth and beauty of African culture," said Angelique Kidjo in a recent press release. "I feel that the music from my continent is a universal language that can create a bond between all the different cultures of the world, and this is what the musical is about. Collaborating with the FELA! dancers on the 'Move On Up' video has been an amazing experience for me. The musical and the song, that I dedicate to the African youth, carry the same message of joy and hope for the future of Africa and for the future of people everywhere."
"Angelique Kidjo is one of this world's truly great musical personalities," said Stephen Hendel, FELA!'s lead producer. "The Broadway company of FELA! was honored to participate in this beautiful music video, and we are delighted by how well the video captures both the spirit and soul of Angelique, of the FELA! performers, and of Bill's choreography."
Angelique Kidjo also will appear on Late Night with Jimmy Fallon on July 27th where she'll sing "Move On Up" as she's backed by The Roots. "Move On Up" is also featured on Listen Up! The Official 2010 FIFA World Cup Album which was released May 31, its proceeds going to various African charities.
PRESS RELEASE: LOS LOBOS CANCEL ARIZONA PERFORMANCE
Grammy Award winning roots-rock band Los Lobos has decided to cancel their scheduled performance at The Talking Stick Resort on June 10th, 2010. The band has made this decision based on the current call to boycott Arizona in response to SB 1070.

Through their management, Los Lobos issued the following statement: "We support the boycott of Arizona. The new law will inevitably lead to unfair racial profiling and possible abuse of people who just happen to look Latino. As a result, in good conscience, we could not see ourselves performing in Arizona. We regret the inconvenience this may have caused the Salt River Pima Maricopa Indian Community, Casino Arizona, Talking Stick Resort and our fans, but we feel strongly that it is the right thing to do."

The members of Los Lobos are Steve Berlin, David Hidalgo, Conrad Lozano, Cesar Rosas and Louie Perez.
PRESS RELEASE: DARYL HALL AND JOHN OATES PROVE KINGS OF ALL MEDIA, WITH TV, MOVIES, LIVE AND INTERNET APPEARANCES
Best-Selling Pop-Rock Duo of All Time Make their Mark on American Idol, Summer Tours, Webcasts, Real Estate, Print and More

Daryl Hall and John Oates continue to make their dreams come true. The accolades, awards and accomplishments keep on coming for the best-selling pop-rock duo in history, with no end in sight, as the two continue to add to their historic legacy.

With their popularity once again growing among fans both young and old, the pair recently appeared on the finale of Fox's hit show American Idol after the finalists performed a medley of Hall and Oates standards "I Can't Go for That" and "Maneater," followed by Daryl and John's version of "You Make My Dreams," the same song Joseph Gordon-Levitt sang in a memorable scene from the hit movie (500) Days of Summer.

Digital downloads increased a whopping 188% after the performance.

In the midst of an otherwise desultory summer touring season, Daryl and John continue to do turn-away business, with several sold-out shows in May and June. In addition, Daryl will appear with Canadian techno band Chromeo for a special midnight set at Bonnaroo that brings an episode of Hall's award-winning Live From Daryl's House web show, where the group first appeared, to the stage of the renowned Tennessee festival on June 11.

"You have to feel good about all these younger musicians who cite us as influences," says Daryl. "This is just my way of returning the favor."

The 31st and latest installment of the series will debut June 15 featuring matchbox twenty's Rob Thomas at www.lfdh.com. The program won the prestigious Webby award for Best Variety Series, beating out more than 10,000 entries.

Music isn't all that Daryl has been up to, either. A devoted restorer of historic homes, Daryl combined two 18th century structures into a single manor in Dutchess County, about 100 miles north of New York City, which was prominently featured in a recent Wall Street Journal article. Hall put the estate, dubbed Flint Hill, on the market for almost $12 million after working with antique dealers, historians and contractors to build the 24-room manor house with expansive views of the Catskills and Litchfield.

In addition, there will be an upcoming profile of Daryl in New York magazine later this month, as well as a newly edited Daryl Hall and John Oates Behind the Music on VH1 this fall.

As LL Cool J once put it: "Don't call it a comeback," because Daryl Hall and John Oates "have been here for years." And, they're as popular as ever.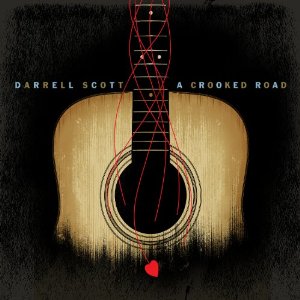 A CONVERSATION WITH DARRELL SCOTT ON HIS NEW ALBUM A CROOKED ROAD
Mike Ragogna: I was very surprised when your new album A Crooked Road showed up as a double disc since most artists shy away from releasing projects with this much content. Then again, you're a very busy songwriter with covers by The Dixie Chicks, Keb' Mo', Travis Tritt, Kathy Mattea, Guy Clark, Alan Jackson...you've pretty much established yourself as a Nashville writer.
Darrell Scott: In some ways, it looks that way, yes. It's probably true in terms of getting songs cut and having people do some of my songs. I'm very fortunate with that.
MR: Being so prolific, were you playing catch-up with this record because you had such a large catalog?
DS: Yeah, it kind of was. It was one of the ironies for me. I have more songs than I have records out, and even though I have seven or eight records, I definitely have a backlog. But that's not why I made it a double record. What is more important to me is the theme of any particular record that I am working on, and kind of treating it as a whole. So, all of these songs felt like they wanted to be treated as this one record. I see them as one overall piece.
MR: When you were recording A Crooked Road, you kept the production minimal for many tracks, adding just enough instrumentation overall to basically interpret the songs.
DS: The plan was to face each song and see what it needed because I do play a lot of instruments. I played all the instruments and sang everything, all the harmonies. What can happen in that case is you can put something on just because you can, you can throw on an instrument because you can play it. In some cases on this record, I didn't play those instruments, so I learned enough while I was making the overdub to throw down a part. I wanted to treat each song as its own, so some songs did not need more stuff on them, other songs sound like it's a full band. It really was a song-by-song case.
MR: And the sequence helps keep the balance pretty even.
DS: I do know that there was a ramp to the record. It starts out more quiet and even folky, then gets louder and busier. I can't say that was my strategy, it was something that I noticed after it was put together.
MR: Lets talk about the songs. Who is "Suzanne"?
DS: A woman I was in a relationship with. Pretty much the whole album is on different relationships I've been in, so the record kind of goes along chronologically. She shows up around the middle, and she was a very significant relationship. I'm one of those who believes that relationships strike very deep into us, and they can become one of our greatest learning tools, whether or not they turn out all sunshine and rainbows.
MR: The best title has to be "Snow Queen And Drama Llama." Was it written about another one of your relationships?
DS: Another relationship. That one had the quality of "this is going to last the rest of our lives, she's the woman of my dreams." It turned out it was somewhere more than a one night stand, but something less than forever. Those names were sort of things that I made up, kind of characterizations of the people involved.
MR: My favorite is "The Open Door." This song, especially with that piano part, reminds me of classic Jackson Browne.
DS: That song came out almost as a premonition. I don't know of another way to say it. Some songs come out of an experience, so the piece becomes kind of a chronicling of what just happened. This song felt like it was a "pre" of what happened, so that's why I call it a premonition. I wrote it two days before I went on a trip out west that changed the relationship I was in. It basically turned it around, changed it completely, and the relationship couldn't get past it. And yet it was all there in that premonition two days before the trip even started.
I appreciate the Jackson Browne connection because some of his most moving work was very early on with his first three or four records. He had the quality of opening himself up, and it seems like he's telling us exactly how he feels. It's poetic, Jackson's taste, it's beautiful. It's him ripping himself open. That's what I think of when you say Jackson Browne. I can see and would hope that a song like "The Open Door" has some of that quality where you almost feel like you're listening to something pretty heavy to the person.
MR: The power of introspection.
DS: I have a theory on that. If artists open up, those parts and those kinds of things in their songs or their work...what I feel happens is that it resonates with the person reading it or hearing the song or whatever. And it's a connection, it resonates to the same kind of place deep inside them rather than it being like we are reading someone's diary. It's more like we are experiencing something as the artist has opened up to us to resonate with and for us to consider the same kind of stuff that's going on for us.
MR: What was your reaction to being covered by The Dixie Chicks?
DS: Oh, it was fantastic. It was more than a dream come true. I would never expect that the girls would become a fan of my songs, but anytime I had a record come out, they had a copy of it. I was one of the artists I think they wanted to follow to see what this guy was up to. There were other artists as well, but I was glad to be in that number of folks whose records that they wanted to hear.
MR: I wanted to ask you about having had success as a Nashville songwriter.
DS: This is an interesting thing, and I know this is hard to pinpoint because when you say "Nashville songwriter," I think what's meant is how does your music grow on commercial radio somewhere.
MR: Not necessarily. I'm talking about people that get covers because it's a music community, not just because they've written pop-country submissions.
DS: Right. Townes Van Zandt made Nashville his home as did John Hartford and Willie Nelson...Kris Kristofferson, Steve Earle, Emmylou Harris, John Prine. A lot of people, when they think of Nashville or talk about Nashville, they think about Garth Brooks and top ten songs or something when in fact, the community has that, but it also has these amazing artists.
MR: Any advice to up-and-coming artists and songwriters.
DS: My take would be, hey, be more of who you are absolutely through and through. And stay there long enough for them to figure out who you are, and you'll be judged and accepted upon that. Sometimes, it feels like they don't really come to who they are musically or creatively, and then I don't think they are serving themselves or the world at large or the community of music. I would say, basically, be yourself no matter what. Stay long enough to develop that, and put that out. So, just kind of stick with it, and then eventually some people will hopefully know about it.
(transcription: Erika Richards)
Listen to Mike Ragogna with James Moore streaming live Fridays at 3pm CT on KRUU-FM, the Midwest's only solar-powered radio station: http://www.kruufm.com/
Popular in the Community