So you've probably heard of the BRIC countries as discussion of the economic growth potential of Brazil, Russia, India and China has been all the rage, especially during the recession. While still critical to world economic growth, those countries are no longer the cutting edge of investment and sustainable opportunity.
Who knows what the EMICS are? How about Ethiopia, Myanmar, Iran and Colombia? I recently was invited to attend a very special conference held at this picturesque Swiss castle nestled among idyllic gardens near the Swiss-Austrian border. "Daring for Big Impact" was a most compelling and unusual confab, featuring a carefully curated group of international experts from industry, finance, government and philanthropy. Organized by Swiss-based global impact investment and strategy firm Impact Economy, the conference looked at several significant but seemingly unrelated topics, all of which are on the cutting edge of business innovation and investing for the 21st century.
"Our challenge going forward is twofold," explained the conference's host, Christian Kruger, who serves as Chairman of Krüger & Co., and owns and maintains Greifenstein Castle in his spare time.
First, to accelerate the pace of progress so we move from pilot to mainstream, and begin achieving demonstrable results on a massive scale. Second, we need to return to holistic thinking and consider what the good life means in the 21st century, and reflect upon what each of us can do individually to ground ourselves and contribute -- so the good life is not just for the privileged few.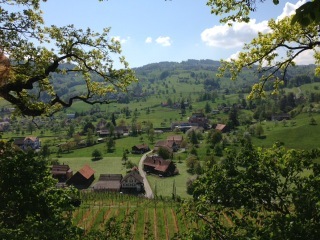 The conference, nestled among idyllic gardens near the Swiss-Austrian border, brought together international experts to attend sessions like "The Pursuit of 21st Century Happiness."
While covering topics ranging from how to meet the crushing demand for clothing and apparel throughout the developing world in a safe and sustainable way, to climate change and its ramifications, to the relatively new science of impact investing, the conference attempted to meld these seemingly diverse topics into a central theme: if we can work together productively and strategically, we can overcome the seemingly insurmountable challenges threatening our future. Overpopulation, water scarcity, fracking, electronic waste, rising temperatures and oceans, unstable and totalitarian governments... none of these externalities seemed to deter the enthusiasm for utilizing strategic investment not only for profit but to help deal with these threats to our very existence.
This seeming juxtaposition is perhaps best illustrated by Bangladesh: the apparel industry is growing by leaps and bounds there, accounting for 20 percent of its GDP. But this emerging country is also responsible for one of the worst industrial disasters in modern history, the April 2013 collapse of a large garment factory building in Dhaka, which killed over 1,100 workers. And herein lies the problem, and the opportunity which the fourth annual iteration of "Daring for Big Impact" addressed.
"Beyond catalytic countries that can drive wider progress, there are also countries whose success in modernizing could have wider geostrategic implications," said Dr. Maximilian Martin, co-host of the conference as well as founder and CEO of Impact Economy. I had met Dr. Martin at a previous professional gathering and was taken with his keen insight and ability to analyze and translate the world's sustainability problems into business innovations.
Dr. Martin explained why he believes the EMICs to be where the action will be going forward.
Ethiopia has been the fastest growing economy in Africa with a GDP growth rate of 10.7 percent in the past decade, which made it the 12th fastest growing economy worldwide. Myanmar has undergone important industrial reforms to allow more foreign investment to flow into the country. Iran is the largest economy in the Middle East after Saudi Arabia in terms of GDP (although sanctions make it off limit for investments at the moment). And Colombia's vision to become one of the top three most competitive countries in Latin America by 2030 is supported by an expected GDP growth of 4.5 percent in 2014.
Indeed, the seventh World Urban Forum was recently held in Medellin, best known of course as world headquarters of the infamous drug cartels. However, as proof of Dr. Martin's assessment, the murder rate there has dropped by 80 percent since its peak, and was rated the number one innovative city in the world by none other than the Wall Street Journal.
A critical message imparted by Dr. Martin throughout the conference is the need to integrate sustainable practices into key industries to enable their long-term competitiveness, especially fashion, retail and electronics -- none of which, according to him, are on a sustainable track currently. This is an example of an area that business and investment leaders must work with NGOs and philanthropists to correct. The ramifications of the waste generated by these industries without proper forethought to using recyclable materials and getting those materials back into the recycling/remanufacturing supply chain will be disastrous otherwise. But if reused, they become a business opportunity.
This critical issue was looked into more closely by Carlos Criado-Perez, former CEO of British retailer Safeway and before that operations director for Walmart International. Perez's presentation made much of data points coming from Impact Economy and Ellen MacArthur Foundation research, for example that over $700 billion -- yes with a "b" -- could be saved if just half of what is sold annually by the apparel industry could be recycled for future use after its useful life, instead of ending up in landfill. Not to mention, the production of clothing is extremely water-intensive and Impact Economy estimates that up to 50 percent of the zillions of gallons required could be saved by use of sustainable manufacturing practices.
An interesting twist that separated "Daring for Big Impact" from the dozens of other "future-look" conferences was the inclusion of sessions like "The Pursuit of 21st Century Happiness" which featured Swami Nitya, spiritual guide from the UK, and Han Shan, a "guru" from Thailand, which related opportunities in global change to the personal level.
One other aspect of the conference that is close to my heart was remarks by David Gelber, formerly producer for Harry Bradley of 60 Minutes fame but more recently, creator of the important documentary series Years of Living Dangerously, which is airing on Showtime (perhaps they think it offsets the soft-core porn one usually finds there?). This production is one of the best ever made at illustrating the potentially catastrophic effects of climate change. We screened an episode and a very lively discussion followed, although not surprisingly, there is not much disagreement among this group about how critical it is to proactively respond immediately if civilization as we know it is to continue.
Suffice it to say that this conference stood out from the crowd. The firm Impact Economy and Dr. Martin in particular are to be commended for having the vision to show how different topics add up to a comprehensive picture and three days of intensive and provocative thought about where we go from here and how to do it in a way that will benefit all, not just investors.
Popular in the Community