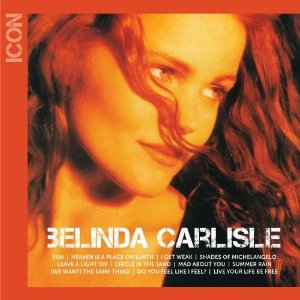 A Conversation with Belinda Carlisle
Mike Ragogna: Belinda, you have a new collection that's part of the ICON series from Universal featuring your new single "Sun." Can you tell us about the new recording?
Belinda Carlisle: Well, it's funny because I really had no interest in doing another English-speaking pop record. My last record was all in French. I couldn't really see myself doing anything in the sort of vein that I'd been in before unless it was really, really good. My son has been on me about doing something new, but I said, "No." Then he brought me this song that a friend of his had written and I thought, "Oh my God, this is really good." It needed some lyrical work, so with the help of Jane Wiedlin, my band mate, and Gabe Lopez who wrote the song originally, we came up with a song about looking on the brighter side of things and celebrating life. We were debating what kind of format to release it on, but then Universal approached my management about doing a new best-of collection, and we thought it might fit in nicely with that.
MR: This new ICON collection not only includes "Sun," but also some of your trademark songs like "Heaven Is A Place On Earth," which has become a bit of an anthem, plus hits such as "Circle In The Sand," "I Get Weak," and "Live Your Life Be Free." How do you look at your catalog at this point in your life?
BC: Well, some of those songs do transcend the music and become moments for a lot of people. It was the '80s, so it was the last great decade of identifiable fashion, art, music and a certain sound. I have an incredible back catalog, but a lot of things weren't included on that because I work internationally. There have been a few best-of collections in different parts of the world where there were other songs on there that were hits--like in Russia, "California" was a hit, I think. Of course this record is amazing, and I'm really blessed to have this back catalog that I can work as little or as much as I want to every year.
MR: How do you live your life creatively these days, understanding your place on the global stage?
BC: Well, I don't think about the market when I work now. My last album, Voila, was something that was totally from the heart, and when I did it, I didn't even know if anyone was going to hear it, but it became a commercial success and a critical success, especially in Europe. That was the first time ever that I could work without any kind of pressure or being on any hamster wheel. It was the most amazing way to work--I could do whatever I wanted, I could whistle. I wanted to sing along with an accordion, I wanted the glockenspiel, and that's exactly how I want to work now and how I can work now. I have the luxury to do whatever I want to do, as esoteric and weird as it might be. Though I'm encouraged to do things that are more mainstream, I'm not that interested in that. I'm just interested in following my heart and really what moves me and gets me excited. I'm lucky I can do that because I have such an extensive catalog to work from that people will actually listen to me when I have an idea for a weird project or whatever. I have the luxury of doing pretty much whatever I want to do, and that's a great place to be.
MR: In addition to your recording career you're also a writer. You wrote a New York Times best seller, Lips Unsealed, an autobiography ranging from your early days through your Belinda Carlisle solo days, right?
BC: Right. I was always thinking I had a book in me, and I knew I had a good story. I knew that one day the right time would come, and when I finally got some sobriety under my belt and was able to look back at my past and be very objective about it I did it. Three or four years ago I think I wrote it. I did it more as a book about overcoming obstacles and that you can teach an old dog new tricks. Basically, that was the gist of my book. It was about rock 'n' roll and kind of my dirty laundry, but mostly an inspirational tale about overcoming obstacles. The Go-Go's themselves was that story--becoming the most famous band in America against all odds--from zero to one hundred in three years was kind of amazing.
MR: I may be inferring too much here, but it seems like your music and even image was about empowerment.
BC: Well, we never really thought of ourselves as feminists at that time. We knew that we were feminists only in as much as we were doing everything on our own terms. We didn't really have a Svengali or a Simon Cowell molding and shaping us, we just did it all ourselves and never sold out. We were in control of our art direction, concept, music, and we were role models for a lot of girls who said, "Wow, if they can do that, and take control of their career and lives, then we can too." Even to this day, people come up to me all the time, women especially, and say, "You don't understand what your music has meant to me." It's a really amazing feeling.
MR: And fans of The Go-Go's also followed your solo career and continued growing with you.
BC: I think that my career has pretty much led me down all the styles of music except for maybe jazz fusion, country & western and blues. As far as pop goes, everything I've ever done from The Go-Go's to my solo career has always been a really honest representation of where I was at that time, and I think people can hear the honesty in the music.
MR: I imagine that working on Lips Unsealed must have brought back some great memories from various points in your early career, for instance, doing a video with Diane Keaton right out of the box.
BC: Right. Yeah, working with Diane was amazing. She had just come off a documentary called Heaven. I had met her through my husband and different people. She was obviously really talented and she did my first two videos. Throughout my career, I've worked with amazing people all the way from George Harrison to Brian Wilson to Bryan Adams--tons of people. I've been truly lucky and have had amazing collaborations in the thirty-eight years of my career.
MR: As you look at Adele and some of the other acts these days, what is your feeling about pop music now?
BC: I think Adele has an amazing voice and I love her--Lady Gaga too--I think she is an amazing talent and personality. I think there is some greatness there, and there is a lot that isn't so great. I don't really pay attention that much to pop music, but I don't know that some things come up that I like. I'm a fan of Beyoncé. There's a lot of good stuff and a lot of crap too.
MR: What is your advice for new artists?
BC: Don't do drugs. That's it. That's the only advice I give to kids because it's ruined so many careers, and it's gotten in the way of creativity. That's the only advice I give to anybody. Don't do drugs.
Transcribed by Ryan Gaffney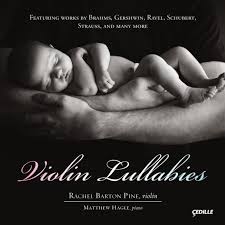 AN EXCLUSIVE LULLABY FROM RACHEL BARTON PINE
Inspired by the birth of her daughter, renowned violinist Rachel Barton Pine recorded the lullaby album, Violin Lullabies. With pianist Matthew Hagle, Pine covered 25 of the world's greatest intentional lullabies, not just soothing classical pieces that could serve the purpose. However, these lullabies--from composers such as Ravel, Schubert, Gershwin, Sibelius, and artists like William Grant Still and Amy Beach--are presented in the classical format, not approached as children's recordings. Also, the recording of "Brahms Lullaby" is performed on the "Ex-Soldat," a violin hand-picked by Brahms himself for his student Marie Soldat, a superstar of her day.
Here is Rachel Barton Pine's audio exclusive, a taste of the album Violin Lullabies, a cover of Amy Beach's Berceuse (Lullaby), No. 2 from Three Compositions, Op. 40.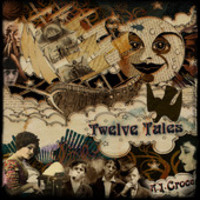 A Conversation with A.J. Croce
Mike Ragogna: How are you doing A.J.?
AJ Croce: I'm doing great Mike. Thanks for having me.
MR: It's my honor. Let's start right off by talking about your new project, Twelve Tales.
AJC: I don't know what I was thinking when I got the idea to do this. Basically, I'm traveling around the country and I'm working with six different producers. Each producer will record two songs, so it's kind of like an old fashioned single, right? Then, I'm releasing one song a month through the year of '13. We started in January with the first release being "Right On Time," then in February was "Momentary Lapse," and then at SXSW, we released "Tarnished And Shining," which has been my favorite so far. So far the producers are really amazing. I started with Cowboy Jack Clement who was the house producer at Sun Records in the '50s. He produced all that great music--Elvis Presley, Carl Perkins, Johnny Cash, Roy Orbison and Jerry Lee Lewis. Then he moved to Nashville and worked with Chet Atkins and he wrote for some amazing folks. He had some big hits with George Jones. Anyhow, I've known him since I was young and I thought it would be fun to record something with him, so we recorded two songs. Then, I went a completely different direction and worked with an Irish producer named Kevin Killen, who has been working with Elvis Costello for the last twenty-five years or so, and also with Peter Gabriel and some really interesting artists--very diverse, actually. The last recording was done about two and a half or three weeks ago now in New Orleans with one of my heroes, Allen Toussaint, who I learned so much from. Being able to work with him was a real thrill because I've been listening to his stuff all of my life and he really influenced my playing and the way I write and think about music.
MR: Right from your first album, it has seemed like you have had some sort of connection, spiritual or otherwise, to the music of New Orleans.
AJC: I've always felt a connection to the music there. I don't know what it was--something about being left-handed I guess, and just loving to be able to play those second line grooves and things. I grew up sort of listening to that stuff with the old masters like Fats Domino, James Booker, and, of course, Toussaint on his stuff. But I also listened to the earlier stuff, which is where they got it--Fats Waller, James P. Johnson and Jelly Roll Morton. That stride stuff turned into the second line sort of wobble that you get.
MR: Tell us about your connection with Leon Russell.
AJC: Yeah, I got an email about three and a half weeks ago that he was into writing, and we wrote three songs real quick. One of the songs ended up being something that Allen Toussaint picked to produce, so that will come out in June, but it looks like we have a fair number of songs going, and as soon as I have more than five minutes at a piano, we'll continue to write. It could turn into a record, I don't know, but at this point, it's just a lot of fun.
MR: It's been a lot of fun to watch you over the years and see you grow. You don't know this, but when you were three or four years old, I was working at the company where your dad's producers hired me as a kid to work at the office after school. Your mom, Ingrid Croce, was having some sort of business meeting at the office, and we played during that time in an adjoining office. I also rocked you in a rocking chair 'til you fell asleep toward the end.
AJC: Well, thank you. I appreciate it. [laughs] That's so nice.
MR: I think I was 15. So I understand you have a particularly interesting story about one of your songs, "I Should Have Known."
AJC: That was for a contest, which was kind of like having a friend sign you up for a scholarship you didn't even know you were up for and then winning it. My manager sent in a couple of songs to this international songwriting competition, and I heard about a month ago that I had won the grand prize. I didn't think it was real at first. I thought it was one of those Nigerian King type of letters. It turned out to be alright because no one lost their passport in a foreign country and I actually did win the prize on a song that I co-wrote with my good friend Steve Poltz. It's on an album called Cantos.
MR: From project to project, it's more like you're including your knowledge of various genres as you record. In other words, it seems like you aren't limiting yourself to a particular style, but are exploring all sorts of musical territory.
AJC: That's exactly correct. It's really been my goal for a long time as a writer to be able to find this balance between something that has a great melody and is also very soulful. A lot of times when you're writing, you can lean one way or the other, where you've got a really soulful thing and the melody takes a backseat or the melody leads and the groove of it is secondary to that. So, I've been really trying to find that balance a long time, and I think it's really prevalent in this collection of songs because it's hopefully very soulful pop music in the traditional sense of pop music. I think people hear all kinds of things--they hear what they know in it, the way everyone hears music.
MR: Regardless of the various producers you have on this project, do you feel there is a theme, or a line, running through the songs on Twelve Tales?
AJC: I wouldn't say there is one theme. It was just songs that I liked and that I felt went together at one point. Once they're produced and everything goes in different directions it's really hard to say exactly how cohesive it will be--that's one of the scary parts of this. Of course, each producer's release as an A and B side will be a great release, but the reality is that I won't know until it's all recorded. I'm traveling around and recording as I go, and touring, and also writing. In the case with the Leon Russell collaboration, we recorded one song, but I already had my compositions ready for this record. If I find something that works better than what I have, then I'm going to go with it. I can say that because my mind is really focused on the whole project in one respect, and then really focused on each individual song for periods of time, whereas on any album I've ever done, I'm looking at the whole thing and how it all fits together. Of course, I thought about that, but once you have different producers, different players, you're in a different city, a different studio with a different engineer, everything changes.
MR: Is your home base still San Diego?
AJC: It is. I'm just back there from Nashville.
MR: And you are married with children.
MR: As long as we're talking about family, I want to ask you about your father, Jim Croce. Do you have any thoughts on the impact he made at the time?
AJC: I don't really know how to answer. I suppose I get a sense of it everyday, when somebody recognizes my name and mentions my father. Of course it comes up all the time. Of course it defined who I was as a kid, and I think it still defines who I am to a lot of other people. It's a comfortable reference point. It's hard for anyone that is related to someone who is famous to not have that reference point, even if it's Arlo Guthrie, who has had a career of his own. He's still Woody's son. It's just the nature of our culture and the history of music. His music really affected a lot of people in a positive way, and I feel lucky to be able to continue in that tradition.
MR: It can be very hard for the child of a famous musician to get out from under that shadow. But during your whole career, you've really been about who A.J. Croce is right from the beginning. It was your sound, and you didn't cater to the people that may have been expecting more of a "Jim Croce" sound to your music.
AJC: No, but it's kind of funny because in a way, I always did it. My dad had a bunch of sides to him, and one of the things he did that we really have in common was the love of American roots music. You hear it in his songs. You hear Chuck Berry in "Rapid Roy," you hear Leiber & Stoller in all the up-tempo music. That stuff is there. I mean, "...Leroy Brown" could have been something The Coasters did, and "Roller Derby Queen" could have been as well. All of these interesting characters were sort of from that r&b tradition that was so popular, certainly in Philadelphia.
MR: I always felt like your dad's music was in its own category. You mentioned r&b and Americana. I've always considered it r&b-folk.
AJC: Yeah, it is kind of. I was talking about finding that balance between something that is really soulful and a great melody, and with his stuff. The up tempo stuff is sort of in that late '50s r&b influence, but then the other part of it is this Elizabethan folk thing you hear on "Time In A Bottle," "These Dreams," "Lover's Cross" and all these songs that have this beautiful thing going on, and it's completely different. Many years ago, I was transferring a bunch of his home recordings--and there's lots of them--and it was a whole bunch of songs that I had performed since I was probably twelve, never having known that he played them and never hearing those tapes before. It wasn't just the regular stuff, it was these obscure songs by Fats Waller. It wasn't "Ain't Misbehavin'" or "Honeysuckle Rose," it was "You're Not The Only Oyster In The Stew" or "Coffee Blues" from Mississippi John Hurt. It was one song after another that I had done since I was young, and hearing that he performed them was eerie. I was like, "Wow, we have a lot more in common that I thought." It was really a nice thing.
MR: Yeah, that's really beautiful.
AJC: I think, since I started playing guitar, on my records--around '04--that definitely changes things. You have different chordal ideas, so you start to find more similarities than when I just played piano.
MR: Now, you began playing piano in conjunction with some vision problems you went through as a child?
AJC: Yes, I lost my sight when I was four years old, and gradually got it back in one eye over six year's time. During that time, early on, I got turned on to Ray Charles, Stevie Wonder, George Shearing and all these piano players that couldn't see. Ray Charles really became my guy because I just really identified with him. Not that I didn't with Stevie too--it was all so beautiful. I also just spent a lot of time listening to the radio, so whatever it was--ELO, Elton John, Bowie, The Stones, The Beatles, The Kinks--whatever it was that might have been on the radio, I was playing along, but something about soul music was really important to me.
MR: Getting back to the album, "Tarnished And Shining," kills me.
AJC: Thank you so much. That came out two days ago. With this album, we're releasing one song a month, so there's three songs on iTunes you can check out. Yeah, "Tarnished And Shining" is my favorite so far, and it's going to be hard to beat. It's just really very honest and autobiographical. The arrangements that Allen Toussaint did for it, and the singers--everyone--it's just beautiful.
MR: I don't even know if it's been launched yet, but you have a radio show with the David Lynch Foundation, don't you?
AJC: Yeah, that's starting this month. I'll have a show with Transcendental Music that starts this month, but I'll also have theme hours once a month. The first theme will be New Orleans because of just being down there, and that being the song of the month for my release. We'll play all kinds of music, and it will be focused on a place or a time, or something to that effect.
MR: What advice do you have for new artists?
AJC: Work really hard I guess is the best advice that I can give. Practice as hard as you can for as long as you can when you're young. The older I get, the more I recognize how lucky I was to have known what I wanted to do when I was twelve years old. If I hadn't had those years really dedicated to practicing and not having to worry about paying bills and those kind of things, I don't know that I would have been able to do what I do. You rarely have a moment in your life when you have the opportunity to make that happen. Now, I know a lot of artists who came at it later, and they just had to work doubly hard to make that happen, but most of my friends have done it all their lives. They've done it since they were kids and, like myself, were starting bands at fourteen and fifteen years old, and then it just sort of transitioned into being a career. So, yes, work very hard, practice hard and don't take no for an answer. If you believe in yourself, then you really need to stick to it. On my first record, I had every benefit of having a name that people recognized and no track record of any sort of failure, so there was nothing but positives, in a sense, and yet my manager and I sent out over eighty-five demos to eighty-five different labels before one said yes. It got even more extreme as I got older because I initially got put in a genre that I don't really fit in. I'm more of a singer-songwriter than anything else, but I was put in this sort of jazz category. It was a challenge because traditionally that genre just doesn't sell very well. [laughs] Yeah, it takes a lot of work, and you have to really believe in what you're doing. So, yeah, work hard.
MR: That's another thing you have in common with your dad. His producers sent the masters for the album You Don't Mess Around With Jim to everybody and every label passed.
AJC: They did. They passed on "You Don't Mess Around With Jim," they passed on "Time In A Bottle"... I have the original demo that was sent around, and it's pretty much the first record. That first record had "Operator," "Don't Mess Around With Jim," "Time In A Bottle," and they all got in the Top Ten, two of them got to number one. Just because someone says they don't like it, or they don't hear it, or they don't know what to do with it--you just have to persevere. Believe in yourself.
MR: I think it's also nice to have some people around you that believe in you as well. I really believe that whoever is in your picture has to have your back in an "I care for you" sort of way.
AJC: Oh, absolutely. I've had years where for periods of time I had no manager, no agent, I was kind of unbook-able, I couldn't get a record deal. Then, there are periods of time when I have a lot of opportunities. You just realize that you have to take the opportunities when you can. You don't get too many, so when you do you take them. There's always a compromise--there's no career in the world where that doesn't exist, and certainly in music, there's a compromise somewhere.
MR: Especially if you're playing with other musicians. It starts right from there.
AJC: Absolutely. Especially if you're playing music and you travel and you have a family, there's a huge compromise. It's not the easiest job, and it's certainly not as glamorous as it can appear, but I couldn't do anything else. It's all I know how to do and all I've done since I was a kid.
MR: Nice. Now what was the best advice ever given to you?
AJC: Best advice that I ever got was from a manager I was meeting with as a possible manager to represent me. I was probably twenty-one at the time, and the manager asked me, "What three things outside of music are most important to you?" He said, "I don't need to necessarily hear you say them, or even know what they are," but he said, "Write it down because I've worked with a lot of really successful artists who wind up at fifty years old completely alone. If you know what you want in life, and that's okay, then that's okay. But if it's not, then think about the most important things in your life." I think that was really amazing advice because I had never thought about it. I was twenty-one, I was touring all over, getting to play with Ray Charles and all my heroes, and here he comes along and says, "What do you really want out of life?"
MR: Well, I can testify as that fifty year old. [laughs] Personally, I think I let work take up too much of my time, time that I might have spent on family, and other things I care about. Oh well.
AJC: Yeah, part of it becomes work, you know? I wish that my day was filled with more time to be creative, but when you do it professionally... Unless you're enormously successful and can have people around you to take on every task that gets in the way of being creative, you have to do that stuff yourself. All of the logistics, even if you have agents and managers, still fall on your shoulders to decide. It's part of your life. It's important for me to take time every day to write, otherwise I'd go nuts.
MR: A.J., I really appreciate the time today. Please come back and let's chat again soon.
AJC: Thank you so much, I really appreciate it. I'll let you know as the new stuff comes out and you can take a listen. I'm really excited about this thing. As challenging as it is in one way, it's also thrilling to be able to make music in this way.
AJC: Thank you so much. Talk to you soon.
Transcribed by Ryan Gaffney
Popular in the Community