The "Game of Thrones" actress has no trouble baring all on screen, but when it came time to shoot the cover for Esquire's "Sexiest Woman Alive" issue, her nerves got the best of her. During a visit to "The Ellen DeGeneres Show" on Thursday, the 29-year-old Brit pulled back the curtain on what it really takes to be fully exposed in Hollywood. 
"That was a funny shoot," Clarke told DeGeneres, according to Entertainment Tonight. "Doing those kind of sex scenes on camera is one thing, but doing it as yourself, I need alcohol to do."
And luckily, Esquire obliged, providing Clarke with ample amounts of the hard stuff to make stripping down a little easier. But if she was that uncomfortable, was it really necessary that she be nude? 
"They just kept giving me vodka," she added. "That's me, drunk. That's me, Photoshopped and drunk."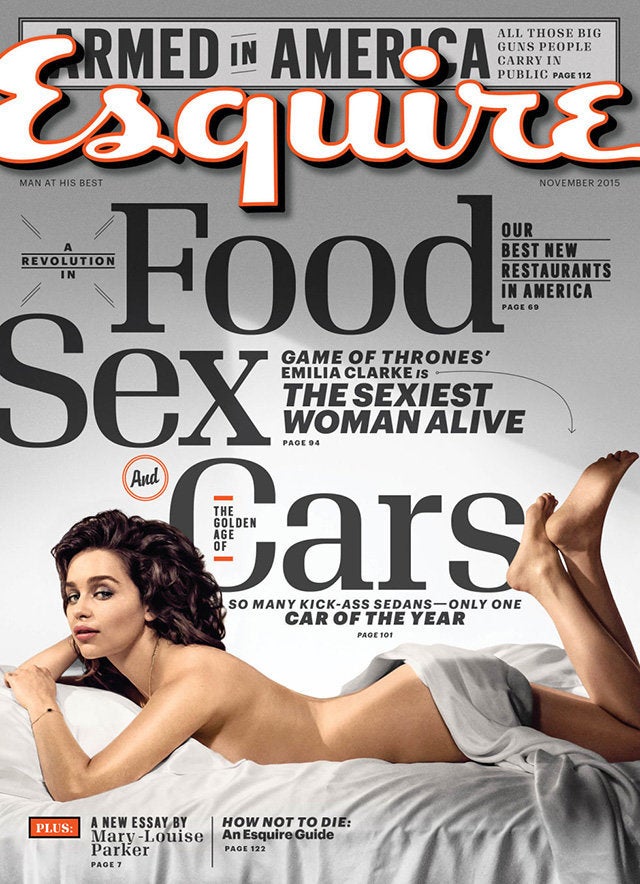 If Clarke had her way, she wouldn't be the only one getting undressed on "Game of Thrones." The fantasy series has long been criticized for regularly showcasing female nudity, while the men generally remain clothed. 
But, according to Clarke, there was one good reason to shield viewers' eyes from a fully nude Khal Drogo, her love interest in the first season. 
"I saw his member, but it was covered in a pink fluffy sock," she told Glamour magazine. "Showing it would make people feel bad. It's too fabulous."
But at the end of the day, she wants what we all want: for her character Khaleesi to run the game, eat some barbecue and command all the "pretty boys" to drop trou. 
"I want to see Daenerys and her three dragons share the throne," she told the magazine. "Eat goat they've barbecued. And bring back all the pretty boys, get them to take their trousers down, and be like, 'I'm now the queen of everything! I'd like close-ups of all the boys' penises, please.'" 
Calling all HuffPost superfans!
Sign up for membership to become a founding member and help shape HuffPost's next chapter
BEFORE YOU GO
PHOTO GALLERY
'Game of Thrones' Season 6