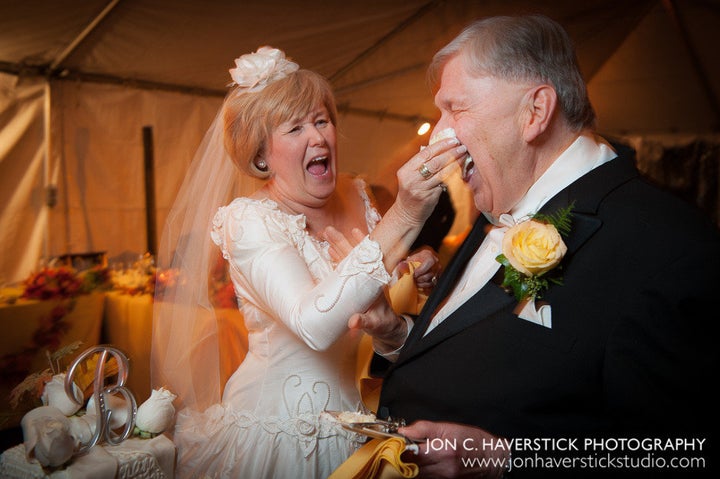 Terry Britton doesn't remember why he broke up with his college sweetheart over 50 years ago. The only thing he knows is that he'll never let her go again.
The pair had gone steady back in 1960, when they were both freshmen at then-Chapman College in Orange, Calif. After one year of long walks, dorm room rose deliveries and making out "like crazy," the pair drifted apart for reasons neither of them can recall.
Danielson saved the letters Britton wrote her during their courtship, but she moved on and got married (and widowed) twice. Britton had three serious relationships, but ended up single.
"She had been really wonderful when we were going together," recalled Britton to The Huffington Post. "It was hard for anyone to compare. I knew what I needed, and it's what I had. And I finally found it by getting her back."
Photos of Emilie Danielson and Terry Britton's wedding by Jon C. Haverstick. Story continues below.
PHOTO GALLERY
Danielson-Britton Wedding
It turns out that about 10 years ago, Britton's mother had cryptically hinted to Danielson in a letter that her son was "waiting" for her. "I was out of the loop on that correspondence," laughed Britton. Getting married was "definitely the right thing to do," he added, "but I wish I'd done it so much longer ago."
"It's a god thing. It's a dream come true," added Danielson to HuffPost. "It's a prayer answered."
The two reunited back in 2010, one year after Britton's mother died. Even though the former sweethearts had lost contact with each other, Danielson had always remembered to send a Christmas card to Britton's mother every year. When Britton was at his mother's house in Arkansas, he received her card. Then he picked up the phone.
"We had a real connection there. Things had been left undone," he told the OC Register. "I knew I wanted to talk to her. And needed to." The pair spoke on the phone for hours that day, and every evening since for two years.
In early 2012, Danielson made the trek to to Arkansas to see Britton face-to-face again, for the first time in 52 years. They decided to marry soon afterward.
The newlyweds are headed to a two-day honeymoon at the Montage resort in Laguna Beach, Calif., after which they'll live together in Danielson's Santa Ana home. Their first big task as a newly married couple? Hosting Thanksgiving dinner for Danielson's three children, their spouses, and seven grandchildren.
CORRECTION: A previous version of this story misidentified then-Chapman College. We apologize for the error.
Calling all HuffPost superfans!
Sign up for membership to become a founding member and help shape HuffPost's next chapter
BEFORE YOU GO
PHOTO GALLERY
Married Couples: Then And Now