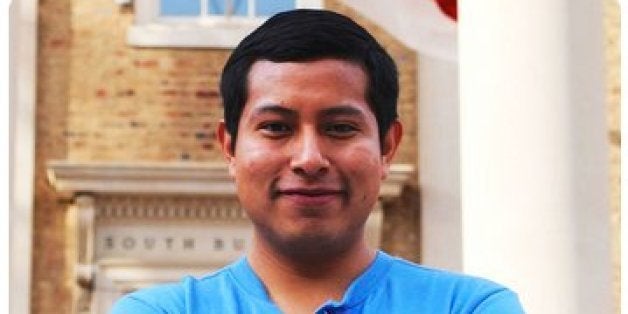 Undocumented immigrant Emilio Vicente is on the ballot Tuesday in North Carolina. The job is short-term but offers a significant platform: Vicente, a junior, is running for student body president at the University of North Carolina at Chapel Hill, the state's flagship public university.
Improving the lot of other undocumented students is a key issue for the gay student. Winning the election would, for instance, give him "more of a say in how tuition for undocumented students is discussed," he told The Huffington Post.
His race for student body president already drawn attention. Vicente has been written about by The New York Times and the Raleigh-based News & Observer. He said he's been a bit surprised by the media focus.
"It's definitely been a little bit overwhelming. I wasn't expecting this much coverage," he told HuffPost. "It's been a learning experience to be able to talk about my vision for the university. ... It's helped me get my message out there, and I appreciate that."
But becoming student body president isn't his only tactic. Vicente took a gap year to advocate for the proposed federal Dream Act, a decade-old legislative push that would offer a path to citizenship for undocumented young people who came to this country as children -- like Vicente. He has pushed for North Carolina public colleges to give in-state tuition rates to undocumented students with the student-driven "One State, One Rate" campaign
And this past Saturday, he spoke at the latest Historic Thousands on Jones Street protest march, also known as HKonJ, an effort to draw the state legislature's attention in Raleigh. He talked about education for undocumented students. And when he declared, "I'm undocumented and unafraid," the crowd cheered.
He said that his background in advocacy has given him an unusual skill set for a student body president. "My advocacy gives me skills that [the other candidates] don't have," Vicente said.
Vicente left Guatemala with his mother when he was 6 years old, riding a cattle train through Mexico and climbing under barbed wire at the Arizona border. They ultimately joined his father in Siler City, N.C. When he was 15, his parents decided to return to Guatemala while he chose to stay in the U.S. with his older brother. Vicente excelled in high school and won a private scholarship to attend UNC. He hasn't seen his parents in seven years.
The situation for undocumented young people like Vicente has improved a bit in recent years. The risk of deportation has lessened since President Barack Obama signed a 2012 executive action declaring the government will defer efforts to deport certain young undocumented immigrants who came here as children. The order cleared the way temporarily for them to work legally and, in some states, to obtain driver's licenses.
Seventeen states have also passed legislation extending in-state tuition rates at public universities to undocumented immigrants, according to the National Conference of State Legislatures. But the political climate in North Carolina has so far proved inhospitable.
The state's Democratic attorney general, Roy Cooper, is widely expected to run for governor in 2016. He recently released a web video, titled "Take Back North Carolina," in which he touts the state's "renowned public university system" and calls for a fight to "make North Carolina once again a place of economic growth, educational excellence and personal freedom."
Yet Cooper is not calling for in-state tuition for undocumented students. Indeed, his office last month released a legal advisory letter concluding that state law prohibits in-state tuition rates for those students who are covered by the federal Deferred Action for Childhood Arrivals program.
When asked whether Cooper might push the issue at some point this year, Cooper spokesman Morgan Jackson said that wouldn't be on the attorney general's agenda. "We're more narrowly focused on the major issues the legislature will consider and enacting some pressure on those," Jackson said.
But Vicente isn't conceding defeat.
When asked about the influence that Art Pope, the politically active conservative businessman and philanthropist turned North Carolina budget director, has had on the public education system, Vicente said he was ready to make his case.
"Unfortunately, some people have a huge say in the direction our university is moving. I truly believe that we should engage them directly. If elected, I'd love to sit down with Art Pope, if he's willing to listen -- there hasn't been much dialogue with these stakeholders. Students haven't been as involved with this process. It has to be students leading the conversation," said Vicente. "We want what's best for UNC."
Calling all HuffPost superfans!
Sign up for membership to become a founding member and help shape HuffPost's next chapter
BEFORE YOU GO
PHOTO GALLERY
Controversial Immigration Laws