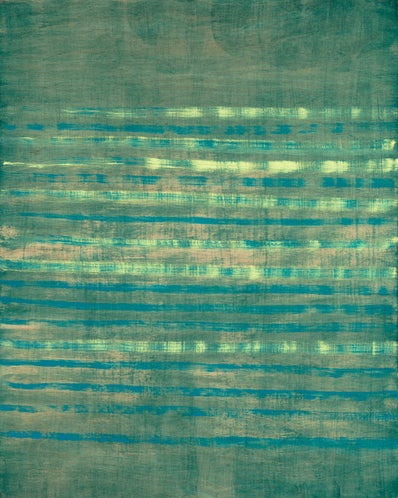 Emily Berger's abstract paintings are the product of an intuitive process. Berger sees them as being about "thought and vision; they deal with light, space, movement, rhythm, color, speed and change, point and counterpoint, structure and gesture, – and through those things the emotion and meaning is carried". Her art is a give and take of expressive line and harmonizing color that builds and shapes the work. Lines that appear and recede create buoyant gesture and rhythmic movement, while wispy masses of patched together color quiver like leaves in a soft breeze. We see the familiar here and there, the suggestion of something tangible, something solid, yet we are unsure enough to keep both open and focused in a mildly meditative state as we search for the message in the medium.
The same state of mind, that open focus, is also employed in the making of these works. Berger must maintain a balance between discerning concentration and fluid expectation to be successful. For her and for us there must be a willingness to find in the marks and movement a synergy of form, emotion and dynamism that comes with each piece – an end result that happens in its own pace and time.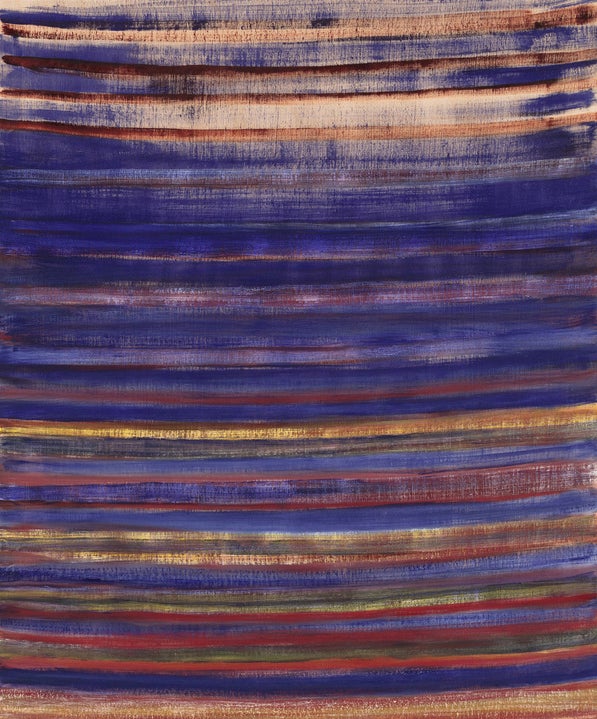 A painting like Farther (2017) may remind you of the mid-day sunlight that bounces back and forth between two city skyscrapers while From the Beginning (2016) may have a more organic, shimmering reference to the sea. But in both instances, this is only the beginning of an inclination, as abstraction takes over and movement and texture sweep away whispers and memories.
Big Mouth (2017) has something of an urban feel, like a detail of a Ben Shahn, or perhaps, a channeling of Philip Guston as he transitioned from his early figurative period to his Abstract Expressionist paintings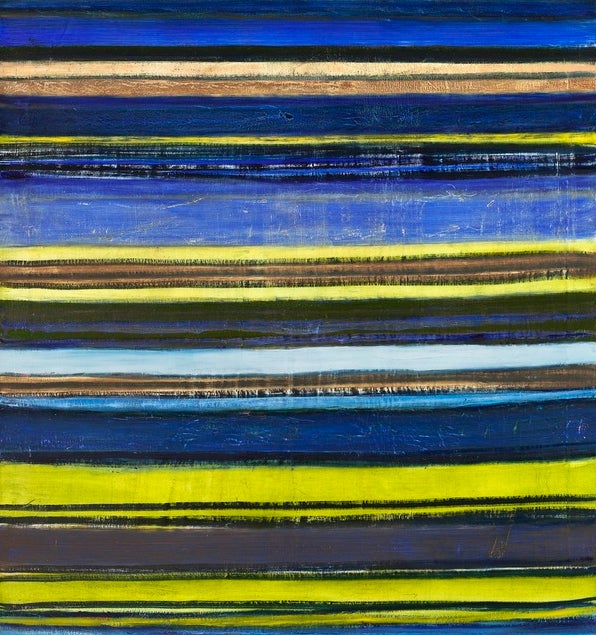 The multi-color bands of Wellfleet (2015) and Wink (2012) teeter on total non-representation, yet there is still that chance a fleeting peripheral memory will be called up to break through to recognition. High Toss Vibration (2014) and Swing (2013), like a lot of Berger's paintings, have the element of sound - tonal changes that break the rhythms and form, whereas the tornado like shape in Province (2012) has a straightforwardness that is both unique and universal.
The opening reception for Emily Berger: Rhythm and Light is Thursday, October 5th. The exhibition runs from September 30 to October 25th, and will be held at the Walter Wickiser Gallery in New York City.
Related
Popular in the Community