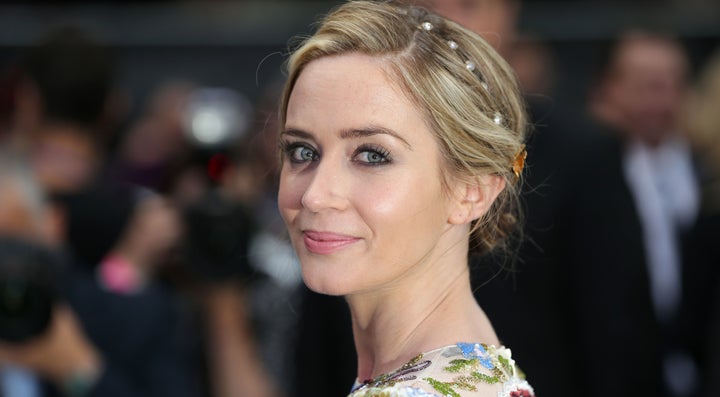 A Hollywood blockbuster is rejecting the idea that "likable" is the most important thing a woman can be.
Emily Blunt, star of psychological thriller "Girl On The Train," and Paula Hawkins, author of the bookThe Girl On The Train, recently sat down with The Hollywood Reporter to discuss the upcoming film ― which just happens to star three women. The film, which hits theaters Oct. 7, was adapted from Hawkins' best-selling book that was published last year. 
The 33-year-old actress plays Rachel: an alcoholic who's become deeply depressed since her husband left her for another woman. The character isn't exactly "likable," but Blunt says that's absolutely fine with her. 
"With so many movies, women are held to what a man considers a feminine ideal," Blunt told THR. "You have to be pretty. You have to be 'likable,' which is my least favorite bloody word in the industry. Rachel isn't 'likable.' What does that mean? To be witty and pretty and hold it together and be there for the guy? And he can just be a total drip?"
Blunt also addressed the narrow lens through which we view what women can be, and how it impacts the women we see on screen: 
A woman is a drunk, a whore, whereas the guy's like a partier, a player. I've been around both women who drink too much and guys who drink too much and it's just as ugly on the guys. It makes me crazy. I don't think that women should be seen as any less sexual than a guy. And maybe she doesn't want to settle down, and that's OK. And maybe she doesn't want a kid, and that's O.K. And she's just happy playing the field. There's so much judgment with women.
Universal Studios chairman Donna Langley added that the depth written into each female character in "Girl On The Train" is what makes the film so captivating. (There are two female leads other than Blunt's Rachel, played by Rebecca Ferguson and Haley Bennett.)
"As we were breaking down the marketing pieces, you could see that Emily is just mesmerizing in this role," Langley told THR. "And there are also two other fantastic female parts, so we celebrated the female aspect of it, to be honest with you, because you want to get that core audience. We saw from films like 'Gone Girl' that female audiences ― if you give them something great ― they are going to show up." 
Head over to The Hollywood Reporter to read the rest of the interview. 
Calling all HuffPost superfans!
Sign up for membership to become a founding member and help shape HuffPost's next chapter
BEFORE YOU GO
PHOTO GALLERY
Fall/Winter Movie Preview 2016