The same can't be said of Krasinski.
The former "The Office" star, who directed "A Quiet Place" and starred in it alongside his wife, was already well aware of Blunt's work when the two first locked eyes. That's thanks to a little film from 2006 called "The Devil Wears Prada," in which Blunt plays a character named Emily.
"I was full stalker status," Krasinski told Graham Norton on the U.K.'s "The Graham Norton Show" last week. The actor then mimicked wearing binoculars like an obsessed fan: "I was just like, 'Hey, you wanna go out on a date with me?'"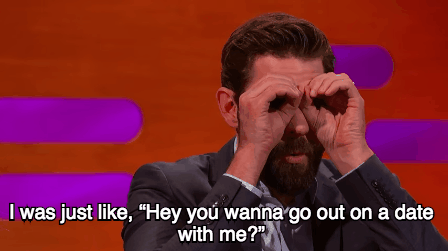 Krasinski, 38, then admitted to watching Blunt's breakout film "give or take 72" times, but also tried to give an innocent explanation.
"Back in the day, us elderly people used to channel surf," Krasinski told Norton. "It's just one of those movies that whenever you're going through the channels, you just stop and you look."
That's when Blunt, 35, decided to straight-up call out her husband on his love of the film.
One day she came home and found Krasinski watching "The Devil Wears Prada," she told Norton. She walked in right when Anne Hathaway's character, Andy, is going through a style evolution, shown through a montage of Andy wearing what Blunt described as "numerous fabulous outfits."
"He was watching the montage bit and he goes, 'Annnnnnnnd, that's my favorite outfit.'"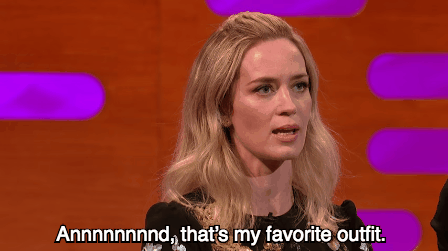 To see the montage and Krasinski's favorite ensemble (it's the one with the beanie) check out the video below.
Calling all HuffPost superfans!
Sign up for membership to become a founding member and help shape HuffPost's next chapter