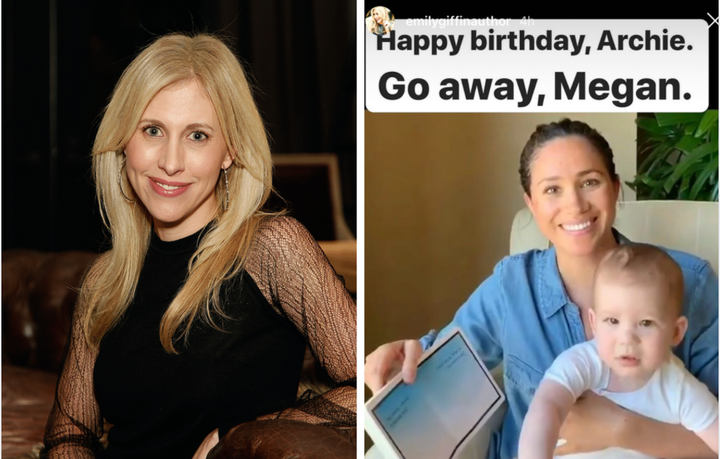 The "Something Borrowed" author made disparaging remarks about the Duchess of Sussex after she and Prince Harry released a video of the former actor reading the book "Duck! Rabbit!" to her son, Archie, for his first birthday.
While Giffin apologized at the time after her criticism went viral, she told AP that the comments "were not legitimate" and said "they were just mean."
"I need to be more careful about the impact of my words," Giffin said. "Being unfiltered, which is what I've chosen to be and the person I am in real life, and the person that you see on social media, definitely means that I'm going to make mistakes, too."
Giffin, a self-described royal watcher, previously analyzed the video of Meghan and Archie on her Instagram stories, where she wrote things like "Happy birthday, Archie. Go away, Megan," and purposefully misspelled the duchess's name.
The author called the "me first" video "the Megan show" and criticized her for not putting pants on Archie.
In another Instagram story, Giffin posted a text calling the Duchess of Sussex "so unmaternal" and a "phony" who is "poorly" playing the part of a mother.
Prior to the comments, Giffin made it known that she didn't care for the Duke and Duchess of Sussex.
She called the two a "footnote" in history books in an interview with AP last year discussing the then-upcoming birth of Harry and Meghan's first child. She said that she was more excited for the Duke and Duchess of Cambridge's three children: Prince George, Princess Charlotte and Prince Louis.
"That's the future," she said of Prince William and Kate Middleton's children. "They'll be in the history books. Hundreds of years from now, Harry and Meghan will be a footnote."
Prior to Meghan giving birth, Giffin posted a photo of Queen Elizabeth and said that "the only reason the world cares about Meghan Markle's pregnancy" was due to Her Majesty.
She also openly spoke about her dislike of Archie Harrison Mountbatten-Windsor's name: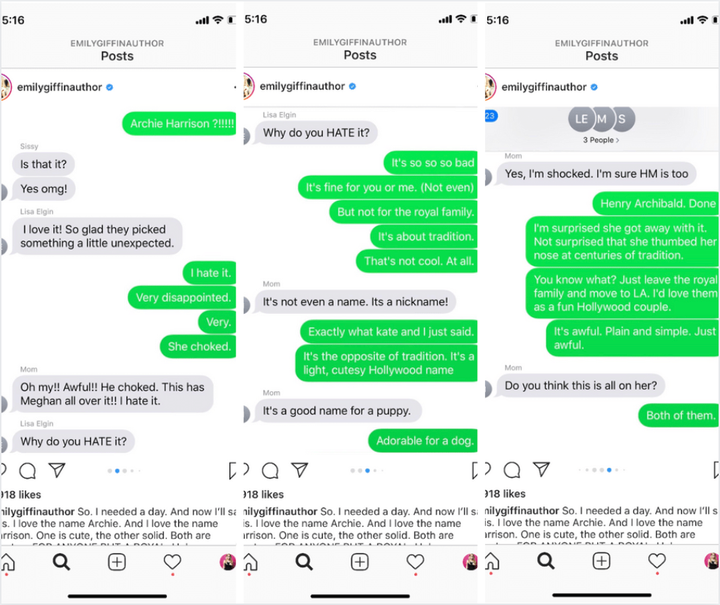 Giffin's criticism only worsened after the Duke and Duchess of Sussex announced their intention to step back as working members of the royal family and pursue financial independence and a move to North America.
"I can't stand Meghan Markle. There. I said it," the author said in screenshots posted on Twitter in January. "And I'm no longer a Harry fan, either. Get over yourselves."
There was a time that Giffin did like the royals, as the author says in a timeline on her website that she would be "obsessing" over the couple for the next few months after their engagement in 2017.
Popular in the Community